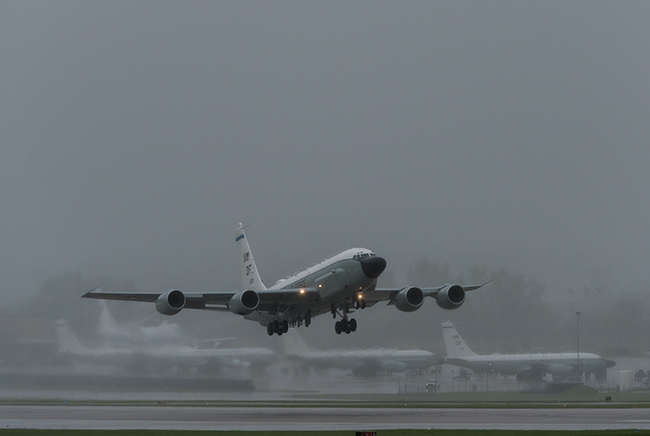 A USAF RC-135W Rivet Joint aircraft assigned to the 38th Reconnaissance Squadron takes off from Offutt AFB, Neb., on May 8, 2019. Air Force photo by SrA. Jacob Skovo.
Intelligence, surveillance, and reconnaissance aircraft housed at Offutt AFB, Neb., are prime candidates for modern maintenance approaches that use additive manufacturing and predictive analytics, the state's senior senator argues.
Offutt's fleet of C-135-based ISR platforms, which entered service in the 1960s and 1970s, perform secretive intel-gathering missions in the Middle East and near North Korea, China, and Russia. But the reconnaissance stalwarts face problems ranging from failing hydraulic and pressurization systems to fires that were detailed in an Omaha World-Herald investigation last year.
Sen. Deb Fischer (R-Neb.) wants to see the Air Force stem the effects of the planes' old age through prototyping and experimentation work that could include 3D printing new pieces, algorithms that alert maintainers when parts are about to fail, and other initiatives underway at the service's Rapid Sustainment Office.
"Just because we fly older planes doesn't mean we can't leverage cutting-edge technologies to achieve better maintenance outcomes and reduce downtime," a Senate staffer told Air Force Magazine.
C-135s will take part in the Air Force's program that uses data analysis to proactively sustain aircraft, known as "Condition-Based Maintenance Plus," the senator's office has learned. Platforms with multiple variants are seen as ideal candidates for predictive-maintenance initiatives because the military can streamline sustainment across each version instead of treating them individually.
"Senator Fischer believes the Air Force is committed to improving the availability and readiness of the C-135 fleet, and Secretary [Heather] Wilson has expressed this to her in person," the staffer said. "That said, there is always room for improvement, particularly when it comes to reducing the hours that aircraft spend undergoing maintenance and decreasing the incidence of events that might cause an interruption to mission execution. The safety of our airmen comes first."
The Senate Armed Services Committee's mark of the 2020 defense policy bill adopted two Fischer amendments bolstering Offutt's 55th Wing. It also fully funds upgrades to the RC-135 Rivet Joint, conversion of three KC-135 tankers into WC-135 Constant Phoenix nuke-sniffing aircraft, and progress on the OC-135 Open Skies replacement.
Committee members approved the $750 billion defense authorization bill by a 25 to 2 vote in a closed markup May 22.
One amendment encourages more innovation in legacy aircraft sustainment. Another directs the Air Force to consider what may come next for aging big-wing ISR platforms, after the service decided a similar, new jet to replace the E-8C Joint STARS would not survive future threats.
The legislation tells the Air Force to look at how manned and unmanned assets could collaborate on ISR missions, and to examine the process of sharing surveillance data from aircraft like the Rivet Joint. As the Air Force pursues a network of systems that can share battle-management and target-tracking data, the Senate sees a similar path for fixed-wing ISR.
RC-135 and others would provide important information for concepts like the Advanced Battle Management System, or ABMS, the Senate staffer said, and the Air Force doesn't currently have any planes with the same sensor power, detection capabilities, and flying longevity as the Rivet Joint. Therefore, it has to be part of the service's future ISR sensor system.
"Manned systems like the RC-135 will play a critical role in the Air Force ISR enterprise until at least the 2050s, and in that time there needs to be a clear plan for integrating data from these manned platforms with data from sensors, satellites, and other sources to give a cohesive picture of the battlespace," the staffer said. "Evolving a concept of how to apply this in a contested domain and leveraging the strengths of all of these elements will be crucial to winning in a major conflict."
In April, Air Force Chief of Staff Gen. David Goldfein told House lawmakers planes like the C-135 variants could go the same way as Joint STARS, which the Air Force is replacing with a network of sensors, ground systems, and satellites instead of a dedicated jet.
"The same work that we're doing in Advanced Battle Management System, as we look at what the replacement for Joint STARS is going to be, we're looking at all of these capabilities—the ones that right now are more platform-centric," Goldfein said.
The Air Force plans to own 22 Active Duty RC-135s, three training variants, two WC-135s, two OC-135s, and one NC-135 in 2020.