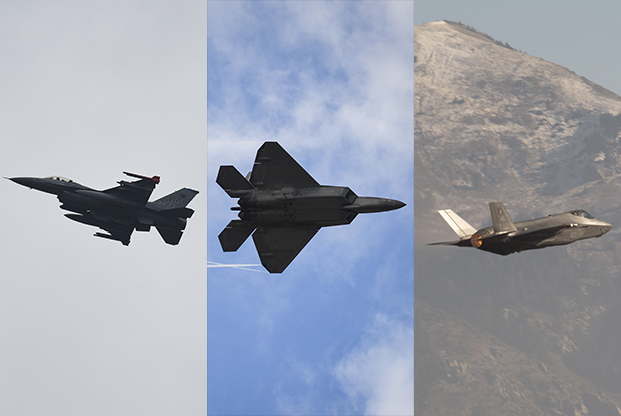 Parts availability will be a huge factor in whether or not USAF achieves 80 percent mission capable rates on its F-16 (shown at left), F-22 (shown at middle), and F-35 (shown at right) fighters, the service's director of operations said Wednesday. Air Force photos.
Meeting Defense Secretary James Mattis' directive that the Air Force achieve 80 percent mission capable rates on its F-16, F-22, and F-35 fighters depends largely on the availability of parts, Lt. Gen. Mark Kelly, USAF's director of operations, said at an AFA Mitchell Institute event on Wednesday.
Kelly said he thinks the Air Force will make the September 2019 goal, since it's already cleared its shortfall of maintainers, but availability of parts, particularly for the stealth jets, will be a bigger challenge.
"Frankly, my concern is with those supply depots" Kelly said. "We've put in resourcing" but are only generating about "half the parts we need." Hurting the readiness rates of the F-22 and F-35, he said, is the need to "take a knife and cut into the low-observable coating to access a part," either to install a new one or cannibalize one for another airplane. Each time that happens, "it usually takes six to seven … man-hours to get that part versus getting it off the shelf."
So, "we're funding our supply chain, we're working manpower for maintenance" to hit Mattis' target," Kelly said, adding, "we're making pretty darn good progress."
As for the F-16, Kelly said USAF was already pretty much there. The maintenance goal previously was "81 percent, and we were operating pretty close to that before his directive." The low-observable platforms, though, "are a little-more maintenance-heavy."
Despite the influx of new maintainers, Kelly said it will take some time before experienced technicians will begin to see a reduction in their workload, because the flood of new apprentices "actually creates a burden" of training and seasoning the new people. The era of 12-hour workdays for maintainers is not over yet, he said.
"In my 32 years, we've dealt with longer hours" as a fact of life, Kelly said, "so I wouldn't say that's going to change in the next year." Nevertheless, he said USAF is aware that it can only rely on maintainer devotion to "service before self" so long before they will vote with their feet.
In other news, Kelly told reporters after his speech that the Air Force's anti-ISIS effort in the Middle East is no longer faced with a munitions shortage.
"We have removed the appetite suppressant," he said, referring to regional commanders putting restrictions on USAF aircraft using certain "preferred" munitions against ISIS targets due to shortages. Those munitions tended to be those that are highly accurate, satellite- or infrared-guided weapons to ensure the US inflicts as little collateral damage as possible.
The US began to run low on these munitions in 2015, a situation aggravated by coalition partners who had exhausted their own stocks and were borrowing from the US. Kelly said production ramp-ups initiated last year are starting to flow and stockpiles are rebounding.
Asked about the Air Force's continuing pilot shortage, Kelly said the service is doing what it can to reduce additional duties and find ways to give pilots more time at home station to make USAF life more appealing. A positive sign, he said, is that the "take rate" for pilots to extend their service by accepting a cash bonus is up "for the first time in five years."