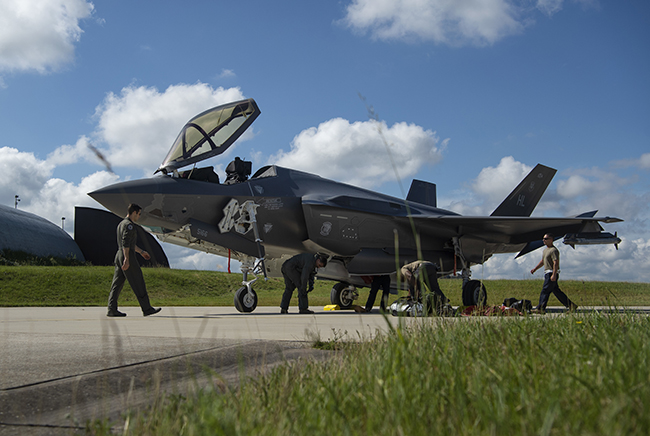 Airmen de-arm an F-35A Lightning II fighter aircraft, assigned to the 421st Fighter Squadron, Hill AFB, Utah, on the flight line at Spangdahlem AB, Germany, on June 11, 2019. Air Force photo by A1C Valerie Seelye.
The F-35 squadron that deployed to Europe in late May has transitioned from Aviano AB, Italy, to Spangdahlem AB, Germany, where they will be based for the rest of their summer-long deployment.
The F-35s from the 388th and 419th Fighter Wings at Hill AFB, Utah, deployed to Aviano on May 23 and participated in the Astral Knight exercise, where they flew alongside a USAF B-52 and Italian Air Force aircraft.
At Spangdahlem, the aircraft will participate in exercises and train with other Europe-based aircraft, US Air Forces in Europe said in a June 11 release.
For example, F-35s have flown to exercises in Spain and Switzerland, and are set to appear at the Paris Air Show next week.
This is the aircraft's second deployment to Europe, the 34th Fighter Squadron deployed to RAF Lakenheath, England, in April 2017.
F-35s from the same Hill units also are deployed to the Middle East for combat operations.