AURORA, Colo.—No one wants to stand up in front of the entire Department of Air Force leadership team and own up to being personally responsible for cutting vital communications lines in a war zone, but Tech. Sgt. Raymond Zgoda turned that error into an example of a much-needed, winning innovation March 8 in the 2023 Spark Tank Championship.
Zgoda and Master Sgt. Sarah Hubert (the originator of the winning idea), both of Yokota Air Base, Japan, won the competition before an audience of about 2,000 Airmen and Guardians with an idea for using ground-penetrating radar and augmented reality goggles to more precisely map underground pipes, wires, and fiber-optic lines on military bases to prevent accidental breaks caused by construction.
Spark Tank is an annual competition modeled after the "Shark Tank" TV program. Instead of entrepreneurs pitching investors for funding, Spark Tank enables DAF "intrapreneurs"—primarily Airmen and Guardians, but also including department civilians—to pitch innovative ideas and ask leaders to fund their projects. From an initial field of 235 ideas, or "sparks," six finalists got to pitch their projects on the main stage at the 2023 AFA Warfare Symposium.
This year's panel of judges included Secretary of the Air Force Frank Kendall; Air Force Chief of Staff Gen. Charles Q. Brown Jr.; Chief of Space Operations Gen. B. Chance Saltzman; Chief Master Sergeant of the Air Force JoAnne S. Bass; Chief Master Sergeant of the Space Force Roger A. Towberman; National Basketball Association Senior VP and Head of Referee Operations Michelle Johnson, a retired Air Force lieutenant general; and investor Michael Moe, founder of the merchant bank Global Silicon Valley.
Each of the six finalists were allowed a three-minute pitch explaining their ideas, their progress thus far, and the potential return on investment for the services. Panelists then had four minutes to question the presenters.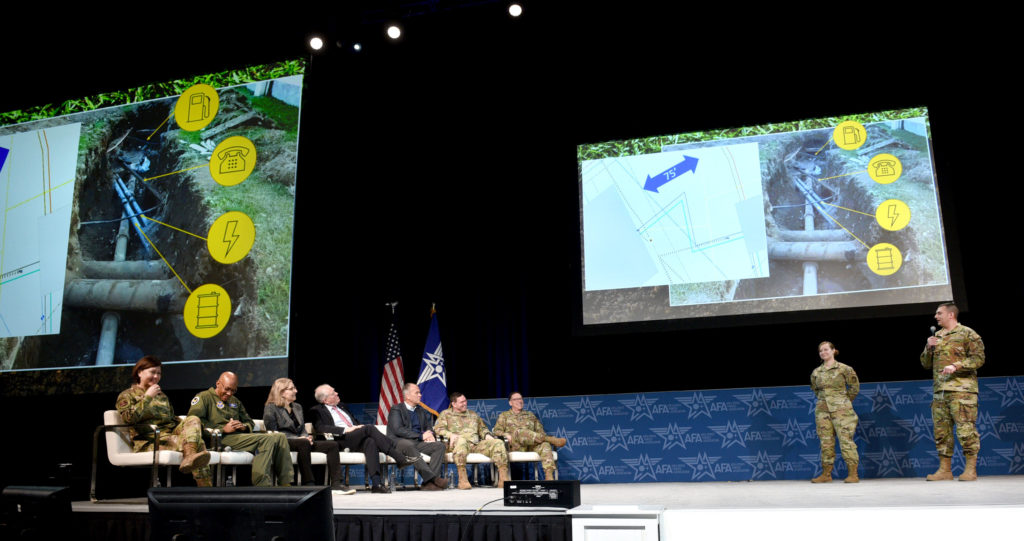 Hubert and Zgoda won the day with a straight-forward pitch.
"I'm a dirt boy," Zgoda said. "I dig ditches. I'm good at my job, but without the proper tools and information, I can become a liability and insider threat. Unfortunately, I haven't been issued X-ray vision. I am relying on inaccurate maps. I have personally seen our maps be off by as much as 75 feet from what is actually under the ground."
Digging into underground storage tanks, wires, fuel lines, and other buried infrastructure is costly and all too common, they said. But by mapping areas using ground-penetrating radar and then fusing those findings with augmented reality, the solution the team presented can eliminate the risk of digging blindly—saving time, labor, money, and even lives.
For example, Hubert cited a sinkhole at Joint Base Lewis-McChord in 2020 that took two years and $77 million to repair. Ground-penetrating radar could potentially "detect these sinkholes at low costs before they turn into sunk costs." Avoiding accidental damage to underground infrastructure could save up to $750,000 on wasted labor at every Air Force and Space Force base, the two said.
"Airmen and Guardians can die from hitting natural gas and electric lines," Hubert said. "We cannot put a price on that loss."
Their pitch won over Kendall, Saltzman, Bass, and Towberman, good enough to take home the prize. But all the projects earned the judges collective approval.
The crowd favorite, indicated by electronic voting, was also Brown's selection: "Project Kinetic Cargo Sustainment," a system for accelerating airlift operations by implementing new digital processes for weighing and measuring pallets, vehicles, and other cargo before loading cargo craft. The idea was conceived by Master Sgt. Brandon Allensworth and Master Sgt. Peter Salinas, both from Kadena Air Base, Japan, who said the system can reduce cargo processing times from around 20 minutes per vehicle to a matter of seconds.
Both guest judges, Johnson and Moe, voted for "Accelerated Development of Multi-Capable Airmen and Guardians," a Special Warfare training project touted to provide linkages between human systems and operational tasks. The concept was developed by a team of Airmen, including: Maj. Caitlin Harris, Chief Master Sgt Michael Rubio, Capt. Andrew Antonio, Tech. Sgt. Ty Hatcher, and Lt. Col. Peter Dyrud. Although still a prototype, the project is estimated to save an annual $3 million through graduation rates and has already received interest from multiple groups and across the DOD.
The remaining three "sparks" were all well-received by the judges, who praised the innovative solutions and encouraged their further development. They included:
DOD civilian Michael Dolan of Space Base Delta 3 at Los Angeles Air Force Base, for his "Real-time Asset Management System." RAMS integrates the Air Force's seven existing asset-management systems for tracking systems, people, and workspaces into a common interface, potentially saving 50,000 hours annually in wasted effort needed to track and map those assets.
Master Sgt. Aaron Cordroch, Hurlburt Field, Fla., for "Advanced Maintenance & Troubleshooting Suite," a maintenance-troubleshooting dashboard and information database. Cordroch said AMATS can save the Air Force thousands of hours of equipment downtime by using predictive analytics to anticipate parts replacement.
Staff Sgt. Michael Sturtevant, Kadena Air Base, Japan, for Project Oregon Trail, a solution for lifting and moving pallets and equipment in all terrains without need of a forklift. Particularly relevant to agile combat employment scenarios, Sturtevant's simple solution consists of four tripods for lifting the loads onto small wheeled platforms so they can be more easily moved by small teams. He envisioned equipping all expeditionary cargo craft with this gear in order to minimize the need for forklifts, which themselves make up a full plane load to get them into theater.
For more information on the six finalists in the 2023 Spark Tank, visit the Guardians and Airmen Innovation Network.