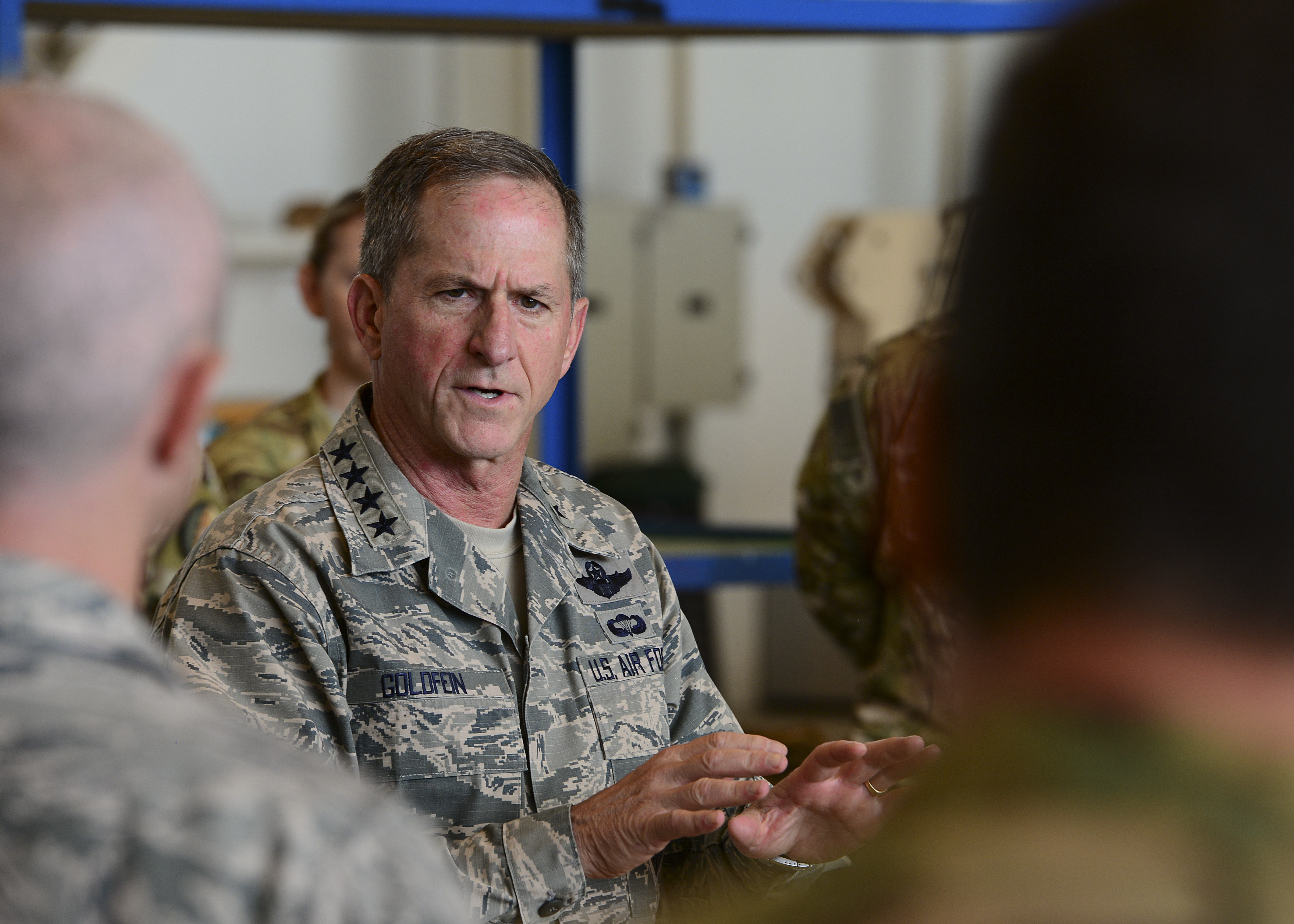 Chief of Staff Gen. David Goldfein meets with airmen from the 56th and 57th rescue squadrons during his base tour, July 6, 2018 at Aviano AB, Italy. USAF photo by A1C Ryan Brooks.
The Light Attack aircraft initiative would save USAF money, but should be viewed mainly as an international partnership concept, Chief of Staff Gen. David Goldfein said.
Interviewed in his Pentagon office last week, Goldfein said the Light Attack experiment is most valuable as a way to partner with allies. It would provide a means to operate together and share information, he said.
"When we started" the Light Attack experiment, Goldfein said, the idea was to create a long-term response to "violent extremism," and do it in a way that allied air forces with limited resources could still contribute to the effort.
"We haven't had many options for them to be able" to contribute in those fights, he explained. The light attack aircraft would offer such an opportunity.
The National Defense Strategy highlights partnerships and alliances, Goldfein continued, so the Light Attack program fits the bill nicely.
"What I hear over and over again from various air chiefs … who perhaps are not able to get into fourth … or fifth generation aircraft" is that they want to participate in air campaigns and the light aircraft would allow them to "buy into [a] system … that can enhance [the] alignment of effort."
It's "not just about the platform and sensor and weapon," he added. Light Attack is "equally about the information sharing network" that allows allies to "join us" in the business of countering violent extremism "within their borders."
The Light Attack experiments were halted because of the "tragic" loss of a naval aviator in an accident, he noted, and because USAF felt it had enough information with which "to go forward."
The first draft request for proposals has been issued, "to begin a dialog with industry," and a final RFP should be out "in December of this year," Goldfein observed. "And then we'll see where we go."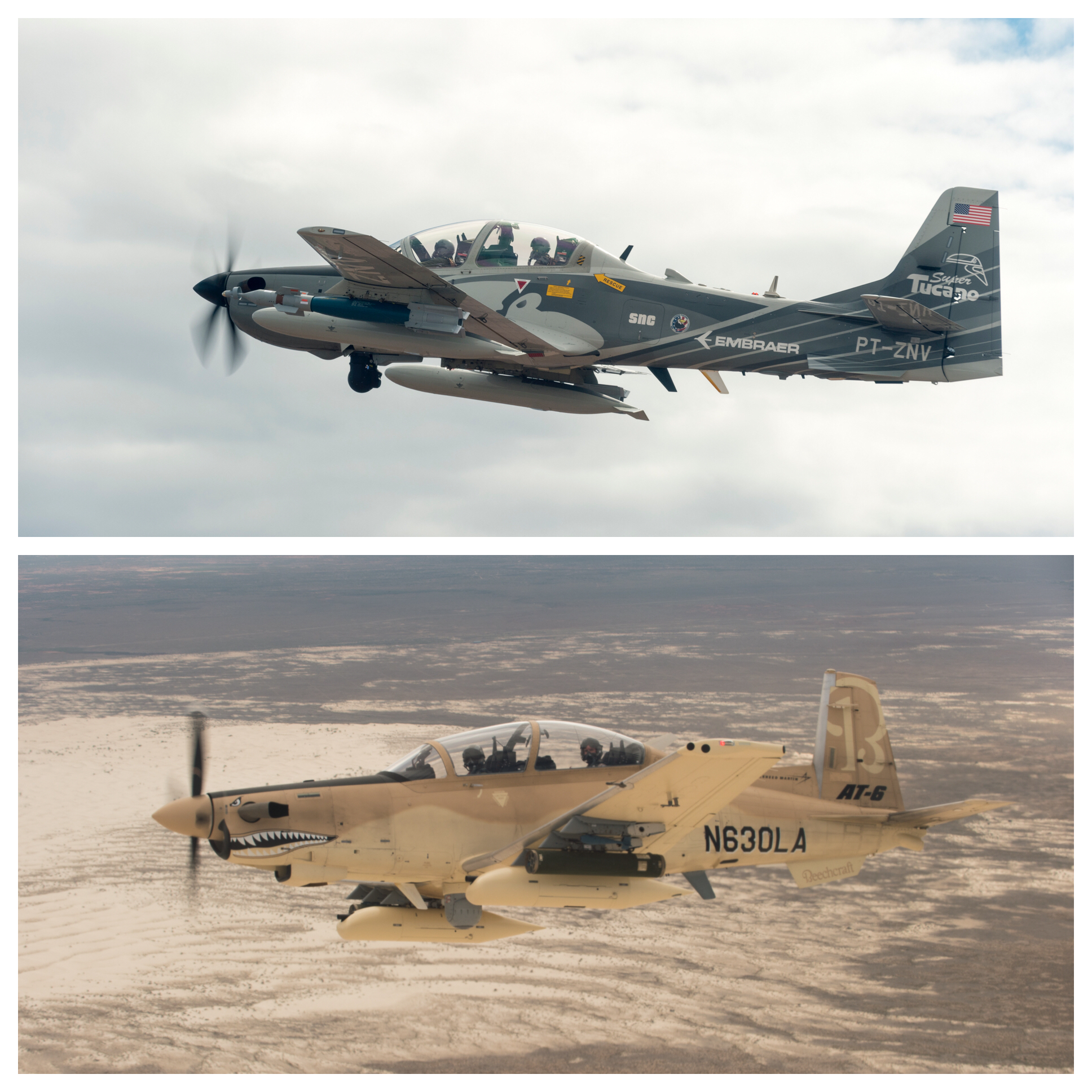 The Air Force has down selected the Sierra Nevada/Embraer A-29 Super Tucano (top) and Textron Aviation AT-6B Wolverine (bottom) for its new light attack program. USAF photos; Air Force Magazine illustration.
Air chiefs worldwide are "watching this closely," Goldfein added. "I think we've got some great models out there for how we do this, so I'm excited about it."
The Light Attack aircraft has been touted as a way for the Air Force to conduct close air support and armed overwatch in areas where there is no challenge to air superiority, and do so at far less expense than with jet combat aircraft. Goldfein said it hasn't been decided how many aircraft USAF would require to fulfill its evolving operational concept.
"Until we get a sense" of what p?artner needs are, it's probably premature for USAF to establish any numbers, he said. But it's also true that allies are more inclined to buy something if the Air Force is buying the same platform, Goldfein noted.
Gen. Ellen Pawlikowski, head of Air Force Materiel Command, told Air Force Magazine in a recent interview that she envisions a buy of "about 20" Light Attack aircraft, but she said she would not buy a robust logistics capability for them. When they wear out, she said, her preference would be to sell the aircraft to allies or put them in the boneyard and "buy new ones," because support costs on small-inventory fleets are "eating us alive."
"I don't want to get disconnected from the overall strategy," Goldfein asserted. "This is in direct support of the overall … National Defense Strategy that has a line of effort" for improving the capabilities of "allies and partners." Toward fighting violent extremism, "I think the light attack aircraft can play a significant role."