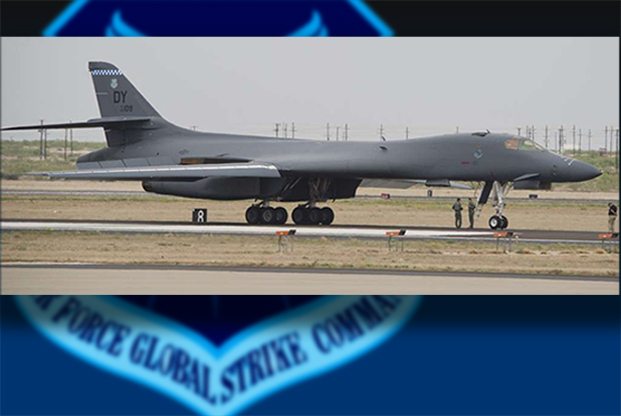 A B-1B Lancer bomber on the ground at Midland International Airport on May 1, 2018. The aircraft is on the North/South runway. Photo by Tim Fischer, Midland Reporter-Telegram, MRT.com/Graphic by Air Force Magazine's Mike Tsukamoto.
Air Force Global Strike Command on Thursday grounded its entire B-1B Lancer fleet, including those deployed to the Middle East, because of ejection seat issues discovered during the investigation of a recent emergency landing.
The command discovered "an issue with ejection seat components" following the May 1 emergency landing of a Dyess AFB, Texas, B-1 at Midland International Air & Space Port in Texas, according to an AFGSC release. Pictures of the B-1 on the ground showed a hatch above the weapons systems officer's position open, indicating a possible attempt to eject.
AFGSC on Friday would not expand on what happened during the May 1 incident, or what specific issues with the ejection seat systems were discovered, citing the ongoing safety investigation.
The grounding comes as B-1s from Ellsworth AFB, S.D., had redeployed to Al Udeid AB, Qatar, for ongoing operations in Iraq, Syria, and Afghanistan. AFGSC said Friday those aircraft are grounded and the service is prioritizing replacement parts first for the B-1s there to get them back into operations as soon as possible.
Air Force spokeswoman Ann Stefanek said there are not plans at this point to replace the bombers down range, adding there are enough assets in theater to continue operations with little interruption.
The grounding will be the second time B-1 units stood down for safety within about one month, following May's Air Force-wide safety review.