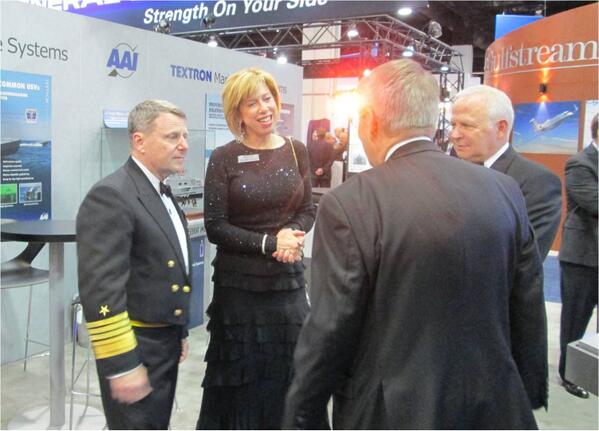 Ellen Lord talks with former US Northern Command boss Adm. William Gortney and Vice Adm. Terrance Etnyre, former commander of US Naval Surface Forces, at Navy League's Sea, Air, and Space conference in 2013. Textron Twitter photo.
President Trump announced his intent to nominate Ellen Lord, the former president and CEO of Textron Systems, to be the next under secretary of defense for acquisition, technology, and logistics.
James MacStravic has been performing the duties of the Pentagon's top weapons buyer since Frank Kendall, who held the post since 2012, retired in late January. However, it's still unclear exactly what Lord's responsibilities will be if she is confirmed.
Beginning in February 2018, the under secretary of defense for acquisition, technology, and logistics position—the No. 3 job at the Pentagon—will go away. The 2017 National Defense Authorization Act mandated the position be split into the undersecretary for research and engineering and undersecretary for acquisition and sustainment. The intent was that the head of AT&L would become the new head of R&E, which is intended to be the department's chief technology officer. However, according to the White House announcement, Lord would assume the role of undersecretary for acquisition and sustainment, where she would oversee current acquisition programs and ensure they stay on track.
Congress left it up to the Pentagon to figure out exactly how those positions would be organized.
Deputy Defense Secretary Robert Work told Senate appropriators last month that Defense Secretary Jim Mattis had approved the initial plan.
While at Textron, Lord managed "businesses providing hardware and software for unmanned systems, precision weapons, marine craft, armored vehicles, simulation and training, electronic warfare, and intelligence software to the United States Air Force, Army, Marine Corps, Navy, as well as a variety of international customers," according to the White House statement. Because of those business involvements with contracts and programs, Lord would have to recuse herself from certain decisions in her new role.
Sen. John McCain, chairman of the Senate Armed Services Committee, said he did not like the idea of giving top Pentagon jobs to former defense industry executives. During Patrick Shanahan's sometimes heated nomination hearing to be the next Deputy Defense Secretary, McCain said, "Frankly, I'm not overjoyed that you came from" one of the five corporations that receive 90 percent of DOD business. "That's not what our founding fathers had in mind."
However, SASC approved Shanahan's nomination on Wednesday, moving it to the full Senate for consideration.