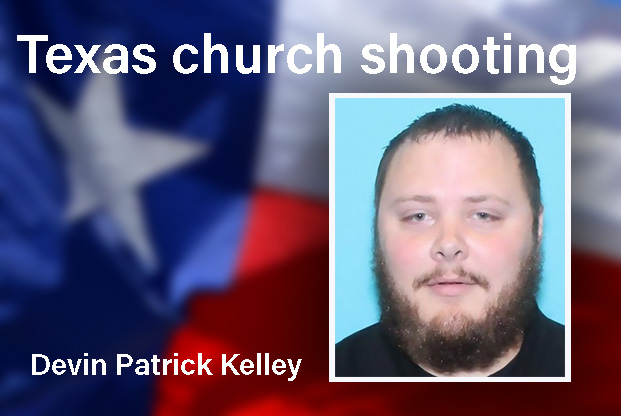 Undated driver's license photo of Sutherland Springs church shooting perpetrator, Devin Patrick Kelley. Provided by Texas Department of Public Safety. Air Force Magazine graphic by Mike Tsukamoto.
Police records show the former airman who shot up a Texas church Sunday—killing 26 and wounding almost two dozen others—was taken into custody in June 2012 after escaping a mental health institution.
According to the 2012 police report—obtained and posted by KPRC Click2Houston—Devin Kelley escaped Peak Behavioral Health Services in Santa Teresa, N.M., on June 7, 2012. A staffer at Peak—about 100 miles away from Holloman AFB, N.M.—reported him missing. Kelley "was a danger to himself and others as he had already been caught sneaking fire arms onto [Holloman]," the staffer told police, adding then-21-year-old Kelley was "attempting to carry out death threats that [Kelley] had made on his military chain of command." The police later found Kelley at a bus station, trying to skip town, and took him into custody.
About five years later, Kelley carried out the Sunday shooting at First Baptist Church in Sutherland Springs, Texas.
Details like these, and others that have emerged, have led the Air Force to take action after it failed to notify authorities of Kelley's criminal past, allowing him to legally purchase the Ruger AR-556 rifle he used to carry out his attack. Monday, Air Force Secretary Heather Wilson and Chief of Staff Gen. David Goldfein announced "a complete review" of how the service handled Kelley's criminal record. The Air Force Inspector General will review the service's databases to ensure records in other cases were reported correctly, Air Force spokeswoman Ann Stefanek said.
"I understand that Secretary Wilson has initiated an investigation, but I don't believe that the Air Force should be left to self-police after such tragic consequences," Chairman of the House Armed Services Committee Rep. Mac Thornberry (R-Texas), who called USAF's error "appalling," wrote in a Tuesday statement. "Furthermore, I am concerned that the failure to properly report domestic violence convictions may be a systemic issue."
Chairman of the Senate Armed Services Committee Sen. John McCain (R-Ariz.) echoed Thornberry's resolve in his own statement, saying SASC "will conduct rigorous oversight of the [Defense] Department's investigation into the circumstances that led to this failure. It's critical that each of the military services take the steps necessary to ensure that similar mistakes have not occurred and will not occur in the future."
Kelley enlisted in the Air Force in 2010 and worked in logistics readiness at Holloman. In 2012, he was convicted by a general court-martial on two charges of domestic assault against his wife and stepson. He served a year in confinement at Naval Consolidated Brig Miramar in California before being released from the service in 2014 as an E-1 with a bad conduct discharge.