After a series of incidents in the skies over Syria, Russian pilots appear to have become less aggressive toward U.S. forces following the arrival of F-35 stealth multirole fighters to the Middle East, according to U.S. officials.
Originally tasked to deter Iranian attacks on commercial vessels in the Arabian Gulf, the F-35s have added capacity and capability throughout the region.
"We're flying them in a number of different areas," a senior U.S. defense official told Air & Space Forces Magazine of the F-35. "We are flying them on missions up in Syria" and around the Arabian Gulf.
Those missions seem to be having an effect on Russian behavior, at least for now.
For example, Russian pilots have stopped dropping flares in front of U.S. MQ-9 drones after doing so multiple times in recent months—damaging the U.S. aircraft twice last month and interfering with an anti-ISIS strike.
"We have seen a decrease in the level of aggressiveness of the Russian activities against our MQ-9s," the official said.
Importantly, the U.S. has not changed where it flies MQ-9s on defeat-ISIS missions, the senior U.S. defense official said. Those flights often occur in northwest Syria, an area where ISIS militants have sought refuge but which the Russians consider airspace they share with the regime of Bashar Al Assad.
It is premature to say if the calmer skies are here to stay.
"It's too early for us to tell if that's a major change of behavior or just an aberration," the U.S. official said of Russian operations. "Some of that may be in response to kind of our increasing presence as we brought the F-35 in."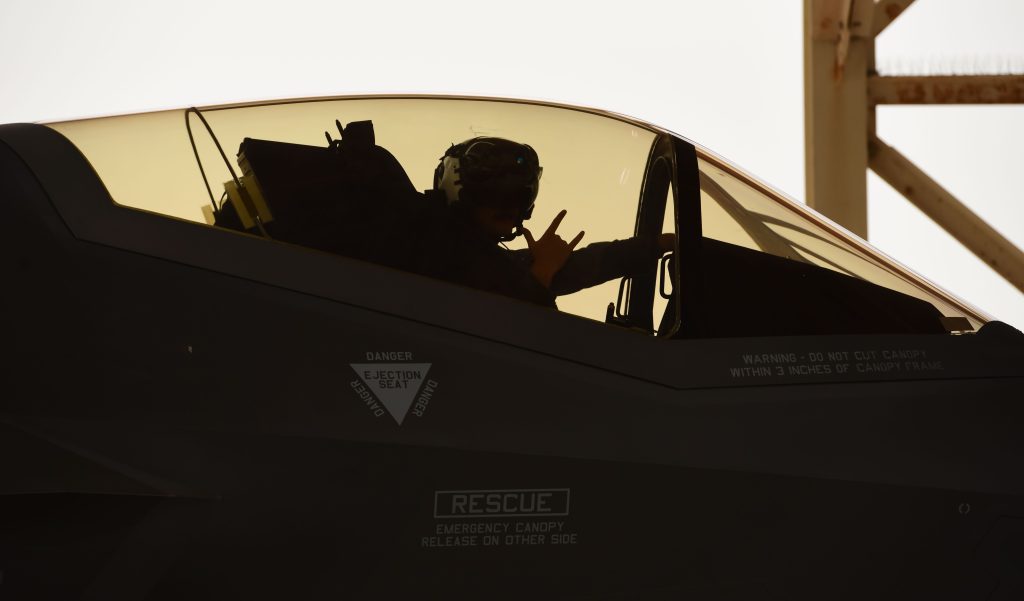 The U.S. drones have not escaped the Russians' attention. The U.S. senior defense official said that as recently as last week, Russia was still "intercepting" U.S. drones with one to two aircraft but doing so less often and without trying to directly interfere with U.S. flight operations.
While U.S. officials do not consider these actions unsafe, they said they still see them as "unprofessional" because the Russian aircraft have been getting close to the U.S. drones, and manned Russian planes, which are capable of carrying both air-to-air and air-to-surface weapons, have been overflying Al Tanf Garrison in eastern Syria, where the U.S. operates an outpost to train and support local groups fighting ISIS. The U.S. has roughly 900 troops in Syria, supplemented by airpower. Russia is in Syria supporting the Assad regime.
The Pentagon declined to comment on the reason for the apparent shift in Russian operations.
"In terms of Russian aggression or unprofessional, unsafe behavior, I would refer you to the Russians to speak to that as into why there's been a decrease," Deputy Pentagon Press Secretary Sabrina Singh told reporters Aug. 21. "We have, of course, always followed the proper procedures when conducting our own operations."
In Europe, Russian pilots have been "relatively safe and professional" since crashing into U.S. MQ-9 over the Black Sea in March, U.S. Air Forces in Europe commander Gen. James B. Hecker said Aug. 18 during a Defense Writers Group event. The Russian Embassy in Washington did not reply to a request for comment on recent Russian interactions with U.S. drones.
In the Middle East, the fifth-generation F-35 fighters, which are also highly capable sensing platforms, appear to have made their presence felt. At times, the F-35 squadron in Central Command has dispersed to multiple air bases, simultaneously deterring Iran and Russia.
Air Forces Central (AFCENT) has four fighter squadrons in the region, up from three in the spring: an F-35 squadron, an A-10 squadron, and two F-16 squadrons. A Texas Air Force Reserve unit left the region earlier this month but has since been replaced by the 125th Expeditionary Fighter Squadron, an Oklahoma Air National Guard F-16 unit from Tulsa.
Over in the Gulf region, Harrier jets from the USS Bataan amphibious assault ship have also relieved some pressure from Air Force fighter aircraft, though they still require aerial refueling tanker support, and USAF still assists with intelligence, surveillance, and reconnaissance.