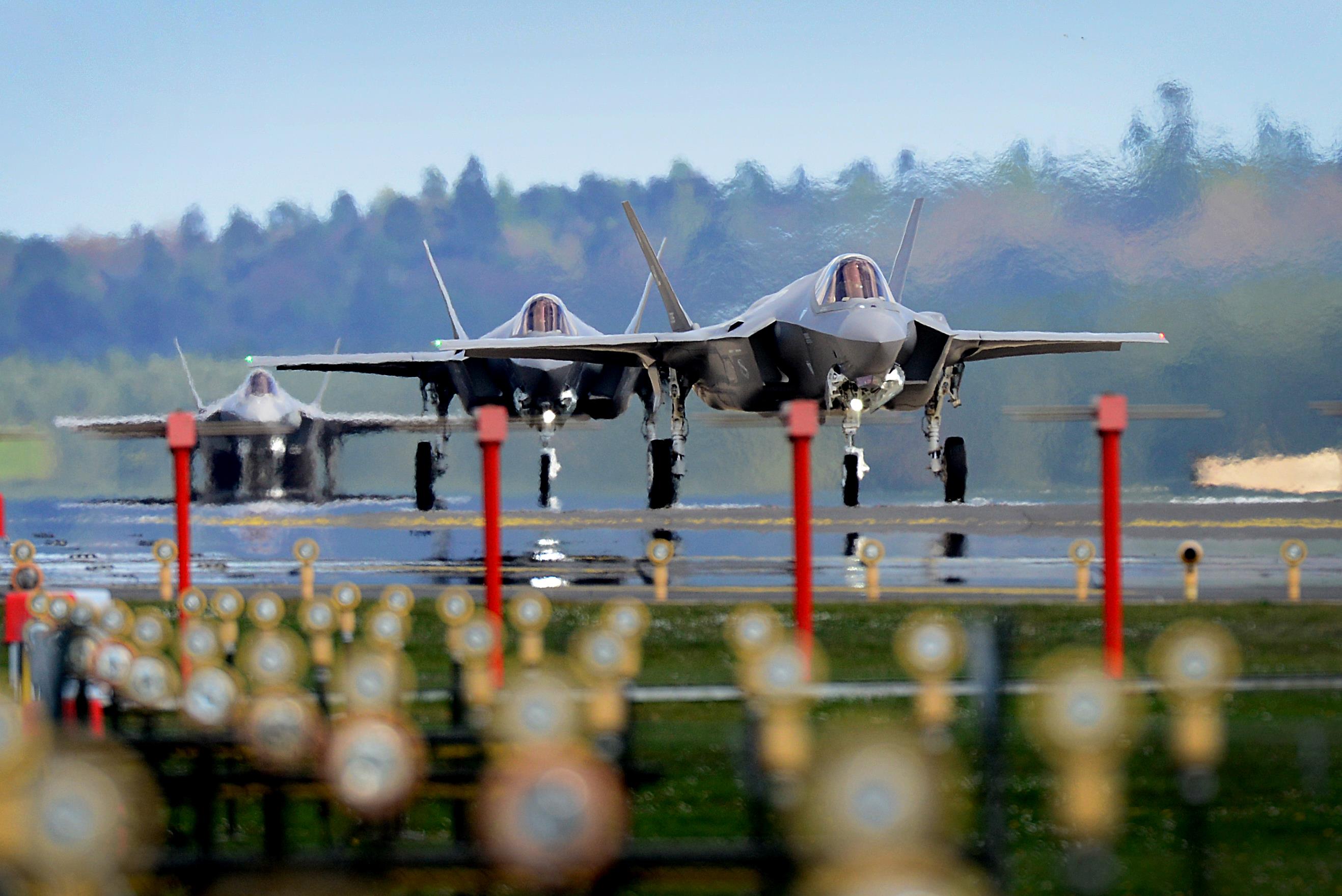 F-35As from the 34th Fighter Squadron at Hill AFB, Utah, land at RAF Lakenheath, England, April 15, 2017. Air Force photo by TSgt. Matthew Plew.
F-35As performed at a higher mission capable rate than its fourth generation counterparts during the type's first deployment to Europe, despite dealing with a small amount of maintenance issues.
Eight F-35As and about 200 airmen from Hill AFB, Utah, deployed to RAF Lakenheath, England, last month before returning home on May 7. During the deployment, the aircraft flew 76 sorties and more than 154 flying hours. The F-35As maintained an 87.5 percent mission capable rate for the deployment, with four canceled sorties because of maintenance issues, said Col. David Lyons, commander of the 388th Fighter Wing at Hill. For comparison, Hill F-16s currently deployed to Spain have a 75 percent mission capable rate, Lyons said.
Of the four cancellations, two were due to maintenance "non-deliveries," meaning the F-35s were not ready by the scheduled time due to maintenance issues. The two other times were ground cancellations before flight because of a helmet transmitter issue and a minor issues with a fuel seal, Lyons said. The issues are part of "normal fighter operations" and were corrected with parts that came along on the deployment, he said.
The biggest goal of the deployment was for Lakenheath to get familiar with the aircraft in preparation for that base standing up its own F-35 squadron in 2020. The F-35s also integrated with US Air Forces in Europe F-15Cs and F-15Es, and flew with NATO allies such as Dutch and Norwegian F-16s, said Lt. Col. George Watkins, commander of Hill's 34th Fighter Squadron.
F-35s flew air-to-air and suppression of enemy defenses exercises, along with fighter integration exercises, to further develop tactics, Lyons said.
During the deployment, two F-35s forward deployed to Estonia and Bulgaria. During these "out and back" flights, the bases focused on "procedures and logistics" to bed down F-35s in a forward deployed scenario, Watkins said. The F-35s didn't fly with local aircraft on these deployments.
The F-35 pilots "only interacted" with host nation forces. It was a "normal exercise" with "nothing unusual," Watkins said.