Preserving the F-22 Raptor's ability to prevail in air combat through the end of the decade will cost more than $9 billion, and that figure depends on lawmakers allowing the Air Force to divest 32 of the oldest fighters, according to budget documents, service spokespersons and USAF leadership's Congressional testimony.
But if Congress doesn't allow the retirements—an action taken in last year's budget—the Air Force will have to rethink not only its F-22 plans but the Next-Generation Air Dominance program as well, since all the savings the service expects to reap from not operating, maintaining, or upgrading those 32 aircraft went into the NGAD account, senior officials said.
"Our budget assumes the success of that proposal" to retire the oldest F-22s, Air Force acquisition executive Andrew Hunter told the House Armed Services Committee's tactical aviation panel in March 29 testimony.
The Air Force's proposed fiscal year 2024-2028 spending on the F-22 amounts to $4.2 billion in procurement—with another $1.74 billion "to completion," circa 2030—and $3.2 billion in research, development, test, and evaluation, for a total of $9.06 billion through the end of the decade. That figure doesn't include operations and maintenance.
The biggest items are for "sensor enhancement"—requested at $4.13 billion—and reliability and maintainability upgrades, requested at $2.43 billion.
Other major procurement efforts include Link 16 modifications, identification, friend or foe systems, trainer and simulator modifications, anti-jam/anti-spoofing position, navigation, and timing enhancements and modifications to the F-22's Pratt & Whitney F119 engines.
The Air Force also wants to spend $553 million on stealthy long-range fuel tanks and pylons. Budget documents call for 326 tanks and 286 pylons, which would give each aircraft at least two full sets of each. The F-22 can fly at speeds up to Mach 1.2 with the tanks and pylons, budget documents say.
The tanks and pylons, as well as stealthy-looking pods with an apparent dielectric front-end aperture, have been seen in flight test photos of F-22s captured around Lockheed's Palmdale, Calif., facilities. They were also shown in an artist's concept released by Air Combat Command last year, without an explanation of what the underwing stores are.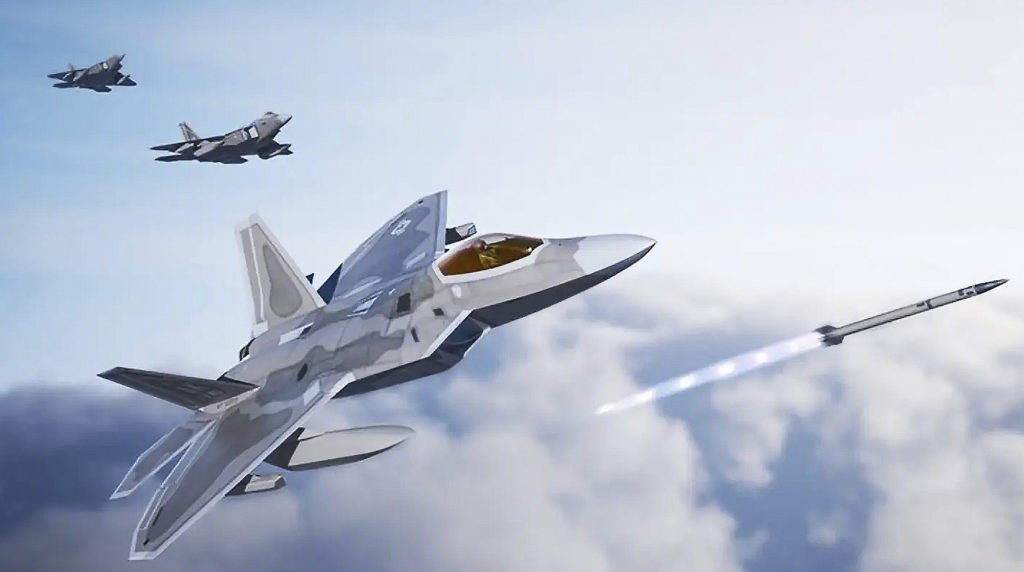 Aviation experts speculate that the slender pods contain infrared search-and-track systems (IRST) and may have other sensors, as well. A former Lockheed program official has previously told Air & Space Forces Magazine that there is insufficient "real estate" within the F-22's fuselage to host an IRST, an alternative method of detecting an adversary aircraft built with low radar cross section, like China's J-20 fighter.
USAF spending plans would see F-22 procurement funding ramp up to over $1 billion a year in fiscal 2026 and 2027, dropping off sharply in 2028 to $426.8 billion. RDT&E on the fighter ends in 2028.
Counting previous spending going back to fiscal 2018, the Air Force is projecting the total cost of keeping the F-22 capable against current and future threats at $16.2 billion, according to an Air Force spokesperson. That comes to more than $100 million for each of the 148 or so F-22s the Air Force plans to retain.
The jets the Air Force wants to divest have been used for basic skills training and not been kept to the same configuration as the frontline fleet. Air Force Secretary Frank Kendall has said he estimates it would cost $50 million apiece to upgrade the them to the current operational fleet configuration, and considerably more to keep them consistent with the rest of the fleet on top of the cost of flying and maintaining them.
Though Air Combat Command has considered requesting funding to upgrade the old F-22s every year for at least eight years, the proposal has always lost out to higher priorities, former ACC commanders have said.
The Air Force asked Congress last year to retire the same 32 F-22s but was rebuffed. It's asking again this year not only because those aircraft are "no longer operationally representative," but the cost to bring them up to full capability would be "prohibitive," Lt. Gen. Richard G. Moore, deputy chief of staff for plans and programs, told the HASC tactical aviation panel. They are also no longer competitive with China's best stealth fighters, he said.
"Upgrading the Block 20s to a combat configuration is cost-prohibitive and very time intensive," Moore testified. "Based on the most advanced weapons that an F-22 Block 20 can carry now, it is not competitive with the [Shenyang] J-20, with the most advanced weapons the Chinese can put on it."
And while the Air Force typically does not specify which cost-saving moves pay for which new programs, "in this case, all of the resources that came from the Block 20 went directly to NGAD, and we believe that we must get to NGAD in order to be able to continue confronting Chinese aggression into the '30s," Moore said. "And so that, to us, was a trade that was worth making."
Opponents of the F-22 divestment argue the Air Force can continue to use the jets for training, but Moore said the configuration of the cockpit is so different from that of frontline aircraft that "there's negative learning that occurs." Pilots have to "unlearn some of the things that they learned in the Block 20 when they go to an operational aircraft."
Pressed by panel members on what the Air Force will do if not permitted to retire the oldest F-22s, Moore said the answer will depend on the level of funding appropriated for the F-22 program
As for what would happen to the NGAD account—since that is where the F-22 savings are supposed to go—Moore replied, "I couldn't say. … We'll have to work with the Congress and determine how we'll make the F-22 program make it to the end of the year, in the event that divestiture is prohibited but continued operations are not appropriated."
In any event, an Air Force spokesperson told Air & Space Forces Magazine the service "does not plan to modernize these aircraft to a comparable configuration to receive the majority of the planned F-22 upgrades."
Neither the F-22 nor NGAD accounts include funding for the AIM-260 Joint Advanced Tactical Missile (JATM), which is to be their primary weapon.