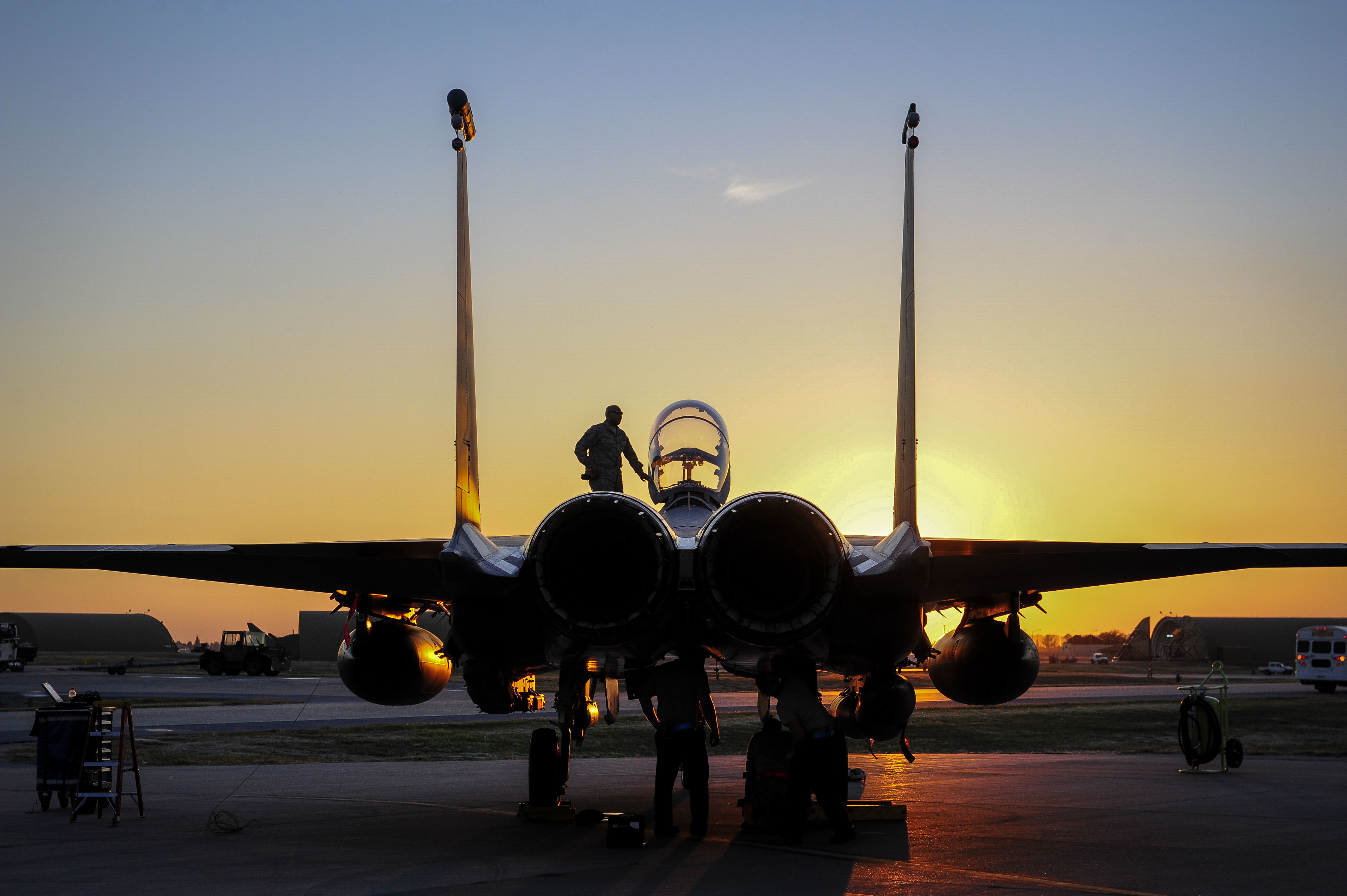 An F-15E Strike Eagle shot down a Shaed 129 drone flying near US-backed fighters inside Syria on June 20, 2017. Here, a Strike Eagle sits on the flightline at Incirlik AB, Turkey, Nov. 12, 2015. Air Force photo by A1C Cory W. Bush.
An Air Force F-15E Strike Eagle shot down an Iranian-made drone flying near US-backed fighters inside Syria, marking another dramatic escalation in the air war and increasing contention with Russia.
The shoot down was the second time within two weeks that an F-15E shot down a Shahed 129, which is produced in Iran and flown by the Iranian Revolutionary Guard, Syrian-allied fighters, and Lebanese Hezbollah.
The incident happened at about 12:30 a.m. after the drone displayed "hostile intent" and advanced on coalition forces near At Tanf—the same location of the June 8 shoot down, Combined Joint Task Force-Operation Inherent Resolve said in a statement. The drone had "dirty wings," meaning it was armed and the F-15E pilot made the decision quickly to shoot it down to protect US-backed fighters, Pentagon spokesman Navy Capt. Jeff Davis said during a Tuesday briefing.
"The coalition has made it clear to all parties publicly and through the de-confliction line with Russian forces that the demonstrated hostile intent and actions of pro-regime forces toward coalition and partner forces in Syria conducting legitimate counter-ISIS operations will not be tolerated," according to the coalition statement.
The US did not have time to try to reach out to Russia because of how quickly the situation developed, Davis said.
On Sunday, a US Navy F/A-18E shot down a Syrian Air Force Su-22 after it dropped bombs near US-backed Syrian Democratic Forces in the town of Ja'Din, near Raqqa.
Russia earlier this week said because of the shoot down, it would pull out of the deconfliction line. Davis said Tuesday the line is "still operational" on the US side, but would not speak for Russia's involvement. The US is still committed to deconfliction and is hopeful the communication line would be used, he added.
Russia also said Monday that it would treat any US or coalition aircraft flying west of the Euphrates River as a target and track it with anti-aircraft missile radars. The US has adjusted its flight plans to account for Russia's threat. Davis would not specifically detail the changes, but said the US could take many steps, such as changing the loiter routes, altitude of aircraft, and the types of aircraft that are flown.
Australia on Tuesday said it would no longer conduct airstrikes inside Syria following the increased hostilities and threats by Russia. The Australian Defense Department said in a statement the step is a "precautionary measure" and that the move would be temporary. The statement only addressed strike operations inside Syria; operations in Iraq are expected to continue. The coalition heavily uses the Australian E-7A Wedgetail command and control aircraft as part of its air operations.