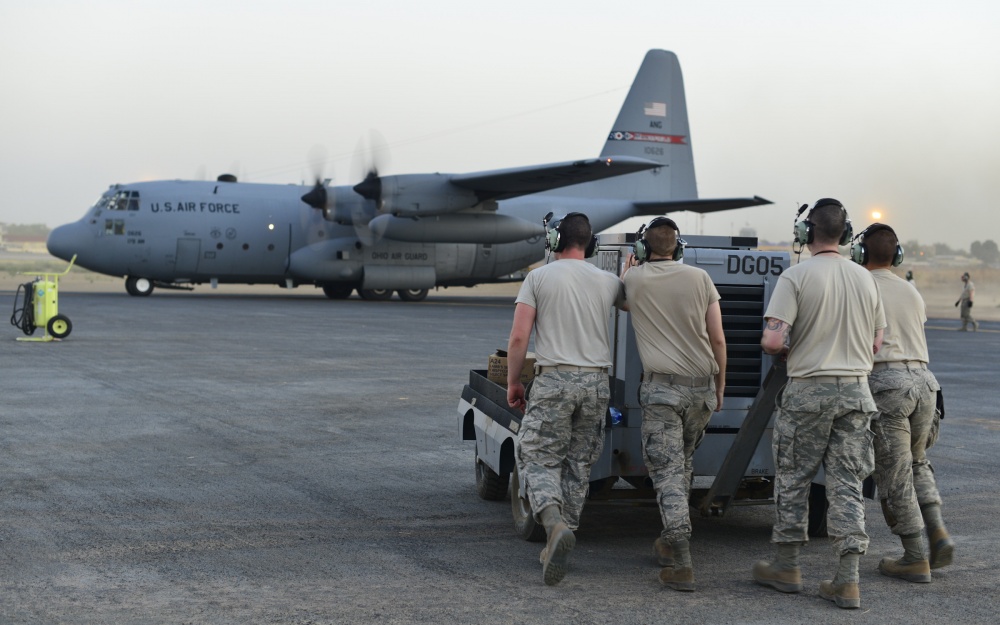 Aircraft maintainers from the Ohio Air National Guard's 179th Airlift Wing, prepare their C-130 aircraft for the next day's mission in support of Flintlock 17 military exercise, on Mar. 3, 2017. US Army photo by Richard Bumgardner.
For the past three weeks, airmen from the Ohio Air National Guard have been working to transport 400 people and 50 tons of cargo around a training area nearly twice the size of the continental United States while dealing with temperatures around 100 Fahrenheit, as well as windy, dusty conditions.
"These conditions, you can't simulate back in the state of Ohio," said Lt. Col. Jeremy Ford, the director of operations for the 164th Airlift Squadron, who serves as the director of the air operations center for Exercise Flintlock, headquartered in N'Djamena, Chad. "That real-world experience is going to pay off in the future for us."
Flintlock, an annual special operations training exercise in Africa, wraps up Thursday. More than 20 countries and 2,000 people participated in the exercise, which included events in Chad, Niger, Burkina Faso, Morocco, Tunisia, Cameroon, and Mauritania.
US Army Brig. Gen. Donald Bolduc, commander of Special Operations Command Africa, said every nation represented in the exercise faces the challenge of combating the spread of violent extremism and working together "to stop these illicit organizations."
"Flintlock isn't the beginning of our cooperation—this training is how we solidify our cooperation and ensure we are ready for the future," Bolduc said, according to U.S. Africa Command.
Ford told Air Force Magazine that two C-130s and roughly 60 people from the Ohio ANG acted as a force enabler for Flintlock.
"This exercise this year has a very large footprint," he explained. "It's a very large area to span, and we couldn't connect all of those places without airlift support … We're able to bridge the gap between the large geographical locations. We're solving the tyranny of distance for this exercise."
The Ohio airmen are not the only Air Force personnel involved in the exercise; Ford said there is a sizeable Air Force Special Operations Command contingent, with most of those airmen conducting medical training.
"We've done the first-ever Chadian [casualty evacuation] training here in Chad this year, with our AFSOC folks and our Air Guard aircraft," Ford explained.
The event included training on the ground and more in the air, with soldiers playing roles as patients, he said.
The exercise has been a great opportunity for the Air Guardsmen to gain operational experience they will be able to use in contingency operations in the future, Ford said.
"Being here in Africa with the hot, sandy, dusty conditions, where we've got to work through challenges with a limited amount of resources … we had to kind of think outside the box and become creative," he said. "That's all training that we can't get back at home."
The exercise also gave the Ohio airmen "an opportunity to really hone our skills as a force multiplier for our Active Duty component," Ford said.
"All these contingency operations that we're involved in today, it's not just our Active Duty forces, it's a combination of Active Duty, Air National Guard, and Reserve forces. So when we're able to train together and work together in an environment like this, it make us more interoperable and it makes us a better Total Force package."