Draken International has purchased 12 South African Atlas Cheetahs, shown here, bringing the company's total fleet to 109 aircraft. The Cheetahs are expected to be operational in mid-2018. Draken photo.
Draken International announced on Monday the acquisition of 12 South African Atlas Cheetah supersonic fighters.
The aircraft—nine C-model single-seat and three D-model two-seaters—will be shipped directly from the manufacturer and will already be upgraded "with all the things you would expect of a fourth-generation fighter," including radar warning and a radar warning receiver, color multi-function displays, head up display, and upgraded inertial navigation system and GPS, John Baum, Draken vice president of security and strategic projects, told Air Force Magazine. "Really, we're getting a turn-key airplane," he added.
The Mach 2.2 Cheetahs, which means they can fly faster than two times the speed of sound, have an average of 500 hours on each airframe, making them considerably younger than US Air Force, Marine Corps, or Navy aircraft they could potentially challenge in a Red Air capacity, according to a company press release.
Baum said the South African air force flew the Cheetahs from 1993 to 2008 when it transitioned to the Saab JAS 39 Gripen.
The manufacturer will complete the return to service inspection on the first two aircraft in the near future, then they will be broken down and shipped to Draken's Lakeland, Fla., facility. The company expects the fleet to be ready to fly in mid-2018.
_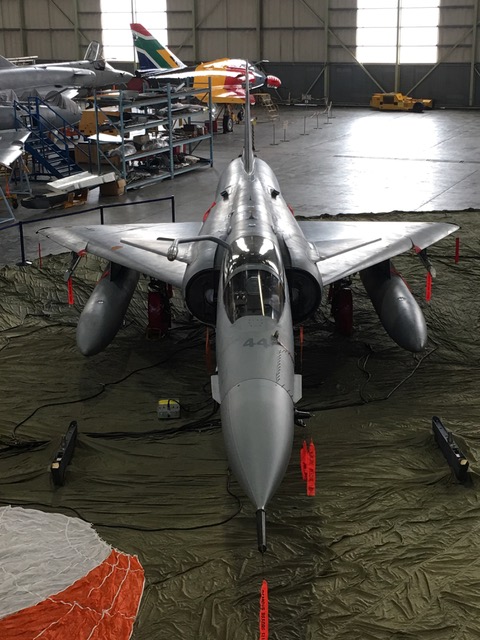 A Cheetah undergoes acceptance inspection in South Africa. Draken International photo.
_
The company conducted a "proof of concept" in early 2015, fighting the Wisconsin Air National Guard over Volk Field. The US Air Force then contracted with Draken later that year to augment the 64th Aggressor Squadron at Nellis AFB, Nev., and to fly Red Air in support of the US Weapons School, Red Flag, and the 422nd Training and Evaluation Squadron there. Since then, Baum said the company has flown 2,900 sorties and about 4,650 hours a year, saving the Air Force an estimated $101.2 million. That doesn't include what he calls the "soft costs," which he said are "not easy to quantify," but include keeping USAF pilots in the cockpit training for the missions they may one day need to fly, instead of going TDY to play the bad guy.
"Having Draken as a permanent presence [at Nellis] provides a lot of cost stability at a very unstable time in the Air Force," said Baum, a retired USAF F-16 pilot. "Fighter Pilots aren't flying as much and that's a contributing factor to why they're are getting out. So, when they do fly, you want it to be valuable flight training they are going to use in combat."
Draken has a total of 109 jets, including eight Aermacchi MB-339s, 27 MiG-21s, 21 L-159s, 22 F1s, 13 A-4s, five L-39s, and one T-33.