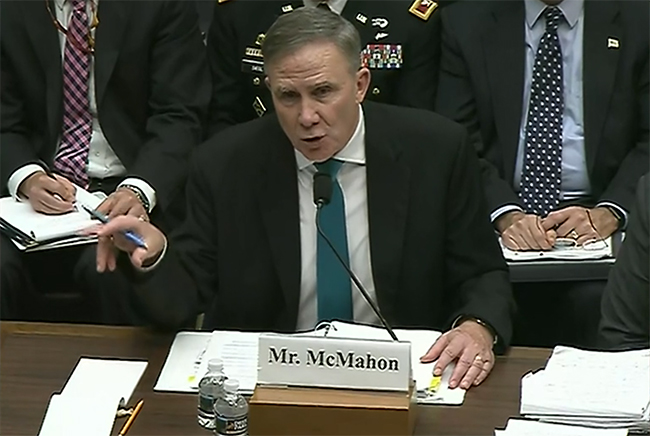 Robert McMahon, assistant secretary of defense for sustainment, testifies at a joint House Armed Services subcommittee hearing on military installations' resilience in the face of emerging threats on Oct. 16, 2019, in Washington, D.C. DVIDS screenshot.
Pentagon officials are running a series of "black-start" exercises designed to test the military's resilience in the face of a major power outage or other utilities failures, they told lawmakers at an Oct. 16 hearing on how their installations are preparing for future threats.
"We can do all the tabletop exercises in the world, but when you actually pull the plug, the question is, what actually goes on" Assistant Secretary of Defense for Sustainment Robert McMahon said at the hearing hosted by two House Armed Services subcommittees. "Perhaps the most important lesson that I've seen is a lack of appreciation and understanding by our senior leaders at the installation level, all the way up to my level, of what we thought was going to happen versus what actually occurred, and then being able to apply those lessons learned."
McMahon said his office has held four productive Black Start exercises so far, and is planning two more. Each exercise costs between $250,000 and $500,000.
Plenty of tactical issues remain even as they learn more about strategy, he added. The services are starting to build on that work in their own exercises and analyses.
John Henderson, the Air Force's assistant secretary for installations, environment, and energy, said in written testimony the service has partnered with McMahon's office and the Massachusetts Institute of Technology Lincoln Laboratory to create a comprehensive framework for "pull-the-plug" exercises. The framework helps set a baseline for what bases can do to maintain power and to look at vulnerabilities, requirements, and potential improvements.
"To date, the Air Force has completed one tabletop and one 'pull-the-plug' exercise using the aforementioned framework, with one more 'pull-the-plug' exercise scheduled this calendar year and three proposed for next year," Henderson wrote.
His counterpart in the Army, Alex Beehler, said the Army has participated in multiple exercises led by the Office of the Secretary of Defense and plans to continue holding more on its own.
The Army is practicing basic verification of its backup energy and water supply to see "whether we really have what we think we have, and if we don't have it, what do we need to do to get it" Beehler said.
McMahon's written testimony noted that at the Army's Schofield Barracks in Hawaii, the Pentagon looks to rely on a 50-megawatt multi-fuel power generation plant that offers "black-start" capability to three Army installations in case the power grid is disrupted. Hill AFB, Utah, is also modernizing its energy infrastructure to support the Ogden Air Logistics Center and the 388th Fighter Wing, which flies the F-35 Joint Strike Fighter.
Henderson wrote that the Air Force is identifying possible vulnerabilities, on and off of installations, that could arise in case of interference.
"One key focus area addresses the growing threat associated with natural or nefarious events or activities that result in a denial of service, such as missions being separated from access to the national electrical grid and the increasing potential for long-duration power outages," Henderson said.
In fiscal 2018, Air Force installations suffered from about 240 outages that affected electricity, water, steam, natural gas, and waste water for at least eight hours at a time. That's 33 percent fewer "notable" outages than in fiscal 2017, which Henderson said is partly due to greater investments, better maintenance of installations' energy systems, more awareness of potential issues, and more accurate outage reporting.
The service is also working on a program to manage water resources and protect those utilities from the effects of aging infrastructure, malicious attacks, changing precipitation patterns, regional water stresses, and more.
"The Air Force is developing a standardized framework for all Air Force installations to identify, track, and adjust requirements to advance the energy and water resilience goals of the installation," Henderson added. "The Air Force intends to complete installation energy plans at seven installations by the end of calendar year 2019, with a target of finalizing plans for 70 major Air Force installations by the end of [fiscal 2022]."