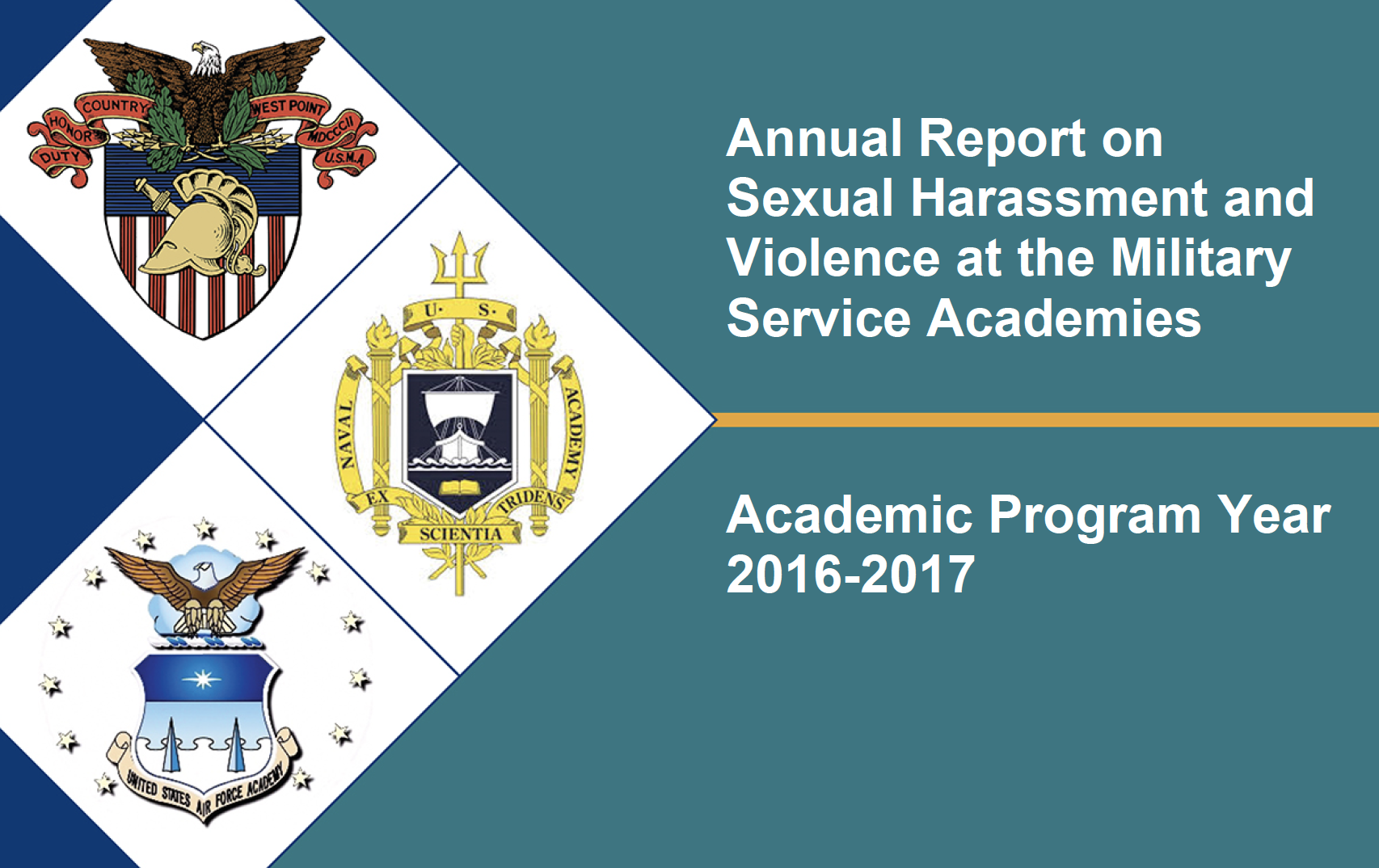 The 2016-17 DOD report on sexual harassment and violence at US military academies found the Air Force Academy to be in violation of policy. ?Report cover illustration.
In its annual report evaluating sexual harassment and violence at military service academies, DOD singled out the Air Force Academy for not complying with policy.
While DOD found the academies were "overall" in compliance with policy, USAFA was found to be in "partial compliance" with regards to its victim assistance efforts in the last year.
To address this, the Air Force is bringing on eight sexual assault prevention and response officers to "ensure proper oversight and management of the [sexual assault prevention and response] office," USAFA wrote Air Force Magazine by email. The SAPR team will comprise a new program manager, two sexual assault response coordinators, three victim advocates, and two violence prevention integrators.
"We will continue to scrutinize our SAPR efforts at the Academy and will be transparent through this process as we strive to develop a culture of dignity and respect at the Academy," USAFA's statement reads. "Until sexual assault is stopped, the Air Force Academy wants victims to continue to come forward not only so crimes can be investigated, but so they can utilize the robust safety support network available to them."
For the annual report released Feb. 7, DOD evaluated the Air Force Academy, the Military Academy, and the Naval Academy. Overall, the three received 112 reports of sexual assault during the 2016-17 academic program year, up from 86 the previous year. Of the three service academies, the US Military Academy had the largest increase in reports, nearly doubling from 26 to 50. USAFA (33) and USNA (29) each had one more report than they had in the previous year.
Despite the increases in report, the Defense Department believes the academies progressed this past year, wrote Robert Wilkie, undersecretary of defense for personnel and readiness, in the report's opening letter to the leaders of the House and Senate Armed Services Committees.
"It is imperative that these future officers understand how eliminating sexual harassment and assault advances our ability to protect the nation," Wilkie said in the report's release.
Additionally, DOD made five official recommendation to the academies:
Educate cadets and midshipmen with prevention skills relevant to current circumstances and future roles

Better prepare military officers and senior enlisted leaders to best promote and teach with dignity and respect

Create process to oversee sexual assault response coordinators and victim advocates

Operationalize DOD's sexual harassment definition within academic environments and lower barriers for cadets and midshipmen to address it

Create or enhance centralized data assessment and reporting resources