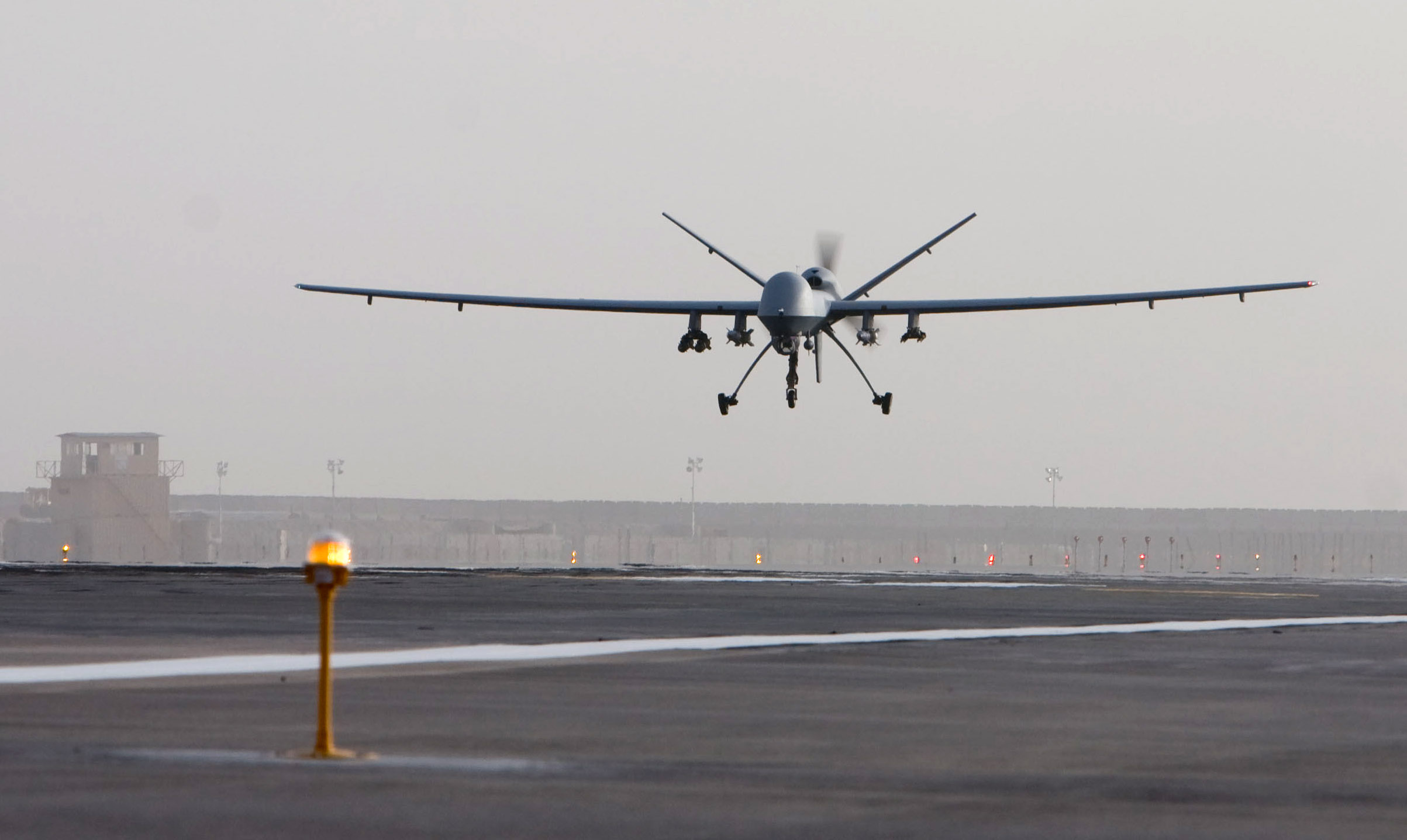 An MQ-9 Reaper takes off on a mission in Afghanistan. Courtesy photo.
Of the many improvements the Defense Department should implement in its remotely piloted aircraft enterprise, one of them is putting someone specifically in charge of RPAs, said retired Air Force Lt. Gen. David Deptula, dean of AFA's Mitchell Institute. The Air Force first proposed the idea in 2006, but received pushback from DOD.
Speaking to reporters Tuesday in advance of the official rollout of his newest publication, Consolidating the Revolution: Optimizing the Potential of Remotely Piloted Aircraft, Deptula emphasized a heavy future reliance on RPAs. But despite the increased use of the platform, which has risen from five sortie sets across the spectrum in 2004 to a planned 90 in 2017, the revolution of the RPA has been "disorganized" in the wake of 9/11, Deptula's report reads. In it, he proposes a focus on institutional changes and technological initiatives, arguing institutional changes will be "the most difficult to implement."
"We've got to change the way we do business," Deptula said of the acquisitions process.
To streamline RPA acquisition, Deptula argues DOD should:
Develop common standards for RPA operators and aircraft
Depend on an open mission systems approach by which segments of RPAs—from sensors to weapons—can be nabbed piecemeal
Incentivize non-traditional defense firms to get into the business, from video analysis to data management
Make it easier for international partners to purchase RPA technology
To overcome technological challenges in the RPA environment, Deptula argues DOD should:
Develop the open architecture the acquisitions process will depend on
Push RPA communications into the combat cloud
Automate various functions of the RPA—from landing to analyzing its ISR
Modulate the munitions RPA can carry
Finally, organizational changes to the RPA enterprise should include:
Establishing a DOD executive agent to coordinate mid- to high-altitude, low-observable (M/HALE) RPAs
Placing M/HALE RPAs under a joint force air component commander
Using RPAs stateside for training and support missions
Redefining the language and nomenclature around the enterprise. For example, RPAs should be described by the data they can supply to airmen rather than by how many of them can operate at once
Deptula's full research will be officially rolled out Wednesday on Capitol Hill.