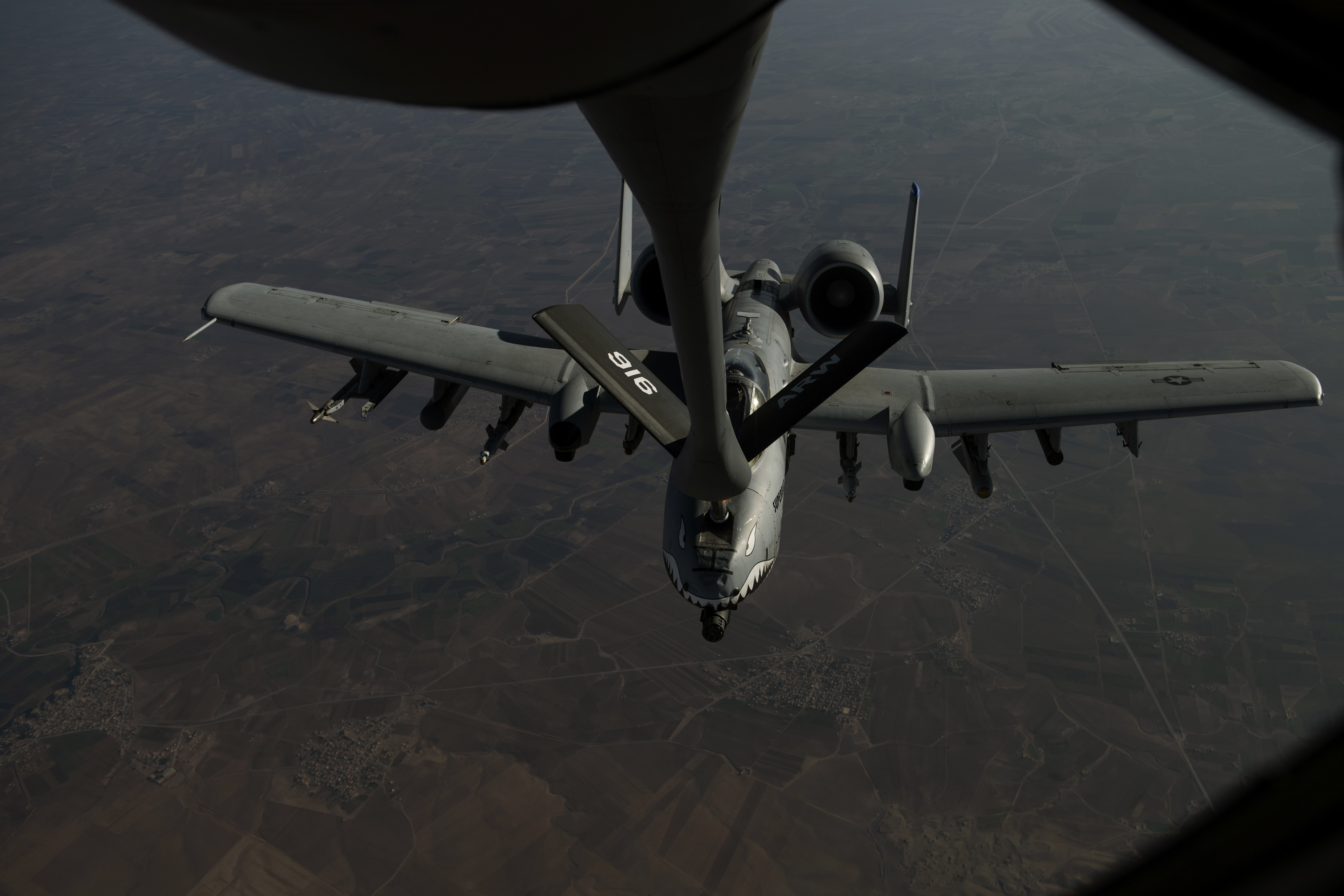 Planning tanker refueling support—like the Thundbolt II above is getting from? a KC-135 Stratotanker during a refueling mission over Syria, Dec. 1, 2017—is undergoing major improvements with DIUx programs. USAF photo by SSgt. Paul Labbe.
AL UDEID AB, Qatar—There are currently about six Defense Innovation Unit-Experimental, or DIUx, programs running at the Combined Air Operations Center here. Most were developed and reached initial operational capability within the last year, and help increase efficiencies and effectiveness, reduce man hours, and increase savings, explained Col. Mike Drowley, Air Forces Central Command chief of staff.
In the CENTCOM area, Drowley said, there are multiple streams of information from multiple places: signals intelligence, communications intelligence, human intelligence. When Lt. Gen. Jeffrey Harrigian became the commander of AFCENT, one of his imperatives was, "How do we manage all this data and then how do we effectively give it to the people that need to utilize it the most?" Drowley said.
Tanker planners, for example, literally used "a white board with a dry erase marker, trying to figure out what receivers are going to one tanker, and then all of a sudden, a change would come in at the two-hour point, and you'd have to completely wipe the board and start all over again," Drowley said.
Because the tanker plan is the "tail end of the whip," any change to the air plan would mean the tanker planners would have to completely redo their process, explained Maj. Derrick Baker, the air refueling coordination team chief.
Now, they can just click on an icon and drop it on another location, and a program called Jigsaw calculates everything, he said.
Jigsaw tells the user how much fuel is available in each aircraft, and an error message pops up if there's not enough for all the receivers. It knows which aircraft can be refueled by which tankers, gives takeoff and landing times, and deconflicts airspace, Baker said.
It also eliminates the need for tedious math and reduces the potential for human error, Baker added, allowing them to be more efficient and "solve the problem faster," making it easier to get air tasking orders out on time.
"The time savings is huge," he noted. "It saves three to four hours a day," not counting time it would take to redo the plan in the event of a change.
Drowley said the speed the programs are developed is unlike anything he's ever seen in the military, and much of it is due to an iterative, adaptive approach that doesn't focus on getting a perfect solution right out of the gate.
Airmen work with DIUx coders to identify what they need, and the first version of a program is usually about a "60 percent solution," Drowley said. Then, users begin to use the beta version and give constant feedback about how to change or improve the program, which has allowed rapid changes to meet real needs.
"We're not looking for the home runs here, we're trying to get a bunch of singles and make progress," he explained. "You're trying to come up with that first step, and once you have that first step, now you do rapid iterations to get to where we need to be."