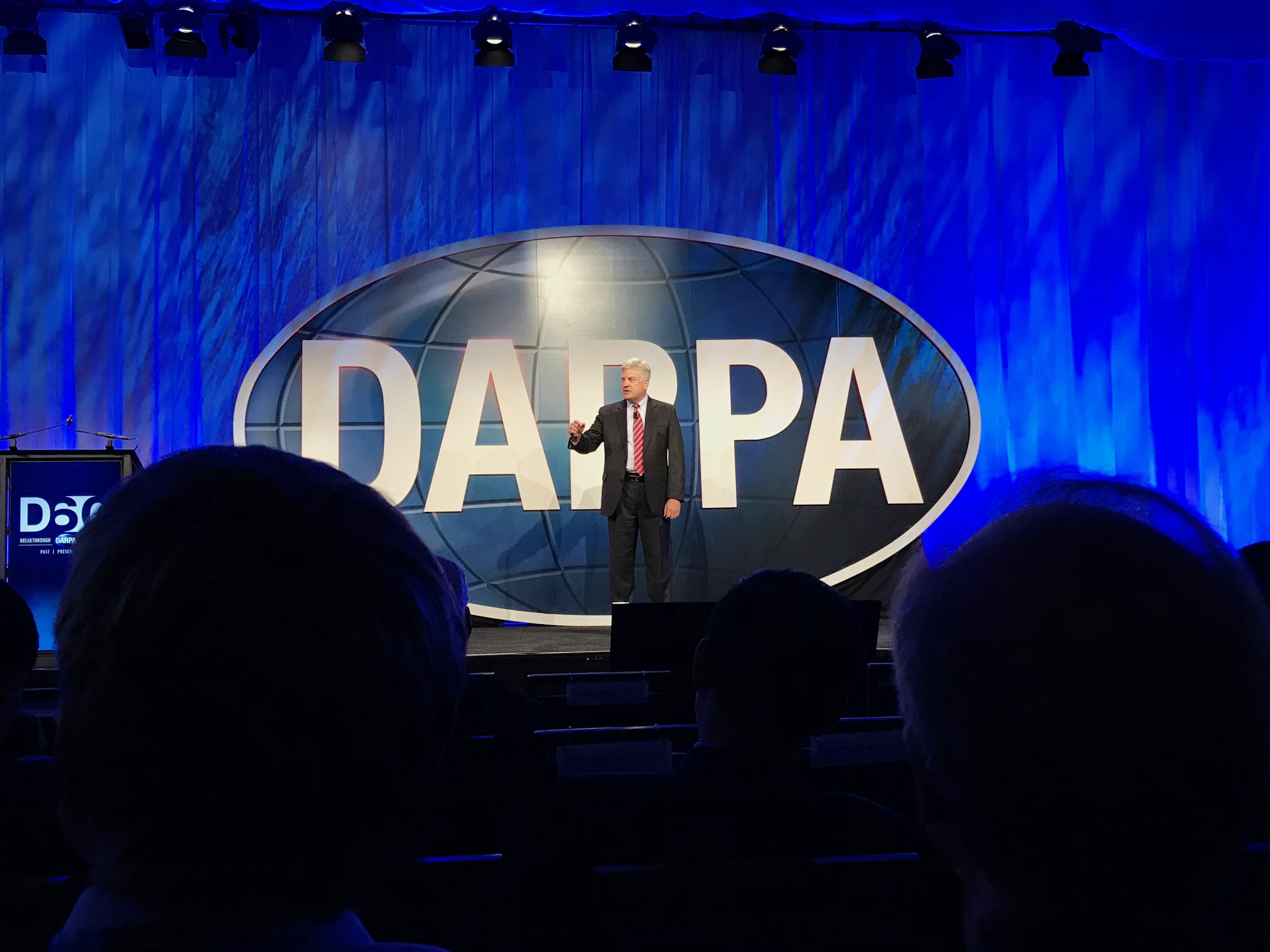 DARPA Director Steven Walker delivers an opening keynote at the agency's D60 Symposium in National Harbor, Md., on Sept. 5, 2018. Staff photo by Jennifer-Leigh Oprihory
The Defense Advanced Research Projects Agency has a timeless mission and a proven track record as a global innovation leader, but when it comes to evolving technologies and threats, the clock stops for no one.
With that in mind, DARPA Director Steven Walker outlined strategic priorities to make sure the agency remains "the global vanguard of leading-edge science and technology," and carries on its legacy of inventing the future and safeguarding global security in a Wednesday keynote at the group's D60 Symposium.
"DARPA's mission—to develop breakthrough technologies and capabilities for national security—has held steady for decades," Walker said. "But the world around DARPA has not remained constant."
Citing the presence of "significant technical, economic, and geopolitical shifts that pose real threats to US preeminence and world stability," as well as technology's inability to solve these problems alone, Walker shared "four strategic imperatives" to guide the agency's next six decades of work.
The first of these imperatives is to protect the US from "existential threats," which he said include "a wide variety of completely new capabilities, from autonomous cybersecurity to weapons of mass destruction sensing, and defense against active bio threats." This charge also includes understanding and constructing counters to peer competitors' hypersonic weapons capabilities, he said.
Next, he said, DARPA must "provide solutions to deter and prevail in large-scale conflicts against high-end adversaries."
"We need to disaggregate warfighting assets across all domains and focus on responsive options that enhance our lethality," he said.
He identified new conflict scenarios that will demand fresh thinking, and noted that capabilities in "space and the electromagnetic spectrum" may become even more important than new capabilities in more traditional domains.
Third, citing the US military's continued role in global counterterrorism and counterinsurgency efforts, he said DARPA needs "capabilities to address phase-zero conflict and large-scale urban warfare." He said the agency must also step up its modeling to make more sense of "the societies we're engaged with."
Last, he said, DARPA must stay true to its mission and remain the leader of the pack when it comes to cutting-edge innovation.
"We need to continue to win the important tech races of this century: artificial intelligence, advanced microelectronics, synthetic biology, neurotechnology, new computing methodologies, and understanding social science better than we do today, to name just a few areas," he said.
"We need to be the first to understand these new technologies, to inform our policymakers and warfighters on their potential use and/or misuse, and then apply them in defense of our nation consistent with America's ethics and values," he continued.
The event, held Sept. 5-7 in National Harbor, Md., commemorates the agency's 60th anniversary. DARPA was founded in reaction to Russia's October 1957 launch of the Sputnik satellite, as the result of "a commitment by the United States that, from that time forward, it would be the initiator and not the victim of strategic technological surprises," according to its website.