Air Force Storm Response Includes Hundreds of Airmen, More Than a Dozen Aircraft
The Air Force's large-scale response to Hurricane Harvey includes more than a dozen aircraft from all three components of the service. That number is expected to grow as the storm moves. Read the full report by Brian Everstine
Flight Restriction Lifted on Luke F-35As
The Air Force on Wednesday lifted a flight restriction that prevented F-35As from flying above an altitude of 25,000 feet at Luke AFB, Ariz. The restriction had been in place since June 20 in response to hypoxia-like physiological incidents reported by F-35A pilots. After five such incidents were reported in five weeks between May 2 and June 8, Luke temporarily grounded its F-35A fleet on June 9. Flying operations resumed on June 20 with the 25,000-foot restriction and several other precautions in place. While the service has not yet identified "a singular cause" for the physiological incidents, "we have learned a lot over the past two months," said Brig. Gen. Brook Leonard, commander of the 56th Fighter Wing, in a press release Wednesday. Leonard said the Air Force has "reduced potential causes for labored breathing, carbon monoxide ingestion, and refined our procedures and training," and will "continue to closely monitor operations" as the restriction is lifted. _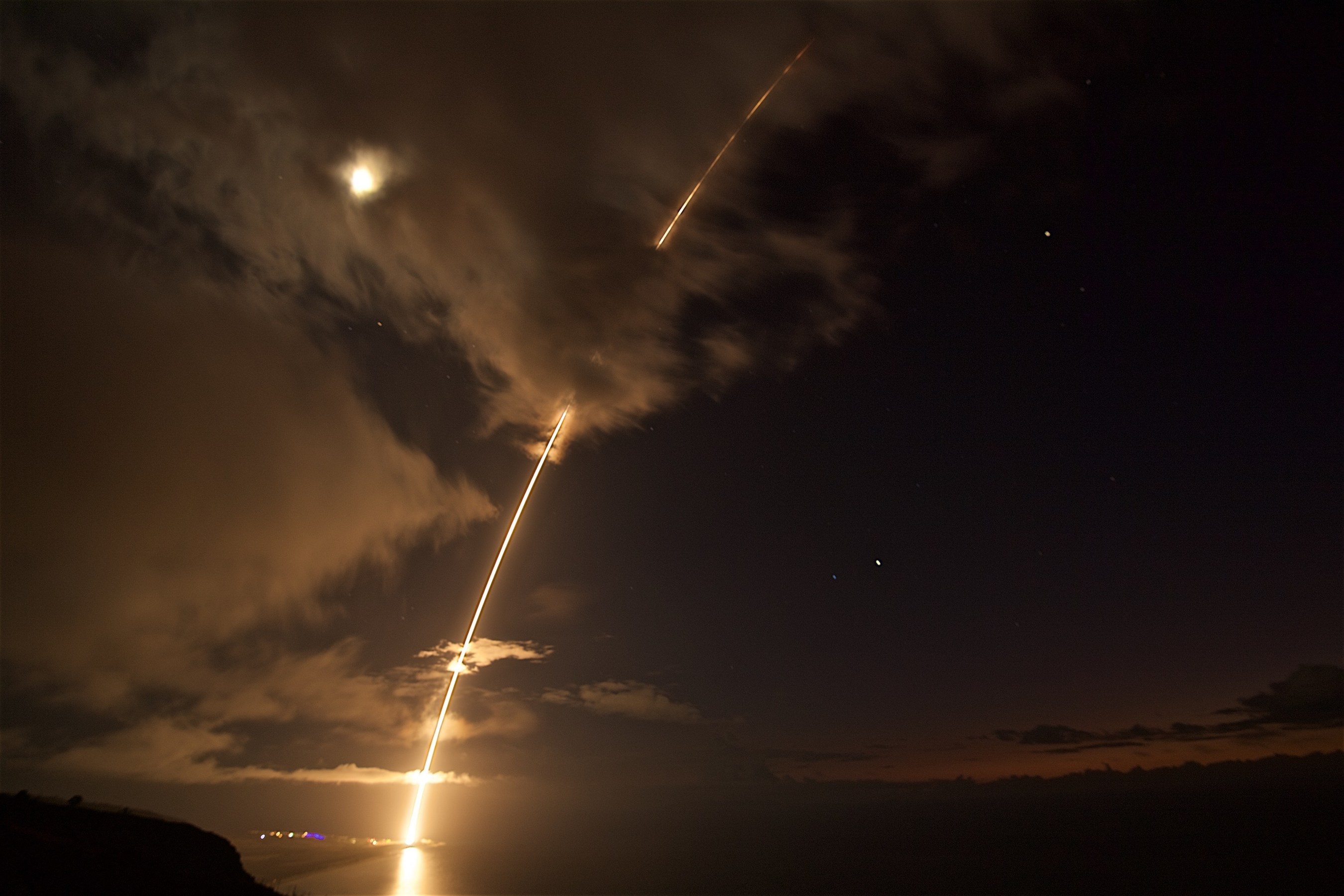 A medium-range ballistic missile target is launched from the Pacific Missile Range Facility on Kauai, Hawaii, during Flight Test Standard Missile-27 Event 2 on Aug. 29. The target was successfully intercepted by SM-6 missiles fired from the Aegis Combat System onboard the USS John Paul Jones. Missile Defense Agency photo by Latonja Martin.
"Talking is Not the Answer" on North Korea, Trump Tweets
While President Donald Trump tweeted on Wednesday that dialogue with North Korea is "not the answer" to that country's nuclear provocations, his cabinet Secretaries recommitted the US to diplomatic efforts to strip North Korea of its nuclear weapons program. Read the full report by Wilson Brissett
Coalition Airstrikes Aim to Stop Fleeing ISIS Fighters
Coalition aircraft on Wednesday bombed a road in Syria to prevent the transport of ISIS fighters after the group struck a deal with Lebanese Hezbollah for safe passage. ISIS and Hezbollah struck a deal to let hundreds of ISIS fighters leave a region near the Lebanon-Syria border in return for the bodies of Lebanese soldiers, according to The New York Times. The deal was criticized by leaders in the region, including Iraqi President Haider al Abadi. The US-led coalition said in a statement that it was not a party to any deal and promises by Russian and pro-regime, counter-ISIS parties "ring hollow when they cut deals with and allow terrorists to transit territory under their control." The coalition will not strike the convoy itself, but did crater the road east near Abu Kamal to "prevent the further transport of ISIS fighters to the border area of our Iraqi partners and struck individual vehicles and fighters that were clearly identified as ISIS." —Brian Everstine
_
Spotlight: SMSgt. Raymond T. Artis Jr.
SMSgt. Raymond T. Artis Jr., an operations flight chief with the 8th Communications Squadron at Kunsan AB, South Korea, is one of the Air Force's 12 Outstanding Airmen of the Year for 2017. Artis led a team of 103 cyber professionals who maintained communications support for 22 units and 3,000 combatants, while sustaining command and control capabilities for an aircraft fleet with 6,900 annual sorties. As the operations leader, he oversaw network upgrades for $36.6 million in projects, resolved over 3,800 jobs, and postured war assets against North Korean hostilities. He led the largest peninsula operational readiness exercise support by engineering network and phone capabilities for 1,000 joint and coalition forces, resulting in 737 successful sorties. He steered the Environmental Control System network beddown and delivered heating, ventilation, and air-conditioning management across 34 sites. Air Force Magazine is shining the spotlight on each OAY in the days leading up to AFA's Air, Space & Cyber Conference, which starts Sept. 18 in National Harbor, Md.
Mattis Directs Study on Implementation of Transgender Ban
Defense Secretary Jim Mattis is slowing the implementation of a White House ban on transgender individuals serving in the military by giving an expert panel time to develop a "study and implementation plan" for President Trump's order. On Aug. 25, the Pentagon received a Presidential Memorandum on "Military Service by Transgender Individuals" and the Pentagon will now convene a panel from both the Defense Department and the Department of Homeland Security focused on promoting "military readiness, lethality, and unit cohesion," Mattis said in a Tuesday statement. For now, the current policy of allowing currently serving transgender military members to remain will stay. "I expect to issue interim guidance to the force concerning the president's direction, including any necessary interim adjustments to procedures, to ensure the continued combat readiness of the force until our final policy on this subject is issued," Mattis said. President Trump's directive sets an effective date of March 23, 2018. —Brian Everstine
DOD Adjusts Disclosure of Afghanistan Deployments, Brings Public Number to 11,000
There are approximately 11,000 US service members deployed to Afghanistan, more than the 8,400 previously disclosed, the Pentagon announced Wednesday after adjusting its policy for disclosing its deployments. The Defense Department changed its policy to disclose service members temporarily deployed, those in combat support agencies, and materiel recovery elements in an effort to increase the public's understanding of the troop levels in Afghanistan, Pentagon spokeswoman Dana White said during a Wednesday briefing. The change only impacts Afghanistan, and not troop levels in Iraq and Syria. Lt. Gen. Kenneth McKenzie Jr., the director of the joint staff, said the number does not include future adjustments under the White House's new direction for Afghanistan and no deployment orders have been issued. Defense Secretary Jim Mattis is actively involved in implementing the president's direction, though no public announcements are expected yet. Mattis made the decision months ago to bring more transparency to the deployments, before President Trump's speech on Afghanistan last week. —Brian Everstine
For Air Force CIO: The Service Needs a Cyberspace Overhaul
The Air Force "must fundamentally transform the way [it] thinks about information technology and cyberspace," the Air Force's former chief information officer argues in a new paper from AFA's Mitchell Institute. The paper's author, Lt. Gen. William Bender (Ret.), was the service's Chief Information Officer until his retirement on Aug. 1. In "The Cyber Edge," Bender says the threat from cyberspace represents "the greatest asymmetric challenge the US now faces." To better defend itself, USAF needs to shift from mere compliance with cyber regulations to actively assessing "a base's ability to accomplish its missions in a cyber-contested environment." Bender recommends the Air Force outsource communications support services, thereby freeing highly trained airmen to focus their attention on the cybersecurity mission. Bender also believes that "data is a strategic asset and we need to treat it as such." This would include developing an enterprise-level approach to running USAF data centers, which "is the highest cost of modern Air Force operations, next to the cost of procuring jet fuel," Bender writes. As such, there are lots of efficiencies to be gained from "managing overall risk at the enterprise level." If USAF takes up these cyber priorities, Bender writes, the service can "retain supremacy in the digital age." —Wilson Brissett
RADAR SWEEP
—Increase in forces in Afghanistan likely will include paratroopers, artillery, and a surge of USAF strike aircraft: The Washington Post
—The Air Force is cracking down on the abuse of prescription drugs. The service is updating its policy to require separation if any disciplinary action is completed against an officer for drug abuse: Air Force release
—The 774th Expeditionary Airlift Squadron at Bagram Airfield, Afghanistan, flew its first combat airdrop in two and a half years: Bagram release
—A Patrick AFB, Fla., reservist is back in service after losing a portion of his leg in a motorcycle crash: 920th Rescue Wing release
—Lockheed will not protest the Air Force's decision to award Ground Based Strategic Deterrence contracts to Boeing and Lockheed: Reuters
—Airmen from Andersen AFB, Guam, and Kadena AB, Japan, are exercising their ability to rapidly deploy": Pacific Air Forces release