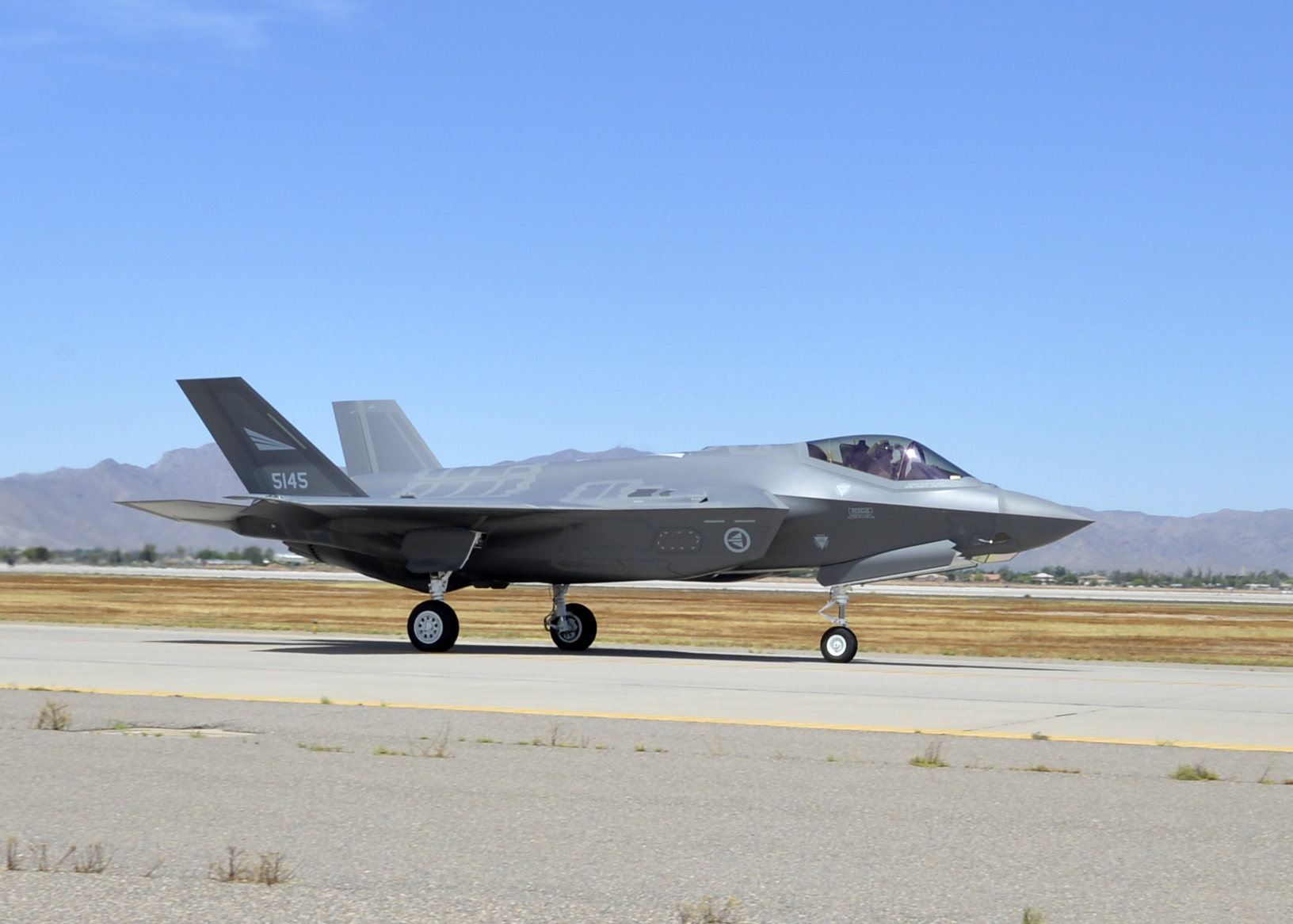 A Norwegian F-35 taxis in after landing at Luke AFB, Ariz., on May 25, 2017. The Air Force temporarily grounded all 55 F-35As at Luke, including international aircraft, on June 9, 2017, after five pilots experienced hypoxia-like symptoms. US Air Force photo by SSgt. Marcy Copeland.
The Air Force on Friday temporarily grounded F-35As at Luke AFB, Ariz., after five separate incidents where pilots reported hypoxia-like incidents.
Since May 2, five pilots assigned to the base have reported "physiological incidents while flying," according to an Air Force statement released Friday afternoon. Each time, the F-35A's backup oxygen system operated as designed, and the pilot was able to follow procedures and land the aircraft.
A total of 55 F-35As assigned to Luke, including international aircraft, have been grounded, but the strike fighters are expected to resume flying operations on Monday, said USAF spokesman Capt. Mark Graff.
"In order to synchronize operations and maintenance efforts toward safe flying operations we have cancelled local F-35A flying," Brig. Gen. Brook Leonard, commander of the 56th Fighter Wing at Luke, said in a statement. "The Air Force takes these physiological incidents seriously, and our focus is on the safety and well-being of our pilots. We are taking the necessary steps to find the root cause of these incidents."
Over the next few days, officials with the wing "will educate US and international pilots" on the situation and brief pilots on the incidents that have occurred, the release states. Flight medicine is also briefing pilots on physiological event symptoms and what to do if they experience those symptoms while flying. The 56th Operations Group at Luke will hold an "open forum" to discuss any concerns from pilots.
USAF senior leaders are aware of the incidents, and the F-35 Joint Program Office stood up a "formal action team" of engineers, maintainers, and aeromedical specialists, but Graff said it's "way too early" to determine the root cause.
Luke is the main training base for US and international operational F-35 pilots. The base will eventually host six F-35 squadrons with a total of 144 aircraft.