The Small Cessna That Carries the Afghan Air Force
The Afghan Air Force's mobility fleet is largely made up of simple, single engine Cessnas in constant demand across the country. US Air Force advisers, based at FOB Oqab, which is attached to the Afghan Air Force at Hamid Karzai International Airport in Kabul, work with pilots to ensure the C-208 fleet is properly equipped to fight the Taliban. A USAF squadron also flies alongside the Afghan aircrew on training flights, but the overall goal is to let the Afghan crews execute the missions without any American help.
Read Brian Everstine's full report from Kabul.
Afghanistan's Close Air Support Workhorse is Growing, But More Progress Needed
The Afghan Air Force A-29 fleet is experiencing growing pains, but it has become a cornerstone of the Afghan Air Force's combat operations in the country, thanks to a team of USAF advisers.
Read Brian Everstine's full report from Kabul.
Editor's note: This story originally ran in the June 1 Daily Report, but the link was broken due to a technical issue.
DOD Looks to Increase Funding For European Reassurance
The Pentagon is looking to further increase its funding for operations and training in Europe, calling for $4.8 billion in Fiscal 2018 as part of its European Reassurance Initiative. The request is an increase of $1.4 billion over Fiscal 2017, which in turn was a tripling of funding from the previous year. USAF Maj. Gen. David Allvin, speaking Thursday, said the funding is aimed at deterring Russian aggression, according to a Pentagon release. The requested funding includes $1.7 billion for increasing the US military's rotational presence, $2.2 billion for placing equipment and troops throughout the continent, $338 million for improving infrastructure, $267 million for strengthening allies and partners, and $218 million for exercises and training, the release states. For the Air Force, specifically, the budget includes funding to increase intelligence, surveillance, and reconnaissance processing with European allies and more NATO air policing missions.
Thornberry Bill Calls for Increased US Posture in Pacific
Rep. Mac Thornberry (R-Texas), chairman of the House Armed Services Committee, has released an Indo-Asia-Pacific security bill that calls for increased US military posture and more than $2 billion in new defense spending in the region.
Read the full story by Wilson Brissett.
2016 Reaper Crash in Syria Caused by Fuel System Failure
A US Air Force MQ-9A that crashed in northern Syria on July 5, 2016, was brought down by a failure of the fuel control unit, according to an Accident Investigation Board report released Wednesday. The remotely piloted aircraft operators lost control of the Reaper when a failure of the main metering valve caused sudden low fuel flow to the engine, resulting in insufficient thrust to keep the aircraft in flight. Additional operators were unable to regain control of the aircraft, and the MQ-9A crashed "in an open area" and was destroyed on impact at a total loss of $15.9 million. Engine maker Honeywell said in the report the accident marked the "first known fuel control unit failure of this type," and the Air Force said it marked the "first MQ-9A loss attributed to an FCU failure." The Reaper was assigned to the 27th Special Operations Wing at Cannon AFB, N.M.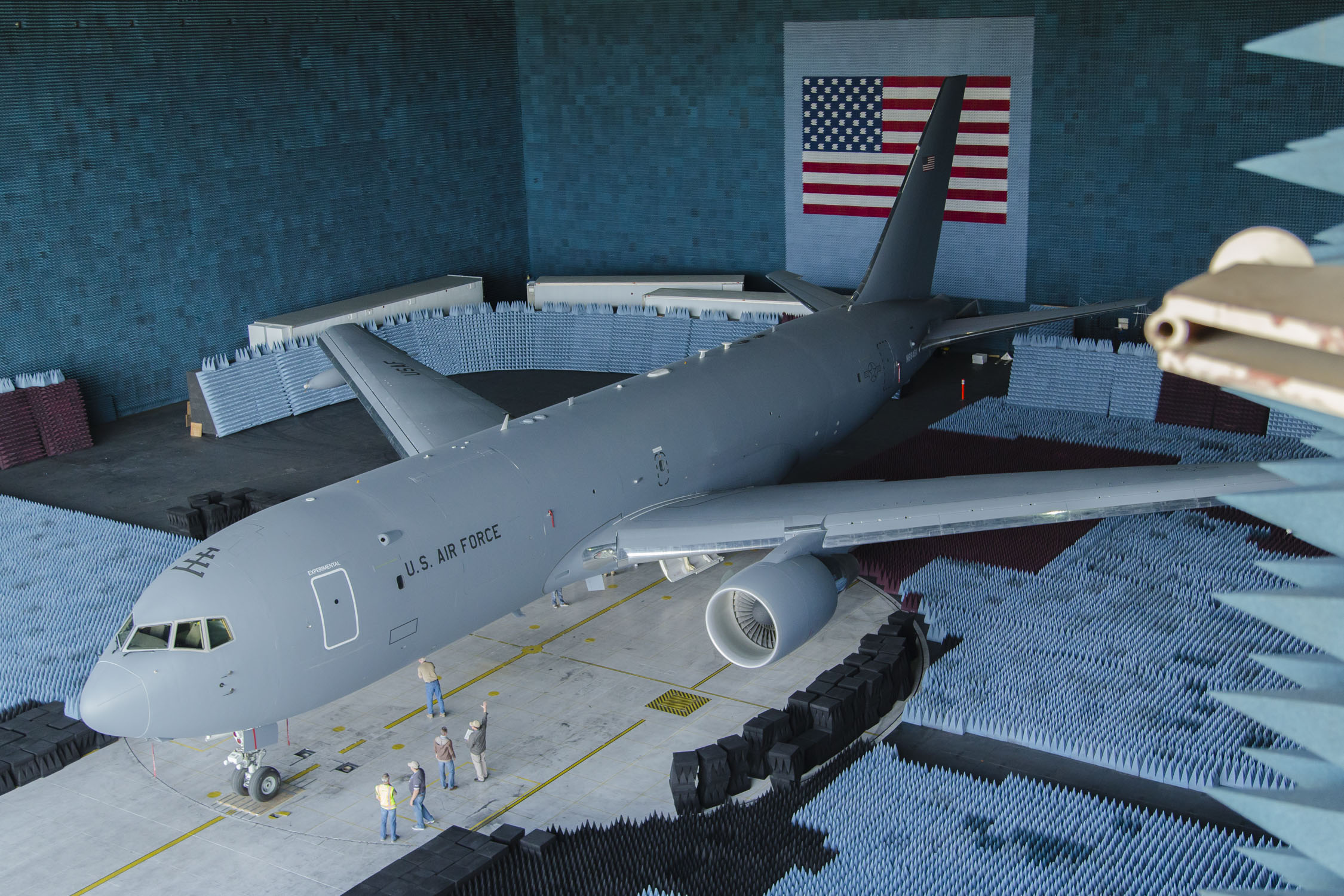 A KC-46 s loaded on the rotating platform at the Benefield Anechoic Facility for a series of avionics tests at Edwards AFB, Calif., May 5, 2017. Air Force photo by Christopher Okula.
KC-46A Enters Benefield Anechoic Facility
The KC-46A Pegasus is undergoing tests at the Benefield Anechoic Facility at Edwards AFB, Calif., to determine whether the new aerial refueling tanker meets Federal Aviation Administration certification requirements. The BAF, operated by the 772nd Test Squadron, is an electromagnetically controlled environment that allows USAF to conduct electronic warfare tests without outside radio frequency interference. The KC-46 is being tested to make sure "systems do not suffer performance degradation that would prevent mission completion when subjected to the external radio frequency environment and that undesirable emissions are controlled," according to an Air Force release.
NATO's Anti-ISIS Coalition Membership Does Not Mean Combat
NATO's decision to joint the counter ISIS coalition means its members will increase their presence in the fight, but not necessarily engage in combat, the organization's deputy secretary general said this week.
Read the full story by Brian Everstine.
Career Intermission Program Cost USAF $1.2 Million
Sixty-one airmen participated in the Department of Defense's Career Intermission Pilot Program (CIPP) in 2015 and 2016, at a total cost of $1.2 million, a new Government Accountability Office report found. While no pilots have participated in CIPP so far, the Air Force thinks the military sabbatical program could help resolve its growing pilot shortage.
Read the full story by Wilson Brissett.
RADAR SWEEP
—B-52H Stratofortresses from Barksdale AFB, La., and some 800 airmen deployed to RAF Fairford, UK, in support of exercises Arctic Challenge, Saber Strike, and Baltic Operations: USAF release
—The Air Force plans to move at least eight C-5M airlifters out of backup status over the next few years: DODBuzz
—USAF's Fiscal 2018 budget includes $6 million to set up a program office and begin studying potential replacement of its Air Force Two aircraft, which generally transport the vice president: Defense One
—Eielson AFB, Alaska, to add 36 buildings over the next few years, at a cost of $500 million, in preparation for the beddown of the F-35A strike fighter: Fairbanks Daily-News Miner
—Pratt & Whitney propose upgrade to F135 engine, which powers the F-35 strike fighter: Flight Global
—Stratolaunch, a private space launch company, unveiled the world's biggest airplane on May 31. The wingspan is longer than a football field: Space.com