Nominated to become the 23rd Air Force Chief of Staff, Gen. David W. Allvin answered roughly two hours of questions from lawmakers on Sept. 12 as part of his confirmation hearing before the Senate Armed Services Committee.
While Allvin, currently the Vice Chief of Staff, addressed everything from Russia's invasion of Ukraine to hurricane recovery to child care, many of the questions he fielded from lawmakers focused on the Air Force's plans to modernize its parts of the nuclear triad and the service's efforts to divest old aircraft to free up funds for new programs. 
No senators voiced any opposition to Allvin's nomination, which normally would indicate he is on a glide path to confirmation. However, Sen. Tommy Tuberville (R-Ala.) continues to place a legislative hold preventing expedited confirmations for general and flag officers, and Democratic leaders have refused to hold roll-call votes on individual nominees. As a result, more than 300 nominations, including those of Allvin and the man he is set to succeed, Gen. Charles Q. Brown Jr., are stalled.
Committee members on both sides of the aisle noted the situation in Allvin's hearing, and Allvin himself suggested that delays could potentially hurt recruiting and retention, saying there may be promising officers who "have other options and their families have other options and they see this as a potential distraction, then we run a greater risk than if these weren't in place of losing those."
Still, most of the hearing focused on Air Force modernization—a key topic Allvin referenced at the start of his opening statement.
"I believe the opportunity to be the next Air Force Chief of Staff comes at a very important time in history, and I fully appreciate and embrace the weight of what is at stake," Allvin said. "Our nation is coming to grips with the rapid pace of change that is upon us and with those intending to act against our national interests while aggressively seeking the means to do so. America's national security focus is crucial as we navigate this new global landscape with our allies and partners, especially as opportunities for distraction and confusion are increasingly exploited."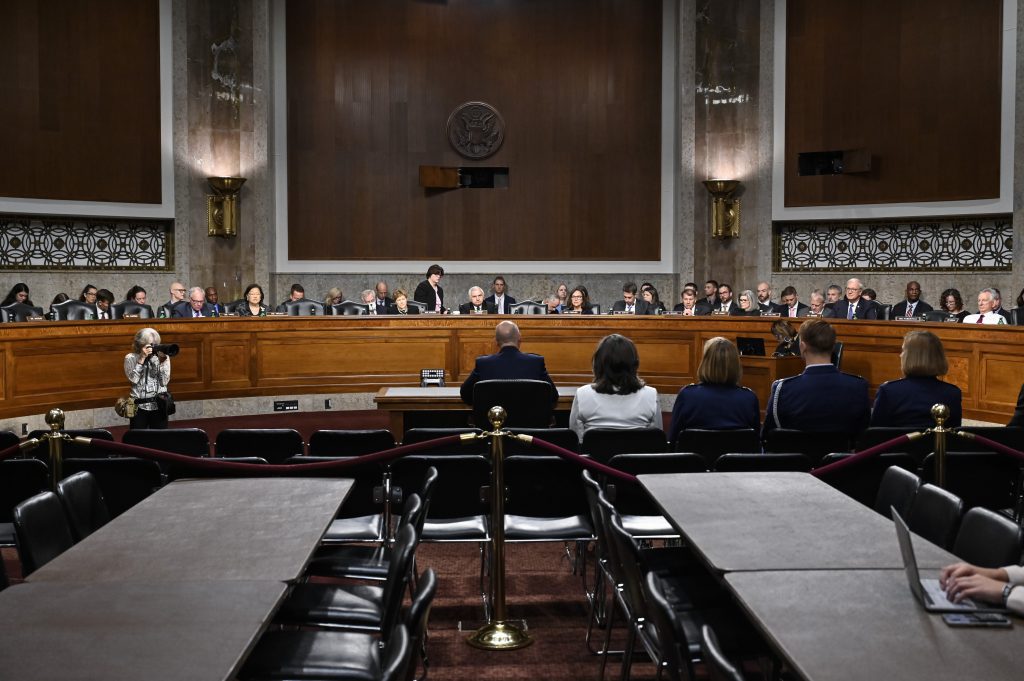 Nuclear Modernization
Sens. Mike Rounds (R-S.D.) and Eric Schmitt (R-Mo.) both represent states with bomber bases, and both took the opportunity to ask Allvin for his thoughts on the B-21 Raider, which is steadily progressing toward its first flight.
"I'm personally very excited about this program and the way that it was developed and what it's turning out to be in its performance, cost schedule and performance adherence, all of these things," Allvin said. "But more importantly, for what it's going to bring to us. When we look at the conventional fight in the Indo-Pacific, if that happens, we need all the systems to be survivable. They need to be connected. They need to be able to be persistent. And the B-21 provides not only all of that, but also, a great long-range strike capability."
The other major nuclear modernization effort, the Sentinel intercontinental ballistic missile, is not proceeding as smoothly, with Allvin acknowledging that it is "one of the most complex yet important transitions" the Air Force faces. But amid reports that the program may be delayed and that Air Force Global Strike Command believes there is little margin for error, Allvin told Sen. Deb Fischer (R-Neb.) there are ways to ensure the program remains on track.
"One of the most important things that we can do is vigilance to ensure that, as we see external factors that might potentially provide challenges or opportunities to the cost, schedule, and performance of that program, that we need to make sure we communicate with this body and collaborate to understand if there are opportunities that we can help to maintain it on track and have the warfighter get the requirement on time," Allvin said. "And one of those things is the recent adjustment of an acquisition strategy to look for those things we might be able to decouple and pull to the left."
Divest to Invest
Allvin also faced questioning from lawmakers skeptical of the Air Force's efforts to retire its older aircraft like the A-10 Lightning II and E-3 AWACS in order to free up money for new programs.
In response to queries about whether the service was accepting too much risk in the short term by pursuing this strategy, Allvin acknowledged that "to mitigate the transition as we move from where we are to where we need to be, there are tough choices ahead, there's no question about it." But he offered no indication that he would pull back from that approach.
Part of that is driven by the cost of existing platforms—Allvin noted to Tuberville that aging aircraft often require the service's most "wily, cagey maintainers"
"Some of that skill set, that we're looking for seasoned maintainers to transition to some of these fifth-generation platforms, have not been available to us," he said.
Allvin also expressed optimism about programs like Next Generation Air Dominance and Collaborative Combat Aircraft.
"They are defining one of the core elements of what we believe the Air Force needs to do in the future, which is better human-machine teaming, which is better having affordable mass," Allvin said.