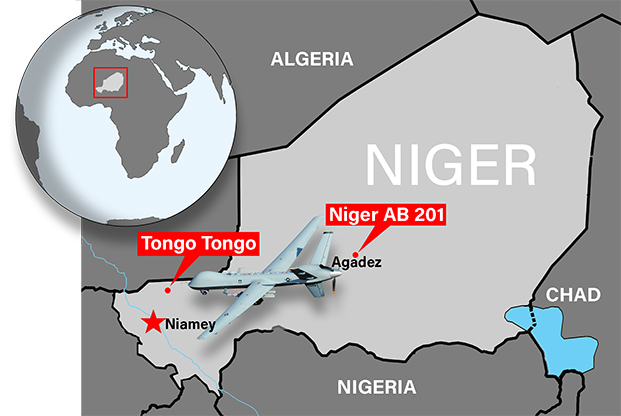 Staff illustration by Mike Tsukamoto.
Niger Air Base 201 — the new headquarters for USAF MQ-9 operations in Africa and the biggest Air Force-led construction project in history — will be operational this summer, the head of US Air Forces in Europe-Air Forces Africa said.
USAFE-AFAFRICA is finishing the runway at the base near Agadez with initial operating capability expected by mid-summer, "and that's going to happen," the command's boss Gen. Tod Wolters told Air Force Magazine last week.
The base is the home to the 323rd Expeditionary Reconnaissance Squadron, which has flown armed MQ-9s since early 2018 to help counter terrorism missions inside the country and the region. Following the October 2017 ambush of US Green Berets on the ground near the village of Tongo Tongo, US Africa Command has pledge to increase its ISR presence in the area.
Wolters said he has personally visited the site several times, and the mammoth effort by USAF civil engineers and RED HORSE squadrons deployed to the site are ensuring the base will be up and running. It is "tough to get big equipment in and keep big equipment running" in the desert location, in addition to difficulties getting basic resources such as gravel to build the flight line.
When the base is running, USAF airmen and MQ-9s will fly "but with and through" Niger to get a better understanding of what is happening in the area and "to respond quicker if required," Wolters said.