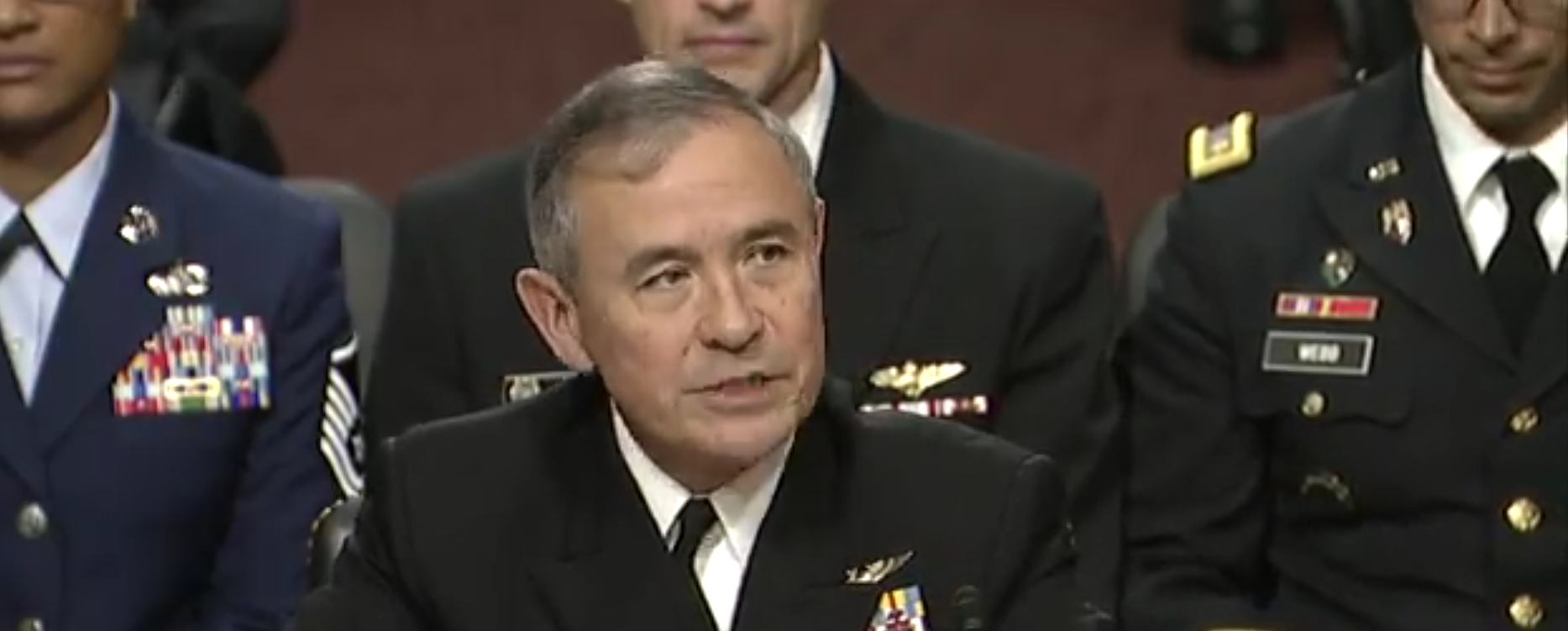 PACOM Commander Adm. Harry Harris testifying before the Senate Armed Services Committee.? Screenshot photo.
China aspires to be a world, not simply regional, military power, and the United States will struggle to compete if it does not keep up with it, the commander of the US Pacific Command told the Senate Armed Services Committee Thursday.
The People's Liberation Army's evolution into a "modern, high-tech fighting force" remains "both impressive and concerning," Adm. Harry Harris told the panel, noting that Chinese Communist Party General Secretary Xi Jinping last year promised the country's stress on military development would continue and that China would achieve "world class" military status by 2049.
"On the current trajectory, USPACOM assesses the PLA will likely attain these goals well ahead of the projected completion dates," according to Harris.
Harris pointed to improvements in missile systems, fifth-generation fighter capabilities, and naval expansion, as well as investments in such military technologies as hypersonic missiles, advanced space and cyber capabilities, and artificial intelligence.
"If the US does not keep pace, PACOM will struggle to compete with the People's Liberation Army on future battlefields," he said. He described China's buildup and modernization as "core elements of their strategy to supplant the United States as a security partner of choice for countries in the Indo-Pacific."
"China's intent is crystal clear, and we ignore it at our peril," he told the panel.
Harris conceded that the Trump administration should complement China on helpful actions in such areas as counter-piracy work, efforts to remove chemical weapons from Syria, and work in the UN sanctions regime against North Korea.
At the same time, though, Washington must hold Beijing accountable for provocative and hostile actions, he said.
"We do have to counter the perception … that the US is either a declining power, which I don't believe, or a disinterested power, which I also don't believe," added Harris.
He also told the committee that while he believes the US has air superiority in the region, "I can see a path where it might not be, unless we continue to resource it."
He said if the Budget Control Act or sequestration remain, and the government doesn't "resource our requirements in air superiority," Chinese development "will continue apace" and there will be "a time at which those lines cross, and we'll lose our air superiority."