In its 75-year history, 22 Airmen have led the Air Force as Chief of Staff. Each came to the post shaped by the experiences—and sometimes scar tissue—developed over three decades of service. Each inherited an Air Force formed by the decisions of those who came before, who bequeathed to posterity the results of decisions and compromises made over the course of their time in office. Each left his own unique stamp on the institution. As part of Air Force Magazine's commemoration of the Air Force's 75th anniversary, Sept. 18, 2022, we set out to interview all of the living former Chiefs of Staff.
Gen. John P. Jumper, CSAF No. 17 (2001-'05)
Gen. John P. Jumper was holding his first staff meeting in the Air Force Operations Center in the Pentagon's basement when the first plane hit. It was Tuesday morning, Sept. 11, 2001, and whatever plans he may have had as he began his tenure as Chief, the next four years were going to play out very differently than he could have imagined. The intel briefing was paused and the screens were switched to CNN, which had live video of the burning Pentagon on the screen. That was when the second plane struck the World Trade Center.
"That was the point of max confusion, of course," Jumper recalls. "We took off from our command center to go up and warn our people away from the E-ring," the outer offices of the Pentagon. In the Secretary of the Air Force's office, Jumper found Secretary Jim Roche "sitting on his phone and sort of physically tucked him away from his phone back toward the middle of the building." Then the third plane struck, exploding into the West side of the Pentagon.
Jumper was an experienced four-star. He had commanded U.S. Air Forces Europe during the Kosovo War in 1999 and had run Air Combat Command for 18 months after that. He hadn't expected to be the Chief, an assignment he attributes as much to luck and timing as to talent, but he had a ready list of ideas he'd been "harboring" and was ready to start right in on them when 9/11 reworked his agenda in a flash.
The first order of business was America's response, and it began with the Joint Chiefs of Staff. "The cooperation was remarkable," he recalled. When we started the planning … there was no infrastructure to really go after. … We were developing targets, figuring out the logistics. We knew we had to have ground bases over there [but] we had no good history of ground basing in that area. We had a lot of coordination to do. And so I went to Vern Clark, who was the Chief of Naval Operations, and I said, 'Vern, in order to get this done, we're going to need aircraft carriers.' And he put everything that he could generate out there, ready to go and fly sorties."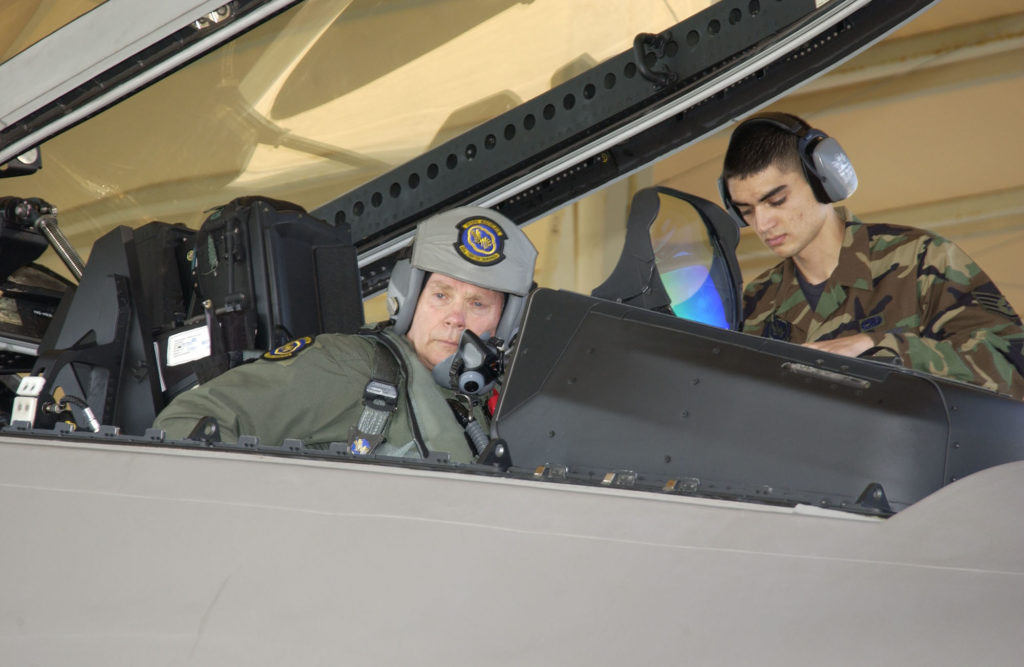 The Navy would launch the first aerial strikes on Afghanistan in October 2001, learning in the process to fly six- to eight-hour sorties, longer than the typical Navy deck cycle, and leveraging Air Force tankers to make the journey. It took time to seize ground and open bases in Afghanistan and the vicinity and to bring in Air Force F-15s, F-16s, and A-10s. Bombers were launching out of Guam.
"Because Afghanistan is landlocked, and we didn't have a history of basing, it took some development time to get that done," Jumper said. "The bomber force reacted well, I think: We had the processes and procedures for that kind of deployment worked out, basing and all that, from our time in Kosovo." Air Force C-17s went to work as tactical airlifters, flying in and out of makeshift airfields. "I think we rose to the occasion," he said, noting that there are lessons to be applied today, as the Air Force experiments with Agile Combat Employment, that were tested and proven in the months after 9/11.
But Jumper said the Air Force could have been quicker to see the value of its unmanned platforms. "The biggest thing we could have made better use of, more rapidly, is armed UAVs," he said. "We didn't have them in great numbers at the time, and the ones we had were extremely effective from a strategic point of view."
Jumper knew something about UAVs. He'd employed them in Kosovo, seen their potential. But he'd also seen their shortcomings. "This was what we, at that time, called the dialogue of the deaf," he said. "The Intelligence Community, who owned the Predators and were looking at streaming video through sort of a soda straw, [were] trying to communicate in this very dysfunctional relay system to the A-10 pilot in the cockpit about where the target was."
To target a tank behind a building, for example, they would say, "It's right behind the red roof building." But as Jumper explained, that made little sense to the A-10 pilot who was looking out over 50 miles of red-roofed buildings. "So then they say, 'Well, it's beside the small stream that goes by the red roof building.' I called it the dialogue of the deaf because nobody was understanding, because there was no common frame of reference."
The heart and soul of the Airman embraces the warrior spirit of America, bringing to bear kinetic firepower on the enemy, and all the things that go into that as part of a warrior culture. … And I think we have to take care to make sure that is emphasized in today's world.

Gen. John Jumper, CSAF No. 17
Predators had been built to be an ISR asset, to collect, analyze, and report. Jumper and Mike Short, the Air Component Commander operating out of Italy, shared their frustration. "It became evident that if nothing else, we needed to put a laser designator on the Predator," Jumper said. Within weeks, the Air Force's 645th Aeronautical Systems Group, better known as Big Safari, "made that happen magically in a couple of weeks," Jumper recalled, but "by the time we got it over there and ready to use, the conflict was over."
The idea, however, remained. Jumper's next assignment was to head Air Combat Command. When he got there, he discovered, much to his surprise, that ACC's acquisition and requirements teams had removed the laser designators. "It wasn't part of the program. And there was no money in the program to do that. "I sort of blew my top about that, and we got ourselves on the road. But it occurred to me that as long as we're doing that, why don't we put something on there that can do something about these targets when we find them?"
Jumper had been a weapons officer in his younger days, and he knew something about armaments. The Hellfire missile wasn't an Air Force weapon—it was developed by the Army—but it seemed the perfect fit. "It would be the most lethal and light enough to put on something like a Predator—or at least I thought it could be, but we had to check it out."
The Air Force got over the technical hurdles in a couple of months, Jumper said. "But the bureaucratic system decided that this Predator with a Hellfire missile would have to be designated a cruise missile under the missile control regime, and it would require us opening up negotiations with the Russians again. Well, I thought that was ridiculous, and [then-Air Force Chief of Staff] Mike Ryan helped."
The battles weren't over. The intel community was worried that their intel asset would now become a weapon instead. "The biggest thing about the Predator is that we brought it into the inventory." Jumper reached back a little further into his history. In 1996, when he became deputy chief of staff for operations (the A-3) under Gen. Ron Fogleman, the Chief at the time, Jumper was sent to evaluate three systems, Dark Star, Global Hawk, and Predator. "General Fogleman knew we needed the Predator. He was trying to decide on the other two," Jumper said. "On the Predator side, it was obvious that this was something that would help us find targets precisely and be able to stare at targets over a long period of time, to make the job of those carrying the weapons more certain when they arrived that they were hitting exactly the right thing, exactly the right spot."
The problem, he recalled, was that the ground station controls were built as if for a remote pilot. "It was based on the premise that you had to pretend you were at a station flying the Predator like a pilot with stick, rudder, pedals—I mean, like a pilot—that flying the airplane was more important than taking the picture. … In fact, we should have built this thing around the cameras." Had it been up to Jumper, he'd have changed the entire thing right then. But the rules didn't allow that. "We couldn't change anything for two years."
In time, Jumper would help organize a Predator 9-1-1 project to speed up the process of getting the weapon into the inventory, with spare parts and operating procedures. "I remember hosting a group from the Pentagon about rapidly putting the Hellfire missile on the Predator," he said. "And the message to me was clear, that this is going to take tens of millions of dollars and is going to take not months, but years. And I just simply refused to accept that answer. Because I knew that big Safari had had a different answer. So therein lies some of the friction. Big Safari—if we don't embrace that as an Air Force, even today, if we don't embrace that kind of rapid prototyping and fielding today," the Air Force will fail.
That lesson stayed with Jumper throughout his tenure. "I had a little sign on my desk when I was Chief that said: 'Never accept no from somebody not empowered to say yes.' There are way too many people that have the power of the veto, or think they do. We need to be able to challenge and ask the second and third question. … We have to be always ready to challenge the system, and not confuse a responsible challenge to authority with insubordination. We've got to be able to cross that line. It's always a delicate line. But it's just a responsible leadership point of view."
"It took a while to get to the things like the Air Expeditionary Force idea … which needed to be matured," he said. "And of course, carrying forward with the whole idea of the remotely piloted vehicles—Predator—and how best to integrate that into the force more completely."
Another project Jumper had been involved in long before becoming Chief was the development of the Air Expeditionary Force, the Air Force's 1990s-era deployment model. The Air Force didn't deploy in the same way as, say, an Army division or brigade, because air power is typically shaped and sized to the mission at hand. The AEF was a system for addressing that, enabling the Air Force to identify ready forces and assemble mission packages on a rotational basis. That meant that units could work through readiness cycles.
"The original concept was actually four months of a deployment," Jumper said. "But it was designed to be rapidly deployable. You had nine buckets of capability, fairly similar capability, and depending on the contingency, you could draw capabilities that weren't in the bucket forward to be able to join that AEF to get the right kind of capability over there. That was based on the assumption that you could pull Airmen that were trained exactly the same way to exactly the same standards by the same checklists and various weapons systems. And and they could join a unit, if they had to, to augment that capability."
But under Jumper's watch, in the wake of 9/11, the rotations broke down. "It was designed to use tactical equipment, tactically deploy, for a tactical amount of time—not to become a rotational practice for a 10-year war. It was never designed to do that."
In Kosovo, USAFE opened 18 bases for tankers and other operations, and the AEF was employed. "We went over there, got it done, packed up, and went home," Jumper said. "We loaded up Aviano, put special ops in certain places, put tankers all over the place. It worked just fine. But when we transition into this 10 years of constant combat, then another policy has to be developed to deal with the necessities of experienced commanders staying in place longer, knowing the problems more deeply, and being able to do more than come in and just generate combat power for short periods of time. … [That requires] a more permanent rotational policy." He notes that the short deployment cycles anticipated for Agile Combat Employment (ACE) by today's Air Force also has short deployment cycles. Like the original AEF, the focus is on agility. "If ACE transitions into longer engagements like we had in the Middle East, then that process is going to be challenged as well."
Jumper was the last Air Force Chief to work alongside an Airman as Chairman of the Joint Chiefs of Staff. His tenure and that of Gen. Dick Myers as Chairman were almost perfectly aligned. That might have been an advantage for Jumper in the early 2000s, before the occupation of Iraq went sour and the occupation of Afghanistan grew old. Jumper's success as Chief was built on a cooperative approach; his successor, Gen. T. Michael Moseley, was more aggressive, and perhaps aggrieved, in his dealings with his fellow Chiefs. His bluntness ultimately cost him his job.
Over the past two decades, the Air Force shrank in size and prowess. Readiness slipped. Political leaders reasoned America had so great an edge in air power after the first Gulf War that the nation could afford to throttle back. "We heard terms like "we're overmatched with air power, with air superiority—that means we have too much of it," Jumper said. "We were told we didn't need as much training, we could have tiered readiness. We were essentially too good. … [Now] we have eroded away our technological advantage, and our training, and our readiness, to the point that it has begun to affect morale. I think the Chief would agree with that, and I think they're working as hard as they can to resurrect that, but that's what happened along the way.
"So how do we re-instill that [confidence]? We have to start internally first, we have to make sure that our force sees themselves as the world's greatest Air Force, one that is ready to go fight, that is proficient. They have to feel themselves that they're flying 20 hours a month, that they feel like they're the dominant power and nobody's going to be trained any better than I am, in my specialty, no matter what my specialty is. And that I can go anyplace, I can do anything, I can do what I'm going to be asked to do, and nothing—no contingency that arises—is going to surprise me, because I have a training program that … gets me familiar with the part of the world I'm most likely to go to, gets me out there so I can see it and touch it and feel it. I'm flying off and I am proficient: I'm good. I know how to set up a base. I have the right people who know how to run a deployed operation. I have the right security forces that can protect that base, inside and outside the fence.
That's the Air Force I had."