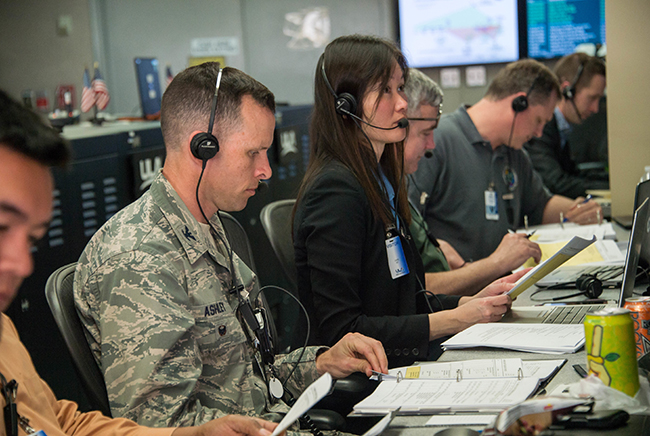 Air Force Col. David Ashley, senior materiel leader from the Military Satellite Communications Directorate, looks through the countdown checklist during a mission dress rehearsal on Mar. 11, 2019, inside the Delta Operations Center at Cape Canaveral Air AFS, Fla. DOD photo by Van Ha.
The Congressional Budget Office on June 26 set its cost estimate for standing up a Space Corps within the Air Force to $3.6 billion, after predicting in May the price of a new service could reach $4.3 billion.
In a previous report, CBO said the annual cost of staffing and standing up a service would sit between $820 million and $1.3 billion. Its updated analysis, released June 26, argues the Pentagon would spend $2.3 billion on recurring personnel costs spread over five years, hitting $1 billion annually by 2024.
CBO expects a Space Corps that falls within the Air Force, as the House Armed Services Committee proposes, would absorb most of nearly 23,000 military and civilian personnel already in space-related jobs without driving up costs. It also anticipates Space Corps will require between 4,100 and 6,800 more management and support employees, leading to additional cost growth.
The report projected one-time construction and renovation costs could range between $1.1 billion and $3 billion. Now, the nonpartisan financial scoring group estimates one-time costs would total $1.4 billion between 2020 and 2024, with some additional expenses after 2024. New construction is expected to last eight years, CBO said.
New figures were calculated "by taking the midpoint of the range from CBO's prior estimate and adjusting for inflation" after the HASC released its version of the 2020 defense policy bill, according to the report. But the office warned that how the potential new space service unfolds could trigger large changes in its ultimate price tag.
"Many decisions about the new service would have to be made in the coming years," CBO said. "Decisions about which military units and agencies would be transferred to the new service and whether to repurpose existing infrastructure or construct new facilities would significantly affect costs. Also, CBO's estimates of the additional costs of establishing a new Space Corps focus on overhead and management costs, and do not include the cost of adding new capabilities."
The Trump administration has estimated a sixth service to organize, train, and equip space warfighters will cost $2 billion over five years and include 15,000 to 20,000 staff. House and Senate lawmakers, who have argued for a streamlined, cost-effective blueprint, must cobble together their respective Space Corps and Space Force plans as the 2020 National Defense Authorization Act moves through Congress this year.
CBO also predicts that reviving US Space Command and launching the Space Development Agency would increase annual costs by between $320 million and $580 million, plus one-time costs of between $740 million and $1.6 billion.