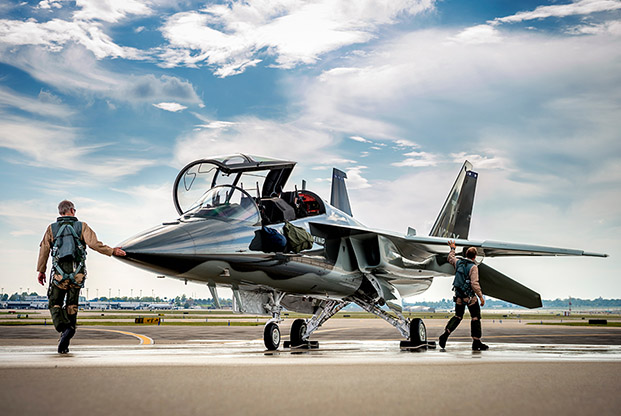 The Boeing-Saab T-X trainer has been selected to replace USAF's T-38 Talon, Boeing announced Thursday. Boeing photo.
The team of Boeing and Saab of Sweden will build the service's T-X next-generation trainer, which is to replace the nearly 60-year-old T-38 Talon, Boeing announced on Twitter late Thursday.
Boeing and Saab jointly developed a clean-sheet design for the T-X, even though the Air Force initially expressed a preference for an off-the-shelf design. Boeing touted the aircraft as making use of advanced manufacturing techniques, which it promised would yield dramatic savings in unit cost, along with the use of proven components, such as the F-16 main landing gear. It also said it designed the aircraft to have very low maintenance costs. Boeing claimed the savings would more than offset the risk of an all-new design and the requisite flight-testing and development required.
Boeing's cockpit features a stadium-style stepped arrangement, which allows the backseat pilot instructor to see over the head of the front-seat student or pilot, in an arrangement not unlike that in the T-38. Boeing has announced it will build the T-X at its St. Louis, Mo., facilities, where it has previously built the F-15 and Navy F/A-18. Without T-X work, Boeing officials have said the company would likely close down its St. Louis manufacturing operations, and that a loss on T-X might spell its exit from the small military airplane business.
Vice President Mike Pence may have telegraphed Boeing's win by having his picture taken with a full-scale mockup of the airplane at AFA's Air, Space & Cyber conference earlier this month.
The win comes on the heels of Boeing winning the Air Force's UH-1N utility helicopter competition earlier this month. Industry analysts said Boeing bid "aggressively" for that contract, and Air Force Secretary Heather Wilson said USAF would save $1.7 billion on the program. The Air Force expected to pay about $4.1 billion on the helicopter program, but Boeing's bid was $2.38 billion. Boeing has acknowledged low-balling its bid for the KC-46 tanker program, saying the volume it provided to its aerial freighter business and prospective foreign military sales would ultimately make up for its losses on the program. To date, Boeing has absorbed more than $3 billion in losses on the fixed-price KC-46 project.