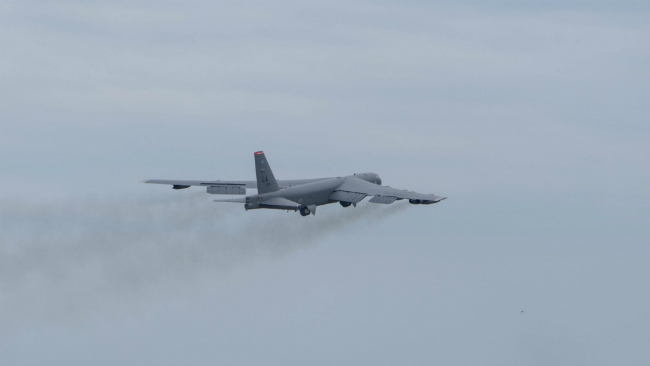 A B-52H Stratofortress takes off as part of a Bomber Task Force deployment from Barksdale AFB, La., May 7, 2019. Air Force photo by Airman Jacob B. Wrightsman.???
DAYTON, Ohio—The Air Force is likely to redesignate the B-52H as the B-52J once it receives a slew of modifications adding up to a "major modification," Brig. Gen. Heath Collins, service program executive officer for fighters and bombers, told reporters June 20.
Typically, the Air Force makes a letter-change designation to an aircraft—what Collins described as "rolling the series"—when it receives enough new and different equipment that it constitutes virtually a new system, he said at the Life Cycle Industry Days here.
The B-52 is slated to receive new engines beginning in about 10 years, and "that probably would be enough" to warrant a letter change, but the venerable bomber will also be getting new digital systems, communications, new weapons, and a new radar, as well as a variety of other improvements.
Collins also said that Air Combat Command is considering the possibility of reducing the number of aircrew on the B-52, now that certain functions requiring weapon systems officers can operate autonomously. No decision has been made in that regard, Collins said.
"Discussions continue with Global Strike Command about crew size," Collins said.
Slides summing up sustainment activities on the B-52, shown at the symposium, indicated that a B-52 test aircraft has been receiving modifications since 2015 to carry out evaluations of various new systems, including the Long-Range Stand-Off weapon and several hypersonic systems. Collins said hypersonic missiles will be a key new capability of the B-52 in the 2020s.
While the B-52 is going through "the most active" period of modification in its history, the B-1 is entering a fairly quiet time regarding modifications, Collins noted. The emphasis with the B-1 for the next few years will be on readiness, he said, after a prolonged period when the B-1 was heavily used in Afghanistan, Iraq, and Syria.
The B-2, meanwhile, is also going through an intensive modification program as the defensive management system suite is upgraded. The upgrade constitutes a Major Acquisition Program—an ACAT-1D—Collins noted, meaning it gets supervision at the undersecretary of defense for acquisition and sustainment level. However, the program has had some delays, and will be "re-baselined this summer." Collins said the "quality of the software has been high," and is substantially better than the earlier version.