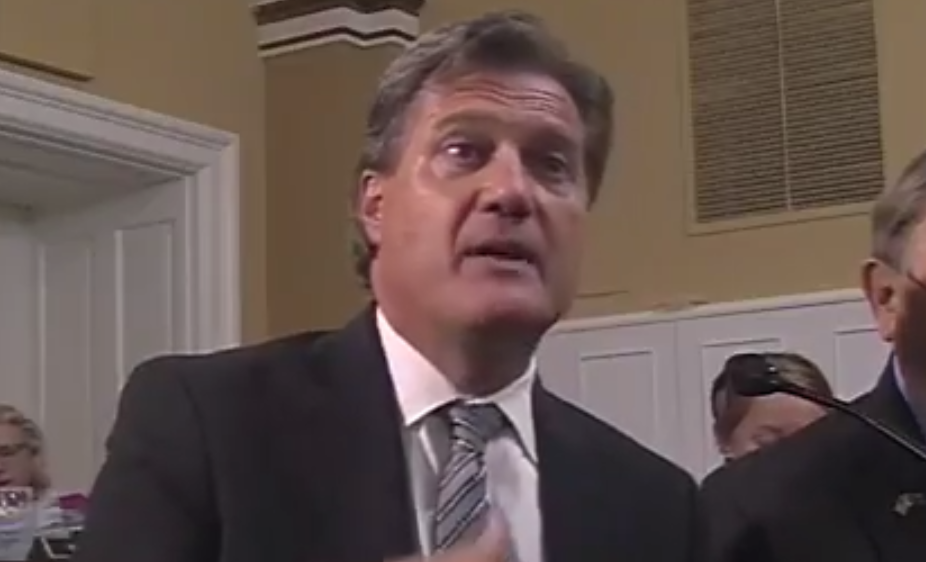 Rep. Mike Turner (R-Ohio) offers testimony before the House Rules Committee on his amendment to block the Space Corps plan. Screenshot photo.
The House's plan to create a separate Space Corps within the Air Force will now live or die with the 2018 National Defense Authorization Act (NDAA). The House Rules Committee did not include Rep. Mike Turner's (R-Ohio) attempted block of the plan on its list of amendments approved for debate. With the amendment disallowed, the fate of Rep. Mike Rogers's (R-Ala.) Space Corps proposal is tied to the vote on the NDAA legislation itself, which will take place on Friday.
The failure of the amendment was a blow to the Trump Administration and top Pentagon officials, who forcefully opposed the Space Corps idea in a policy statement and letters to Turner on Tuesday.
When asked by the House Rules Committee why his proposal had garnered such strong opposition from the Department of Defense, Rogers said, "they don't like Congress meddling in their business." Rogers also said the move is crucial at this moment because "if we take space and separate it into a separate corps, that money goes with that corps." The protection of space program funding is necessary, Rogers said, because the Air Force has grown accustomed to using space operations as a "money pot" to fund non-space programs that are more favored by the service.
"When they think Congress is not giving them enough money for their fighter jets and their bombers," Rogers said, "they reach into the space budget." Rogers told the committee that he has "objective facts over a 10-year period of time" showing that the Air Force has "consistently gone into the space budget to pay for air domain needs."
On Wednesday, Air Force Space Command boss Gen. Jay Raymond published an op-ed on the Defense One website defending the Air Force's current space strategy. While the title says, "we don't need a Space Corps," Raymond never makes that claim in the essay itself. Instead, he describes current Air Force policy as the proper solution to current and future threats in space.
While Raymond is pleased with "the welcomed focus on national security in space" that the Space Corps debate has generated, he remains convinced that AFSPC's ongoing attempt to "normalize, elevate, and integrate space as a warfighting domain" represents an approach that is "already paying dividends."
In opposition to the notion that a separate Space Corps is needed to bring greater DOD focus on space as a combat domain, Raymond writes that "multi-domain integration is our strength and we must protect it." He agrees with congressional concerns that "protecting and defending our space capabilities is a national imperative," but he says in order to do that, "our focus must remain on the task at hand without delay."