Floodwaters spread over the flight line and surrounding areas at Offutt AFB, Neb., March 16, leaving tens of millions in damages. Photo: TSgt. Rachelle Blake
WATER, WATER EVERYWHERE
How Offutt is getting back on its feet after a "500-year flood."
By Rachel S. Cohen
Offutt AFB, Neb.—
The runway again hosts airplanes instead of floodwaters and fish, but Offutt Air Force Base still faces a long slog to normalcy.
Following a historic flood that covered about one-third of the base in March, officials here, just 12 miles south of Omaha, Neb., say it could take five years or more to fully restore damaged assets from the 55th Wing and US Strategic Command. Today's "get-well plan" includes mostly temporary fixes, such as replacing simulators destroyed by floodwaters with an RC-135 withheld from deploying so aircrews and maintainers have something to train with; moving about 3,200 employees into interim workspaces; and adopting around-the-clock maintenance shifts to make up for lost maintenance capacity.
The intelligence, surveillance, and reconnaissance wing lost three aircrew training systems, including one that can simulate all three RC-135 variants—the Rivet Joint, Combat Sent, and Cobra Ball—and two Rivet Joint-specific simulators. A fourth simulator, for sustainment, was damaged but was expected to be back up and running by the end of June. The best case for mission crew trainers would have "Band-Aid fixes" in place by the end of the year.
But these will not replace everything crews had before, said 55th Wing spokesman Ryan Hansen. "The 'Band-Aid' fix refers to the use of old but functioning spare parts to create what unfortunately will have limited capabilities, but meet minimum training requirements. A follow-on [simulator] will restore full capabilities lost in the flood."
Despite the flood damage, the 55th Wing hasn't missed a deployment. Col. Eric Paulson, 55th Operations Group commander, said the wing is meeting continued demand.
Maintainers quickly bounced back, as well. The first day they were able, maintainers moved tools out of the main maintenance complex and salvaged what they could from offices. One top priority was cleaning airplane docks so the airplanes could come inside for shelter and fixes.
"The first thing we did was inventory and relocate assets that were critical to the operation," said 55th Maintenance Group chief Col. Todd Hammond. "We created space in the docks at first, and then all the maintenance backshop capability. Even without power they were in the shops, cleaning, in an effort to get those shops back online."
The workshops support C-135 variants, as well as the Air Force's E-4 nuclear command, control, and communications platform managed by STRATCOM.
"Things aren't perfect by any stretch of the imagination, but the things that we need are operational," Hammond said.
Many groups were forced out of their offices. The 55th Wing headquarters now occupies a low-slung, brown-brick conference center. Other units are sharing previously abandoned buildings, including a former library.
Doubling up employees in crowded buildings stresses the surviving facilities.
More electronics, people, and working hours translates to more power, heating, and cooling. Groups have to vie for limited access to secure spaces.
"We've been trying to put additional resources in there, but we've come to a limitation," said Mo Krishna, a former 55th Operations Group commander who now helps lead flood recovery as a civilian. "Not as many people can do not as much work anymore because of a limitation on [Sensitive Compartmented Information Facilities] space, computers, and the HVAC."
To ease the crowding, some airmen were sent to bases in Japan and the UK that support the RC-135. Others are traveling to depot facilities in Greenville, Texas.
But sending instructors and students away from Offutt isn't sustainable in the long run, Hansen said. The moves separate families and run up costs.
More than 100 mission crew students will spend six weeks away from home for training, then deploy for up to six months, Hansen said. It's worse for the instructors: They face up to six months away from their families in addition to operational deployments.
"You can meet it today, but the question is, are you going to have anybody left in the future to continue meeting this tasking" Krishna said. "This is not even a marathon or an ultramarathon, this is just running for your life. This is what the wing's been doing for a very long time."
Rebuilding Offutt is currently expected to cost more than $650 million. That follows $20 million from a tornado in 2017 and another flood that rose to within 50 feet of the base's runway in 2011.
This time, a heavy winter snowfall quickly melted and joined with additional rainfall to overpower levees and sandbags near the base. No one at Offutt was hurt or killed.
"It was amazing how fast it got wet and warm when we had, what, like 18 inches of snow on the ground," Krishna said. "The ground was solid, frozen, and then all of a sudden, all the water came. The rain came, the heat came, the melt came."
Offutt was the second Air Force base hit by powerful weather events between October 2018 and March 2019, after Category 5 Hurricane Michael plowed through Tyndall AFB, Fla., last fall. Having a counterpart in disaster proved useful to Nebraskans, who looked to Tyndall's experience and proven best practices for storm cleanup, mold prevention and remediation, and setting up a recovery office.
Offutt officials have drawn up blueprints for how they intend to invest its share of $1.7 billion in congressionally approved disaster-relief funds for Air Force bases. A program management office will oversee that effort, partially modeled on its counterpart at Tyndall.

Charles Cswercko moves flood debris at Offutt AFB, Neb., clearing room for a temporary parking lot. Despite massive flood damage, the base hasn't missed a deployment and is meeting continued demands. Photo: Zachary Hada/USAF
AFTER THE FLOOD
The response was swift, but lengthy. Within 72 hours of the flood, the Air Force, along with government services contractor Dyncorp, were already starting recovery efforts. Tyndall offered initial advice: "Cut the drywall, get things opened up, get the fans in there, and move forward and start the assessment process of the 44 [occupied] buildings that were affected down in the southeast quadrant," recalled Offutt Recovery Operations Center Director Lt. Col. Vance Goodfellow.
Officials said the base had everything it needed upfront to handle mold and other potential biohazards.
As with Tyndall, the Air Force's long-term vision for Offutt mirrors the base's plans for a more efficient, user-friendly installation. The Nebraska base wants to consolidate rebuilt facilities into eight campuses: a "nonkinetic effects center of excellence" for cyber and intelligence personnel; campus areas for security forces; bulk fuel storage; aircrews who stay on alert for the E-4 and E-6; another for NC3 operations; a training campus; a recreation area, hangars; and, possibly, a new backup power plant for STRATCOM.
About 50 of 137 above-ground structures need to be demolished and rebuilt in new areas and, in some cases, on higher land. Another 10 can be restored.
Affected facilities are buildings and other structures, such as water pumps.
The flood also expedited the timeline for when the 55th Wing can move into a STRATCOM building as the combatant command transfers into its new, $1.3-billion command and control facility. The two organizations will move into their new homes at the same time, instead of clearing one before the other comes in. Col David Norton, 55th Mission Support Group commander, said NC3 infrastructure can be rebuilt next to the modern STRATCOM building on higher ground.
Other structures will go up in nearly the same locations as before. "Just because it flooded and it was so devastating doesn't mean that we need to just walk away from that portion of the base," Norton said. "We still have to have these operational facilities right around the ramp where all the aircraft park."
Many more decisions about next steps have yet to be made. Hansen said the base is prepared to restore salvageable buildings and begin the demolition and rebuilding process for others. Officials will list their priorities "based on providing global combat airpower and the training required to support that effort," he added. Two top jobs are repairing the simulators and getting maintenance facilities back to 100 percent.
Operations and maintenance money must be obligated by Sept. 30. Military construction dollars would be available until the end of September 2023. The Air Force must send Congress a detailed plan for using the emergency money by the end of August.
"That probably remains to be seen exactly how the higher headquarters will sort through the finances of it," Norton said of the supplemental funding. "Here at the wing, certainly it's a good problem to have. But it's also going to be a lot of work for folks to push through such a large tranche of funding in a relatively short period of time."
Officials hope to restore full mission capability—albeit with temporary facilities and other limitations while the campus plans roll out—by 2022. They recognize that interim solutions will add to the total restoration cost, but say it's necessary to restore combat availability and training capacity, as well as to avoid rushing into hasty construction decisions.
Nearby assets, such as Tinker AFB, Okla., and facilities in Lincoln, Neb., will also lend support for operations while the future Offutt takes shape.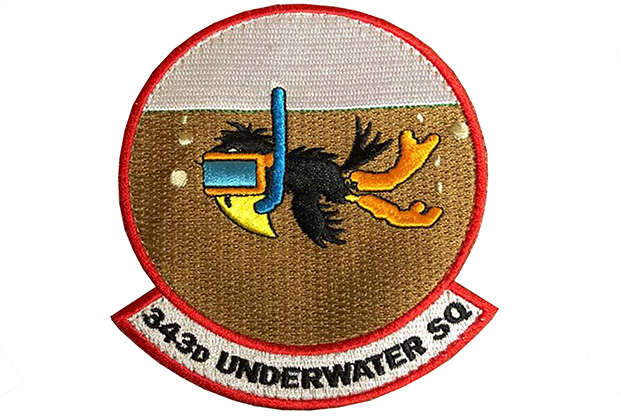 The 343rd Reconnaissance Squadron created a commemorative patch to remember the floods. Photo: 343rd RS/USAF
ADJUSTING TO REALITY
In the future, officials won't install electrical components lower than five feet on a building's first floor. Critical intelligence equipment will stay on the second floor or higher. They'll elevate the foundations by a few feet as an extra buffer against flooding. Local building codes already require preparing for high winds, and officials insist they don't have to alter disaster-response protocols.
"We do exercise all these activities, and we look at lessons learned from other bases," Goodfellow said. "We were postured quite well."
Hard work, local hospitality, and humor have kept Offutt afloat: The 343rd Reconnaissance Squadron updated its patch to give its raven mascot a mask and snorkel, dubbing itself the "343rd Underwater Squadron."
"You almost became a Navy base," Facebook user Brian Skon commented.
The surrounding community stepped in to host the annual base picnic, typically held at Offutt's recreational lake.
A local pizza maker who lost his own home fed Team Offutt just weeks after the storm. More chaplains arrived to comfort residents alongside mental health professionals.
Parts of the base were still under water when Air Force Magazine visited in June, but elsewhere it can be hard to see signs of the storm—unless you know where to look.
Damaged furniture and equipment are piled up inside now-dark office buildings. Sustainment work on a British RC-135 was in full swing even as broad chunks of drywall were removed to save the structure in other areas of the building. A satellite communications building smells like a beach, surrounded by sand and dead cornstalks.
A local project to raise the nearby levees' height, which was supposed to start after the winter snow melted and likely would have saved Offutt from most or all of the water, is slated to take two years to complete—and can't start until the waterlogged ground dries. And though the worst weather has passed, Offutt remains wary of its neighboring river.
As the US Army Corps of Engineers in late May prepared to let out more than twice its early summer average of water from Gavins Point Dam, S.D., then-55th Wing Commander Col. Mike Manion warned the community that water levels could swell to nearly 31 feet in Omaha, Neb.—about four feet below the March 17 crest. At the same time, more snow accumulation than usual threatens further problems as the melt-off flows south from Montana to Nebraska.
The storm soaked signals intelligence data and analysis products—much of them paper—were left inside secure facilities, including the two-story 97th IS building. Those documents must be destroyed, but because SCIF alarms are dead, more than a dozen security forces personnel are posted around the clock to prevent unauthorized access.
To dispose of the data, Offutt hands the files over in barrels to a contractor, then tails them in a chase car to ensure all end up at their intended incinerator or a macerator.
Officials said they weren't sure what information those pages held or whether losing it will impact missions or national security—noting it hadn't so far. But that's just one example illustrating what Offutt has lost, and the ripple effects it may yet feel.
"Long recovery ahead," Manion wrote on Facebook May 29, undaunted by the challenge. "The 55th Wing finds a way to keep the mission going."
---
OFFUTT'S ISR PLANES PREP FOR EVOLVING THREATS
An RC-135W Rivet Joint takes off from Offutt AFB, Neb. An "expeditionary mindset" has kept ISR aircraft on point, but new challenges in the Middle East and the Pacific will require training refreshers. Photo: SrA. Jacob Skovo
By Rachel S. Cohen
OFFUTT AFB, Neb.—
Great power competition may be the focus of the Pentagon's latest strategy, but the 55th Wing here has been flying the coasts of China and Russia for decades.
The wing's intelligence, surveillance, and reconnaissance jets routinely fly 12 miles off the coast of Russia and China in international airspace, so they don't expect their planes' unique electronic signals, missile launch, and radioactivity recon roles to change much in the coming years.
"Honestly, this wing's been doing that since the '60s," 55th Operations Group Commander Col. Eric C. Paulson said in a June 4 interview here. "We've spiraled our technology to meet adversary technology and kept up with it, but this is what we've been doing."
A longtime "expeditionary" mindset—being able to deploy quickly from spots around the globe—has helped Rivet Joints, Cobra Balls, Combat Sents, and Constant Phoenixes keep pace with the government's demand for their intelligence data.
But training also should evolve as geopolitical situations change, Paulson said, particularly if the RC-135 variants have to balance missions in the Middle East while taking on more in the Pacific. That will entail being aware of different threats, learning to use current capabilities in new ways, or using upgraded tools altogether.
He doesn't expect facing more advanced militaries will callfor new crew positions aboard their jets, saying they can top off training instead. Everyone needs to focus more on cyber threats and how to stay relevant in increasingly digital warfare, Paulson said. And even as technology and training evolve, he acknowledged they may have to fall back on old practices for tasks like navigation if their systems are jammed in a fight.
"We'll do whatever's asked, and it's up to our national leadership to determine, 'Here's what I've got. What can I put here and there'" Paulson said. "Once we know those [priorities], we'll work to make sure that those are met."
The real competition is in each nation's ability to collect, see, and understand what adversaries' intentions are and how their tools are changing, former 55th Wing Commander Col. Mike Manion said. Emerging technologies like artificial intelligence, machine learning, and autonomy will offer powerful boosts to the 55th Wing's ability to continue its work in an increasingly complicated, gray battle space, he noted.
New creations underway at the Air Force Research Laboratory and the Defense Advanced Research Projects Agency can dovetail with routine aircraft upgrades at Big Safari, which manages the Air Force's secretive big-wing ISR platforms. Each jet leaves Big Safari's depot every few months a little more advanced than its companions, and injecting AI tech on this rolling basis, rather than waiting for a block upgrade, could help 55th Wing fleet software stay on the cutting edge.
After the Air Force decided last year to abandon its E-8C Joint STARS replacement program, saying a new big-wing battle management jet wouldn't stand up against enemy air defenses, the same question has arisen about whether C-135s could survive in the future.
Paulson said improved air defenses haven't changed how the wing operates, but "should a war kick off, absolutely, that'll change some positioning."
Manion isn't aware of any talk about putting self-defense systems on 55th Wing platforms, and that's intentional.
"We're not hiding our mission or our presence from anybody," Manion said. "We fly in international airspace, and there's a lot of rules of engagement that go along with that. I think we're intentionally painted white with no self-defense as a means to show that we're just here to be here. We mean you no harm."

Airmen run flight control checks during preflight of an MQ-Reaper at an undisclosed location in Southwest Asia. US drones are taking fire from Iran in international airspace and over Yemen. Photo: SSgt. Arielle Vasquez
The RC-135 and its variants are about a half-century old and face the wear and tear of old age. To remain viable for a possibly heavier mission load in the coming decades, maintainers are trying to stay one step ahead of what they might need to fix next and what crews could encounter in combat.
Col. Todd Hammond, 55th Maintenance Group commander, said his group starts each day with an intelligence brief focused on Russia, China, and North Korea.
"We want the technicians to understand the importance of why they're maintaining the aircraft, and why the systems need to function in those particular threat environments," he said. "We work together to make sure that as taskings come down that we're working together jointly [across government] to optimize the systems to make sure that they can go forward and deploy."
Pilots report any discrepancies that occur during sorties, which are then considered as part of larger trends. Hammond is briefed weekly on the fleet's status, as well as monthly and quarterly on continuing trends.
"We're just working together a little closer [with government and depot partners] to make sure the availability essentially can be relied upon if we are to plus up in the Pacific, or if ISIS moves to Africa in the Sahel, that we can push there," he said. "If Russia begins to start something in Ukraine or Eastern Europe, then we can monitor."
Even as most eyes sit on simmering issues in the Eastern Hemisphere, in-demand ISR assets won't get a break from other conflicts du jour.
Mohan C. Krishna, a former 55th OG commander who is now helping lead Offutt's flood recovery effort as a civilian, told Air Force Magazine the service hoped the Trump administration's talk of removing troops from the Middle East would ease mission requirements at a time when 55th Wing fleets are stressed by the March storm. Then, US tensions with Iran flared.
An Iranian surface-to-air missile shot down a US drone over the Strait of Hormuz on June 19. The Navy's RQ-4A Global Hawk High-Altitude Long Endurance unmanned aircraft system, which is used for intelligence, surveillance, and reconnaissance operations—was operating in international airspace about 34 kilometers from the Iranian coast, Air Forces Central Command boss Lt. Gen. Joseph T. Guastella said.
The incident came just days after CENTCOM said Iran unsuccessfully tried to shoot down another US drone over the Gulf of Oman. US officials also believe Iran assisted the Houthis in a June 6 attack on an MQ-9 over Yemen that was successful.
"The drum's beating hard again," Krishna said. "The Joint Staff sees needs all over the place, combatant commanders see needs all over the place. Nobody's willingly going to give anything up. We were hoping [US Central Command] was going to draw back and give us some breathing space. It's getting harder."
Recent developments in US Southern Command have also busied operators.
The 55th OG headed to Puerto Rico earlier this year as a jumping-off point to gain insight into the situation on the ground in Venezuela, which is writhing with political and economic tumult and saw a failed coup in April, Paulson said.
No matter where the 55th Wing is called, Manion argues the Air Force will need a network of ISR sensors that can pick up on new developments in the battle space anywhere. He doesn't believe the Air Force needs to buy new big-wing ISR planes to fit the needs of each individual geographic area.
Lots will change, especially in Indo-Pacific Command, if the friction between the US, Russia, and China bubbles into a shooting war, Manion said.
"Everybody's worried about the 'fight tonight,'" Krishna added. "[Indo-]Pacific Command is worried about the fight tonight, CENTCOM's worried about the fight tonight. [US European Command] doesn't have that drum yet, but we're sure they will in the future."
MCCONNELL KC-46 CREWS SHAPING THE FUTURE OF REFUELING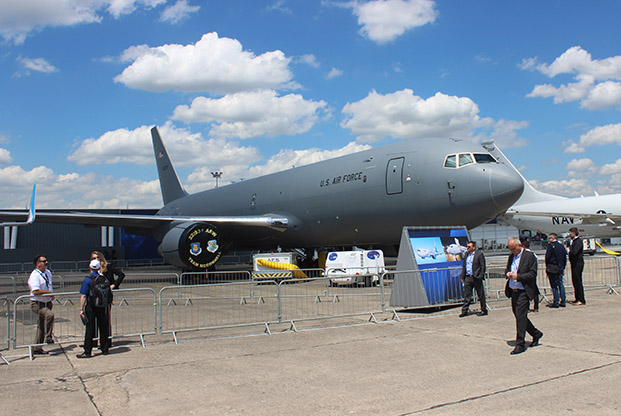 A KC-46 Pegasus from McConnell AFB, Kan., on the flight line at the Paris Air Show June 17. The appearance was the new tanker's international debut. Photo: Brian Everstine/staff
By Brian W. Everstine
LE BOURGET, France—
Despite extended delays and some continuing problems, the Air Force's KC-46 operating base is now flying a steady stream of firsts and setting milestones.
The KC-46 made its international debut at the Paris Air Show in June. To mark the occasion, crews onboard the trans-Atlantic flight from McConnell AFB, Kan., to Ramstein AB, Germany, made filet mignon on board. On the way back, the KC-46 crews will take on space-available passengers for the first time in the Pegasus program.
In early June, the 344th Air Refueling Squadron at McConnell began the initial operational test and evaluation for the aircraft as the base's six crews are learning what USAF's newest tanker is capable of, Lt. Col. Wesley Spurlock, the squadron commander, told Air Force Magazine.
During the testing, members of the Air Force Operational Test and Evaluation Center will monitor flights and operations, checking through test points to evaluate how the aircraft performs and how it will operate in the future.
For the crews, this means the flight operations are a "mix of everything," including international flights, such as the recent trip to Paris via Germany and a planned flight to the Pacific, along with cargo runs, and the first passenger flights, Spurlock said. The aircraft has been flying in formations, practicing tactical maneuvering, and— of course—refueling.
The squadron is making a "really robust flight profile. We are really ramping up and getting the exposure for our instructors and aircraft commanders, and really our whole crew," Spurlock said. He added, "Our aircraft commanders are reporting after every single flight what they did, what they planned to do, lessons learned, issues they've had."
Every time the squadron flies, AFOTEC will "jump on with us" and go through the test points they need, he said. The daily flights aren't dictated by what AFOTEC needs, but rather, they go along with what aircrews are planning.
"Our mission is the test point. We don't change our sorties, per se, to meet the test points, they change test points to meet our sorties," Spurlock said.
McConnell's 344th ARS also is in the process of building up its first seven aircrews, with the expectation to reach 24 by the end of the year. The Reserve 924th Air Refueling Squadron is planning to get to 10 aircrews.
Because the KC-46 provides more than just refueling—it has sensors, data link connections, air defenses—the squadron wanted to pick pilots with diverse backgrounds to bring a different mindset to the mission. So far, new KC-46 pilots have experience flying the F-16, B-1, B-52, E-3, E-8, C-17, and C-130, along with KC-135s and KC-10s.
The KC-46's capabilities are "something we've never seen on a tanker," Spurlock noted. In addition to refueling, the tanker can help with targeting information and threat assessments. It's also designed with countermeasures, a first on a tanker, to get the fuel closer to the fight.
"We're happy to break out of the norm of what the tanker is for. It's why we have F-16 and B-1 guys that understand the different parts of this, as we put all of this together it becomes a new thing," he said.
The initial cadre of pilots went through Boeing training and got 767-type ratings, but that only scratched the training surface. "It wasn't salient to the military-type of flying that we do. We've kind of had to push through that," Spurlock said.
The 344th is also close to standing up the first seven boom operators, and the plan is to reach 12 by the end of the year, with a final end state of 30 boom operators. The squadron did pull experienced KC-10 and KC-135 boom operators to join, but also looked at other career fields, such as sensor operators, to find "as diverse a group as possible," said SMSgt. Lindsay Moon, superintendent of the 344th ARS.
Through testing, the aircrews have been able to tell the difference between the KC-46 and legacy airplanes. For example, the KC-46 is more stable during refueling than the KC-135. When attached to a large aircraft such as the C-17, the Stratotanker would get "pushed around," Moon said. In the KC-46, the aircrews can't tell the difference as much between heavy receivers and smaller fighters.
For the pilots, the aircraft is simply more modern than KC-135s and KC-10s. It's a fully electronic "glass" cockpit with automatic landing and automatic braking. "There's a lot of bells and whistles, it's very user friendly It's designed to be a modern airplane," Spurlock said.
For the boom operators, the nature of the KC-46's system is simply more comfortable. In the KC-135, operators lay on their stomachs for extended periods of time looking out the window to the receiver, Moon said. It got to the point where long-term operators would experience back pain and other physiological issues. A McConnell boom operator in 2018 won the Air Force's Spark Tank competition for inventing a platform for the KC-135 station to help alleviate pain.
In the KC-46, the operator is sitting upright, looking at large screens to operate the boom. "It is bearable to sustain operations as long as possible, being comfortable, and doing it while not feeling fatigued," Moon said.
The remote vision system has a heads-up display built-in to give the operators live readings of data such as the amount of fuel left to be off-loaded, which is a "big situational awareness tool," Moon said.
There are large, bright LED lights on the boom itself, visible day and night, that makes receiving easier, said Spurlock, who has flown as a pilot on both the receiving and off-loading end.
"It's kind of like a fifth-generation tanker," he said. "It's going to be a big deal."
Getting to this point has meant long delays for crews at McConnell as they waited for the aircraft to arrive. The base hosted a ribbon cutting for a maintenance hangar in October 2017, more than 14 months before the aircraft actually arrived. McConnell now has six aircraft, and it's waiting on the seventh to arrive, which was tentatively scheduled for the end of June.
The Air Force and Boeing are working together on determining a schedule for the already delivered aircraft to return to the company for an in-depth sweep for foreign object debris, such as tools from the factory that fell into areas of the jet during production. The aircraft that have been delivered have been deemed safe to fly, but still have remaining areas that need to be checked.
These sweeps are expected to be finished in July.
At McConnell, maintenance crews are working through this issue and "when it happens, it happens, and we work around it," Spurlock said.
"At the end of the day, we're just flying what we have. We step out to the jet and, whatever the tail number is, we fly it," Spurlock said. While he did not discuss specific mission capability rates, he said, "Every time I've stepped to fly, I've flown."
Additionally, the Air Force and Boeing are working through three "category one" deficiencies—two focused on the RVS and one on the boom itself—with a fix not expected to be implemented for three to four years.
These flights and the ongoing IOT&E process give McConnell a unique mission. The KC-135 was first delivered in the 1950s, and KC-10s in the early 1980s. The airmen who flew, maintained, and operated the refueling booms at the time formed the processes and tactics that largely have stuck around for decades. This same process is now beginning with the 344th.
"We have a unique opportunity to leave our mark on the Air Force in the future," Spurlock said.
HOLMES: USAF CAN'T GET COMPLACENT WITH READINESS GAINS
Gen. James Holmes during a question-and-answer session with airmen at Gowen Field near Boise, Idaho. Photo: MSgt. Joshua Almaraas
By Rachel S. Cohen
DAYTON, Ohio—
Air Force readiness improved by about 15 percent over the past year, but Air Combat Command's chief says the service must revamp its approach to managing aircraft and other weapon systems in less predictable, more complex combat environments.
"We need to fly the 16 sorties a month per airplane on Air Combat Command fighters," Gen. James M. Holmes said June 19 at the Air Force Life Cycle Industry Days conference. "We need to train the equivalent ways of that on our other systems, not just to check a box, and not just so I can write an update to my boss to tell them we made it. The country is safe because of their training, so readiness is not just a number."
Last year, then-Defense Secretary Jim Mattis ordered the services to ramp up mission capable rates for F-35, F-22, F-16, and F/A-18 fighters to at least 80 percent by Sept. 30, 2019. Air Force leaders testified in March that more than 90 percent of the service's 204 "pacing" squadrons—the first group of unnamed aircraft that could be sent into a fight with an advanced adversary—were ready to deploy if needed.
"When we include their follow-on forces, these pacing squadrons are on track to reach 80 percent readiness before the end of fiscal year 2020, six years faster than originally projected," according to the prepared testimony. "As our front-line squadrons meet their readiness goals, we will also ensure the remainder of our operational squadrons reach the 80 percent readiness mark by 2022, as we continue to build toward the 386 operational squadrons we require."
Focused on those pacing units, the Air Force has been able to boost its ability to respond to conflict because of its current size and because it has settled into a familiar rhythm with the enduring wars of the last two decades, Holmes said.
This process works in today's "peacetime" stance, with demands limited to keeping ISIS and other terror groups at bay. But were the US to go to war with China or Russia—or some other peer adversary—the Pentagon wouldn't be able to rely on its typical supply chain and maintenance structure, which depends on centralized bases. Growing the service by 24 percent to 386 operational squadrons as envisioned could further stress resources, he suggested.
"The Life Cycle Management Center has worked to squeeze the fat out and to focus on the things that are required to meet those daily requirements in a very predictable set of conflicts that are based on sending rotational units over periodically," Holmes said. "Great power competition will be demanding in ways that require different approaches to overcoming these constraints."
In a peer fight, one base holding 100 aircraft would be too vulnerable. Such challenges call for smaller footprints, with manpower and aircraft spread more thinly around the world. That, in turn, would stress parts supplies that could require delivering parts to destinations in contested areas. Cannibalizing other aircraft for spares won't necessarily be an option if fewer aircraft are available in a given location, Holmes stated.
"Every part we can avoid having to ship, everything we cannot think about because we're more reliable will be even more important," he continued. "We'll be dispersed, with only a minimum number of maintainers, often multiskilling the maintainers we have to do more than one job. Our units will have to operate more independently with what they've got in hand."
He implored industry to work with the government to boost the reliability of components and subcomponents so that parts fail less often and, so the Air Force can be better prepared when they do. For its part, the service will continue shifting money into aircraft availability initiatives and exploring modern sustainment ideas, such as 3-D printing parts and developing predictive maintenance algorithms. The Air Force needs to plan for those upkeep needs earlier in the development and procurement cycle, noted Holmes.
ACC is also rallying to the idea that developmental testing and operational testing could be merged. Driven by the success of the "Kessel Run" coding team in Massachusetts, where code is pushed out and improved in iterative "sprints" and requirements develop as projects mature, officials see the potential for faster, smoother, and more continuous improvement.
"We have built some combined test forces where we have OT and DT together on the same team," Holmes said. "We're looking at some organizational changes on what might be the next step."
Holmes said he would meet with Air Force Materiel Command boss Gen. Arnold W. Bunch Jr. this year to refine a path forward and hopes to work the new testing mindset into the 2021 budget.
---
AFRL'S NEW GOAL: BOMBS SMART ENOUGH TO COORDINATE ATTACKS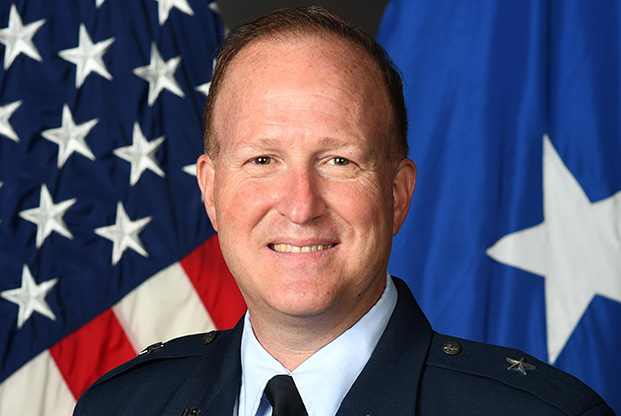 Brig. Gen. Anthony Genatempo. Photo: USAF
By Rachel S. Cohen
DAYTON, Ohio—
The Air Force is abandoning its "Gray Wolf" swarming cruise missile development program to instead fund "Golden Horde," which would equip bombs with the smarts to cooperate in combat.
Brig. Gen. Anthony W. Genatempo, Air Force program executive officer for weapons, said in a June 20 interview that rather than develop another cruise missile, Golden Horde would enable the Small Diameter Bombs I and II, the Joint Air-to-Surface Standoff Missile, and the Miniature Air-Launched Decoy to act in concert with one another after launch.
"If we drop a number of the same genus, let's say all SDBs can the four of them act collaboratively together on an engagement" Genatempo said.
Incorporating such decision-making technology into weapons without requiring human input is of growing interest to Pentagon planners, and is especially valuable in contested environments where human-machine communications might be spotty or severed.
Genatempo related the program to ongoing discussions with the Navy about its "Motley Crew" program, which Military.com described in 2017 as "a group of unmanned aerial systems that can share information and then assign tasks and make strategic targeting decisions based on available intelligence." That effort is progressing under a consortium of companies including Raytheon, Northrop Grumman, and Lockheed Martin, plus military laboratory representatives.
In December 2017, AFRL provided Lockheed and Northrop with $110 million contracts to prototype and demonstrate Gray Wolf low-cost, subsonic cruise missiles designed to defeat enemy air defenses. Five other bidders competed.
Prototyping would have explored how the "plug-and-play" weapons could carry kinetic warheads, electronic-attack payloads, and intelligence, surveillance, and reconnaissance sensors, according to AFRL.
Now the Air Force plans to finish the first phase of the three-phase program in June or July, then scrap the remaining two stages in favor of Golden Horde, which it plans to demonstrate for the first time in about a year.
In March, California-based Scientific Applications Research Associates netted $100 million to demonstrate Golden Horde's "emerging munition technologies" after outbidding other companies, according to a Defense Department contract announcement.
"The effort is conceptualized as a fast-paced Air Force Research Laboratory-led demonstration project executed under the auspices of the Team Eglin Weapon Consortium," according to DOD. "Work will be performed in Cypress, Calif., and is expected to be complete by December 2021."
"What our warfighter is really interested in is, if I have a very large weapons truck like an F-15 or like one of our bombers that can drop multiple of these munitions, is there a way to act in such a way to provide better effects on targets? Or better [intelligence, surveillance, and reconnaissance] back to a command and control node" Genatempo said. "We are still unraveling the onion on what that may actually mean as far as operational capability goes."
Think about last year's US air strikes on Syria, including the first combat use of Lockheed Martin's JASSM, he said. That mission succeeded thanks to extensive planning: Each Tomahawk and JASSM was dropped at a specific time, followed a predetermined flight path, and struck a particular target.
But what if the weapons could think through those steps on their own and send feedback to other munitions and airmen
If they could say, "The first two of us that got here four minutes earlier, we actually took out this target," Genatempo said, then they could decide "the two of you that were coming in behind us you can go to Target B."
Within that four-minute flight time, he said, "there would be time to adjust to go to Target B."
AFRL, the Defense Advanced Research Projects Agency, and weapons manufacturers are collaborating to create such a network.
"That's to come," Genatempo said.
---
NEW COMMANDERS AT 9TH, 19TH AIR FORCES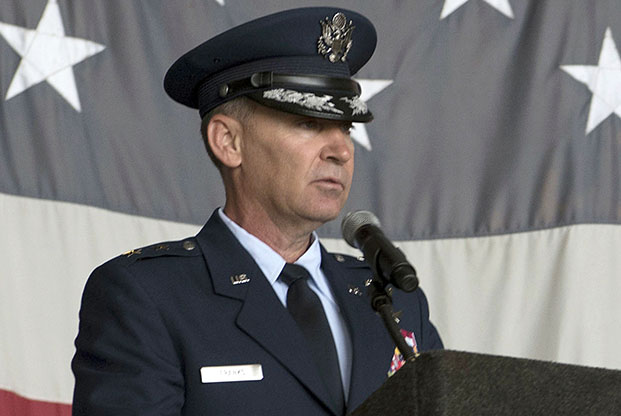 Gen. Chad Franks. Photo: USAF
By Brian W. Everstine
Maj. Gen. Chad P. Franks took command of 9th Air Force and Maj. Gen. Craig D. Wills took the reins of 19th Air Force in separate change of command ceremonies June 13.
Franks assumed command from Maj. Gen. Scott J. Zobrist, who is retiring after more than 30 years in uniform, during a ceremony at Shaw AFB, S.C.
Franks previously served as the deputy commander of Combined Joint Task Force-Operation Inherent Resolve and as the vice commander of 14th Air Force.
Wills took over 19th Air Force from Maj. Gen. Patrick J. Doherty during a ceremony at JBSA-Randolph, Texas. He previously served as the deputy chief in the Office of Security Cooperation-Iraq at the US Embassy in Baghdad.
The Air Force hadn't officially announced Doherty's next move as of press time.
---
AIR FORCE DEVELOPING AMRAAM REPLACEMENT TO COUNTER CHINA
By Rachel S. Cohen
DAYTON, Ohio—
The Air Force is developing a new air-to-air missile, dubbed the AIM-260, that offers longer range than Raytheon's Advanced Medium-Range Air-to-Air Missile (AMRAAM) and would be used to counter the Chinese PL-15 weapon.
Air Force Weapons Program Executive Officer, Brig. Gen. Anthony Genatempo, told reporters in a June 20 interview the service is working with Lockheed Martin, the US Army, and the US Navy to field the Joint Advanced Tactical Missile in 2022. Work began about two years ago.
"It has a range greater than AMRAAM, different capabilities onboard to go after that specific [next generation air-dominance] threat set, but certainly longer legs," he said. "As I bring up JATM (Joint Air Tactical Missile) production, AMRAAM production is kind of going to start tailing off."
The weapon is initially planned to fly in the F-22's main weapons bay and on the Navy's F/A-18, with the F-35 to follow. Flight tests will begin in 2021, and initial operational capability is slated for 2022, Genatempo said.
"It is meant to be the next air-to-air air dominance weapon for our air-to-air fighters," he said.
The Air Force will buy its last AMRAAMs in fiscal 2026 as JATM ramps up, answering combatant commanders' needs, Genatempo said.
He told Air Force Magazine the service hasn't settled on how many JATMs it might buy in the outyears or how the program will ramp up.
"The future of what JATM looks like, especially out in that outyear increment, is very, very up in the air right now," Genatempo said. "As far as lot sizes go, it's on the order of a couple hundred per lot, and I don't think we have a definite plan."
He expects JATM could be in production as long as AMRAAM, which was first deployed in 1991.
---
NORTHROP, RAYTHEON TEAM UP TO DEVELOP SCRAMJET HYPERSONIC WEAPONS

An illustration of a hypersonic weapon. Staff illustration
By Brian W. Everstine
LE BOURGET, France—
Northrop Grumman and Raytheon announced June 18 they are teaming up to develop hypersonic scramjet weapons. Northrop will develop scramjet combustors to power air-breathing hypersonic weapons developed by Raytheon.
The two companies are working under a $200 million Hypersonic Air-Breathing Weapons Concept program through the Air Force and the Defense Advanced Research Projects Agency, according to a Northrop release.
Scramjet weapons use the missile's high vehicle speed to forcibly compress the air it takes in before combustion to sustain flight. The two companies announced the agreement at the Paris Air Show. The Air Force has selected Raytheon and Lockheed Martin to both develop HAWC weapons, along with Lockheed's separate Tactical Boost Glide weapon development.
---
MQ-9 AIR-TO-AIR MISSILES POSTPONED FOR HIGHER PRIORITIES
By Rachel S. Cohen
DAYTON, Ohio—
MQ-9 Reapers will keep their slew of air-to-surface weapons, but the Air Force is holding off on adding air-to-air missiles to the drone's arsenal for now, the service's program executive officer for intelligence, surveillance, reconnaissance, and special operations forces said.
The Air Force hasn't vetted the MQ-9's air-to-air combat skills since a 2017 test that proved the armed unmanned aircraft could shoot down other small drones, said Col. Dale White in a June 19 interview here. He indicated the concept has been pushed to the back burner as Air Combat Command pursues other ideas needed to meet the National Defense Strategy's focus on more advanced technologies.
"Right now, I can tell you it's not something we're actively pursuing," White said. "It's one of those things where we always say, 'there's no limit to what you can do with enough time and money.' It is a capability we'll always keep at the forefront of something that we can do."
In March 2018, the Air Force said it planned to offer General Atomics a contract to develop an air-to-air missile engagement simulator for the Reaper, although no firm plans were made to add the new weapon to the airframe.
The service has said it wants to use unmanned aircraft less often in low-intensity counterinsurgency fights and bring them into contested environments, though their vulnerability is in the spotlight this month following the shootdown of a Navy RQ-4A variant by an Iranian surface-to-air missile.
---
NEW MODS MEAN B-52 MAY ADD A 'J'

A B-52H over Southwest Asia. New modifcations proposed for the venerable bomber may make the H models into Js. Photo: SrA. Keifer Brown
By John A. Tirpak
DAYTON, Ohio—
The Air Force is likely to redesignate the B-52H as the B-52J once it receives upgrades that add up to a "major modification," Brig. Gen. Heath A. Collins, service program executive officer for fighters and bombers, told reporters June 20.
Typically, the Air Force makes a letter-change designation to an aircraft—what Collins described as "rolling the series"—only when it adds enough new equipment to constitute a virtually new system, he said at the Life Cycle Industry Days here.
For example, when the B-52 gets new engines beginning in about 10 years, "that probably would be enough" to warrant a letter change, he said. But the venerable bomber will also get new digital systems, communications, new weapons, and a new radar, as well as a variety of other improvements.
Collins also said Air Combat Command is considering the possibility of reducing the number of aircrew on the B-52— now that some functions that used to require weapon systems officers can operate autonomously.
"Discussions continue with Global Strike Command about crew size," Collins said.
A B-52 test aircraft has been receiving modifications since 2015 to evaluate new systems, including the Long-Range Standoff weapon and several hypersonic systems, according to slides shared at the symposium. Collins said hypersonic missiles will be a key new capability of the B-52 in the 2020s.
The first captive-carry flight test of a new hypersonic weapon, launching a prototype from a B-52 out of Edwards AFB, Calif., took place June 12. The sensor-only version of the AGM-183 Air-Launched Rapid Response Weapon (ARRW) was carried externally on the B-52 to evaluate the drag and wind impacts on the weapon, which was not launched during the flight, according to an Air Force release.
While the B-52 is going through "the most active" period of modification in its history, the B-1 is entering a fairly quiet time regarding modifications, Collins noted. The emphasis with the B-1 for the next few years will be on readiness, he said, after a prolonged period when the B-1 was heavily used in Afghanistan, Iraq, and Syria.
The B-2, meanwhile, is also going through an intensive modification program as the defensive management system suite is upgraded. The upgrade constitutes a Major Defense Acquisition Program—an ACAT-1D—Collins noted, meaning it gets supervision at the undersecretary of defense for acquisition and sustainment level. After some delays, the program will be "re-baselined this summer." Collins said, the "quality of the software has been high" and is substantially better than the earlier version.
---
RAYTHEON TO CONDUCT CYBER ASSESSMENTS OF USAF AIRCRAFT SYSTEMS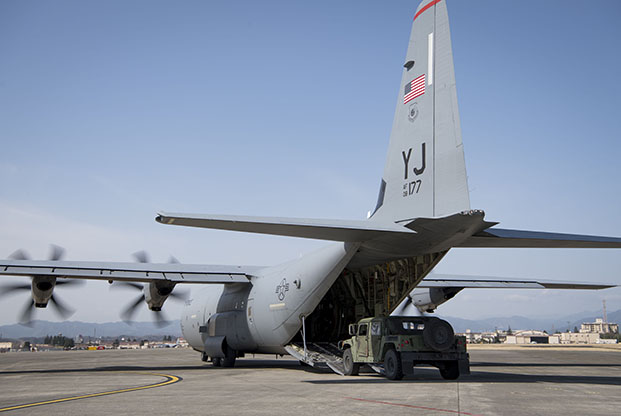 Airmen load a Humvee onto a C-130J at Yokota AB, Japan. C-130s will be assessed for cyber vulnerabilities by the end of the year. Photo: SrA. Donald Hudson
By Brian W. Everstine
LE BOURGET, France—
Raytheon and the Air Force are working on a type of "bug bounty," focused on addressing cyber deficiencies—but this time on aircraft.
The company is contracted to conduct cyber vulnerability assessments on several aircraft subsystems and then work to mitigate the issues through resiliency instead of simply aiming to be impervious to attacks, said Dave Wajsgras, Raytheon's president of Intelligence, Information, and Services. Raytheon will begin working on the C-130J and F-15 in the fourth quarter of this year.
"The Air Force is taking the threat quite seriously," Wajsgras said.
The threat assessment process will look at how vulnerable aircraft systems, such as the mission computers, avionics, and navigation, are to attack. The objective is to strengthen those systems enough so that if one comes under a cyber attack, it doesn't simply go offline, leaving the aircrew without that capability.
"Resiliency says that even if something were to breach, and malware does enter, the system is resilient and can continue to function as intended," he said.
---
THE WAR ON TERRORISM
Casualties:
As of June 27, 71 Americans had died in Operation Freedom's Sentinel in Afghanistan, and 79 Americans had died in Operation Inherent Resolve in Iraq, Syria, and other locations.
The total includes 145 troops and five Defense Department civilians. Of these deaths, 69 were killed in action with the enemy while 81 died in noncombat incidents.
There have been 408 troops wounded in action during OFS and 81 troops in OIR.