NEW TANKER STILL YEARS FROM FIRST DEPLOYMENT
The troubled KC-46 tanker will not be deployable for at least three to four years—forcing the Air Force to consider delaying planned retirements of the service's older refueling aircraft. Air Mobility Command boss Gen. Maryanne Miller is pressing Boeing to solve lingering problems with the aircraft's remote vision system.
"I'm looking at the fact that we're eight months into accepting our airplanes, and Boeing has not presented a solution that has met all the parameters," Miller said Sept. 18 at AFA's 2019 Air, Space & Cyber Conference. The Air Force has identified nine parameters that must be met and two in particular are proving "very difficult," she said.
She wants answers fast. "In a couple months—that's what I'm looking for," she said. "We've got to get this airplane into the fight."
As of late September, the KC-46 Pegasus still had four Category One deficiencies, the most serious category, including a recently discovered problem with the cargo lockdown system. The Air Force has, for now, barred the aircraft from flying with passengers or cargo during the pre-initial operational testing and evaluation flights.
But the remote vision system (RVS) remains the most serious defect, affecting the essence of the tanker's mission. The system includes two cameras and sensors that together help the boom operator guide the boom to refuel other aircraft. The most serious problem is blurry vision; the system produces an image akin to 20/50 vision. Depth perception is also a problem. Although the system uses multiple cameras, the software challenge of seamlessly stitching the images together has proved particularly challenging.
Boeing knows "it has to meet all nine" in a "pass/fail" evaluation, Miller said.
Air Force Chief of Staff Gen. David L. Goldfein said in an interview that AMC's expectations for a three- to four-year period before the KC-46 is deployable is an "honest assessment," but he said such a long delay is unacceptable.
"I'll tell you, as Chief, I hope we can cut that down," he said. "Because quite frankly, I need it now. I really can't wait three to four years. I need them in the fight now. The nation needs it in the fight now, so do our allies and partners, so do our joint teammates."
Boeing said it has the "green light" from the service to upgrade the RVS system—once the parameters are met. "Maybe we had some fault on both sides defining what the system should look like," said Mike Hafer, the company's senior manager for KC-46 business development. But "we've established very objective data now on what the RVS should be able to perform."
The Air Force had expected to begin divesting its 59 KC-10s and 96 KC-135s once the overall tanker inventory reached 479, according to written testimony provided to the Senate by incoming Air Force Secretary Barbara Barrett in September. But while the service should reach that threshold in November, Goldfein said the service can't afford to retire war-ready refuel­ers until the KC-46 can start assuming some of their missions.
"We can't retire until we have an airplane that's combat capable," Goldfein said. He described the discourse with Boeing as "brutal, honest discussions" intended "to make sure what they deliver is fully combat capable."
US Transportation Command had already announced that it needs to retain 28 KC-135s beyond their planned retirement date because of delays to the Pegasus. Now, Miller said AMC is looking at keeping even more Stratotankers around. "I'd love to slow down the retirement because I have to keep booms in the air."
In late September, the Air Force placed another production order with Boeing for the aircraft, a $2.6 billion contract for 15 tankers, engine spares, and associated equipment. The service expects to have 179 total KC-46s delivered by 2028, leaving 300 aging KC-135s to fill the rest of the refueling role.
As of late September, 19 aircraft had been delivered to the first operational base at McConnell AFB, Kan.; the training base at Altus AFB, Okla.; and the first Air National Guard location at Pease ANGB, N.H.
Longer term, the 2018 "The Air Force We Need" plan calls for adding 14 aerial refueling squadrons. In rolling out that plan, then-Secretary of the Air Force Heather A. Wilson said refuel­ing represented "the biggest shortfall" in mobility based on the National Defense Strategy and analysis of current threats.
The Air Force and Air National Guard are upgrading their KC-135s, meanwhile, with Rockwell Collins under contract to upgrade the avionics of KC-135Rs under the "Real-Time Information in the Cockpit" program. The airplanes will get Link 16 data communications for the first time, coupled with the glass cockpit modernization from the Block 40 and Block 45 upgrade programs. The upgrades allow pilots and boom operators to see real-time intelligence feeds, enemy threats, targeting data, and blue force locations, according to the company.
Miller said one option for expanding capacity could be private, civilian refueling aircraft, which could help out in certain situations, such as training or meeting test requirements for other aircraft.
When the Air Force awarded the KC-46 contract to Boeing, the expectation was that development would be relatively quick, since it was a modification to the established 767 airliner. And while that hasn't proven to be the case, Goldfein said the 767-base has shown capabilities.
"I've flown the KC-46, I think it's going to be a great airplane," he said. "I was excited. When you buy a commercial derivative, a 767 essentially, a lot of things come with it, because they build it for commercial." That includes a great autopilot, he said, and a solid airframe, "built for stability." That "turns out to be one of the attributes we need to be on the boom."
Just as important is its ability to support future growth. The airplane has 13 stations on it that are available for communications and other equipment to increase the airplane's situational awareness. "If you look at it not as a device, but as a node in the network, with the 13 additional stations and additional power to plug in," Goldfein said, "you've got expansion capability for multi-domain ops that I don't have in the current fleet."
So now the Air Force and Boeing must work together to ensure they are "equally confident" that the KC-46 can meet all the needed requirements, he said.
"Having been refueled, and pulled out of a lot of bad places by courageous tanker crews," Goldfein said, "I want to make sure they have exactly what they need, especially those boomers. They need to have a system they're confident in."
PLANNING FOR A BIGGER BOMBER FORCE
The Air Force will propose in its 2021 budget request to build a larger future bomber force of at least 225 aircraft—but it will give up some bomber capacity in the short term to get there.
USAF leaders at AFA's 2019 Air, Space & Cyber Conference in September hinted at the change in plans repeatedly. Acting Air Force Secretary Matthew P. Donovan, Chief of Staff Gen. David L. Goldfein, and Gen. Timothy M. Ray, head of Air Force Global Strike Command, all telegraphed the changes, which seek to add at least 50 bombers to meet the requirements of the National Defense Strategy.
Goldfein said he'd like to accelerate the rate at which new B-21 stealth bombers are bought, once the design is proven, and he also said he's in favor of buying more than the planned 100 airplanes.
The B-21, which Northrop Grumman is developing, is "at the very top of the list" of Air Force programs in terms of how well it's being managed and proceeding on schedule, Goldfein asserted. Though it is unlikely Northrop can speed up development, he said, "I'm hoping we can accelerate the numbers."
Goldfein cited external studies that peg the right B-21 inventory at more than 100 airplanes, and "I'm 100 percent in lockstep" with that thinking, he said.
China, he said, is the "priority" threat to confront, and the long distances across the Pacific place a premium on aircraft with long range and a large payload.
"Bomber aviation is in high demand," Goldfein said. With 175 bombers now in the inventory, "we have to grow."
Ray said the requirement should "grow past 225."
The US Air Force is really the only one among its allies with a true bomber capabilities. Allied air forces almost all have fighters, and some even have advanced, fifth-generation types. Many have tankers and intelligence, surveillance, and reconnaissance aircraft. But no one else brings bombers to the fight.
"My point isn't fighter versus bomber," Ray said. "My point is, there are no allied bombers. The last allied bomber retired in 1984" when Britain retired its Vulcan fleet.
Without getting into details, Donovan said that last year's Air Force white paper, "The Air Force We Need," laid out a requirement for seven additional bomber squadrons, a figure vetted by the Center for Security and Budgetary Assessments and the MITRE Corp. He said Congress has asked for specific numerical requirements for bombers and fighters by March 1, 2020.
The Air Force has never said specifically when B-21 production will commence. Vice Chief of Staff Gen. Stephen W. Wilson recently revealed that the first test flight is slated for late 2021, and Global Strike Command's 2018 "Bomber Vector"—its long-range plan for the bomber force—projected retiring B-1s and B-2s in the early 2030s. Assuming that the first operationally configured B-21s roll off the production line in 2024, and the first 100 are delivered by 2031, that would suggest a production rate of about 14 a year, or about the same as the KC-46 tanker. Goldfein didn't say what his preferred rate of purchase would be, only that it would be greater.
The B-21 contract was awarded in 2016 and the program reportedly completed critical design review—a major program milestone—in late 2018.
Ray said he will "spend the next couple of months really pounding on the data" to determine how much he can accelerate B-21 production. But he acknowledged that it will be "several years" before there is a definitive answer. "I'm going to stay away from dates."
The B-1 fleet has been used extensively over the past two decades and is experiencing "significant structural issues," Goldfein said. The B-1 was designed to fly low and fast, with its wings swept back, but in the fight against the Taliban in Afghanistan, it typically flies slowly, with wings swept forward, waiting to be called on to provide close air support to troops in contact. Its high payload and ability to dash to the scene of action made it the platform of choice for that mission, Goldfein said, but the loitering configuration put unexpected stress on the wing attach points and sweep mechanism.
The wear has become so bad, in fact, that at one point last summer, only six B-1s were mission capable. That has Air Force leadership weighing whether it would be "cost prohibitive" to put the B-1 fleet back in "code one" condition, Goldfein said.
Gen. Arnold W. Bunch Jr., head of Air Force Materiel Command, said USAF doesn't yet know how much service life can be squeezed out of the B-1. He said in an interview that a structural fatigue test on a representative B-1 airframe has been underway for several years; it has had to be suspended twice to allow for repairs, first for a fuselage break in 2016, and then again for a wing break in 2018.
"If you break something, you have to design a repair, do that repair, and then continue," Bunch told Air Force Magazine. When a "life-limiting" break occurs, the test airframe is repaired using the same kind of fix that would be performed in the fleet, to ensure the test airframe is representative of operational jets.
How long will the fatigue test go on? "We'll continue to test up until the point we know we can't fix it anymore," he said. "Or we'll get to a point where we won't fly the airplanes anymore."
Does the Air Force have enough data to make an informed decision about whether the B-1s can continue to serve
"That's all part of the discussion we're having," Bunch said. The Air Force and contractor Boeing are analyzing the costs of repair so "we can make an informed decision on how we move forward, as an Air Force."
The B-1 and the even older B-52 are both "old airplanes" and "not very easy to work with," Ray said. But, "we're working on a plan."
Over the last year, the B-1 has been beset by problems, including the emergency escape systems. Maintenance crews have put that downtime to good use, he added, noting that at Dyess AFB, Texas, the B-1s were afflicted by 1,400 "discrepancies," or backlogged maintenance issues. Ray said that backlog had been knocked down to 400 and is headed lower still.
He said time-compliance technical orders would be completed by October, "much faster than we thought," while required depot maintenance is also not "as extensive as we thought."
In the fatigue testing, "there were 12 things that we thought might impact the entire fleet. It turns out only two impacted a portion of the fleet," and he expected a return to "near-normal" operations in the fall.
One big change: Ray said the Air Force has probably come to the end of using bombers as close air support platforms. "I think it's incredibly important that we really look beyond CAS," he told reporters. "I think that debate is clearly closed."
While using B-1 and B-52 bombers as flying munitions dispensers on call to defend ground units probably "saved a lot of American kids," he said, "we've got to move [on]."
The B-1 is too important in its low-and-fast design intent to long-range power projection, Ray said. "The good news is, how we're going to operate is going to be different from what we're doing in Iraq and Afghanistan," he noted.
He sees the B-1 carrying "four, and potentially eight, large hypersonic weapons" on its internal rotary launchers, while its external hardpoints, sealed to comply with START treaty obligations, could be "opened up" to support carriage of the AGM-158 Joint Air-to-Surface Standoff Missile (JASSM) and its variant, the Long-Range Anti-Ship Missile (LRASM). The B-1 would thus become a high-speed standoff attack platform, armed with cruise missiles and other weapons.
"There's a lot more we can do," Ray said. The B-1 could be an important tool in the conventional fight against a peer competitor, Ray said. "We're taking a very close look at how we might make that adjustment here very soon."
That optimistic view seemed to clash with the idea that B-1s might be retired early. That some B-1s retire early and others remain for the long-range, stand-off attack role appears the likeliest scenario.
Goldfein said one idea is to retire some of the B-1s, "and then flow [the savings] into doing some key things" within the bomber portfolio. Besides equipping the B-1s for cruise missile attack, USAF could buy "long-range strategic weapons" to put on them. Meanwhile, plans to re-engine the B-52 with more efficient power plants "not only keeps the B-52 viable, it also decreases our tanker requirement [potentially meaning] I can buy B-21s faster," Goldfein said.
In a press conference, Ray said he's confident that the B-52s can be kept "very viable" using their original TF-33 engines, with help from original manufacturer Pratt & Whitney, until the re-engining work can be performed. He said he was more confident today that TF-33 will last until a new engine can be installed than he was a year ago.
"We have a good game plan there, so that's getting healthy," Ray said. "We have to be very smart with what we have and play the hand of cards we've been dealt to the best of our ability," he said. If they do that well, he went on, the Air Force can "build a better roadmap to get bigger."
DOD AIMS HIGH WITH AMBITIOUS LAUNCH PLANS FOR SPACE
The Pentagon is betting on a new era of satellites and launch, driven by the Air Force's transformation of its own space enterprise as well as the entrance of another major player: the Space Development Agency.
SDA and the Air Force Space and Missile Systems Center are taking their own first steps toward faster, more flexible launches that will push US space assets to new orbits, even as the debate over whether and how to stand up a new military service for space continues in Washington, D.C.
"Our reorganization is threat-driven," SMC Commander Lt. Gen. John F. Thompson said at AFA's 2019 Air, Space & Cyber Conference. "The reason that we have to operate more as an enterprise, rely on partnerships and new innovations, have a new culture is because the threat and the concept that space is no longer a benign environment, but is a warfighting environment, and we need to be prepared for it."
The new era of launch will be defined by satellites that last not two decades, but less than one; that rely on commercial technology, not specialized military parts; and that consist of not a few dozen satellites for each purpose, but hundreds. SMC's goal is to build out vast constellations of satellites that can continue to meet mission needs even if some stop working or are attacked.
"Our goal going into the future is to get more on a three- to four-year cycle for our satellites, not just in production, but also in terms of their usable time on orbit," Thompson said. "We are not trying to build super-exquisite satellites anymore that will last 20 or 25 years on orbit."
SMC, which recently redesigned itself to handle programs based on where they are in their life cycle instead of by mission, also wants to shrink the number of ground control systems by using more multipurpose controls.
In addition to charting out space's role in war, military officials are imagining how Defense Department and Intelligence Community assets could aid the federal government's push to return humans to the moon and beyond. Heading that effort is SDA, which must ensure the work of each space acquisition group in DOD is compatible and moving toward the same goals.
The Air Force is focusing on assets that will sit from low Earth orbit to geosynchronous orbit, while SDA wants to cover GEO to cislunar orbit as the area becomes more crowded: "We're working with the Air Force so that we can ensure we get those data back down to the [National Space Defense Center] to fit in with the existing space situational awareness architecture," Acting SDA Director Derek M. Tournear told reporters.
In divvying up the future space architecture, SDA will split responsibilities for funding and launching satellites into multiple layers with the Air Force, Missile Defense Agency, and others. Those layers' missions span missile tracking, data transport, communications, and more.
The vision, which has slightly changed since DOD created SDA in March, now looks farther out into space. SDA learned from its initial outreach to industry that advances in commercial technology will allow the military to operate assets out to 1,500 kilometers. The Pentagon needs fewer satellites the higher up it goes, Tournear said.
SDA's goal is to help the US and its allies move through and communicate in space as new players look to the cosmos. Tournear suggested there could be undiscovered objects floating in farther orbits that might pose threats to those efforts and should be documented.
"As the US, our allies, and commercial companies want to go more and more to the moon, we want to ensure that we can maintain identification of threats within that region," he said. "That's a region that has not been an area that people have worried about before, and so that's an area that now we're going to start to make sure that we can detect objects that are operating in that area."
Going forward, DOD wants to leverage competitive prototyping and commercial tech to drive down the cost of putting new products on orbit. The department has military requirements for satellites of all sizes, from experimental cubesats to constellations of larger assets that mirror legacy constellations.
Compared to current satellite programs that cost hundreds of millions of dollars per unit, SDA looks to get down to tens of millions. Differing from his predecessor, Fred G. Kennedy, Tournear said the Pentagon wants to buy those assets instead of leasing them from industry.
"You're looking at satellites that are $12 [million] to $20 million apiece, roughly, to be able to do these kinds of military missions," Tournear said. "Multiply that by the hundreds of satellites we're talking about launching, factor in that you're going to launch, say, 20 or more satellites at a time on a commercial launch vehicle. You can come up with costs."
Per-satellite costs depend on how specialized the payloads are and how far out the satellite must travel. SDA understands the price of that ownership, he added. But the agency hasn't decided whether to use the National Security Space Launch program to put assets in space or to buy launches from commercial providers not selected in that ongoing competition.
SDA's upcoming demonstrations in fiscal 2021 will likely rely on commercial rockets bought separately from the satellites, or may require the satellite provider to offer launch as well. Tournear said the agency won't use the same rocket company to deliver each mission layer to orbit, with the idea that bringing in several different contractors will make them design systems that work together.
"The US launch industrial base, from large National Security Space Launch to commercial launch, all the way down to all of the many companies, the dozens of companies that are developing small launch capability, is as robust as it's ever been," Thompson added. "Our job is to take advantage of that industrial base, and in as many cases as possible, grow it. So we're trying to work with as many of those small launch providers as possible."
With SDA's help, the Pentagon aims to produce about 50 satellites a year with five-year life spans. Each mission layer will gradually turn over as they receive about 100 new satellites every two years. SMC officials argue another key piece of resiliency is having the ability to upgrade military satellites as circumstances change in space.
The two organizations have multiple opportunities to build on each others' work for insight and speed. SDA has said it plans to piggyback on the Air Force and Defense Advanced Research Projects Agency's Blackjack program, and Tournear said at the conference that SDA will take advantage of SMC's Space Enterprise Consortium's nontraditional contract agreements with industry and academia.
"We're going to leverage any contracting mechanism out there," Tournear said. However, he noted: "I have experienced that normal, FAR-based [Federal Acquisition Regulation] contracting can go extremely fast. We have our own contracting shop set up within SDA, so we're going to run really quickly."
He argues stakeholders within the Pentagon, Congress, and industry are now onboard with SDA's mission and its role within the Defense Department, after months of questions about whether it would overlap with other groups. The Trump administration envisions SDA will fall under Space Force, and Tournear said that transition would take place in late fiscal 2022.
"Eventually, when the vast majority of all space architectures and acquisitions go underneath the Space Force, then SDA would go under Space Force as well and be able to have broad purview," Tournear said.
That change promises to shape SMC's role in the military space enterprise even though the outcome is still unclear. SMC touts its successes across its recent "Summer of Launch," and its steps to reduce costs and cut time off schedules, but it has more work to do to transition to an organization focused on launch on demand, commercial partnerships, and reusable rockets.
One main concern in the burgeoning space market is protecting government and company data from foreign entities, Thompson said. Another issue is getting a better long-term feel for where the launch market might be headed and how many providers the Air Force needs as a result.
Blue Origin, the Jeff Bezos-owned commercial space company bidding for one of two NSSL contracts, argues that the competition is unclear, discriminatory against new entrants, and prompting costlier launches by narrowing to two providers. The Air Force defends its acquisition strategy for the modernized program as being open to commercial companies, but realistic about how many providers it needs to meet the launch schedule ahead to put military and intelligence assets in orbit.
"Shortening the contract [from five years] may disincentivize providers from developing all the capabilities required to launch the entire manifest, resulting in niche providers and significant risk to maintaining a certified Category C launch capability," a senior Defense Department official noted. "This scenario could force the government to buy more Delta IV Heavy launch vehicles at an extreme cost."
Barbara Barrett, the Trump administration's nominee for Air Force Secretary, said earlier this year that whether or not the market can sustain four providers in the long run, more participants can spur innovative solutions.
She told the Senate Armed Services Committee in September a top priority will be keeping the launch schedule running on time.
"We've developed not just a military and government capability, but commercial capability as well," Barrett said. "We still need to have government capability, and I'm fully supportive of continuation of that capability through the military."
FIRST GREMLINS TEST PLANNED DESPITE EARTHQUAKE
Dynetics is preparing to fly its new drone for the first time as part of the Defense Advanced Research Projects Agency's Gremlins program, taking another step to prove out the futuristic concept of unmanned swarms.
In the future, a host aircraft could launch and recover multiple Gremlins unmanned aerial vehicles that spread out for strike, intelligence, or other missions, and send information back to the user via radios and data links. Dynetics Inc., Huntsville, Ala., is in the last phase of its competitive DARPA program and has designed a docking device that comes down from an aircraft to retrieve the small drones after they fly a mission.
Recent earthquake damage to Naval Air Weapons Station China Lake, Calif., set back the initial flight demonstration, which was slated for September, according to Tim Keeter, the Gremlins program manager at Dynetics. Instead, the test may move to the Army's Dugway Proving Ground in Utah. Keeter said it could be rescheduled to happen by the end of the year.
"It's limited range access. They've got a lot of damage that's been done," Keeter said of China Lake. "They've got a lot of things to take care of in terms of infrastructure before they can support a flight test like this."
A first flight will check that the unmanned aircraft works properly and will vet its aerodynamics. But rescheduling the flight test requires multiple pieces to fall into place. A C-130 must be available to launch the drone, and a range must have time to accommodate a new customer.
Dynetics will first launch and control the Gremlin from the back of the C-130 in flight, Keeter said. "We'll deploy our parachute and our airbags to have a gentle ground recovery, hopefully," he said.
The next step is to pair a Learjet and a C-130 to simulate the drone docking with the larger aircraft, since the Learjet acts as a testbed for the Gremlins avionics.
"That will allow us to further check our recovery system, docking system avionics, and our safety features associated with that, because that's a high-risk part of the operation, … getting close to that manned aircraft," Keeter said. "We want to do that in February."
He believes the manned C-130 and Learjet test could happen at China Lake because it won't require some infrastructure that an unmanned flight would need. Once those aspects are proven, Dynetics will attempt to dock as many Gremlins as it can. The program's final demonstration for DARPA must show that the system can capture four drones in under 30 minutes. Dynetics has built five UAVs so far and expects the the last demo will come before summer 2020.
These tests won't include specialized payloads because the program focuses on the concept of launch and recovery instead of what a swarm could do once deployed. After the current phase of the DARPA program ends, Dynetics is eyeing a simulated mission that would look at payloads and some autonomy as Gremlins works toward becoming a program of record with the Air Force and other interested customers.
Keeter suggested that in the future, each drone could gain the ability to carry out missions without human control, alone or in tandem with other UAVs, even if they can't communicate with their users.
Figuring out how many UAVs a particular user needs to accomplish its goals is one challenge of transitioning the technology to a more permanent home. Keeter said the special operations community may need only a few at a time to act as extra sensors, while Air Combat Command could need a few dozen at once for high-intensity conflict. Dynetics has drawn up concepts for how its recovery system could fit under larger or smaller aircraft, on pylons or in rotary launchers, and Keeter pointed to the B-52 as another potential Gremlins carrier.
"The greatest utility of this capability is going to be in an [anti-access/area-denial] environment where you want to maximize the effects of distributed airborne warfare to deliver lethality and be able to refresh those [different technologies] in an hour," he said.
He said moving toward a program of record in fiscal 2022 is a reasonable timeline, but that those conversations aren't happening yet. The company is also eyeing the Air Force's Skyborg program and argued it could also potentially act as a host aircraft for Gremlins.
"We've had lots of conversations with them," Keeter said of the Air Force. "That whole concept of using an unmanned system to multiply the force and the capability of manned systems, that's right in line with what we mean by something that enables distributed airborne warfare. We fully intend to make sure that we're moving in that direction."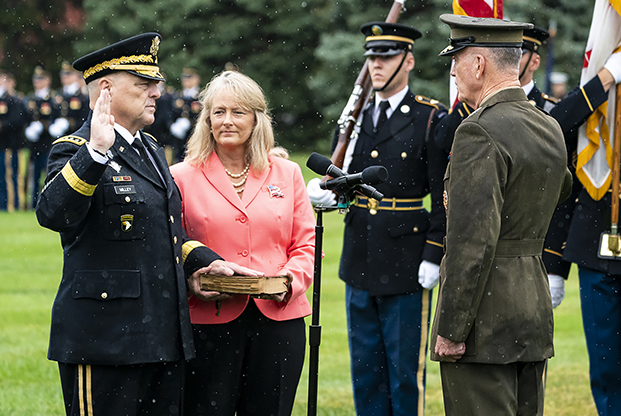 MILLEY SWORN IN AS 20TH CHAIRMAN OF THE JOINT CHIEFS OF STAFF
Army Gen. Mark A. Milley on Sept. 30 became the 20th Chairman of the Joint Chiefs of Staff, taking over for retiring Marine Corps Gen. Joseph F. Dunford Jr.
Milley was Army Chief of Staff since 2015 and was sworn in as the nation's top uniformed officer during a rain-soaked ceremony at JB Myer-Henderson Hall, Va. During his speech, Milley pledged to continue the military's modernization, along with showing "unwavering support" and care for troops and families.
"We stand ready to keep the peace or, if necessary, win the war," he said. "We are the best-equipped, best-trained, best-led military in human history. Our adversaries should know to never underestimate our skill, our capability, and our combat power."
Dunford, who is retiring after 42 years in uniform, leaves behind a "legacy of steady leadership, solid judgment, and sincere humility," Defense Secretary Mark Esper said.
President Donald J. Trump, in a speech at the ceremony, credited Dunford for his leadership in defeating the Islamic State's physical caliphate in Iraq and Syria and for leading the forthcoming creation of a separate Space Force.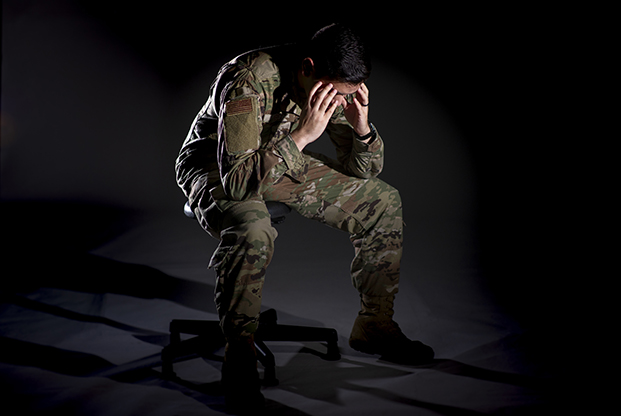 DOD RELEASES MILITARY FAMILY SUICIDE STATISTICS
By Jennifer-Leigh Oprihory
Nearly 190 US military family members killed themselves in 2017, according to the Pentagon's first-ever reporting on self-inflicted deaths in military families. The numbers were released as part of the Pentagon's new Annual Suicide Report. The report only included 2017 data on military family suicide.
Suicide rates among military spouses and dependents were "comparable to or lower than" their counterparts in the equivalent US population, DOD said. But suicide rates among service members continue to be high. Total Active, Guard and Reserve suicides rose for the third year in a row, rising from 482 in 2016 to 511 in 2017, and 541 in 2018.
"Every person lost to suicide is an absolute tragedy," Defense Secretary Mark T. Esper said via Twitter Sept. 26, as the Pentagon released a report on 2018. "We mourn for the families & peers of those lost to this terrible problem."
Air Force Chief of Staff Gen. David L. Goldfein said in September that a force-wide suicide prevention stand-down held over the summer identified possible steps to better combat suicide in the ranks.
Of the family suicides, 123 were spouses—including 14 percent who were service members.
Air Force suicides in 2019 are outpacing the service's 2018 total of 80 deaths. As of Sept. 21, the Air Force reported 100 suicides by airmen.
Elizabeth P. Van Winkle, executive director of the Pentagon's Office of Force Resiliency, said, "This is the first time we have these rates for our military families," and that in future years, "we'll be able to provide more information."
The Veterans Crisis Hotline is available 24 hours a day, seven days a week, for veterans, service members, and their family and friends who need help. Call 800-273-8255 and press 1, text 838255, or visit www.veteranscrisisline.net.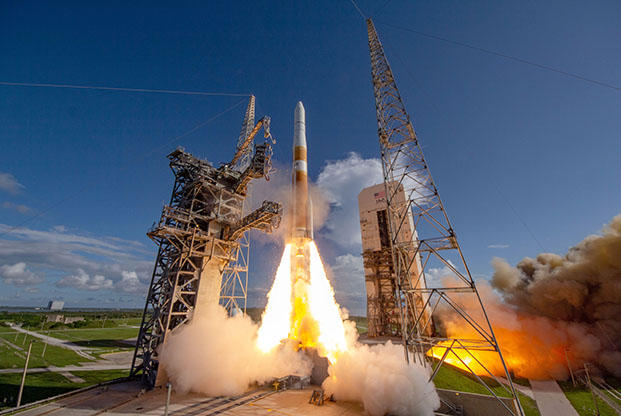 NRO'S $1.2B LAUNCH DEAL WITH ULA SAVES AGENCY 11 MONTHS, $455M
The United Launch Alliance will receive another $1.2 billion to support launches of five National Reconnaissance Office missions, under a five-year contract increase announced Sept. 30.
The award saves $455 million on the NROL-44, NROL-82, NROL-91, NROL-68, and NROL-70 missions, according to the Air Force Space and Missile Systems Center. All five missions will head to space on ULA's Delta IV Heavy rocket. The total contract value grew from nearly $468 million to $1.6 billion with five annual options, according to the Pentagon announcement.
"To meet required launch dates, while maintaining the best value for the government, SMC and NRO divided this contract into a launch vehicle production services component (LVPS) and a LOPS (launch operations support) component," SMC said Sept. 30. "LVPS covers materials and manufacturing labor needed to produce the launch vehicles, whereas LOPS covers launch pad maintenance and range support at Vandenberg [AFB, Calif.] and Cape Canaveral [AFS, Fla.], launch vehicle propellants, satellite encapsulation, and the system engineers and technicians that support production and launch operations."
Dividing the contract not only led to cost savings, but also shrank the timeline by 11 months because ULA could negotiate prices with its suppliers and buy hardware in advance, an SMC spokesman told Air Force Magazine.
Vehicle production services funding for three missions was awarded in October 2018, and those contracts for the other two missions were issued in fiscal 2017. The satellites perform secretive intelligence and national security missions under the current iteration of the Evolved Expendable Launch Vehicle program, now known as National Security Space Launch.
"These are the last remnants of our sole-source contracts," Col. Robert Bongiovi, SMC's launch enterprise director, said in a release. "We look forward to embracing the competitive landscape that we have worked hard with industry to create. The competitive launch services market is strong, and we look forward to the Phase 2 acquisition that leverages this market and builds upon our legacy of mission success."
SpaceNews also reported two of the missions, NROL-44 and -82, ran behind schedule and are slated for launch in fiscal 2020. One of the remaining three will launch each year from 2022 to 2024. Overall, rocket production and launch services for the five missions cost about $2.2 billion, according to Space­News.
GOT THE NEXT BIG S&T IDEA
The Air Force is in the market for "disruptive" new science and technology capabilities and is offering a $14 million pot for the best ideas. The service on Sept. 26 announced "Air Force Explore" as part of its "Science and Technology 2030" strategy, which wants to draw transformational ideas from across the country "to become the Air Force we need," Maj. Gen. William T. Cooley, commander of the Air Force Research Laboratory, said in a news release. The service anticipates awarding four to seven contracts, each worth $1 million to $2 million, for suggestions focused on "global persistent awareness; resilient information sharing; rapid, effective decision-making; complexity, unpredictability, and mass; and speed and reach of disruption and lethality," according to the release. Submissions are due Nov. 11, and funds will be doled out by March 2020. Air Force Explore is a joint effort between AFRL, the Air Force Warfighter Integration Capability planning organization, and Air Force acquisition boss Will Roper.
USAF'S NEW JUSTICE INFO SYSTEM
By Jennifer-Leigh Oprihory
USAF recently launched a new, online criminal data reporting system aimed at providing "global integrated awareness" about illegal activity impacting airmen and USAF resources. The Air Force Justice Information System is touted as "the most modern" system of its kind in the Defense Department, according to an Oct. 3 Air Force Installation and Mission Support Center release. USAF security forces personnel uploaded the first case to the system in late September. "This is a monumental step in the modernization of [the] security forces criminal data reporting system" said MSgt. Elizabeth Sadler, who headed up its development. The system cost the service $5.7 million to develop and stood up in under 10 months, according to AFIMSC. The system is being rolled out in phases, with the goal to go live for the entire service—Active Duty, Guard, and Reserve—by Oct. 31. Experts at Hanscom AFB, Mass., Patrick AFB, Fla., and JB Andrews, Md., are conducting operational testing of the system.
WHITE HOUSE TO HOST INTERAGENCY SPACE TABLETOP EXERCISE
Representatives from across the federal government will convene at the White House in November for a tabletop exercise aimed at improving interagency cooperation in space. The meeting this fall brings together officials at the highest echelons of government and builds on earlier tabletop iterations with the same players.
"The Schriever Wargame is played among combatant commands, services," US Space Command boss Gen. John "Jay" Raymond told reporters at a Sept. 27 breakfast hosted by AFA's Mitchell Institute for Aerospace Studies. "This is at the more strategic level and having those dialogues with the most senior leaders."
The previous White House tabletop, which took place over the summer, focused on US deterrence as it relates to space, said Raymond, who also serves as the head of Air Force Space Command. That could encompass stopping others from threatening US interests and assets in space, or using space assets to bolster deterrence in the other military domains.
"I don't think there's such a thing as space deterrence," he said. "I think there are activities that you can do in space that feed and amplify the broader deterrence. I'm not going to go into the specifics."
The upcoming gathering will continue to flesh out a framework to determine what information the Defense Department can share within its own organization and with civilian agencies, such as the Federal Aviation Administration.
"We're currently looking at, 'Does our security classification posture impact our ability to deter'" Raymond said during the breakfast. "You have to be able to talk about things. So we're going through the strategy … right now to figure out what that posture should be to make sure that we can adequately deter."
CREW CHIEFS CAN AGAIN PAINT NAMES ON AMC AIRCRAFT
Reversing a policy in place for the past two decades, dedicated crew chiefs can now put their names on Air Mobility Command aircraft, thanks to a push from the 736th Aircraft Maintenance Squadron at Dover AFB, Del.
As of Sept. 17, AMC is allowing dedicated and assistant dedicated crew chiefs for C-5s, C-17s, C-130s, KC-10s, and KC-135s to paint their names on their aircraft. Prior policy forbade those marks because AMC wanted airframes clear of identifying information when deployed to war zones.
When the 736th AMXS adjusted its dedicated crew chief program last year, squadron commander Maj. Kevin Scholz asked 436th Airlift Wing Commander Col. Joel Safranek why the names could not be painted on aircraft, according to a Dover release. Pilot and crew chief names are routinely painted on other USAF aircraft, such as fighters under Air Combat Command, but not airlifters.
The 736th AMXS then joined with Dover's C-5 436th Aircraft Maintenance Squadron to request AMC waive the policy. Ten months later, AMC lifted the rule.
Under the new policy, names still need to be removed from aircraft deploying to combat zones. But, if those aircraft are defined as being "transient" and not deployed for a long period of time, they are not subject to the combat deployment sanitization requirement. So, "if an aircraft is in the AOR for less than 14 days, it doesn't need to be sanitized," Scholz said in the release.
AMC said in a statement it expects the change "to increase participation in the DCC program, which facilitates pride in ownership among crew chiefs."
On Oct. 4, at a Dover DCC ceremony, crew chiefs unveiled their names painted on the aircraft.
"I was completely thrilled about this new privilege and responsibility," said TSgt. Anthony Carter, the DCC program manager with the 436th AMXS, in the release. "The sense of pride I felt when I was assigned to my first aircraft was one of the best experiences of my career and will forever be instilled into my memory. That's how I believe our airmen feel when they are assigned to an aircraft and why it was so important to have the authority to place their names on the exterior of the aircraft."
CIVIL AIR PATROL SEARCH AND RESCUE SAVES 117 LIVES IN FY 2019
By Jennifer-Leigh Oprihory
The Air Force Rescue Coordination Center credited Civil Air Patrol search and rescue efforts with saving 117 lives in fiscal 2019, according to a CAP release. While the tally fell short of the previous fiscal year's total of 158 saves, it marked CAP's third-consecutive fiscal year of triple-digit rescues, the release stated. Technology has revolutionized search and rescue by reducing the amount of time, resources, manpower, and aircraft use these kinds of missions require, according to CAP director of operations John Desmarais.
NY GUARD RESUPPLIES NORTHERNMOST MILITARY BASE IN CANADA
The New York Air National Guard's 109th Airlift Wing recently wrapped up a mission flying cargo to Canada's northernmost base, a small alert site on the northern tip of Nunavut. The C-130s and guardsmen flew seven missions from Sept. 26 to Oct. 4 to Canadian Forces Station Alert, transferring more than 100,000 pounds of cargo, according to a Guard release. The Canadian base, 490 miles south of the North Pole, has 55 people living there year round, making it the northernmost permanently inhabited place in the world. The C-130 missions were flown from Thule AB, Greenland, and crews experienced freezing fog, low visibility, and high winds, according to the release. The mission, called Operation Boxtop, takes place twice a year; this iteration also included a Royal Canadian Air Force C-17.
BMT TRAINEES GET OCP UNIFORMS
Trainees in the first week of October began receiving new operational camouflage pattern uniforms as they entered Basic Military Training at JBSA-Lackland, Texas—the latest step in a multiyear process to implement the new uniform. The Air Force is issuing the uniforms to BMT personnel, as well as to those entering the Reserve Officer Training Corps, about a year after the service announced it would adopt the OCP pattern as its standard uniform. "Trainees who are here in (Airmen Battle Uniforms) will continue to wear them throughout their time here and will be replaced when they get their clothing allowance," Bernadette Cline, clothing issue supervisor, said in an Oct. 7 USAF release. The clothing is rolling out over three years, and all must wear OCPs as of April 1, 2021. Boots, socks, and T-shirts must be "coyote brown" as of June 1, 2020, with officer ranks changing to "spice brown," according to the release. Airmen already receive OCPs when they deploy. The Air Force made the switch for a better fit and feel, as well as to blend in with soldiers during joint deployments.
PRATT GETS $2.2 BILLION CONTRACT FOR F-35 ENGINES
The Pentagon on Sept. 30 awarded Pratt & Whitney Military Engines an almost $2.2 billion contract to supply 183 engines for all F-35 variants. The contract definitizes a previous contract covering 112 engines for Air Force F-35As, 46 engines for the Marine Corps F-35Cs, and 25 engines for Navy F-35Bs, according to a Pentagon release. The contract also definitized a previous award for long-lead parts and materials associated with 129 A-variant engines and 19 B-variant engines. Including previous contract totals, which also includes foreign sales, $3.56 billion was obligated by the Sept. 30 action. The award combined purchases of about $880 million for the Air Force, about $619.2 million for the Marine Corps, $178.8 million for the Navy, $420 million for non-US F-35 partners, and $99.4 million for foreign military sales customers.
As of Oct. 7, 82 Americans had died in Operation Freedom's Sentinel in Afghanistan, and 88 Americans had died in Operation Inherent Resolve in Iraq, Syria, and other locations.
The total includes 166 troops and four Defense Department civilians. Of these deaths, 79 were killed in action with the enemy, while 91 died in noncombat incidents.
There have been 491 troops wounded in action during OFS and 80 troops in OIR.