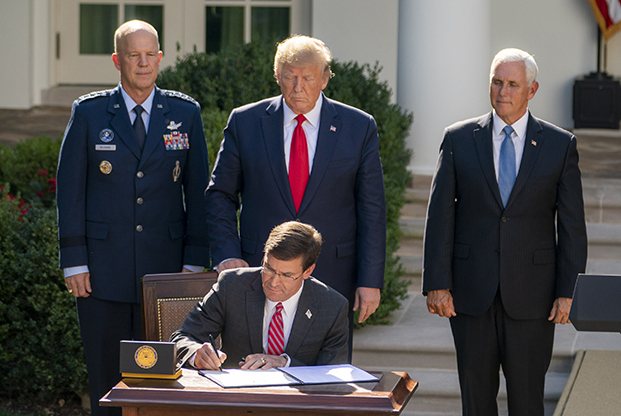 President Donald Trump, flanked by Vice President Mike Pence (right), and Gen. John Raymond, USSPACECOM chief, watch as Secretary of Defense Mark Esper signs documents establishing US Space Command Aug. 29 in the White House Rose Garden. Photo: Tia Dufour/White House
US SPACE COMMAND TAKES REINS ON SPACE OPS
By Rachel S. Cohen
President Donald J. Trump formally revived US Space Command to oversee daily space operations in an Aug. 29 White House ceremony, the most recent step in the federal government's overhaul of military space organizations.
"The dangers to our country constantly evolve, and so must we," Trump said. "Now, those who wish to harm the United States, to seek to challenge us in the ultimate high ground of space, it's going to be a whole different ball game."
Flanked onstage by Vice President Mike Pence, Defense Secretary Mark T. Esper, and SPACECOM boss USAF Gen. John "Jay" Raymond, Trump pointed to other countries' anti-satellite weapons and said now is the time to deter enemies and "prepare for victory" in space in the same way the military approaches the air, land, and sea. Esper then signed the order establishing the command in the Rose Garden.
SPACECOM, which handed its responsibilities to US Strategic Command and disbanded in 2002, is taking that work on once again.
"The United States Space Command of today shares the same name as the original command. However, it is designed for a different strategic environment," Raymond told reporters.
"Today's US Space Command has a sharper mission focus on protecting and defending our critical space assets, a stronger unified structure with our intelligence partners, a strengthened relationship with our allies, and a closer connection to our joint warfighting partners and other combatant commands," he said.
The 11th unified combatant command will manage the daily business of running communications and GPS satellites, tracking missile launches and space debris, and more, under Raymond's leadership. He also runs Air Force Space Command, which will provide the bulk of the Pentagon's space personnel and assets to SPACECOM.
"Space systems enable a more lethal, resilient, and agile joint force to deter and defeat aggression by strategic competitors," defense officials told reporters. "Our space capabilities allow our military leaders to see the battle space with clarity, provide early warning, strike with precision, navigate with accuracy, communicate with certainty, understand weather impacts, and operate anywhere in the globe."
However, certain questions remain unanswered. SPACECOM is temporarily headquartered at Peterson AFB, Colo. At press time, Acting Air Force Secretary Matthew P. Donovan was still reviewing six possible locations in California, Colorado, and Alabama that could serve as a permanent headquarters. The Air Force said an announcement on the preferred location is slated for sometime around the end of 2019.
Colorado's congressional delegation in August again lobbied for their state to be the command's permanent home.
"Colorado provides the existing command structure, infrastructure, and communications platforms necessary to host additional national security space initiatives and ensure coordination of efforts," the bipartisan group wrote to Donovan and Raymond on Aug. 29. "Our state ranks first in the nation in its concentration of aerospace jobs and has the nation's largest aerospace economy on a per capita basis."
The state is home to Air Force Space Command, as well as Buckley, Schriever, and Peterson Air Force Bases, the National Space Defense Center, US Northern Command and North American Aerospace Defense Command, and the US Air Force Academy. Major defense contractors such as Lockheed Martin have facilities a short drive from Colorado Springs, a key military space hub that hosts a massive conference focused on the cosmos each year.
"Throughout the basing process, the Colorado community has demonstrated continued support for US Space Command, further augmenting the workforce talent, innovation in industry, institutions of higher education, national labs, and unparalleled quality of life Colorado already provides," lawmakers wrote.
Other SPACECOM personnel and functions are working at key space bases Schriever AFB, Colo., and Vandenberg AFB, Calif., as well as Offutt AFB, Neb., the home of STRATCOM headquarters. SPACECOM's two major components will be located at Vandenberg and Schriever.
Raymond used his first full day on the job to establish the two subordinate commands that will carry out the organization's main responsibilities. One supports field commanders' needs for space capabilities, namely GPS and communications, while the other protects US assets.
The Combined Force Space Component Command at Vandenberg, led by Maj. Gen. Stephen N. Whiting, is in charge of supporting other combatant commanders and the joint force through the Combined Space Operations Center at Vandenberg; the Missile Warning Center at Cheyenne Mountain AFS, Colo.; the Joint Overhead Persistent Infrared Center at Buckley AFB, Colo.; and the Joint Navigation Warfare Center at Kirtland AFB, N.M.
The CFSCC also oversees certain Air Force, Army, and Navy space units, SPACECOM said in an Aug. 30 release.
The Joint Task Force-Space Defense, run by Brig. Gen. Thomas James, works to "deter aggression, defend space capability, and defeat adversaries" through the National Space Defense Center at Schriever, and other groups, according to SPACECOM. The task force is located at Schriever as well.
It's still unclear how many people will end up working at SPACECOM. Initially, SPACECOM has 287 employees assigned to its headquarters and staff, and it will gain more workers over time. SPACECOM's workforce could grow to more than 600 people. The Defense Department's 2020 budget request includes about $84 million to stand up the command.
In "higher states of conflict," the National Reconnaissance Office has agreed to answer to the SPACECOM commander, Raymond recently told reporters. He did not elaborate on what circumstances would trigger that chain of command.
Officials are still working through the process of shifting certain missions, resources, and authorities from STRATCOM to SPACECOM.
The new combatant command is expected to work hand in hand with a potential new Space Force. At press time, the Trump administration was still hashing out the details with lawmakers and eventually wants the Space Force to become a stand-alone department in the Pentagon.
AFSPC MULLS INTEL, PERSONNEL QUESTIONS
Figuring out how to keep a closer eye on what's happening in outer space—rather than using space to peer down at the Earth—is among the uncharted capability and personnel issues the Air Force must navigate as a possible Space Force comes to fruition, according to the deputy commander of Air Force Space Command, Maj. Gen. John Shaw.
"When you think of space and intelligence together, you might be like me," Shaw said at a Sept. 5 conference hosted by the Armed Forces Communications and Electronics Association and the Intelligence and National Security Alliance in National Harbor, Md. "In my career, I think about intelligence collection in space, coming down to the Earth—intelligence from space. We need to think really, really hard now about intelligence for space. Where is that intelligence expertise, the processes, the capabilities we have to understand what's actually happening in the space environment"
Traditional defense contractors, industry, and allies all have a role in helping the military figure out how to build space situational awareness, Shaw said. To get there, the Pentagon and the Intelligence Community must also keep its ground systems modernized so they can continue "talking" to systems in space, and those systems must be able to communicate with each other—no matter which organization owns them.
"It's a 'big data' problem to understand what is going on within the space domain," Shaw said. "Space is pretty big. It's only getting bigger, in many senses, from a cosmological as well as a policy scope. How do we make sure that we're harnessing all of the capabilities to understand and attack that problem"
Shaw said the National Air and Space Intelligence Center at Wright-Patterson AFB, Ohio, should "scale up" to offer more operational intelligence support. A Space Force would probably leverage what NASIC already offers for the foreseeable future, but a separate national space intelligence center may be needed later.
Boosting the military's space domain awareness will shape how people command and control assets like satellites, as the Air Force works toward a more overarching, integrated approach to operating and defending those systems.
If Congress approves a new military service for space in its 2020 defense policy bill, the organization could face the same hiring and retention challenges that the broader Air Force sees for pilots and cyber forces sees for experienced employees who might rather work in private industry. That service will have to consider creative ways of letting space personnel move between government and industry, along with sharing them between organizations, Shaw said.
He's started crunching the details of how Space Force recruitment might work, both in and out of the intel field. Those efforts could piggyback on the brick-and-mortar recruitment shops of the other services nationwide, or the potential service could turn to recruitment online.
"We could probably follow the models from our sister space agencies (at the National Reconnaissance Office and National Geospatial-Intelligence Agency) that are represented here as well as NASA in that regard," Shaw said.
In the event that Congress allows for a Space National Guard, Shaw said it would serve as the "perfect vehicle" to draw on the private sector's experience to bolster what a Space Force can do.
He expects space ISR training, which changed from a two-week, missile-focused course to a five-week, space-focused course over the past couple of years in the Air Force, will grow increasingly specialized under a Space Force. The Space Force would have its own intel officers and enlisted airmen, he said.
"We are starting to grow that and the ramp-up has been huge," Shaw said.
Another area the Defense Department is still fleshing out is which cyber personnel should work with a new Space Force. There's no firm answer yet, Shaw said, but the military's priority is defending the networks that enable space systems to do their jobs. Supply chain cybersecurity is also a growing issue across the Pentagon.
"We won't be able to do things in the vast reaches of space with mostly autonomous vehicles being operated remotely without the cutting-edge cyber capabilities that we need to bring to bear," stated Shaw.
Adding artificial intelligence and machine learning into those protected systems will be key to the Space Force's long-term capabilities as the Pentagon's reach in the domain expands.
"When the Space Force stands up, it's going to be around for a long time, and its ultimate destiny is going to be providing security and projecting power for increasingly vast distances—from geosynchronous (orbit) to cislunar to beyond," Shaw said. "We're not doing that, probably, with humans in space anytime soon."
Dainius Slavisnkas (right), technical director at Myriad Global Media, shows Jeffrey Fries, the ops director at 557th Weather Wing, how to use virtual reality controllers. The merger of 24th and 25th Air Forces will bring weather airmen into the information spectrum. Photo: Paul Shirk
24TH AND 25TH AIR FORCES INCH TOWARD MERGER
By John A. Tirpak
The long-planned merger of 24th and 25th Air Forces into a new information warfare organization will take place in the fall and will include weather specialists and several other activities not initially included in the plan, Air Combat Command chief Gen. Mike Holmes said.
"We'll start off with consolidating a component [numbered Air Force] with an integrated staff and a single operations center that ties those things together," Holmes said Aug. 23. "We can do that at [initial operational capability] this fall." The original plan had been to combine the two organizations in late summer.
Holmes acknowledged the service is still working out how to operate in the "information spectrum" and what that should encompass. Initially envisioned to combine intelligence, surveillance, reconnaissance, cyber, electronic warfare, and cryptography, the vision has since expanded.
"We're going to move the 557th Weather Wing over in alignment with this NAF," he said. "When you think about what our weather wing does, it takes information, gathered by sensors all over the world, it uses algorithms and people to work through it, and provides it out through networks. So, it kind of fits in with our ISR and cyber missions, and we think it'll have a better home there."
The 557th WW was created from the Air Force Weather Agency in 2015 and currently falls under Air Forces Southern within Air Combat Command.
The new NAF commander will serve as the Air Force's service component within US Cyber Command, Holmes said. One commander will oversee all of the Air Force's new cyber mission force teams within the merged organization as well.
The NAF commander will also lead a "Joint Force Headquarters Cyber/Air Force" focused on US European Command, US Transportation Command, and US Strategic Command, Holmes said. That same person is expected to run all Air Force-provided networks, from the unclassified level to higher, more secret levels.
"He'll be our service cryptological component commander, working in support of any airmen that we provide to the National Security Agency and the other things we do across the Intelligence Community," Holmes added.
The Air Force has yet to officially name the new organization, but has chosen a headquarters location: JBSA-Lackland, Texas. Air Force Magazine previously reported that officials at Offutt AFB, Neb., believe their base could serve as a major information warfare hub as well.
Each service defines information warfare differently. For the Air Force, Holmes said, it boils down to the central issue of "how do we take all that data that's out there available to us, and use tools to make that data work on behalf of warfighters"
It should not to be confused with information operations, he said, which is "a little more tailored; precise intelligence information, crafting a message that will have the right impact, finding the right audience to deliver it to, and have the means to deliver it to them, to derive an effect."
Yet the new NAF will build on Air Forces Cyber's work as the service looks to deter bad actors in the digital sphere.
"We're in a competition with peer adversaries, that have a military component that largely stays below the level of armed conflict, and we'd like to keep it there," Holmes said.
The Air Force wants to recast the competition "in terms that are favorable for us" and add new data-driven options for national leaders that help rebuff "malign activities at all levels from that information warfare level all the way up to major conflict."
The new NAF is also poised to play a key role in planning for future military activity in the electromagnetic spectrum, as the Air Force looks to rebuild those capabilities after 15 years of focusing on violent extremism. Holmes envisions the branch could oversee rapid analysis of sophisticated EW threats and counter them in near-real time.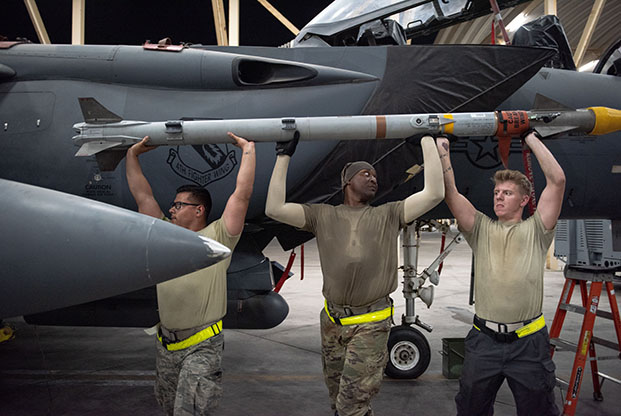 An F-15E weapons load crew team lifts an AIM-9X missile to attach to a pylon at Al Dhafra AB, United Arab Emirates. Photo: SSgt. Chris Thornbury
US DEPLOYS FIGHTERS AND BOMBERS AS TENSIONS EASE IN GULF
By Rachel S. Cohen
Peace hasn't quite broken out in the Arabian Gulf and Strait of Hormuz but tensions have subsided.
"I'm not sure I'm ready to call the crisis over yet, but so far, so good," Defense Secretary Mark T. Esper told reporters. "We hope the trend lines continue that way. We hope that the parties, that the Iranians would agree to meet and talk, and help us resolve these issues."
The US blames Iran and its paramilitary Revolutionary Guard for attacking ships, seizing oil tankers, and downing a Navy drone over the course of a tense summer in the Gulf.
Operation Sentinel, a multinational maritime effort to boost surveillance and security in the region, is now underway, Esper said, with the UK, Australia, and Bahrain joining the US on a framework to escort allied ships through those waters, according to US Central Command.
"The purpose of this operation is twofold: first, to provide freedom of navigation for the commercial shipping that is so vital to global economic trade, and second, to deter provocations and avoid conflict in the region," Esper said.
Outgoing Chairman of the Joint Chiefs of Staff, Marine Corps Gen. Joseph F. Dunford Jr., who spoke alongside Esper at the briefing, said the US is changing how it plans for global threats posed by countries including Iran. The Pentagon has moved from its traditional focus on "operational plans for specific contingencies" to instead charting out plans that are specific to challenges laid out in the 2018 National Defense Strategy. That strategy is most concerned with China, Russia, Iran, North Korea, and violent extremism.
The New York Times reported Aug. 28 that the US secretly launched a cyberattack against a key Iranian database in June that helped to plan attacks on oil tankers. The US also temporarily degraded Iran's ability to target shipping traffic in the Persian Gulf, according to The Times.
The US has also moved F-22 fighter jets and B-52 bombers to Al Udeid AB, Qatar, and F-15s and F-35s to Al Dhafra AB, United Arab Emirates.
Esper and Dunford said the US forces help deter "bad, provocative" behavior. "The forces that are in the region that the Secretary approved are to deter aggression and to provide the president with options in the event that deterrence fails," Dunford said.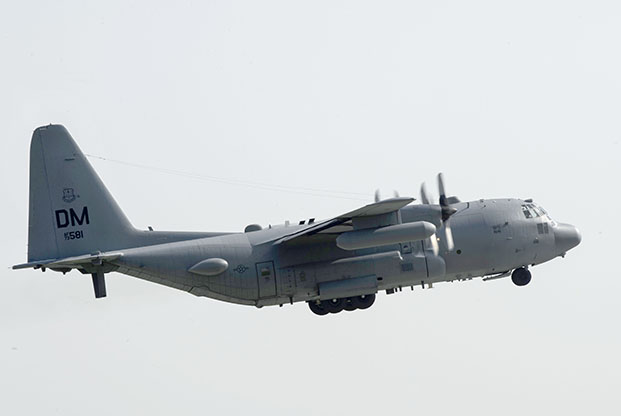 An EC-130H Compass Call takes off during training exercise Aviation Rotation 19-2 at Krzesiny AB, Poland. Photo: SSgt. Jonathan Snyder
NEW MISSION FOR EC-130H COMPASS CALL
By Rachel S. Cohen
The Air Force's EC-130H Compass Call electronic-attack plane has taken on a new role at the intersection of cyber and electronic warfare, according to Capitol Hill researchers.
"Compass Call is normally used to jam enemy radars and communications," said an Aug. 13 Congressional Research Service report. "However, in recent years, it has been used to transmit computer code to wireless devices using radio frequencies."
An Air Combat Command spokeswoman declined to comment on that new mission because it is classified. The information comes as the Air Force is merging its intelligence, surveillance, reconnaissance, cyber, and EW forces into a new organization.
It's unclear whether the Compass Call is passing code between friendly forces or whether it's meant to disrupt enemy operations. CRS declined to elaborate on its report.
"The most recognizable convergence of electronic warfare and cyberspace operations is when forces transmit computer code to inject it into an adversary's network," CRS noted. "In these types of operations, radios can transmit data packets on Wi-Fi networks, even if these networks are closed (i.e., not connected to the Internet)."
In 2017, The War Zone reported on a US Central Command document that acknowledged the potential crossover between EW and cyber operations.
"Cyberspace operations may be used to force an adversary from wired to wireless networks that are vulnerable," the document states. "EW may be used to set favorable conditions for cyberspace operations by stimulating networked sensors, denying wireless networks, or other related actions. In the defensive environment, EW systems may detect and defeat attacks across wireless access points."
Compass Call entered service in the 1980s, but the Air Force's secretive Big Safari group routinely updates it with new EW technology. The service is in the process of moving the EC-130H's equipment into a new fleet of 10 Gulfstream G550s, dubbed the EC-37B. Air Force operators will receive the first EC-37B in 2023, Inside Defense reported last year.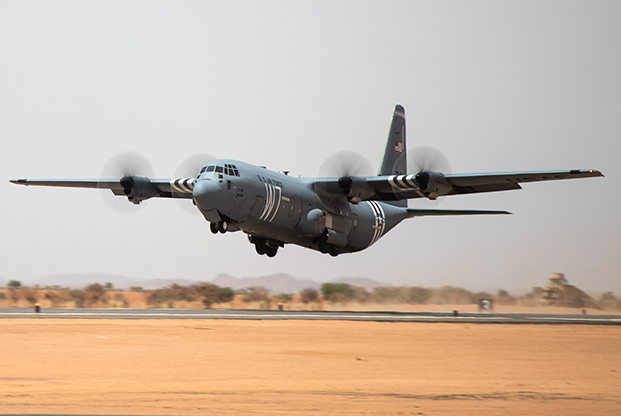 A C-130J takes off from the new Nigerian Air Base 201 in Agadez, Niger, on Aug. 3. Photo: SSgt. Devin Boyer
USAF'S NIGER BASE STARTS LIMITED OPERATIONS
By Brian W. Everstine
The Air Force's new operating base in central Niger began its first regular operations this month, with C-130s flying limited missions into the facility, the service announced Aug. 15.
The US military was waiting on Nigerien approval to start operations at the base, US Africa Command and US Air Forces in Europe-Air Forces Africa officials told Air Force Magazine. USAFE-AFAFRICA said the Nigerien Civil Aviation Authority, Nigerien Air Force, and USAF reached an agreement to start limited "visual flight rules" operations Aug. 1. A C-130J from the 409th Air Expeditionary Group landed at the base two days later.
VFR flights are part of the airfield assessments and procedure development that must take place before an installation begins full operations, the Air Force said.
Unmanned MQ-9s are slated to start flying missions at Air Base 201, near the village of Agadez, by the end of the year. "Air Base 201 gives Niger and the US incredible capability in a challenging region of the world," USAFE Commander Gen. Jeffrey L. Harrigian said in the Aug. 15 release. "This joint-use runway allows for a better response to regional security requirements and provides strategic access and flexibility."
An AFRICOM official, during an interview with Air Force Magazine at the command's headquarters in Stuttgart, Germany, said the base will serve as a hub for operations in the region. The 323rd Expeditionary Reconnaissance Squadron will fly Reapers out of the installation. The MQ-9's ability to loiter for hours "gives us a lot of good options" in the region, according to a second AFRICOM official.
Constructing the base was a long-term logistical challenge. Supplies had to either be flown in on C-130s or trucked over a three-week journey from the nearest ports. Food, tools, supplies, and workers also had to be flown in. The US has a 10-year lease agreement at the base, according to AFRICOM.
The Air Force also has an existing presence at Nigerien Air Base 101, near the capital city of Niamey. Together, the bases will give the Air Force a large, persistent intelligence, surveillance, and reconnaissance presence in a country that has been a hotbed for extremist activity. For example, the 2017 ambush of Green Berets in the village of Tongo Tongo took place in the same region of Niger.

Airmen ready a RQ-4 Global Hawk for launch at NAS Sigonella, Italy. Photo: SSgt. Ramon Adelan
'CYBER FLIGHT PLAN' TO DETERMINE INTEL'S FUTURE
By Brian W. Everstine
The Air Force is developing a new "cyber warfare flight plan" that will lay out a path for merging various types of intelligence in a secure cloud so airmen around the world can access and analyze it, the service's top intelligence official said Sept. 4.
Lt. Gen. VeraLinn "Dash" Jamieson, the service's deputy chief of staff for intelligence, surveillance, and reconnaissance, and cyber effects operations, said the flight plan is looking at how to develop a network that integrates traditional ISR sensors and platforms in each domain with electronic warfare and cyberspace tools to "give us what we call a collaborative sensing grid."
The Air Force has assets focusing on space, air, surface, subsurface, and cyber, and all that data needs to be put into a network that can be "shared, stored, accessed and secured," Jamieson said at the Intelligence & National Security Summit in National Harbor, Md.
"Without a hybrid cloud capability, you really can't operate [artificial intelligence], machine learning, human-machine teaming at the speed and scale of relevance that is required for the great power competition we are in," Jamieson said.
The Pentagon needs to directly partner with industry, academia, and think tanks to reach that goal, she added.
Jamieson oversaw the rollout of a similar ISR flight plan last year that helped chart the future of the Air Force's intel-gathering platforms and how the enterprise manages data. This cyber-focused blueprint comes as the Air Force is beginning to align its ISR, cyber, and EW assets under new organizations and management structures. Jamieson, who plans to retire at the end of the year, did not say when the flight plan will be done.
Jamieson also pointed to a pilot program involving the Air Force's Distributed Ground System in Europe, which processes intelligence data from platforms such as the RQ-4 Global Hawk, to focus on the US European Command boss's top issue. The pilot program has a cross-functional ISR team that is integrating intelligence from the national to the tactical level, she said. She did not elaborate on what the problem set entails.

Cars nearly disappear beneath floodwaters at Offutt AFB, Neb., after severe weather devastated the base in March. Photo: TSgt. Rachelle Blake
HOW USAF IS SPENDING $1B IN DISASTER AID
By Rachel S. Cohen
The Air Force will spend $1 billion in supplemental disaster-aid funding on 15 military construction projects at three bases, according to a list of the projects obtained by Air Force Magazine.
The beneficiaries are:
Tyndall AFB, Fla.: Seven projects to help the base recover from the damage inflicted by Hurricane Michael in October 2018.
Offutt AFB, Neb.: Four projects to help restore facilities lost following severe flooding that covered about one-third of the base in March.
JB Langley-Eustis, Va.: Four projects to help permanently accommodate an F-22 training unit that will not return to Tyndall.
Congress approved the supplemental funding in June after a drawn-out debate over how to allocate relief funds across the continental US and Puerto Rico. The Air Force's $1 billion share can be used through the end of September 2023 for planning, design, and new construction expenses related to rebuilding from Hurricane Michael and floods in 2019. The bill also provided $670 million in fiscal 2019 to restore salvageable facilities.
The Air Force has a 12-part plan to rebuild Tyndall as a model "base of the future." Among the immediate needs, however, are four projects to support F-35 fighters when they take up residence at Tyndall starting in 2023: a maintenance hangar, a parking apron, a maintenance squadron complex, and munitions storage. Other Tyndall projects include improvements to basewide site development and utilities and restoring the child development center. The total cost to restore Tyndall is expected to be about $5 billion.
At Offutt, the supplemental will fund work on a campus for aircrews who sit on alert for the E-4 Nightwatch and E-6 Mercury nuclear command, control, and communications aircraft; a nonkinetic operations campus for intelligence, cyber, and electronic warfare; and a Milstar satellite communications station. Rebuilding Offutt is currently slated to cost more than $650 million and last into the mid-2020s.
A separate project to replace an Offutt runway—sections of which are more than 70 years old—won't begin until October 2020 so workers can avoid demolition and initial groundwork over the winter. Flight operations will move about 50 miles away to Lincoln Airport.
For JB Langley-Eustis, the Air Force wants to build a hangar for both operations and maintenance, a training support squadron facility, and a facility to repair stealth components of the F-22.
All contracts on the list are slated for award next summer or early fall, with the exception of two Tyndall and Offutt planning and design contracts that will be awarded by the end of September.

Gen. James Homes (l), ACC commander, presents a Bronze Star Medal with Valor device to SSgt. Aaron Metzger on Aug. 26. Photo: A1C Taryn Butler
PARARESCUEMAN HONORED WITH BRONZE STAR WITH VALOR DEVICE
By Brian W. Everstine
SSgt. Aaron Metzger, a pararescueman with the 38th Rescue Squadron at Moody AFB, Ga., on Aug. 26 received the Bronze Star Medal with Valor device for aiding two injured Afghan soldiers while under fire in a 2018 battle.
"Despite being exposed to continuous enemy fire, Metzger ran to aid two Afghan partners who were severely injured by a grenade," the Air Force said in a release. "Disregarding the risk to himself, he carried the two partners away from enemy fire."
Metzger, hit by shrapnel from a nearby grenade explosion, saved his own life by guiding a teammate through the required treatment, then was injured again by gunfire, according to the release.
Yet Metzger refused to be carried to a medical evacuation helicopter, choosing to fight on so his teammates could secure the area.
"I'm really proud of the work that he did," said Air Combat Command boss Gen. Mike Holmes, who presented the award to Metzger at Moody. "I'm proud of the team that took part in helping Sergeant Metzger return to status because that's a tough voyage."
A section of border wall is replaced near Yuma, Ariz., on July 16. Photo: Jerry Glaser/US Customs and Border Protection
DOZENS OF USAF PROJECTS MAY LOSE FUNDING
By Brian W. Everstine
Money for more than 50 Air Force-related military construction projects may be reallocated so the government can build a wall along the southern US border, according to the Defense Department.
The Air Force's share of $3.6 billion in MILCON spans efforts such as range improvements, maintenance hangars, and operations facilities, among many others. Some projects were scheduled to improve Air Force installations, while others affect the service's operations but are not on its property.
The Pentagon announced Sept. 4 it would divert money for 127 existing MILCON initiatives to instead fund 11 barrier projects along 175 miles of the southern border. The military needs those particular border projects to support its effort to help handle immigration issues, Pentagon spokesman Jonathan Hoffman said in a release. Congress may decide to backfill the MILCON efforts in a future budget.
The Pentagon will send border wall funding to the Army in two installations, with the first half coming from deferred overseas projects. This includes several initiatives at USAF bases and elsewhere, for instance an elementary school and F-22 facilities at Spangdahlem AB, Germany; a large project for deployable air base systems and war reserve materiel at Ramstein AB, Germany; C-130J hangars and facilities at Yokota AB, Japan; and RC-135 infrastructure at RAF Fairford, UK. Additionally, European Deterrence Initiative-funded improvements at bases in Poland, Romania, Slovakia, and others will be delayed.
The second segment of funding, if needed, will come from deferring domestic projects in the US and its territories. Potentially impacted work at several USAF locations includes a maintenance hangar in Puerto Rico; range improvements at Eielson AFB, Alaska; a space control facility at Peterson AFB, Colo.; an MQ-9 operations facility at Holloman AFB, N.M.; a hazardous cargo pad and explosive ordnance disposal range at JB Andrews, Md.; a dining facility at JB San Antonio, Texas; a control center at the Utah Test and Training Range; cyber operations facility at JB Langley-Eustis, Va.; among others.
The full list of impacted projects can be found in a Secretary of Defense memorandum found at www.defense.gov/newsroom, under the publications tab dated Sept. 4. Some lawmakers have pushed back on the plan, which comes as the military works through a slew of facilities problems that affect people and programs nationwide.
Sen. Jim Inhofe (R-Okla.), chairman of the Senate Armed Services Committee, said the money will allow the government to make real progress on securing the southern border without inflicting lasting readiness issues on the military. Others aren't convinced.
"Military installations will have crucial repairs and upgrades delayed as a result of this irresponsible action by the president," Rep. John Garamendi (D-Calif.), House Armed Services Committee readiness subcommittee chairman, said in a release. "This comes at a time when more than $11 billion is needed to repair bases that have been ravaged by recent natural disasters. We will do everything in our power to push back against this irresponsible and irrational decision."

Suicide Prevention Stand-Down. Graphic: USAF
RESERVE: IF AIRMEN DON'T ATTEND STAND-DOWN, REACH OUT
By Jennifer-Leigh Oprihory
As the Air Force went into the final two weeks during which all Air Force units were to hold a one-day Resilience Stand-down, Col. Amy J. Boehle, commander of the Reserve's Headquarters Individual Reservist Readiness and Integration Organization, recommended that supervisors reach out to airmen who fail to show up and ensure they know how connected they feel and how they can get help if they need it.
Boehle said the Air Force is committed to help airmen get the support they need. "We can help locate religious support teams, mental health professionals, community support coordinators, violence prevention integrators, sexual assault response coordinators, volunteer victim advocates, military and family life counselors, family advocacy program personnel, community cohesion coordinators, physical health professionals, master resilience trainers, and legal assistance attorneys," she wrote.
Air Force Chief of Staff Gen. David L. Goldfein and Chief Master Sergeant of the Air Force Kaleth O. Wright announced the service-wide tactical pause on Aug. 1 and said units had until Sept. 15 to complete the stand-down.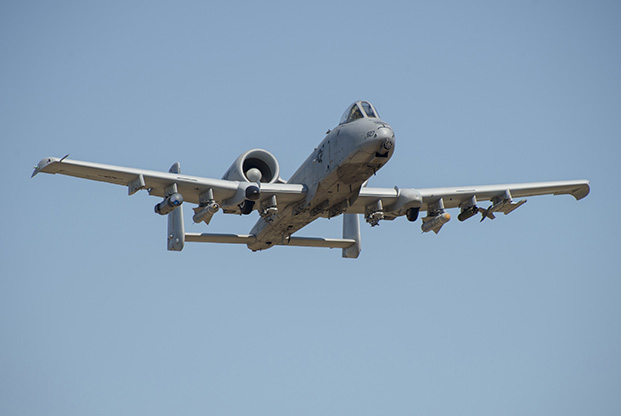 A-10s have been marked for termination many times, but it's not on the chopping block this time. Photo: Ryan White/ANG
USAF HINTS AT DITCHING SOME LEGACY PROGRAMS—BUT NOT A-10
By Rachel S. Cohen
Acting Air Force Secretary Matthew P. Donovan hinted at possible budget cuts in an address about the paradigm shift taking place toward more integrated and data-driven warfare.
"New capabilities are only half the story," Donovan said at the Defense News Conference in Arlington, Va. Making the right choices about what to keep and what to let go is also important. "Secretary of Defense [Mark T.] Esper said recently that he was open to 'divesting of legacy capabilities that simply aren't suited' for future battlefields."
Esper wants the Defense Department to shift funds from programs that offer less value in future wars in favor of systems that deliver more capability. "His guidance states that 'No reform is too small, too bold, or too controversial to be considered,'" Donovan said. "The Air Force is leading the way with bold and likely controversial changes to our future budgets. We need to shift funding and allegiance from legacy programs we can no longer afford due to their incompatibility with future battlefields."
Overall defense spending is capped at $740 billion in 2021, up from $716 billion this year and $738 billion in 2020.
Lt. Gen. Jerry D. Harris Jr., the Air Force's deputy chief of staff for plans and programs, was to have delivered the 2021 budget blueprint to Chief of Staff Gen. David L. Goldfein in late July. That plan, still under wraps, will point the way to a larger, but more capable military Air Force that will rely on improved communications, artificial intelligence, predictive maintenance, spiral software upgrades, space assets, and networks to enhance responsiveness and lethality, rather than on a platform-centric approach to completing certain tasks.
The 2021 budget could lay out concrete steps toward the Air Force's plan to grow its squadrons and will continue its work on joint, multi-domain command and control, the Advanced Battle Management System, and weapons that strike across long distances and in the cyber and electromagnetic realms, among other priorities.
One aging platform that will not be on the chopping block: the A-10, according to Lt. Gen. Timothy G. Fay, deputy chief of staff for strategy, integration, and requirements. The Warthog has been marked for termination repeatedly over the past 30 years, only to remain a mainstay of the close air support mission. The Air Force last tried to cancel the A-10 in 2014, but was rebuked by Congress, which blocked the move in a budget battle that soured relations between the service and lawmakers.
"Everybody loves the future force. Our challenge is, what are you going to stop doing in order to pivot" Maj. Gen. Michael A. Fantini, who runs the Air Force Warfighting Integration Capability planning group, said at the conference. "That's where we see we're making really tough choices."

Northrop Grumman facility at USAF's Plant 42, a classified manufacturing facility in Palmdale, Calif. Other tenants include Boeing, Lockheed Martin, and NASA. Image: Google maps
NEXT-GEN B-21 LOOMS LARGE
By Brian W. Everstine
Northrop Grumman is expanding its side of the secretive USAF Plant 42 facility and hiring thousands of employees, but its new B-21 bomber remains largely under wraps.
The company won't specifically say whether the growth is driven by the B-21 Raider, only that the new construction is for "programs." But it has invested "multiple hundreds of millions" of dollars to improve Plant 42, according to Janis Pamiljans, the president of Northrop's aerospace sector, and the company has added about 3,000 employees in California alone since 2015. There are 28,000 employees here now, and hiring continues.
"We've been on a tremendous hiring spree … and you can see the kind of structures being built," Pamiljans said. Nearby, an older tan hangar-turned-production facility could be seen beside recently built white and blue buildings, and a large new hangar that is still under construction.
At the same time, Northrop has moved its work on other systems, such as the RQ-4 Global Hawk and the MQ-4 Triton, to new locations.
Reporters were not allowed near the new facilities during an escorted visit throughout the Southern California site in August. No other companies that are involved in B-21 development were visible on the premises. Still, the promise of a new bomber was in the air, even as Northrop and the Air Force celebrated the B-2's 30th anniversary at an Aug. 20 event, where the "Spirit of Missouri" was parked in front of a hangar that is now used to produce F-35 jet fuselage parts and "other programs," Pamiljans said.
The B-21 is eventually expected to replace the stealthy B-2 over the coming decades. Northrop plans to use the Spirit program's focus on supportability, sustainability, and mission capable rates as the blueprint for maintaining the B-21 as well.
"The B-2 is setting the path, course for the B-21," Pamiljans said. "What we've learned on B-2, we're finding baselined into the design of the B-21."
Eighth Air Force Commander Maj. Gen. James Dawkins told reporters in Palmdale that aspects of B-2 sustainment like computers, maintenance, and materials can naturally be leveraged for the B-21.
He said the platform's cost and schedule performance are "right on expectations."
"From that standpoint, it's been very successful so far," he said. "We're really happy about the way Northrop has approached this."
The Air Force plans at least 100 B-21 bombers to complement 75 B-52s as its future bomber force. Air Force Vice Chief of Staff Gen. Stephen W. Wilson said in July the service anticipates the B-21's first flight in December 2021.
MOLD, MOISTURE IN USAF DORMS
By Jennifer-Leigh Oprihory
The Air Force recently found evidence of mold and moisture in dormitories at five bases during inspections of 17 domestic and overseas installations, following recent reports of a widespread mold problem at JBSA-Lackland, Texas.
Signs of mold and moisture were discovered at JB San Antonio, Sheppard AFB, Texas, Barksdale AFB, La., Al Udeid AB, Qatar, and Kadena AB, Japan, service spokeswoman Ann Stefanek told Air Force Magazine. The Air Force found mold in about 34 percent of dorms that participated in the spot checks, which finished Aug. 9, she said.
The service chose to look at installations that sit in hot, humid climates that foster mold, and at those for which it received feedback from airmen. Mold can also pop up in crowded dorms where near-constant showers generate a lot of moisture, Stefanek said.
The checks aimed to identify what kinds of mold issues airmen face, to figure out which of those issues could stem from systems like heating and cooling, to communicate with commanders and building owners about their own hurdles, and to see where leaders can help with remediation, she added.
In some dorms that need more extensive work, the Air Force put moisture-sucking fans into buildings while airmen wait for longer-term fixes.
Not all cases were severe, Stefanek noted. Some situations could be remedied by teaching airmen how to check for early signs of mildew and to properly clean their living spaces.
No issues were found during inspections at:
Charleston AFB, S.C.
Eglin AFB, Fla.
Ellsworth AFB, S.D.
Holloman AFB, N.M.
JB Langley-Eustis, Va.
Keesler AFB, Miss.
Kunsan AB, South Korea
MacDill AFB, Fla.
Maxwell AFB, Ala.
Moody AFB, Ga.
Robins AFB, Ga.
Seymour Johnson AFB, N.C.
Commanders at bases affected by mold put in work orders to address building problems or moved airmen and their families if needed, Stefanek said. Leaders "will continue inspections and are actively engaged in addressing the problem," she added.
The spot checks wrapped up after Air Force Times reported in July that JBSA-Lackland had relocated about 200 residents while it battled "overwhelming mold problems" in some of its dorms. More airmen would likely need to move, a base official said at the time.
JB San Antonio and 502nd Air Base Wing Commander Brig. Gen. Laura L. Lenderman held three meetings across the installation from Aug. 13-15 to address the mold issue, according to a wing release. The joint base also recently launched a website dedicated to documenting mold-remediation efforts and centralizing related resources for airmen and their families.
"We have been facing these challenges for many years," Lend­erman told airmen at the Aug. 13 meeting held at JBSA-Fort Sam Houston, Texas. "But this is a tremendous moment in time where we can actually get things done."
Stefanek said the service is sharing the lessons it learned from JB San Antonio and plans on teaching airmen how to prevent mold, how to handle maintenance work orders, and who they should contact to make sure mold issues are quickly remedied.
"In the longer term, we will analyze the data to help inform actions needed to identify, mitigate and resolve the issues, so we can provide our airmen safe and healthy living environments," she said. "The analysis will help identify root causes for mold issues, with timelines to be scheduled based on the severity of the issue."
The military is also battling broader issues within its privatized housing that have spurred changes like a Resident Bill of Rights.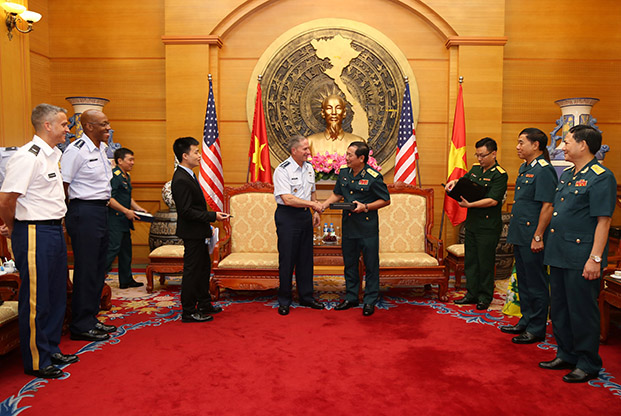 Air Force Chief of Staff Gen. David Goldfein meets with his Vietnamese counterpart, Lt. Gen. Lê Huy Vnh, in front of a golden statue of Ho Chi Minh. Goldfein and Gen. Charles Brown Jr. (far left) visited Hanoi in August. Photo: USAF
GOLDFEIN AND BROWN VISIT VIETNAM
By Tobias Naegele
US Air Force Chief of Staff Gen. David L. Goldfein and Pacific Air Forces Commander Gen. Charles Q. Brown Jr. went to Vietnam in August, visiting a place where their fathers fought and served half a century before.
"I realized I was looking at the exact same picture my dad looked at in the cockpit of his F-4," said Goldfein, recalling his emotions as his plane approached its destination. "I looked down and saw this big river that was flowing very red with mud, and I said, 'Well, there it is, the Red River Valley,' as it came into view."
Brown said his father completed two tours in Vietnam, working special operations intelligence and subsequently as an adviser to a South Vietnamese transportation unit. "As we flew in, I reflected on my memories of my dad leaving home and at such a young age not fully appreciating he'd gone to war," Brown said.
How times change. The official visit was marked by two-days of cooperative meetings with senior Vietnamese officials. "I wasn't sure what kind of reception we'd get, given our history between our two countries," Goldfein conceded. "What was really rewarding was how sincerely warm the reception was."
Added Brown: "Those that had once been my father's adversaries were now our partners, focused on common security interests."
Goldfein's visit marked the first time a US Air Force Chief of Staff went to Vietnam since the war ended. Cooperation has not erased the past, however. From their hotel in Hanoi, Goldfein and Brown could see the red rooftop of what remains of the notorious Hanoi Hilton, where US prisoners of war were held in brutal conditions. The generals visited the site and stood where US heroes such as Col. George E. "Bud" Day and Arizona Sen. John McCain were held captive and tortured.
"Standing in one of the concrete cells for just a few moments," Brown said, "I reflected on the fact that many of our POWs spent not moments, but years in these cells under arduous conditions. It was a very sobering experience."
PILOT TRAINING NEXT TO TACKLE MULTI-DOMAIN OPS
By Brian W. Everstine
The Air Force's third iteration of its Pilot Training Next initiative will focus on preparing pilots for multi-domain operations against advanced militaries, Air Education and Training Command said in an Aug. 29 release.
PTN began in February 2018 to modernize training and speed up the process with technologies like virtual reality headsets and gaming and new learning theories.
Its third phase, which begins in January, will use a T-6B aircraft variant to test the service's ability to teach combat and mobility flight skills to Formal Training Unit-ready pilots using "moving map display, synthetic radar, air-to-air and air-to-ground symbology, as well as detailed downloadable debrief files," AETC said.
The program's use of VR alongside traditional assets supplements academics and replaces up to 80 T-6 flying hours. Pilots are encouraged to use their systems outside of class as much as possible, according to AETC officials.
PTN recently graduated its second class of 14 pilots from the US Air Force and Navy, as well as the Royal Air Force. Graduates will go on to fly a range of fighter, bomber, airlift, intelligence, special operations, and training aircraft. The Navy pilot was chosen to fly the T-45A Goshawk, and the RAF graduate will fly the Eurofighter Typhoon, according to the release.
1st Lt. Chelsey Hibsch. Photo: Machiko Arita
NEW FEMALE USAF ARMY RANGER
By Chequita Wood
1st Lt. Chelsey Hibsch is the first Air Force female to compete in and become an Army Ranger, graduating from Army Ranger School held at Fort Benning, Ga.
The Army Ranger course is an extremely tough course, and only about half of those attending will graduate. There are three rigorous phases each student must go through in order to become a Ranger: The Fort Benning phase, the mountain phase, and the swamp phase. According to Army Sgt. 1st Class Jeremy Billings, an Airborne Ranger and Training Brigade public affairs officer, "after these three phases, Ranger students are proficient in leading a squad and platoon dismounted operations around-the-clock, in all climates and terrain."
To qualify for a slot in the course, Hibsch was the first female to complete the Ranger Assessment Course (RAC), which is hosted by the Air Force Security Forces Center. After training there, she went on to improve her skills at the Tropic Lightning Academy in Schofield Barracks, Hawaii.
Throughout her RAC training, Hibsch said it was "an unmatched learning experience on leadership and followership." The RAC is designed to help airman develop into better leaders and commanders while enduring mental, emotional, and physical strain. It improves resilience and strengthens coping mechanisms, allowing airman to function while "hungry, tired, wet, cold, or worse," according to Hibsch.
Now that training is complete she is slated as flight commander in the 821st Contingency Response Support Squadron at Travis AFB, Calif.
THE WAR ON TERRORISM
Casualties:
As of Aug. 28, 79 Americans had died in Operation Freedom's Sentinel in Afghanistan, and 89 Americans had died in Operation Inherent Resolve in Iraq, Syria, and other locations.
The total includes 163 troops and five Defense Department civilians. Of these deaths, 77 were killed in action with the enemy, while 91died in noncombat incidents.
There have been 453 troops wounded in action during OFS and 80 troops in OIR.