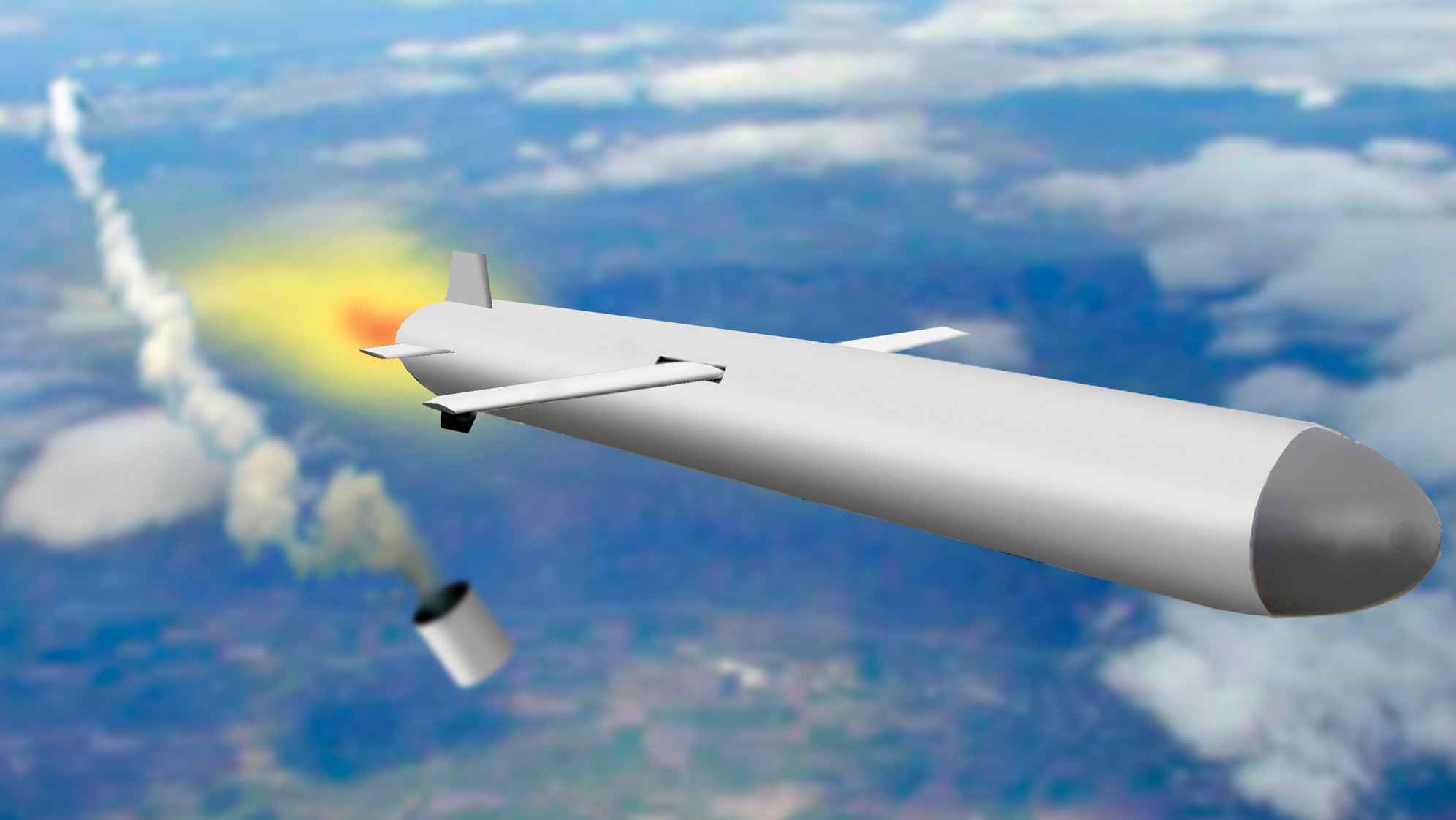 An illustration of what the Russian Novator 9M729 cruise missile might look like after it ejects its booster and begins flight to its target. The US claims it violates the ban on producing, testing, or deploying any land-based or ballistic missile with a range of 310 to more than 3,400 miles. Staff illustration
FOR US AND RUSSIA, IT'S OFF TO THE (CRUISE MISSILE) RACES
By Rachel S. Cohen
The United States and Russia each pledged to invest in research and development of short- and intermediate-range, land-based missiles in the wake of the Trump administration's formal announcement to leave the Intermediate-Range Nuclear Forces Treaty this summer.
In a move backed by NATO, the Trump administration said it is strategically unwise to remain in a pact Russia flouts.
Meanwhile, China—an increasingly close Russian ally and the Pentagon's top geopolitical adversary—urged the feuding countries to uphold the existing treaty.
The US and Soviet Union signed the INF Treaty in 1987, banning all land-based ballistic and cruise missiles, nuclear or conventional, that can strike targets between 500 and 5,500 kilometers away. After reviewing the treaty in 2017, the president announced last year he would pull out of the Reagan-era agreement.
Secretary of State Mike Pompeo confirmed on Feb. 2 that the US delivered written documents to the Russians and other former Soviet states notifying them of the withdrawal. The US stated Russia must eliminate all 9M729 land-based cruise missiles, including launchers and associated equipment, by August for the treaty to remain intact, Pompeo said.
"We cannot be the only country in the world unilaterally bound by this treaty, or any other," the White House said Feb. 1. "We will move forward with developing our own military response options and will work with NATO and our other allies and partners to deny Russia any military advantage from its unlawful conduct. … We stand ready to engage with Russia on arms control negotiations that meet these criteria."
In response, Russian Defense Minister Sergei Shoigu proposed modifying submarine-based cruise missiles for use on land, as well as a plan to create land-based launchers for hypersonic missiles that fall in the range banned by the INF Treaty, according to a transcript published Feb. 2.
Russian officials also called for a halt to disarmament talks, for an inspection of denuclearized American submarine-based missile launchers and bomber aircraft to ensure they cannot be returned to the nuclear arsenal, and for a plan to neutralize other countries' space weapons.
"Russia will not deploy intermediate-range or shorter-range weapons, if we develop weapons of this kind—neither in Europe nor anywhere else until US weapons of this kind are deployed to the corresponding regions of the world," President Vladimir Putin said.
Russian Foreign Minister Sergei Lavrov accused the US of violating the three-decade-old pact since 1999 by testing combat drones and claimed Russia had done "everything we could to save the treaty."
Critics of US withdrawal argue leaving the pact will spur a new arms race. But US Strategic Command chief Gen. John E. Hyten said new "credible, flexible" nuclear weapons will deter other countries from launching their own.
In the Nuclear Posture Review unveiled last year, the Trump administration recommended research on a ground-launched cruise missile and developing a sea-launched cruise missile in response to Russia's deployment of 9M729 weapons, also known as the SSC-8.
"Research and development is not prohibited by the INF Treaty," Hyten said a year ago. "If they [Russia] don't come back into the fold on INF, then we'll be prepared to respond accordingly as we go forward. That's going to be a very complicated discussion. … But the capabilities we propose are to respond to the threat and hopefully give our diplomats room to move."
US administration officials stressed that while Russia would be at fault for starting any potential arms race, leaving the treaty has a second benefit: It allows the US to address nuclear threats posed by China and Iran as well.
"It will take us time to make decisions about what kind of capability would we deploy, what kind of capability would we test," one official said in a background call with reporters. "We are some time away from a flight test. We are certainly time away from an acquisition decision and from an eventual deployment decision. What we do know is that we are only looking at conventional options at this time."
That holds true for the conventional, ground-launched cruise missile under consideration, although the Nuclear Posture Review also specifically notes a nuclear-armed, sea-launched cruise missile "will provide a needed nonstrategic regional presence, an assured response capability, and an INF-Treaty compliant response to Russia's continuing treaty violation."
Sea- and air-launched weapons are allowed under the agreement.
"We are some time away from having a system that we would produce, that we would train soldiers or airmen or Marines to deploy, and then, certainly, before we would be in a position to talk about basing, potentially in allied countries," a senior official said.
Congress allocated $48 million in Fiscal 2019 toward research on systems that would violate the treaty if deployed.
Ian Williams, a fellow at the Center for Strategic and International Studies, wrote in October 2018 that developing American intermediate-range missiles could actually be the most promising path toward further nonproliferation efforts.
"History shows that Russia is most interested in arms control when it feels like it is falling behind," Williams said. "Walking away from the treaty now will, in the long run, enable the United States to more affordably strengthen the defense of its allies and overseas forces and demonstrate that it takes arms control obligations seriously."
During his Feb. 5 State of the Union address, President Donald J. Trump said the US may be able to hash out a replacement treaty that brings in China and other new signatories. If not, he promised, America will "outspend and out-innovate all others by far."
But a spokesman for China's Ministry of Foreign Affairs dismissed the idea of a multilateral pact.
"As an important bilateral treaty in arms control and disarmament, this treaty plays a significant role in easing major-country relations, promoting international and regional peace, and safeguarding global strategic balance and stability," said spokesman Geng Shuang. "China is opposed to the US withdrawal and urges the US and Russia to properly resolve differences through constructive dialogue. … Multilateralization of the INF Treaty involves a series of complex issues covering political, military and legal fields, which draws concerns from many countries."
On Capitol Hill, Senate Armed Services Committee leaders clashed in their responses to the news. Chairman Jim Inhofe (R-Okla.) praised the end of the INF Treaty as Ranking Member Jack Reed (D-R.I.) called for an extension of the New START Treaty until 2026 to bolster what he sees as weakened arms control.

NATO Secretary General Jens Stoltenberg at the World War II Memorial in Washington D.C., on Jan. 27. Photo: Erik Luntang/NATO
While House Armed Services Committee Chairman Adam Smith (D-Wash.) tried to make the case that America's European allies see withdrawal as a betrayal, and NATO Secretary General Jens Stoltenberg said Feb. 1 the coalition backs the US's decision.
NATO worries Russia could use cruise missiles to destabilize its command and control, logistics, and air bases.
"For over five years, allies and the United States in particular, have repeatedly raised their concerns with the Russian Federation, both bilaterally and multilaterally," NATO's foreign ministers said. "Russia has responded to our concerns with denials and obfuscation. … Allies have emphasized that the situation, whereby the United States and other parties fully abide by the treaty and Russia does not, is not sustainable."

A C-123 (circled) piloted by Lt. Col. Joe Jackson (inset) prepares to evacuate the last three men from Kham Duc airfield, South Vietnam, during a battle with North Vietnamese forces on May 12, 1968. Photos: USAF; AFA Library
JOE JACKSON: 1923-2019
By John A. Tirpak
Joe M. Jackson, a 33-year Air Force veteran who served in WWII, Korea and Vietnam, and who received the Medal of Honor for action during the latter conflict, died Jan. 12, at the age of 95.
Jackson was born in Newman, Ga., and enlisted in the Army at age 18, becoming a crew chief on B-25 Mitchell bombers. He applied to become an aviation cadet and won his wings, receiving his commission and becoming a fighter pilot in P-40 Thunderbolt and P-63 King Cobras, serving as a gunnery instructor. Toward the end of WWII, he transitioned to the B-24 Liberator.
He returned to combat during the Korean War, amassing 107 combat missions in the F-84 Thunderstreak fighter-bomber with the 524th Fighter Squadron.
After the war, he was among the first Air Force pilots to fly the super-secret U-2 spyplane, supervised detachments of the aircraft worldwide, and developed a campaign of aerial reconnaissance over Cuba during the Cuban Missile Crisis. Jackson got his bachelor's and master's degrees in political science in the early 1960s, at night school.
He went to Vietnam in 1967, flying the C-123 Provider with a Special Operations Squadron, building up to 298 combat missions.
On May 12, 1968, he volunteered to attempt the rescue of three airmen; a C-130 navigator and two combat controllers that had been left behind at Kham Duc, an airfield near the Laos border being used by Army Special Forces. It was about to fall to North Vietnamese regulars and Viet Cong, and was taking heavy ground fire from mortars, rockets, .50 cal. machine guns and small-arms fire.
The evacuation of troops from the airfield was largely complete, but the operation had already or would claim seven aircraft lost to enemy fire, including a CH-47 wrecked halfway down the runway.
A previous C-123 attempting the rescue had nearly been shot down, as well. It had to leave because of low fuel, but was able to spot the three airmen needing evacuation. Jackson made an extremely steep approach to the field, evading heavy fire from the edge of the airfield, avoiding the wrecked helicopter and an unexploded rocket on the runway. He slowed to pick up the three men, escaping the field and returning to base without suffering any hits on his aircraft.
For his heroism in pressing the rescue despite tremendous enemy fire, his skill in landing the aircraft and taking it off under difficult conditions, and rescuing the three troops, Jackson was decorated by President Lyndon B. Johnson Jan. 16, 1969—nearly 50 years to the day before Jackson's death. The other members of Jackson's crew were also decorated by Johnson.
After Vietnam, Jackson worked as a planner in the Pentagon and taught strategic studies at the Air War College. He retired in 1971 with the rank of colonel.
In addition to the Medal of Honor, Jackson also received the Distinguished Flying Cross, Legion of Merit, and three air medals among his decorations. He was also credited with a number of aeronautical innovations. These included developing formulaic methods for returning to base in bad weather; landing jets under conditions of low visibility and low ceilings; organizing large movements of aircraft across oceans, and a bomb-tossing technique used in the delivery of nuclear weapons.
In 1997, Jackson was inducted into the Tanker/Airlift Association's Hall of Fame.
More on Jackson's Medal of Honor can be found in "Rescue at Kham Duc," by John T. Correll, in the October 2005 issue of Air Force Magazine.

Airstrikes increase in Afghanistan, Syria. Source: AFCENT data. Photo: MSgt. Burt Traynor
AIR STRIKES INCREASE IN AFGHANISTAN, SYRIA, DESPITE TALKS OF WITHDRAWAL
US aircraft conducted more strikes in Afghanistan in the first 11 months of 2018 than in the previous three years combined—and exceeded every year for the past decade.
American aircraft dropped 6,823 weapons in Afghanistan in 2018, up from 4,361 in 2017 and 1,337 in 2016, according to the AFCENT data.
US planes also air-dropped vastly more supplies in 2018 than prior years, dropping 602,980 pounds of supplies in 2018, versus just 33,423 in 2017, and none in 2015 or 2016.
The increased activity comes at a time when about 10.8 percent of the Afghan population continues to live in areas under Taliban control and roughly a quarter of the population lives in contested areas, according to the Special Inspector General for Afghan Reconstruction. The report questioned the strength and ability of the Afghan National Defense Security Forces, which shrank to 308,693 total personnel in October 2018, the fewest in the past four years.
The report also said the Taliban's strength has increased during that time, while attacks claimed by a rival group, ISIS-Khorasan, decreased.
US officials are negotiating directly with the Taliban in peace talks. Acting Defense Secretary Patrick M. Shanahan called progress "encouraging" and US news reports suggested the Taliban would agree to help keep al Qaeda and ISIS out of Afghanistan should a deal be struck.
Encouraged, NATO Secretary General Jens Stoltenberg told reporters at the Pentagon that NATO's mission in Afghanistan was always to create the conditions for a "peaceful solution" and to ensure "that Afghanistan never again becomes a safe haven for international terrorists."
DIA: CHINA BUILDING STEALTH BOMBERS, IMPROVING JOINTNESS, HAS A CYBER SERVICE
By John A. Tirpak
China is accelerating the improvement of its military, drawing closer to parity with the US in a number of key technologies, and building a smaller but far more professional force of troops, according to a new Defense Intelligence Agency assessment.
"China is building a robust, lethal force with capabilities spanning the air, maritime, space, and information domains which will enable China to impose its will in the region," writes DIA Director Army Lt. Gen. Robert P. Ashley in a foreword to the new report. The People's Rebublic has transformed its military from "a defensive, inflexible, ground-based force charged with domestic and peripheral security … to a joint, highly agile, expeditionary, and power-projecting arm of Chinese foreign policy."
The encyclopedic, 125-page white paper, titled "China Military Power: Modernizing a Force to Fight and Win," is patterned "in the spirit of Soviet Military Power," DIA said, referring to a document produced throughout the 1980s and '90s. The unclassified report—DIA said there is not a classified version—is distinct from the Pentagon's annual report on Chinese military power mandated by Congress, which critics have complained has been ambivalent about China's military capabilities.
Ashley said China is growing "in strength and confidence" and will demand "a greater voice in global interactions, which at times may be antithetical to US interests." The report aims to give US leaders "a deeper understanding of the military might behind Chinese economic and diplomatic efforts," so American leaders can develop "the widest range of options for choosing when to counter, when to encourage, and when to join with China in actions around the world."
Though the document doesn't forecast an imminent conflict between the US and China, it notes that Chinese military publications unstintingly call for China to defend its claims on sea lanes, lines of communication, fisheries, and fossil fuel deposits hundreds of miles off its coast, projecting its power well beyond the "island chain" lines in the Pacific. Those publications advise stern resistance to "third parties"—that is, the United States—backing up allied countries in the region whose goals conflict with China's, and they reject any consideration of Taiwan as anything other than Chinese territory..Indeed, DIA asserts that China's top military priority is to "deter any attempt by Taiwan to declare independence," and it organized and equipped to "deter and deny foreign regional force projection."
DIA said it now spends about $170 billion a year on its military, or about 1.3 percent of its Gross Domestic Product. It gets more for its money than the US does, however, benefitting from a "latecomer advantage." DIA said: Rather than invest in costly research and development, "China has routinely adopted the best and most effective platforms found in foreign militaries through direct purchases, retrofits, or theft of intellectual property."
The net result: China expedited its military modernization "at a small fraction of the original cost," according to DIA. Robust investment has yielded precision, long-range tactical missiles; a series of new mobile intercontinental ballistic missiles; a new indigenous aircraft carrier; hypersonic, directed-energy and laser weapons; and stealth and artificial intelligence technologies.
DIA noted China plans to be world-class or world-leading in most of these by 2030-2035.
In terms of airpower, DIA said, the People's Liberation Army Air Force (PLAAF) is seeking to build both medium- and long-range stealth bombers "to strike regional and global targets," anticipating initial operational capability around 2025. That's about the same time frame the US Air Force anticipates its next-generation B-21 bomber would enter service.
China's new aircraft will have "full-spectrum upgrades compared with current operational bomber fleets and will employ many fifth generation fighter technologies in their design," DIA predicted, noting that the long-range bomber means China will match the US and Russia in deploying a true nuclear triad.
China's existing H-6 bombers, based on the Russian "Badger" series, already are capable of carrying land-attack cruise missiles, providing a "long-range, standoff, precision-strike capability that can reach Guam," DIA reported.
On the defensive front, China is developing an "increased ability to detect low-observable targets," DIA said, diminishing the US advantage in stealth.
Equipping its airborne early warning and control aircraft with active electronically scanned array (AESA) radars will give China "instantaneous target updates, electronic beam steering, advanced/specialized radar modes, very large search volumes, and the ability to stare at a target or track thousands of targets simultaneously."
China's air defenses, already formidable, will be improved by the addition of the Russian S400 Triumf system, and the upgrade of the Chinese copy, the HQ-19, in the next couple of years. The latter will likely have a ballistic missile defense capability.
The country will have "a majority fourth generation [fighter] force within the next several years," DIA predicted, and the country is also developing fifth generation fighters to compete with the US-made F-22 and F-35. Its J-10B/C and J-11B/J-16 Flanker-derived jets are aready comparable to the most up-to-date American F-16 and F-15, respectively, according to the report.
China has also advanced tremendously with unmanned aircraft that emulate the US Predator and Reaper, offering both a strike and reconnaissance capability. "China has sold armed UAVs to customers such as Iraq." China claims its UAVs can attain speeds of 170 mph, stay aloft for 20 hours, and carry two guided air-to-surface missiles.
The DIA estimated that China will have "an ISR capability to effectively support traditional air missions, including ground support and air superiority, along with the PLA's emerging capabilities in space" by 2020.
For airlift, China is developing the Y-20, a C-17-lookalike powered by the same engines as China's other main transport, the Russian IL-76. Derivatives for aerial refueling and paradrop, among other missions, are expected. China is also investing in new production of the world's largest airlifter, the An-225.
DIA also noted that China is stepping up its training capabilities, investing in an air combat maneuvering instrumentation (ACMI) system to debrief pilots in major exercises patterned on USAF's Red Flag series. It seeks to "replicate real-world combat environments as closely as possible," has multiplied its joint-service exercises for that purpose, and increased exercises with others, such as Thailand, to gain experience in "foreign operational concepts and tactics."
China has vastly multiplied the number of military attachés it deploys among its worldwide embassies, to observe, engage with, and report on foreign militaries.
The DIA noted that China has taken firm steps to replace the Army-centric command structure with a joint system that elevates the other services and improves their interoperability.
In 2015, China established the Strategic Support Force, an entire branch of the military dedicated to "cyber, aerospace, and electronic warfare capabilities." This service reports directly to the Central Military Commission of the Chinese Communist Party. According to a Chinese strategy document, the SSF "will integrate reconnaissance, early warning, communications, command, control, [and] navigation, … and will provide strong support for joint operations for each military service branch.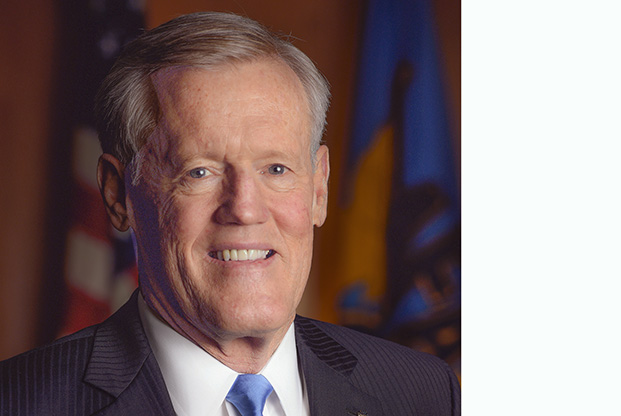 Lt. Gen. Bruce Wright, USAF (Ret.) has been named AFA's new president. Photo: Mike Tsukamoto/staff
LT. GEN. BRUCE WRIGHT NAMED AFA'S NEW PRESIDENT
Retired Lt. Gen. Bruce A. Wright has been named AFA's new president, effective March 1. Wright, a fighter pilot with more than 3,200 flying hours, spent 34 years in the Air Force, having last served as commander of 5th Air Force and US Forces Japan. He will relieve retired Gen. Larry Spencer, who has led the association since 2015, AFA Chairman Whit Peters announced in a news release. After the Air Force, Wright was vice president of cyber and S&T at Lockheed Martin Government Affairs, where he worked on a range of joint forces, intelligence, advanced technology, and cyber programs. "General Wright has had a distinguished career and his success in the Air Force and in industry will serve AFA very well," said Peters, a former Secretary of the Air Force. "As a great AFA supporter and member of our board, we have seen the dedication that he brings to AFA." Spencer will turn over the reins to Wright at the conclusion of AFA's Air Warfare Symposium in Orlando, Fla. "The Board is very sad to be losing the highly successful leadership of Gen. Larry Spencer," Peters said. In his new role, Wright will direct the association's professional staff, be responsible for the management and operations of the association, and serve as publisher of Air Force Magazine. "I am excited to lead the Air Force Association and absolutely dedicated to supporting AFA's mission of promoting a dominant Air Force and a strong national defense," Wright said. "General Spencer has made a terrific, positive impact on AFA, and I cannot thank him enough for all he has done to lead AFA."
NEW EVALUATIONS FOR ENLISTED AIRMEN
By Jennifer-Leigh Oprihory
New enlisted evaluations will give commanders more flexibility and recognize associate's degrees from any nationally or regionally accredited academic institution for those seeking "promotion and senior rater stratification or endorsement." Previously, only degrees from the Community College of the Air Force counted.
Other changes include:
Performance evaluations are now optional for individuals reaching high year of tenure.
Senior enlisted leader will now be "a voting member of the Enlisted Forced Distribution Panel," rather than a mere advisor.
Letting commanders designate as many nonrated days as they deem necessary in cases where they deem airmen have gone through "personal hardships during the reporting period." This allows commanders to acknowledge "extenuating circumstances" affecting airmen without dinging them for it.
Eliminating mandatory referral evaluations for those rated as meeting "some, but not all expectations."
CMSAF Kaleth O. Wright said eliminating mandatory referral evals will let raters give airmen "more honest, realistic" performance feedback and more "room to improve."
"Under the previous policy, if we set 100 expectations for an airman and they met or exceeded 99 of them, but fell short on one, in essence we were saying they should be removed from promotion consideration," Wright said. "That doesn't align with our vision of talent management."
GBSD WILL NOT RELY ON REFURBISHED WARHEADS
By Rachel S. Cohen
The National Nuclear Security Administration has canceled its previous plan to refurbish a warhead for use on future land and submarine-launched ballistic missiles, according to a December 2018 report to Congress that Air Force Magazine viewed Jan. 29.
The agency "is no longer planning for an interoperable warhead program as previously conceived," the report states. "NNSA has no plans to pursue a W78 life-extension program using the existing aeroshell."
Instead, NNSA will develop a safer but slightly more expensive warhead for the future Ground-Based Strategic Deterrent, the W87-1, which is expected to cost between $8.6 billion and $14.8 billion before accounting for the fissile pit inside. The program began in November 2018, according to the Government Accountability Office.
Pit production could add $300 million to $750 million to the program's overall price tag. Pursuing a life-extension program for the W78 warhead was projected to cost $8.5 billion to $14.2 billion, according to NNSA. The W78s are in use today on Minuteman III missiles deployed in silos in Montana, North Dakota, and Wyoming. The replacement warhead is planned for deployment in 2030.
The updated price tag followed release of a Congressional Budget Office report that concluded modernizing America's nuclear triad is projected to cost nearly $500 billion through Fiscal 2028, figures likely to attract criticism from those opposed to today's plans, most notably new House Armed Services Committee Chair Adam Smith (D-Wash.).
A newly developed W87-1 would be an "insensitive high explosive," which experts believe are safer because they are less likely than current existing warheads to detonate in an accident, such as a fire or unexpected impact.
Insensitive high explosives would have improved controls to ensure proper launches and can be more efficiently produced, because of the reduced risk of accidental triggers.
"The probability of high-explosive detonation or high-explosive violent reaction during weapons operations is essentially zero," NNSA wrote.
However, insensitive explosives are larger and heavier, and fitting one inside the Minuteman III's Mk12A aeroshell could pose "significant technical problems," the report said. "Fortunately, for the W87-1, conditions allow trade space in terms of mass and volume for an IHE-based primary [fission explosive]."
Congress invested $53 million in the W87-1 for 2019. A chart included in the document, which projects costs through 2037, shows annual spending on W87-1 would peak at between $700 million in 2030 under a low estimate, or at about $1.2 billion in Fiscal 2031 under a high estimate.
"Previous [NNSA Stockpile Stewardship and Management Plan] estimates, which reflect the [Interoperable Warhead 1] program, underestimated the complexity of addressing challenges of newly manufactured warhead components including development of IHE, enhanced classification anticipated with GBSD, surety features in ballistic missiles, new capability needed for secondary and nuclear explosive package work, increased program management control, and integration with [the] GBSD and Air Force aeroshell acquisition program," the report states. "These complexities have been adjusted based on experiences and lessons learned from the W80-4, B61-12, and W88 Alt 370 programs. This projection more accurately reflects programmatic funding needs than previous estimates for IW-1."
Kingston Reif, director for disarmament and threat reduction policy at the Arms Control Association, praised the IW-1 plan's cancellation, calling it unnecessary and almost certainly financially infeasible.
"The lessened commitment to interoperable warheads does not appear to have reduced the projected cost of replacing the W78," Reif said in a Jan. 30 email. "Indeed, the report notes that previous NNSA estimates underestimated the complexity and cost of the IW-1! Which should cause us to be skeptical about the estimated cost of the W87-1!"
GAO showed NNSA spent $114.5 million on the W78 replacement program—later known as IW-1 before becoming W87-1—between 2011 and 2014. From Fiscal 2015 to 2017, another $4.3 million was carried over from past years to close out life-extension programs for the W78 and W88 warheads.
AUGUST 2017 MQ-1 CRASH CAUSED BY ELECTRICAL FAILURE
The Air Force MQ-1B Predator that crashed during a combat mission at an undisclosed location in the Middle East on Aug. 17, 2017, experienced an electrical failure before it fell from the sky, according to an investigation released by the Air Force.
The forward-deployed Predator was being flown by a crew from the 432rd Wing at Creech AFB, Nev., when the incident occurred. It had just taken off in a forward operating location in the US Central Command area of responsibility, and the crew was taking control from the launch crew when the aircraft experienced an internal electrical failure.
MDC2 CAREER FIELD TO OFFER FIRST TRAINING COURSE THIS SUMMER
The Air Force will launch its first course to train multi-domain command and control officers this summer, open to those with seven to 12 years of service who want to work across the air, space, and cyber domains to schedule missions and employ forces at an air operations center. A 20-week course will be held at Hurlburt Field, Fla., followed by more training at Maxwell AFB, Ala.
"Officers who complete the course will have the opportunity to be stationed at AOCs at a variety of US military bases in the United States, Europe, Southwest Asia, and Southeast Asia," the service said in a press release. "After officers gain a general understanding of the operations of an AOC, they will be stationed at combatant commands." Launching the 13O career field—open to officers in any specialty—is one of the Air Force's first steps toward creating a more integrated force that can react to threats faster. —By Rachel S. Cohen
THE WAR ON TERRORISM CASUALTIES
Casualties:
As of Feb. 7, a total of 64 Americans had died in Operation Freedom's Sentinel in Afghanistan, and 74 Americans had died in Operation Inherent Resolve in Iraq and Syria.
The total includes 133 troops and five Department of Defense civilians. Of these deaths, 64 were killed in action with the enemy while 74 died in noncombat incidents.
There have been 369 troops wounded in action during OFS and 77 troops in OIR.