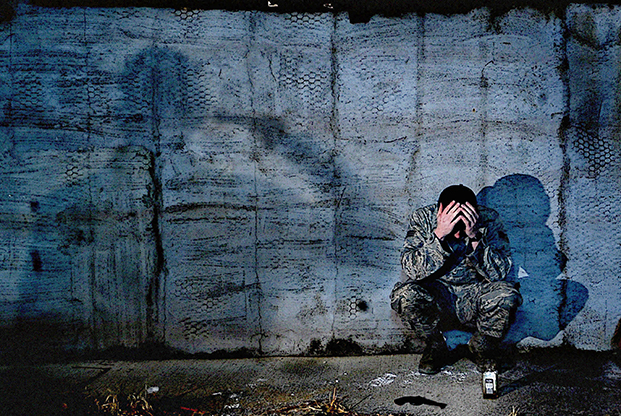 Air Force Orders Ops Pause to Address Suicide. Photo illustration: A1C Corey Hook
AIR FORCE ORDERS OPS PAUSE TO ADDRESS SUICIDE
By Jennifer-Leigh Oprihory and Brian W. Everstine
The Air Force is taking new steps to address its growing suicide epidemic, which Chief of Staff Gen. David L. Goldfein called "an adversary that is killing more of our airmen than any enemy on the planet."
By the end of July, 79 suicides had occurred in the Air Force in 2019—nearly as many as were recorded in all of 2018. The service saw about 100 suicides per year in each of the last five years.
Chief Master Sergeant of the Air Force Kaleth O. Wright told airmen in July he believes suicide is the biggest problem the service faces.
"Let's take a moment and breathe and spend a little time on our airmen and their resiliency, and make sure we're not missing anything when it comes to suicide and suicide awareness," Wright told Air Force Magazine during a visit to Tinker AFB, Okla.
Service leaders called for all units to take an "operational pause" before the end of September. They ordered commanders to stop most operations on a day that best suits their mission, gather their members to discuss resiliency and mental health, and ensure airmen are well. Most of the details are up to local commanders, though Air Force headquarters is providing some resources.
Wright urged leaders to use all the tools available to design a suicide-prevention program that works best for their wing: "We trust commanders," he said.
Goldfein wants feedback from commanders during AFA's Air, Space, & Cyber Conference in September on what they learned from the stand-down.
"Taking care of our airmen and their families so they can take care of the mission is our most sacred duty as leaders," Goldfein wrote in a letter to commanders.
After 12 suicides occurred in the Air National Guard over nine months in 2018, the Guard wants to rely more heavily on chaplains to help combat suicides. A recent ANG analysis discovered easy access to guns and a lack of preventive information contributed to most ANG suicides in 2018.
Ten of 12 ANG suicides that occurred from January to September 2018 were linked to guns, according to the first Suicide Analysis Board findings presented July 11 during a training session for psychological health personnel at JB Andrews, Md.
Hoping to identify trends that could help ANG leaders better combat suicide in their ranks, the board considered factors that preceded each airman's death, how they died, and what actions leaders took afterward.
Current suicide prevention training is seen as "watered down," according to the presentation, which noted "significant barriers to reporting mental health issues still exist."
Investigators found that airmen had "available and immediate access" to weapons they used to take their own lives. In all but one case, relatives, wing colleagues, and ANG leadership told the board they weren't properly trained to talk to airmen about firearms safety, and they didn't know what safe gun-storage options were at their disposal.
"People don't want to give [firearms] up and leadership is afraid to even discuss it," ANG Chief of Medical Operations Col. Stephanie J. Navas said.
ANG and the board recommend giving chaplains gun locks to offer to struggling airmen and emphasizing across the Guard that airmen can confide in the Chaplain Corps.
ANG Psychological Health Program Manager SMSgt. Jerilyn Y. Farrar's organization often hands out gun locks, she told Air Force Magazine. Program staff encourage airmen to store their weapon and the gun lock key in separate parts of their homes. Going to fetch that key can make the difference between life and death.
"Studies have shown that the time that it takes to unlock the gun lock is a deterrent," Farrar said.
Officials hope that chaplains can help overcome the negative stigma around reporting mental health issues. Chaplains aren't required to report issues up the chain of command, so airmen can share their feelings without fearing judgment or that their trust will be betrayed.
"It's a reality," ANG Psychological Health Branch Director Susan L. Black said of that stigma. "Suicide is becoming an option, yet help-seeking isn't, and so we're trying to change that culture."
Of the 12 airmen who killed themselves in the studied time frame, 10 were men, 11 were enlisted, and their average age was 38. Two of the 12 airmen died by asphyxiation. Five of the Guardsmen were known to have thought about or attempted suicide before.
Seventeen ANG airmen killed themselves in 2018, but the board did not follow up on five of the suicides because they happened after September.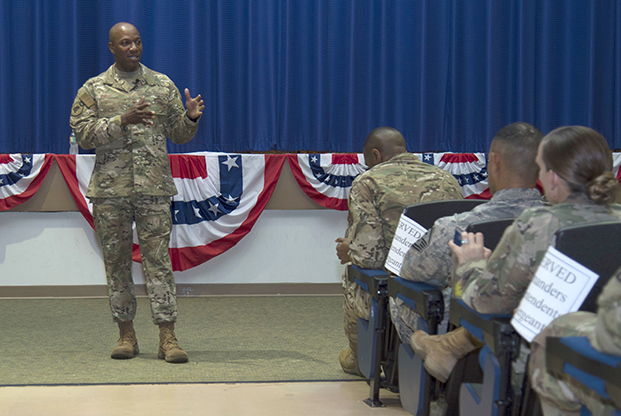 CMSAF Kaleth Wright discusses USAF initiatives and suicide prevention at an all-call at MacDill AFB, Fla., on July 27. Photo: A1C Shannon Bowman
Officials acknowledge the Guard needs to do a better job of reaching out to airmen and their families to ensure they have a close bond with their wings, even if airmen only see their military colleagues in person a few times a month.
"The people closest to you know when something's just not quite right with you, so what our goal is to try to connect with family members and spouses and parents when we have an idea that they may be going through something," Farrar said. "That was something that was repetitive throughout many of the studies."
The board also recommended revamping how the Guard analyzes medical records when new members join, as well as training to teach leaders how to handle suicides in their wing.
ANG aims to create an information campaign to quash Guardsmen's worries that they might lose their security clearances or their place in the military if they report mental health concerns. The campaign would foster better communication between wing leaders and ANG Medical Group staff as well.
"We need to make sure that we're able to message how we tell them, 'You're not going to get kicked out. You're a trained asset,'" Navas said of at-risk airmen.
In the next two years, the board recommends developing "targeted suicide awareness and prevention training" and standardizing guidance and procedures for investigating ANG suicides at the wing and state levels.
Second Lt. Kate Morsch, deputy chief of the ANG's Suicide Prevention Branch, said the board hopes to encompass more of the calendar year in the second round of board investigations. SAB investigations are expected to take place at least once a year as part of broader ANG suicide-prevention efforts.
The ANG Psychological Health Branch is also driving personnel changes aimed at helping 15 wings found to have the highest risk for suicides, family issues, and other harm.
Nine new psychological health director positions were added in fiscal 2018 to better support airmen who serve in high-risk wings, and the ANG program plans on adding another six in fiscal 2021. Psychological health directors are stationed within all 90 ANG wings, and 90 of the 104 total positions are now filled, according to the presentation.
Stephanie C. Powell, an ANG psychological health branch principal, program adviser, and analyst, told Air Force Magazine the program could add more than six directors to serve Guard airmen in 2021, depending on whether demand for their services grows.
A wing is deemed "high-risk" based on its mission and pace of operations during deployments, its divorce and unemployment rates, illegal drug use, sexual assault claims, and more, the presentation explained. The designation also accounts for other statistics, such as the number of people a wing's psychological health director sees, the ratio of directors to servicemembers, and how far a treatment facility is from the wing.
The 15 wings seen as being the most high-risk are:
159th Fighter Wing, NAS-JRB New Orleans, La.
174th Attack Wing, Hancock Field ANGB, N.Y.
172nd Airlift Wing, Thompson Field ANGB, Miss.
153rd Airlift Wing, Cheyenne ANGB, Wyo.
193rd Special Operations Wing, Harrisburg International Airport, Pa.
136th Airlift Wing, NAS Fort Worth JRB, Texas.
145th Airlift Wing, Charlotte ANGB, N.C.
124th Fighter Wing, Gowen Field ANGB, Idaho.
173rd Fighter Wing, Kingsley Field ANGB, Ore.
194th Wing, Camp Murray, Wash.
171st Air Refueling Wing, Pittsburgh International Airport, Pa.
127th Wing, Selfridge ANGB, Mich.
101st Air Refueling Wing, Bangor ANGB, Maine.
121st Air Refueling Wing, Rickenbacker ANGB, Ohio.
195th Wing, Beale AFB, Calif.
Two wings—Louisiana's 159th Fighter Wing and Washington's 194th Wing—now have dedicated behavioral health teams to assess, triage, and stabilize airmen dealing with combat-related or traumatic stress, the presentation said. These seven-person teams include a clinical psychologist, clinical social worker, and five enlisted mental health technicians.
Twenty behavioral health teams are deployed throughout the ANG as part of an initiative that promotes "full-spectrum medical readiness."
While each suicide is unique, the Air Force has studied each of this year's nearly 80 deaths to find shared elements.
"As we peel back the onion on many of these cases, on occasion, we see some common threads: Relationship problems, sometimes discipline issues, things of that nature," Wright said. "It's really hard to kind of nail down the why—why there's been such an increase."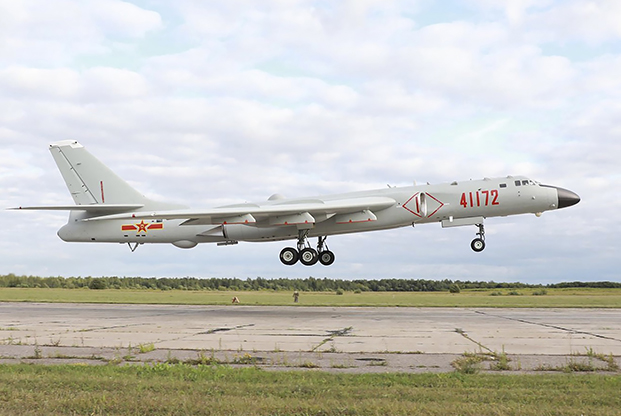 A Chinese H-6K bomber takes off from Dyagilevo military airport, Ryazan Oblast, Russia, on Aug. 1. Chinese naval aviation troops were participating in Aviadarts 2019, an international competition in Russia. Photo: Gao Hongwei, Wang Bin/China Ministry of Defense
PACAF CHIEF CONCERNED BY CHINA-RUSSIA COOPERATION, ANTARCTIC COMPETITION
By John A. Tirpak
Joint exercises between Russia and China and a recent joint bomber patrol that violated South Korean airspace add a new, worrisome wrinkle to US security posture in the Indo-Pacific region, as does growing competition at the North and South Poles, the head of Pacific Air Forces said.
PACAF Commander Gen. Charles Q. Brown, at an AFA Mitchell Institute for Aerospace Studies event, said the July 23 bomber patrol—in which Chinese H-6s and Russian Tu-95s flew together around Japan and South Korea, penetrating the Korean air defense identification zone and prompting intercepts from Japanese and South Korean fighters—is "a potential harbinger of things that could happen in the future."
Coupled with Chinese and Russian cooperation at the "Vostok" exercises last year, Brown said the nations' growing coziness is concerning. Russia also "circumnavigated" Taiwan with a bomber, Brown said. Russia claimed it had diplomatic clearance from China to do so.
"I do have a concern that they may start collaborating or working together," Brown said. "It will make it more challenging for us and our partners, and doing things that will actually drive a rift or a wedge in certain areas."
He acknowledged that the 2018 National Defense Strategy pivots to great power competition with China and Russia, but said the NDS didn't anticipate the two competitors joining forces: "It's something to pay attention to."
Of the two nations, Brown called China the chief US concern and noted that China is expanding the reach and frequency of its long-range air patrols well beyond its regional waters.
The US Intelligence Community's 2019 Worldwide Threat Assessment noted that Russia and China are now more aligned than at any point since the 1950s, especially as their "threat perceptions converge." Intel experts anticipate the two countries will team up to counter US efforts to promote democracy and human rights abroad, "taking advantage of rising doubts in some places about the liberal democratic model."
Russia and China are also trying to partner with other countries as a "counterweight" to the US and its alliances and have expanded their military cooperation since 2014, the report said.
Brown also pointed to state competition spilling into the Arctic and Antarctic regions, arguing now is the time to prepare to operate in those areas. The New York Air National Guard flies the service's only fleet of 10 ski-equipped LC-130s to Greenland and Antarctica. Brown said the US needs more icebreaking ships, as well.
"If we're going to be challenged in the Arctic and the Antarctic, perhaps we need to preserve that capability—we may need more," Brown said.
A treaty that protects Antarctica from exploitation and colonization expires in 2048, and Russia and China are already planning ahead for when it does, Brown said. A Chinese icebreaker that was damaged as it carried US National Science Foundation assets to the South Pole went back to China instead of New Zealand for repairs: "Coincidence" Brown asked.
The US needs to collectively contemplate those issues as the treaty winds down, he said.
The buildup of F-35 Joint Strike Fighters in the Pacific is capturing Brown's attention as well. Thirty US Marine Corps, Japanese, Australian, and South Korean F-35s are in the region already, and 220 are expected to be based in the area by 2025.
Eventually, Brown expects 75 percent of F-35s in the Pacific will be owned by US partners. The Air Force plans to field the F-35A in the region next year, with a squadron at Eielson AFB, Alaska. The service should start thinking about how it could spread out and deploy an aircraft unit to a more austere location that may not be able to talk to other parts of the military in case tensions rise with China, Brown added.
Brown pointed to greater cooperation between air and naval forces in the Pacific and touted the importance of the services' new Long-Range Anti-Ship Missile. Both services can use the stealthy derivative of the Joint Air-to-Surface Standoff Missile to attack enemy ships, the general said, and the Air Force must also grow its stocks of precision and standoff weapons in US Indo-Pacific Command.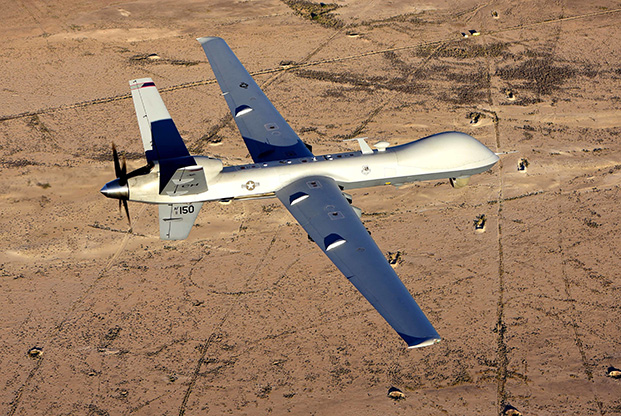 The MQ-9 RPA community seeks to include more basing options, money, and time away from combat into an airman's schedule. Photo: A1C William Rio Rosado
MQ-9 " GET-WELL PLAN" STATUS
By Rachel S. Cohen
The 432nd Wing's new commander says the MQ-9 remotely piloted aircraft community is reaching a turning point in maturity even as the Air Force continues hammering those airmen with a demanding workload.
After the RQ-1 was first assigned to the Air Force in 1996, the service pulled pilots from other careers to make up an RPA workforce. Now, the majority of MQ-9 pilots are in the specialized RPA career field known as "18X" and have graduated from an undergraduate RPA training program, compared to earlier years when most airmen came from other programs, Col. Stephen Jones said.
Jones is one of those airmen: He began as a B-1B bomber pilot before coming to the early RQ-1 Predator enterprise in 2000, and he later helped to weaponize it under the MQ-1 designation. The Predator is now retired in the Air Force, replaced by the larger MQ-9 Reaper.
"I would almost call it the beginnings of community maturity," said Jones, who took over as wing commander at Creech AFB, Nev., in June. "We now have our first '18X' graduate squadron commander, so I'm very optimistic about achieving the next milestone, which will be O-6, full colonel level, 18X leadership positions being filled, such as group commander and wing commander positions."
He expects a few more years will pass before pilots who grew up in the RPA community start achieving the rank of general officer.
"We describe our community as, just like the United States being a nation of immigrants, the RPA community from its earliest origins, was a community of immigrants," Jones said. "We have examples of every other flying platform in the United States Air Force who helped stand up this weapons system, who helped weaponize it, who helped field the MQ-9, who evolved our tactics, techniques and procedures, evolved the bombs and the missiles that we employ in combat."
Still, Jones believes the RPA community is healthier and stronger when led and staffed by airmen who joined the Air Force to fly drones and have spent their entire career in the RPA field. It will be up to that new community of organic pilots to decide what RPA culture looks like going forward.
The wing's culture is also shaped in part by the Air Force's RPA "get-well plan," which went into effect in 2015 to help drone operators achieve a healthier work-life balance. While it has spurred positive changes for the MQ-9 enterprise, there is more work to do, Jones said.
Known as the Culture and Process Improvement Program, the get-well plan was crafted to offer more basing options, money, and time away from combat operations in the hope of retaining RPA pilots. An Air Force official told senators in April 2018 the service had slightly passed its goal of assigning 10 operators to each 24-hour period of MQ-9 combat flights.
Jones said the RPA enterprise needs to make short-term sacrifices to prepare for long-term combat needs. The 432nd Wing wants to be able to train for future conflicts but only has time to prepare for what it will face in current operations. Building more "dwell" time into airmen's schedules will help accommodate that.
"As a community, we're doing much better with manning than in our earlier years," he said. "We're in a healthy spot right now. We know we have to pay attention to that every day, though, or we'll slip back."
When CPIP began, the Air Force aimed to deploy personnel for launch and recovery operations or staff jobs for no more than six out of every 18 months.
The service also wanted to keep the combat-to-dwell ratio above 2-to-1, meaning that for every two days someone spends on combat missions, they should spend one day in training or other downtime.
The enterprise needs to either become more efficient or increase manning levels so pilots can get more relief, but Jones said there's no discussion of reaching that point in the near future.
"I can't really specify a date at which I think we can achieve dwell," Jones said. "For now, it remains a concept that we're pursuing."
Jones' predecessor, Col. Julian Cheater, told Air Force Magazine last fall that the Air Force was striving to reach this goal by the end of 2019 at the earliest.
The Air Force is slowly growing its domestic MQ-9 outposts as well. In the US, Shaw AFB, S.C., now hosts two MQ-9 squadrons, and Air Force Special Operations Command is expanding its use of the platform at Hurlburt Field, Fla. MQ-9 operators call Creech, Cannon AFB, N.M; Whiteman AFB, Mo.; and Ellsworth AFB, S.D., home, and there are associate units at New York's Hancock Field ANGB and California's March ARB. Undergraduate pilots train at Holloman AFB, N.M.
The Air Force is still pursuing an MQ-9 wing at Tyndall AFB, Fla., Jones said, though the details of whether and how that effort will move forward are murky after a hurricane decimated the base last fall.
Jones also sees a vital role for contractor-run, unarmed MQ-9 operations, like those in Romania and parts of the Middle East. In some cases, contractors fly intelligence-gathering missions on government-owned aircraft; in others, the company owns the equipment as well.
"There's definitely a relationship, and in many places, we fly side by side," Jones said. "Those contract options provide us a lot of flexibility, both in terms of building as well as dismantling operations that we may not otherwise have if we have to do it entirely by the Air Force. From my perspective at the tactical level that I operate in, it's working well."
Partnering with contractors can help address recruiting and retention challenges in the RPA community, Jones said. Commercial companies offer additional talent pools for the Air Force to draw from as it tries to lessen the workload for blue-suit airmen, though those contracts can be more costly to the service than Active Duty employment.
"My personal goal is for our community to strive for more stability," Jones said. "What I would like is for those dynamics to stabilize so that our airmen and contractors have a little bit more job stability and predictability, so that they understand how those markets will be not only in the near term but also long term, so they can make better life decisions about who they want to be in their career—whether that's remaining airmen or pursuing commercial opportunities."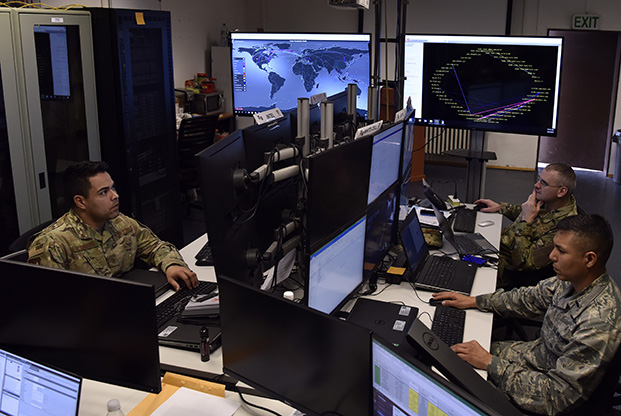 At a USAFE regional training center, airmen provide real-world cyber threat scenarios for mission defense teams. Photo: MSgt. Renae Pittman
NEW MATRIX TO VET CYBER RISKS
By Rachel S. Cohen
Lockheed Martin wants the Defense Department to adopt its recently designed framework that shows how well a military system can hold up against cyber attacks, amid growing recognition that the Pentagon's weapon and business software is vulnerable to 21st century threats.
The contractor is using its "Cyber Resiliency Level" model on about 10 undisclosed test cases that include proposed, developing, and legacy military systems. Those pilots will wrap up by the end of 2019.
When those tests end, Lockheed expects it will inform its military customers of the results so the findings can help shape the programs, Jim Keffer, cyber director in Lockheed's government affairs office, said in an email.
"It would also give them the opportunity to establish a long-term arrangement to continuously measure the cyber resiliency of the system throughout its lifecycle," Keffer said. "We will incorporate the lessons learned and best practices from each of the pilots to continue to advance the model."
The risk matrix, which debuted last year and is now on its third version, breaks cyber resiliency into four categories defined by how a system approaches issues like cyber hygiene, test and evaluation, information sharing, and requirements. Systems that sit at levels three and four ("optimized" and "adaptive") could be more complex weapon systems for which DOD wants less risk, while systems at levels one and two ("ad-hoc" and "managed") could be less mission-essential systems that can take on more risk, like business software.
Dawn Beyer, a senior fellow and CRL project lead at Lockheed, said existing methods of assessing cyber risks can miss the mark if they are based on earlier requirements rather than the most current version of a system.
Lockheed sees its model as one potential piece of DOD's attempt to change cybersecurity policies, guidance, and processes as military systems grow increasingly software-dependent. A 2018 Government Accountability Office report found that while the Pentagon is making progress, the department still "faces barriers that could limit the effectiveness of these steps, such as cybersecurity workforce challenges and difficulties sharing information and lessons about vulnerabilities."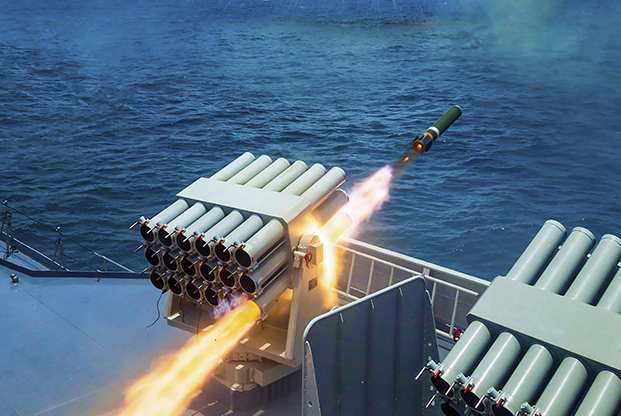 A Chinese guided-missile destroyer releases jamming shells during a maritime exercise in the South China Sea. Photo: Li Wei, Qian Chunyan/China Ministry of Defense
CHINA TO SURPASS INDOPACOM
By Brian W. Everstine
China's military capacity will surpass that of US Indo-Pacific Command within the next few years unless American policy changes significantly, the top US official in the region said.
INDOPACOM boss Adm. Philip S. Davidson, speaking this summer at the Aspen Security Forum in Colorado, said China's "explosive growth" in the air, land, and maritime domains, along with its increased capability in space and cyber, has changed the dynamic of the region.
"We run the risk, if we don't take proactive action, that China will indeed surpass our capabilities in the middle of the next decade," Davidson said.
Still, Davidson added he is "not concerned" about having enough global combat assets for a possible conflict in his arena, despite rising tensions in the Middle East.
China has been "trying to shape everybody's perceptions in the region" and has extensively reached out to other countries, he said. For example, within the past 28 months, Chinese naval ships have made more port visits to more countries than in the previous 28 years, Davidson said in July.
While dicey interactions at sea and in the air snag headlines, Davidson said 99 percent of interactions between the US and China have been professional, and both militaries continue to communicate.
For example, the Army has a yearly humanitarian-assistance and disaster-response training exercise with China, and leaders regularly talk. However, the US has a long-standing but still unacknowledged request to establish an emergency communications channel with the Chinese commander who oversees the South China Sea area.
Reorienting to focus on the Pacific is a top priority for Pentagon leadership after decades of war in the Middle East. Most recently, Defense Secretary Mark T. Esper and Army Gen. Mark A. Milley, incoming Chairman of the Joint Chiefs of Staff, discussed China at length during their Senate confirmation hearings. "Great power competition" with other advanced militaries like China's drives the 2018 National Defense Strategy, as well.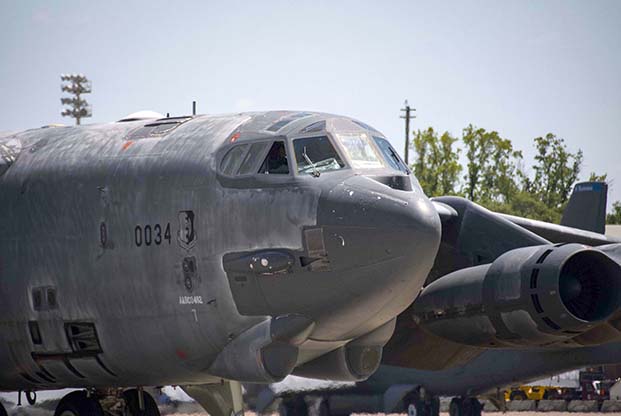 The B-52 Wise Guy was brought back into service after more than a decade in the Boneyard. Photo: MSgt. Ted Daigle
FIRST B-21 FLIGHT SLATED FOR 2021
By John A. Tirpak
The new B-21 Raider stealth bomber is making good progress and should fly in December 2021, USAF Vice Chief of Staff Gen. Stephen "Seve" Wilson said.
Wilson, speaking at an AFA Mitchell Institute for Aerospace Studies event in Washington, D.C., said the service continues to analyze its capacity for long-range strike. The Air Force still believes it is short of bombers and is reviewing alternative force mixes.
Speaking on deterrence and the need to modernize the nuclear command, control, and communications network, Wilson said he was at Northrop Grumman's facilities in Melbourne, Fla., this summer, "looking at the B-21," and said the company is "moving out on that pretty fast." Wilson said he has an application on his phone "counting down the days and don't hold me to it, but it's something like 863 days to first flight."
That would put the first flight of the B-21 in December 2021. The Air Force has said from the beginning that the first B-21 would be a "usable asset" but has also said it doesn't expect an initial operating capability with the B-21 before the "mid 2020s."
Northrop Grumman CEO "Kathy Warden and her team are focused on software integration and making sure we'll have the software ready for the plane when it's delivered," Wilson said.
The Air Force is "focused on the development of the new bomber, as well as modernizing the B-52" with new engines and radar, "and we're exploring the force structure between the B-1, the B-2, and the B-52," Wilson noted. "The general consensus is, we don't have enough long-range strike capacity, and that came out in 'The Air Force We Need' " study the service published last September.
"We continue to look at what that force will be for the future across the bomber force, what mix it will be." He maintained the service needs "at least 100" B-21s.
Air Force Magazine asked Wilson why the service has not advanced the planned number of B-21s, given the acknowledged shortfall in bomber capacity. The Air Force said in "The Air Force We Need" that it requires another seven bomber squadrons. Increasing the planned buy would also have the effect of reducing the unit cost, by amortizing development over a larger number of units.
"That's exactly what we're looking at," Wilson replied, as well as "what the right balance" will be as B-21s come online. The service has yet to decide if it will extend the B-1 and B-2 bombers—slated to retire in the early 2030s—to increase the bomber fleet or simply go for an all B-21 and B-52 fleet. "But we can't have four bombers" Wilson said.
Asked if the Air Force will have the new bomber plan by this month, or in time for the fiscal 2021 budget, Wilson said, "it may take some time" before the Air Force reaches a final decision. He acknowledged that Air Force Global Strike Command boss Gen. Timothy M. Ray has openly questioned whether the B-1 and B-2 should be retired as the Air Force has planned.
Wilson also said that while the Air Force "isn't going to get any new B-52s," AFGSC might still take "one or two more out of the boneyard." He noted that Ray has "already brought one B-52 out."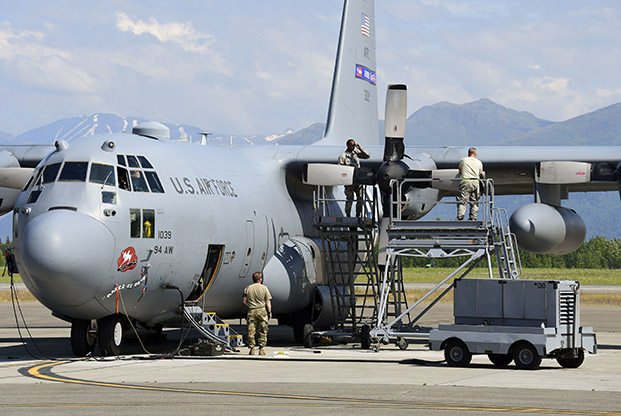 Maintainers work on a C-130H at JB Elmendorf-Richardson, Alaska, during Red Flag 19-2. Photo: SSgt. Andrew Park
AMC'S PREDICTIVE MAINTENANCE EFFORT
By Brian W. Everstine
The Air Force's use of predictive analytics and artificial intelligence to forecast when aircraft parts will fail is broadening to include the military's entire C-130 fleet, followed by C-17s and KC-46s—even before all of Boeing's new tankers are delivered.
The effort, Condition-Based Maintenance Plus (CBM-plus), aims to reshape how the service maintains its aircraft to mirror the commercial airline industry. Air Mobility Command is already using predictive maintenance for the C-5M fleet and many of its KC-135Rs. Similar efforts are in the works for the B-1, E-3, RC-135, OC-135, F-16, and F-35.
It's so far been an "exciting journey, and we're starting to see some results," Brig. Gen. Steven J. Bleymaier, AMC's logistics director, told reporters.
Instead of reacting to problems, proactively forecasting issues means the service can get ahead of fixes and avoid holding back jets during important deployments because of parts problems.
"The last thing we want to do is go out and send a maintenance repair team across the world to fix an aircraft that's on a mission," Bleymaier said.
CBM-plus takes a two-pronged approach. Predictive algorithm development uses complex algorithms developed by Air Force Materiel Command to determine patterns in maintenance issues. That effort, which began on C-5s, uses data from sensors onboard the aircraft to show how quickly a part is deteriorating and to alert maintainers when that part should be swapped out before it fails.
Predictive algorithm development comprises about 20 percent of CBM-plus. Though it provides information about a platform through "beeps and squeaks" from the maintenance sensors, the Air Force's short supply of spare parts significantly hampers that effort, according to Maj. Todd Downs, the sustainment innovation branch chief in the mobility aircraft division of AMC's logistics directorate.
The other piece, Enhanced Reliability-Centered Maintenance (ERCM), began on KC-135s in April. Under this initiative, the Air Force uses all available historical data on individual aircraft components to determine their ideal life spans, then schedules the best time for a swap. This can be combined with a flight schedule for expected deployments to make the swap as easy as possible.
For KC-135s, the ERCM initiative started at MacDill AFB, Fla., and March ARB, Calif., in April. It moved to RAF Mildenhall, UK, and Scott AFB, Ill., in May. Kadena AB, Japan, and JB Pearl Harbor-Hickam, Hawaii, were the third round, and work began at Tinker AFB, Okla., earlier this month, Downs said. Another 12 units will begin running this process by October, and it will spread to the RC-135 and OC-135.
AMC is focusing on the parts that, when they fail, cause the longest downtime for a plane. Some examples for the KC-135 are the engine-driven hydraulic pump, the cabin outflow safety valve, and hydraulic systems on the boom itself.
The command is also moving condition-based maintenance to all variants of the C-130, including Guard and Reserve. On Feb. 1, 2020, aircrews at Dyess AFB, Texas; Rosecrans ANGB, Mo.; NAS JRB Fort Worth, Texas; Peterson AFB, Colo.; Stratton ANGB, N.Y.; and Peoria ANGB, Ill., will start the process. About six bases will stand up the process per month. While all variants will eventually be included, the components will be common across all airframes.
After the C-130 units begin CBM-plus, AMC will shift its focus to C-17 units, starting at JB McGuire-Dix-Lakehurst, N.J.; Dover AFB, Del.; and Stewart ANGB, N.Y. The Air Force will then begin testing to bring CBM-plus to the brand-new KC-46 fleet. AFMC leaders are still debating which KC-46 components need to be addressed, Downs said.
Moving toward predictive maintenance has been a "major culture change," Bleymaier said, but it isn't yet a way of life for the Active Duty Air Force. Many Guardsmen and Reservists already have airline maintenance jobs, where it has long been a reality.
Their feedback is, "What took you so long" Bleymaier said.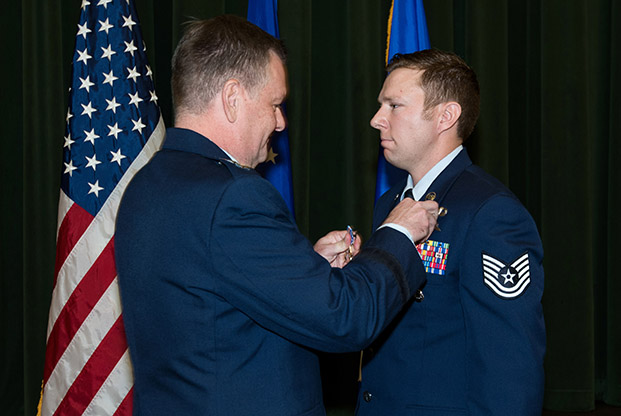 Lt. Gen. Marshall Webb presents a Silver Star to TSgt. Michael Perolio at JBSA-Lackland, Texas. Photo: Sarayuth Pinthong/USAF
TSGT. RECEIVES SILVER STAR
By Brian W. Everstine
TSgt. Michael Perolio and members of his Green Beret team piled into an unarmed ATV to meet with a local, friendly militia on a mission that started out "as normal as it could be in Afghanistan."
The militia turned on the team, killing its own Afghan leader and injuring two members of the US special forces group. Perolio called in a series of airstrikes, aided his team, and evacuated them out of the kill zone during the Jan. 11, 2018, mission that lasted less than a half-hour. On July 18, Perolio received the Silver Star for his actions—that the American team's leader credits with saving his own life.
"In my mind, it's recognition for pretty incredible efforts in some pretty horrible situations," said Army Capt. William Clark, the commander of the mission, who was shot twice but was still able to fight off the attack.
Perolio was the combat controller attached to Special Forces Operational Detachment Alpha 0221 that partnered with the Afghan 8th Special Operations Kandak Commandos in Nangarhar Province. During the deployment, which began in October 2017, the unit regularly sparred with the Islamic State's local offshoot, known as ISIS-Khorasan, while insurgents tried to hold on to a valley near the team's base.
On Jan. 11, Perolio volunteered to be part of a five-man team to visit the nearby leader of the People's Uprising Militia, which manned a checkpoint about 4 kilometers away. The militia was friendly to US and Afghan forces, and secured areas that were already cleared of ISIS.
The team—Perolio, Clark, another Green Beret, an Afghan interpreter, and a leader of the militia—piled into an unarmored dune buggy and made the quick drive to the checkpoint.
The meeting was normal as the group tried to build rapport with the militia it depended on to hold territory.
"As soon as Captain Clark turned the vehicle on and shifted into gear, they opened up on us," Perolio said. The militia used a squad machine gun—the type Afghan national defense forces use—and peppered the vehicle.
The team spilled out to the right of the vehicle, away from the gun fire. Clark was hit twice, once in the abdomen and once in the leg. The interpreter, who goes by Ali, was hit three times in his leg. The militia leader was shot several times and died almost immediately.
At first, they thought another force had taken a higher position to target the team.
"I thought an ISIS element maneuvered on the checkpoint," Perolio said. "We didn't realize it was our militia buddies who had actually turned on us."
Perolio led the team by setting up security, giving the severely injured Clark his rifle to watch in one direction while the uninjured Green Beret watched their backs. The airman then focused on the radio and described the injuries to a nearby surgical team so they could prepare. Perolio also notified a quick-reaction force and administered medical care to his hurt teammates.
"Faced with intense enemy fire, Sergeant Perolio immediately took charge of the element by rendering aid, arming his wounded comrades, and establishing fields of fire," the citation states. "Realizing that the ground force commander was gravely injured and required immediate care, Sergeant Perolio repeatedly exposed himself to the enemy's kill zone, attempting to identify a route of advantage or cover to maneuver back to friendly lines."
Their vehicle could still move despite being riddled with bullets. Perolio navigated them out of the kill zone, exposed while standing on the side of it so he could direct the driver along the route.
There, Perolio met with a Green Beret warrant officer who took over as commander. With the quick-reaction force, Perolio coordinated F-16 airstrikes on the militia building that housed the 12 fighters. Five 500-pound bombs—one that burst in midair and four that dropped into the building—killed the militia fighters and destroyed a machine gunner's position.
"Sergeant Perolio's quick and fearless actions not only got the element out of an incredibly dire situation and saved all of their lives," the citation states, but "his calm thinking under fire and innate ability to manage a crucial situation allowed two members to receive lifesaving medical care within 15 minutes of injury."
The injured were immediately flown from the forward base to Bagram Airfield, Afghanistan.
Clark said the whole experience was a "bit of a blur," but he remembered Perolio taking control and leading the team out of the kill zone. After that 10-minute ride to the forward base, Clark said he walked into its surgical center, asked for a chest tube, and woke up four days later at Landstuhl Regional Medical Center in Germany.
Following the attack, intelligence arose indicating the militia wanted retribution for the US forces killing 12 of its members. "Luckily, we had a pretty good Afghan commando force," Perolio said, and the Afghans and Americans continued to work together each day. US forces remained safe and eventually met with the militia to "be able to come to terms" with what happened and returned to the valley, he said.
Many of the militia members were prior Taliban fighters, Perolio noted. They were forced out of their homes when ISIS moved in and joined the militia to oust the insurgents, but retained Taliban views.
Perolio is now an assessment and selection instructor with the 350th Special Warfare Training Squadron at JBSA-Lackland, Texas. After four deployments, he said he was taking this time to rest, be with family, and help train the next generation of combat controllers.
At the training wing, there is a wall with the names and stories of Silver Star, Air Force Cross, and Medal of Honor recipients. Perolio's name will join the others on the wall. "For me, it's awesome, it's super humbling to say I'm a part of that now," Perolio said, adding that there are still "guys out there—combat controllers, Green Berets—who may not get the recognition. It's not lost on me how special it is."
AIR GUARDSMAN RECEIVES DFC
By Chequita Wood
Kentucky Air National Guard pilot, Lt. Col. John T. Hourigan of the 123rd Airlift Wing, received the Distinguished Flying Cross Award from Air Force Chief of Staff Gen. David L. Goldfein in August. He was credited by Goldfein as having "exceptional airmanship under duress" by preventing a catastrophic mishap.
In July 2016, then-Major Hourigan was commander on a C-130 Hercules that was violently vibrating at low altitude near Owensboro, Ky., preventing crew members from communicating or interpreting flight instruments or engine gauges.
He orchestrated an emergency landing as the plane was decelerating and losing altitude. Hourigan saved his life, his crew members, as well as a $30 million aircraft.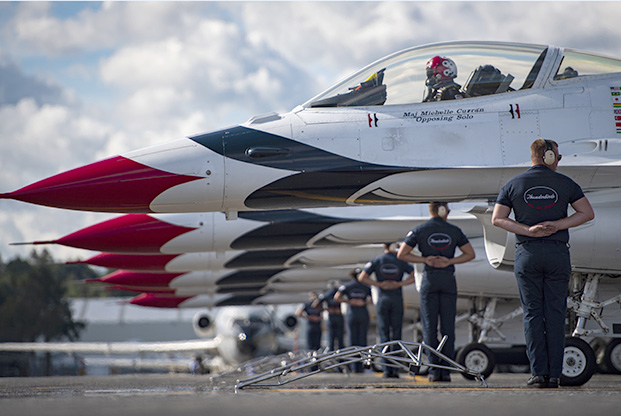 Thunderbirds line up at an air show in Rionegro, Colombia, in July. Photo: SrA. Andrew Sarver
THUNDERBIRDS ADD TWO PILOTS
By Chequita Wood
Two Air Force Academy graduates have officially joined the USAF Thunderbirds 2020 Demonstration Team.
Capt. Zane Taylor, who graduated from USAFA in 2010, was selected as Thunderbird No. 4, the slot pilot.
He will fly in between two wingmen, just aft of the No. 1 jet.
Capt. Katherine Moorkamp, who graduated from the academy in 2013, will be Thunderbird No. 10, the team's executive officer. That makes her responsible for the team's budget, training, and force support actions for the commander.
The Thunderbirds are a 12-officer team who fly two-year tours of duty.
Position openings are staggered to keep up with leadership and continuity of experience. Thunderbirds Nos. 1, 3, 6, 8, and 11 will be replaced in 2021.
DOD ADDS SERIAL OFFENDER PROGRAM
By Chequita Wood
The Department of Defense is implementing a new program called CATCH, or Catch a Serial Offender, in an effort to make it difficult for sexual assault offenders to evade capture. The program allows victims to anonymously report sexual assault, which allows their identity to remain confidential. The CATCH database will be accessible worldwide.
The details reported about an offender can be compared to other reports. After details are entered into the system, criminal investigators from the Naval Criminal Investigative Service, the US Army Criminal Investigation Command, and the Air Force Office of Special Investigations will analyze a suspect's information, looking for a match.
Victims can choose to convert their confidential reports to unrestricted reports, which will allow a criminal investigation to move forward. CATCH submissions remain in the database for 10 years.