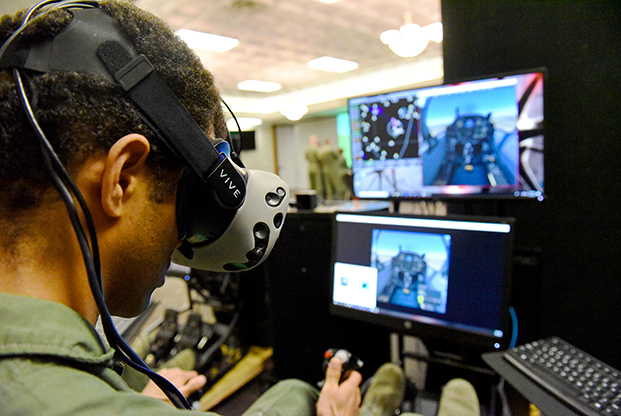 The Air Force's Pilot Training Next project accelerates learning with Virtual Reality headsets. Here, instructor pilot 1st Lt. Jay Pothula tries out a VR flight simulator. Photo: John Ingle/USAF
The Air Force's pilot training command must simultaneously answer two urgent, yet contradictory requirements: Train more pilots, but to a higher standard. Even better, invest less to train each pilot—and do it in less time.
USAF is short about 2,000 pilots today across all components and commands from its total requirement of about 20,000. But because the Air Force has been losing pilots at an accelerating pace in recent years this is not a problem that can be solved quickly. Best case, officials say, the service will reach 95 percent pilot manning by the end of Fiscal 2023.
At the same time, growing concern about China and Russia has Air Combat Command calling for more experienced fighter pilots, and Air Mobility Command is shedding more than 400 pilots per year.
To catch up, Nineteenth Air Force is pursuing multiple solutions, including:
Overhauling the training syllabus
Introducing low-cost simulation using consumer-grade headsets at the start of training to more rapidly develop entry-level skills
Investing in new training aircraft, largely the $9.2 billion contract with Boeing to supply the new T-50 trainer for the T-X, and as small as a couple hundred dollars on off-the-shelf headsets, each has the potential to improve how a pilot learns to fly.
"The first requirement is: We've got to produce better aviators in the future," said 19th Air Force Commander Maj. Gen. Patrick J. Doherty, addressing a pilot training conference in December. "Quality has got to come higher. They're going to need to be a different warrior in the future, working autonomously on their own, solving their own problems, and not going through six levels of 'Mother may I?' to make a simple, tactical-level decision."
The Air Force needs a "sense of urgency to get its competitive spirit back," Doherty said. The future threat will be radically different and more challenging than the permissive environment the Air Force has faced since 9/11.
"We have got to be hungry and competitive reaching forward," Doherty said.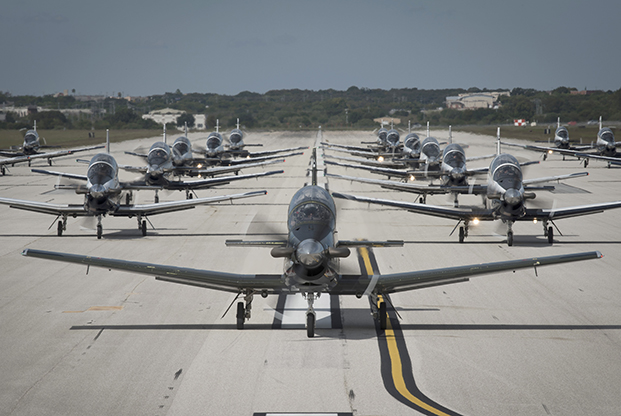 T-6 Texans on an Elephant Walk at JBSA-Randolph, Texas. Photo: USAF
GOING HIGH TECH
The pilots preparing for that more competitive future are already in the pipeline now, said Lt. Col. Matthew D. Strohmeyer, commander of the 560th Flying Training Squadron at JBSA-Randolph, Texas. In future combat, they can expect to be under threat not just in the far corners of the world, but also wherever they may be operating.
"That completely changes the story on how you train pilots on Day 1," Strohmeyer said. As good as US pilot training may be today, it is "having diminishing returns right now based on the improvements China and Russia are making."
To compete with the Russians and Chinese and to operate in contested skies, future pilots must be capable of independent thought and decision-making.
Future syllabi—still to be developed—shape initial training in a way that enables pilots to think independently without relying on command and control to tell them what to do.
"How can I get an F-35 airman to make an operational risk decision, a good one, if they're never trained to think operationally and think strategically?" Strohmeyer said. "If we just go with the current syllabus, we'll never get to have the competitive advantage."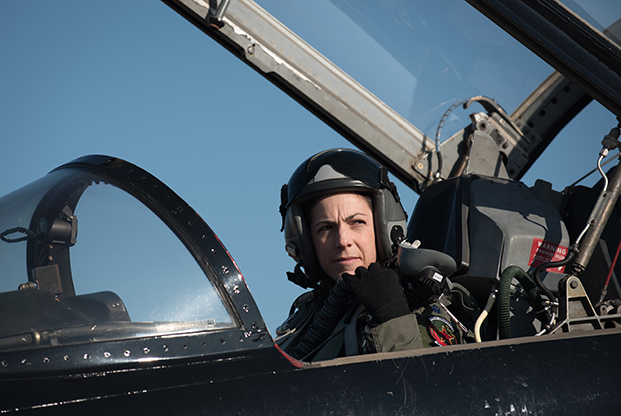 Lt. Col. Cheryl Buehn, a T-38A Talon instructor pilot commissioned through the US Air Force Academy, trained in the Euro-NATO Joint Jet Pilot Training Program. Photo: TSgt. Natasha Stannard
HIGH TECH, LOW COST
Perhaps the most dramatic change in pilot training is taking shape now in Austin, Texas, where the Air Force is experimenting with low-cost consumer technology to develop initial pilot skills well before anyone actually begins to fly. Pilot Training Next (PTN) started in February 2018 with 20 students. Four months later, 13 had graduated early, having cut two months out of the training schedule.
All 13 graduates met or surpassed the skills of their peers in the conventional 24-week course, Doherty said, and six others went on to be fighter and attack aircraft qualified. Even the lowest-rated of those is now "absolutely crushing" defensive basic fighter maneuvers, he said. "That shows you the acceleration we were able to achieve."
The key to their success: consumer-grade HTC Vive headsets and gaming computers coupled with flight simulator software, which supplemented academics and replaced up to 80 flight hours in a T-6. Students were provided simulator headsets to use in their private quarters and were encouraged to practice as much as possible. All told, the equipment cost about $10,000.
January 2019 is when a second class will begin the PTN program, this time with further modifications based on lessons learned from 2018's test. The program was so successful the concept is now being adapted to train maintainers at Sheppard AFB, Texas, Doherty said.
More reliance on simulators is a trend sweeping across USAF and allied air forces. The USAF/NATO joint pilot training wing is running a similar test aimed at increasing pilot training throughput and quality.
The 80th Flying Training Wing's Euro-NATO Joint Jet Pilot Training Program at Sheppard AFB, Texas, in November stood up a strategic initiatives directorate, which will begin testing its ideas with a T-6 class in February, said Lt. Col. Jason Turner, the unit's director of strategic initiatives. The directorate purchased 600 iPad Mini electronic flight bags, 10 T-6 virtual reality devices, 10 T-38 and T-6 switchable mixed reality devices with the ability to GPS-track the simulated flight and provide a 360-degree video of in-flight maneuvers, and track live air traffic control in the simulated flight.
Turner predicts it will only take "three months to deliver massive changes to the way we do business."
With still greater ambitions, the wing is now turning to industry for help. In particular, Turner said the wing wants biometric feedback on its virtual systems to gauge how pilots feel about specific maneuvers, a cloud-based training system to enable training from across multiple locations, a gamified syllabus to promote competition between pilots, and an app for feedback. All that must be accomplished on a narrow budget. "We don't have millions," Turner noted.
Cadets at the Air Force Academy are also getting exposure to low-cost simulators. The Academy selected 13 cadets in November to start using eight virtual reality sets to train on takeoffs, flight maneuvers, communication, and landings. Instructors will put their charges through a simulated "check ride" after two weeks to evaluate how well they remember checklists and can perform specific steps. Ultimately, USAF officials anticipate using such technology with Reserve Officer Training Corps cadets, and even JROTC high school students as a means to ensure cadets arrive at pilot training with a greater level of understanding, Strohmeyer said.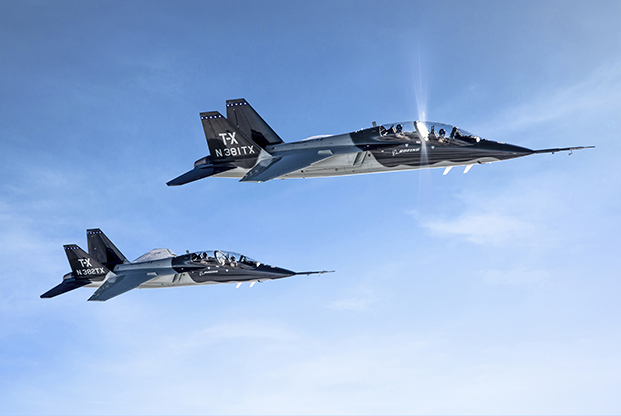 Boeing's T-X trainer will be integrated with simulators and new technology to produce combat-ready pilots faster than before. Photo: John Parker/Boeing
NEW TRAINERS
Simulators only take trainees so far. Eventually, pilot candidates have to fly real aircraft, and the training jets now in use are aging. Older T-38s have been crashing at an increased rate, with five accidents in the 10 months from November 2017 to September 2018.
The T-6 Texan II turboprop used for initial pilot training has also had its troubles. The T-6s were grounded for months in the spring of 2018 after a string apparent hypoxia incidents. The groundings left USAF 200 student pilots short at graduation, Doherty said.
USAF's principal jet trainer, the T-38C Talon, dates from the 1950s; a "dinosaur" compared to the fifth generation F-35 and F-22 combat jets students may eventually fly.
In September, the Air Force awarded Boeing and Saab a $9.2 billion contract for 351 T-50A trainers to replace the Talon fleet.
The T-50 has "incredible potential to radically change" how pilots are trained, said Doherty, who in late November became the first airman to fly in the aircraft. With flight characteristics that seem like a cross between an F-16 and an F/A-18, the T-50 will be a vast leap forward from the T-38, the first aircraft won't go into service until at least 2023.
"We need that T-X, yesterday," he said. "We need it right now. … The time line is not acceptable for what the Air Force needs."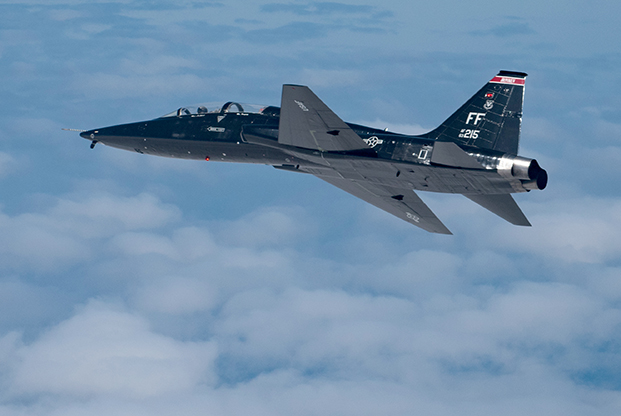 The T-38 Talon will continue in service as the new T-X comes online. Photo: TSgt. Natasha Stannard
RED FLAG OF THE FUTURE
Once pilots reach operational units, they begin to hone their skills against adversaries.
Air Combat Command plans to outsource adversary air to private contractors, therefore cutting costs, saving pilots, and increasing training (see "Red Air Rising," p. 24). It costs $32,000 per hour to fly an F-35 and $25,000 per hour to fly an F-16, but private firms flying A-4 Skyhawks can operate for $5,000 to $7,000 per hour and $11,000 per hour in a Mirage, said Maj. Gen. Scott L. Pleus, the director of plans, programs, and requirements at Air Combat Command. Outfitted with jamming pods to simulate fifth generation threats, they can make "training much more realistic," he said.
Pleus also anticipates reinventing Red Flag, ACC's major air-to-air training events held multiple times each year at Nellis AFB, Nev. The Red Flag of the future is less about Nellis than it is today," Pleus said, adding that the 15,000-square-mile range is not as large as is needed for the kind of combat flight training the US could face in a peer-to-peer war. While the Nevada Test and Training Range is big, he said, "I need the state of Nevada."
Existing constraints mean fighters and command and control all to take off alongside simulated threats, such as an S400 missile system. That's not how the Air Force fights in real life, however. "We would never do that," Pleus said. "We don't take off into that threat."
Instead, he imagines that future Red Flags could span a greater distance. For example, E-3 Sentry Airborne Warning and Control Systems might fly over range space in Utah or North Dakota to more accurately reflect the standoff distance command and control aircraft would need to operate safely in a denied environment, Pleus said.
Red Flag exercises could also change the way threat emitters are placed to better reflect the range of modern systems, Pleus said. For instance, simulated anti-aircraft radars could be placed at China Lake in California, better reflecting the standoff distance of modern threats and giving F-22s and F-35s more space to operate in the Nevada range.
Increased use of simulators is also in the offing. For some fifth generation platforms, "I don't want to fly in open air" yet, Pleus said. "I don't want other people to know the capabilities of the airplane."
He did not specify which aircraft he put in that category.
Air Force Chief of Staff Gen. David L. Goldfein has said Red Flag and other exercises must do a better job integrating with space and cyber assets to more realistically portray multi-domain operations.
From pilots' first sorties to high-level exercises at the peak of their training, the Air Force must ensure focus on all domains and "mirror deployed operations, so we rehearse the daily battle rhythms needed" for real world, joint operations, Goldfein said in September 2018.
"Victory," he said, "must be planned for, properly resourced, trained for aggressively, fought for, and eventually won in the unforgiving crucible of combat."