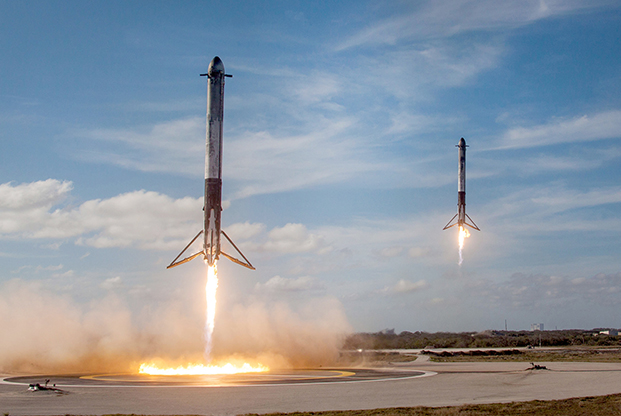 Two reuseable SpaceX side booster rockets from the Falcon Heavy Demo Mission land safely at Cape Canaveral Landing Zone 1 and 2 on February 6, 2018. Photo: SpaceX
The way forward to developing a new Space Force and splitting out a sixth military service gained clarity at AFA's Air, Space & Cyber Conference, where Air Force Secretary Heather Wilson said the USAF has defined what she believes should be the "responsibilities and structure" of a new Space Force.
The Sept. 14 proposal, a copy of which was obtained by Air Force Magazine, estimates the Space Force comprise some 13,000 personnel, including a headquarters staff and secretariat, with close to 8,000 in the Space Force element. In her cover letter to the proposal, Wilson suggests the administration ask Congress for authority and resources to establish the Space Force headquarters in Fiscal 2020, with programs and personnel to follow a year later.
The Air Force plan "avoids detours that do not support the president's policy position to establish a new military department," such as creating a Space Corps inside the Air Force, or new Defense Department positions. "There is no need to establish an assistant secretary of defense for space, nor is there any benefit to either establishing an additive agency or moving programs to a temporary holding organization," it says.
That position was described in Vice President Mike Pence's August announcement of the plan for a new Space Force.
Creating a new Space Force will "maintain the close connection between acquisition and the warfighter, and it must deepen the already close connection between military space and the space elements of the Intelligence Community," Wilson said in her conference keynote address.

During a training exercise, the 4th Space Operations Squadron loads a Low Profile Antenna into a C-17 at Peterson AFB, Colo. Even if "space" became a separate service, the Air Force would still be responsible for transporting space gear in times of conflict. Photo: A1C William Tracy
The Air Force proposal urges DOD to assign the proposed Space Development Agency—which would be aimed at supporting new product development—to the existing Air Force Space Rapid Capabilities Office, allowing the Air Force to maintain at least a portion of the overall space portfolio.
In her cover letter, Wilson said the USAF Space Rapid Capabilities Office "was already given special authorities and exemptions by Congress to rapidly develop space capabilities."
She added, "This office exists now and has the personnel and expertise to develop and field the warfighting capabilities needed by US Space Command." Re-establishing a unified SPACECOM was another component of the August Space Force announcement.
The Air Force proposal called its own plan the "most cost-effective approach to fix critical issues immediately and achieve the expeditious and comprehensive implementation of a separate and equal Department of the Space Force."

Members of the 30th Operations Support Squadron weather flight team participate in the launch of the InSight mission to Mars. The Air Force would split such operations out into a new Space Force now being developed in the Pentagon. Photo: TSgt. Jim Araos
DEADLINES AND MORE DEADLINES
The Space Force must start small, Deputy Defense Secretary Patrick M. Shanahan told the conference. It should have a limited headquarters, limited red tape, and a principal aim to accomplish its mission by "doing no harm" to the work the Air Force has already achieved.
That means ensuring current mission effectiveness remains intact and avoiding opening "seams" between the services. Pentagon leadership must be "laser-focused" on what the warfighters need to dominate in space, he said.In a Sept. 10 internal Pentagon memo from Shanahan, also obtained by Air Force Magazine, he laid out a series of important deadlines for senior military leaders related to the Space Force proposal.
Shanahan's memo directed the military service Secretaries, the Chairman of the Joint Chiefs of Staff, and the Office of the Secretary of Defense and DOD component heads to take specific actions to establish the Space Force.
The chief management officer was to come up with a plan to establish a new assistant secretary of defense for space and the special assistant for White House Liaison Office was to start identifying potential candidates for the post, with an interim progress review due to a new Space Governance Committee being set up to oversee establishment of the Space Force by Oct. 1.
The Chairman of the Joint Chiefs of Staff, Gen. Joseph F. Dunford Jr., was put in charge of the push to re-establish a unified combatant command for space, which the memo said should stand up by the end of this year. The Joint Staff, which was tasked with developing a plan to move authorities and capabilities to US Space Command, was to provide an interim progress review to the Space Governance Committee by Sept. 30.
The memo directed Dunford to work with the service Secretaries and the undersecretary of defense for personnel and readiness to produce an inventory of space operations-related forces and functions, while the undersecretary was to come up with an approach for managing DOD space personnel. The Joint Staff was to produce an interim progress review by Oct. 1, to include a recommended target date for initial operational capability in 2019.
The legislative proposal to set up the Space Force, including its roles and missions, structural options, responsibilities, relationship with the USSPACECOM, and a "lean headquarters model to avoid growing unnecessary bureaucracy," is to be submitted to the Office of Management and Budget by Dec. 1,—although an interim progress review was due to the Space Governance Committee by Oct. 15.
Meanwhile, an interim progress review on preparing the Space Force budget for the administration's Fiscal Year 2020 budget request and the five-year Future Years Defense Program was due Oct. 15.
Wilson and the Undersecretary of Defense for Research and Engineering, Michael D. Griffin, were directed to develop concepts for the Space Development Agency, and draft concepts were due Sept. 14, according to the memo.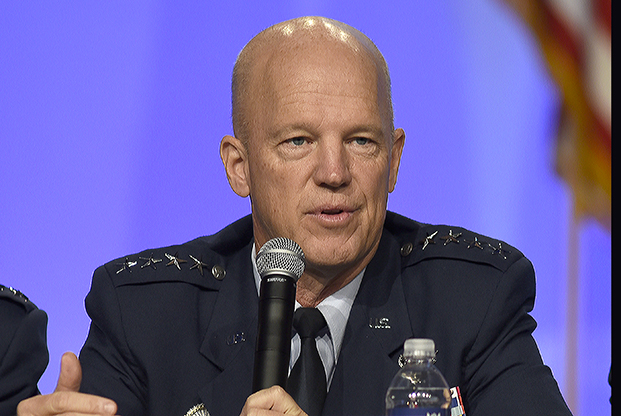 Gen. John Raymond, AFSPC commander, wants a defendable space architecture. Photo: Mike Tsukamoto/staff
QUESTIONS, QUESTIONS, QUESTIONS
The Air Force push was not without critics.
The budget estimate in Wilson's proposal came under questioning from Todd Harrison, Center for Strategic and International Studies director of defense budget analysis, who said Sept. 20 that the roughly $13 billion is "not a conservative estimate," adding that, "this is the highest estimate I think you could possibly come up with."
He also raised questions about a number of aspects of the memo, including its personnel estimates and costs for a new building.
"I don't think that there's a lot to this cost estimate," he said.
Nevertheless, the machinations around the shape of the new department came at a time that acceptance of space as a military domain is becoming more widespread.
Air Force Space Command chief Gen. John "Jay" Raymond, during an ASC18 presentation, laid out four lines of effort his command is pursuing at the "strategic inflection point" when space is becoming a contested domain.
Raymond said AFSPC is concentrating on partnerships within the Air Force, with the Intelligence Community, and with allies, as well as relations with industry.
"There's an explosion of things happening in the commercial industry, and we want to capitalize on that," he said.
He also said AFSPC is working to develop joint warfighters—including space operators who understand joint operations and conventional operators who understand space—and moving toward defendable space architectures.
"The constellations that we have on orbit today aren't all that defendable," he said, suggesting they have been compared to the "slow kids in gym class that can't run very fast."
The command, he said is going "to make them run a little faster."
Finally, in an effort mostly involving the Space and Missile Systems Center, he said AFSPC is working to improve its acquisition agility to ensure it can develop new capabilities quickly.
SpaceX President Gwynne Shotwell is concerned about national security space threats from both Russia and China. Photo: Mike Tsukamoto/staff
SpaceX President Gwynne Shotwell told attendees she had concerns about Russian military space efforts, and more so about threats from China.
These country's space companies, she said, are backed heavily by their governments. She noted that Chinese media has reported that country's goal of flying 40 times this year.
"It's not for commercial customers, they have very few commercial customers," noted Shotwell. "We should be quite worried about that."
She also raised concerns about the rapid pace and heavy underwriting of the Chinese space program and its innovations.
When asked whether SpaceX would consider launching offensive military systems, she replied, "If it's for the defense of this country, yes."
The answer earned applause.