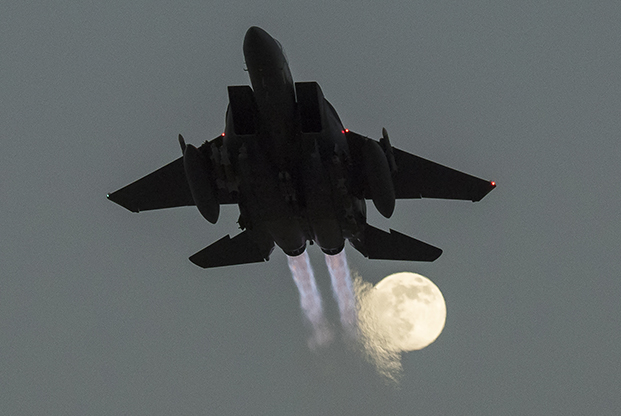 An F-15E Strike Eagle assigned to the 332nd Air Expeditionary Wing takes off in Southwest Asia, July 7. The 332nd AEW flies missions throughout the region for Operation Inherent Resolve, to combat the threat of ISIS and bring stability to the region. USAF photo by SrA. Damon Kasberg.
The US military is in a readiness crisis—one brought on by Congress. The military readiness crisis not only threatens the nation's safety and ability of the Defense Department to deter and defeat adversaries, it endangers the stability of the country itself.
That stark warning was the message of top Pentagon and USAF officials at AFA's 2017 Air, Space & Cyber Conference. The strong language to the attendees gathered at National Harbor, Md., on the outskirts of the nation's capital, came from the Secretary of Defense on down and was clearly directed at Capitol Hill.
"If we don't get budgetary predictability, if we don't remove the defense caps, then we're questioning whether or not America has the ability to survive," Defense Secretary James N. Mattis said in the conference's keynote address. "It's that simple. And I think that right now, we have got to move with the Congress, and the congressional leaders are calling for this, toward passing the president's budget, toward lifting and removing the defense caps, in the current increasingly severe security situation, so that we maintain our competitive edge."
Mattis spoke as Congress inched closer to a long-term continuing resolution (CR), to follow a three-month stopgap bill signed into law in September. This CR is one that Air Force leaders have opposed because it limits acquisition of new programs and freezes funds for readiness, including flying hours and purchases of weapons.
"Nothing has done more damage to the readiness of our armed forces than the continuing resolutions that stop us from taking initiative, than the lack of budgetary predictability, which means our industries will not change what they are doing, because they don't know whether they are going to be able to get the funding next year to keep an effort going," Mattis said. "And you can't ask companies to take survivor risk without some kind of reassurance."
Military leaders have repeatedly called on Congress to avoid long-term continuing resolutions, citing the lack of new-start acquisition programs and a limitation on growing the force's ranks. The September conference, however, included language previously unheard in congressional testimony and think tank speeches.
Capitol Hill has lost its "managerial integrity" over the budget and is hamstringing the Pentagon's ability to focus on "critical warfighting capabilities," Mattis said. This is impeding new-start acquisition programs in space and cyberspace, along with future needs in global strike, close air support, global intelligence, global mobility, global surveillance, and global command and control, Mattis said.
"We don't got this"
The Air Force is already too small for what the nation is asking of it, including fighting two air wars in the Middle East along with maintaining an effective nuclear deterrence, Air Force Chief of Staff Gen. David L. Goldfein said at ASC. And that is on top of "tough, tough, budget issues," he said.
Air Force Secretary Heather Wilson, during her first speech at an AFA conference, illustrated this issue, relating what she learned during a recent visit to the Middle East. At Al Udeid AB, Qatar, Wilson and Goldfein spoke with B-52 crews that were flying daily missions for Operation Inherent Resolve and Operation Freedom's Sentinel over Iraq and Afghanistan.
The crews were deployed from Minot AFB, N.D., and once they returned from their deployment, they would have 10 days to prepare for a nuclear surety inspection. They had not trained for the nuclear mission in four months.
"When I looked at the commander of that aircraft and I said, 'Wow, do you think you can do that?' he said, with confidence, 'We got this ma'am; we got this.'?"
That confidence exhibited by the aircrew needs to be backed up by action in Washington to ensure that the Air Force, and broader military, is ready.
"It is not fair for this nation to ask our commanders to keep saying, 'We got this,' right up to the point of failure because we don't got this," Wilson said. "And that has to change. Our crews are not getting the time they need for the training in contested environments and for the high-end fights, and the nuclear deterrence missions that we're going to be testing them on. Our training and exercises have to continue to challenge our men and women across the range of operations, which means we have to get larger in order for them to be ready for that fight."
The lack of training and capacity, however, does not limit what actions the Air Force will take when called upon.
"Americans need to understand low readiness for a crisis doesn't mean we won't go; we will go," Wilson said. "What it means is that fewer will come back. We have an obligation as a nation to make sure that our airmen are ready when the nation calls."
This shortfall can explicitly be seen in the fight in the Middle East. The Air Force itself has dropped 54,000 precision guided munitions against ISIS since 2014. These weapons are not being replenished as quickly as needed, and the military can only use more expensive precision weapons because "the world will not tolerate imprecise weapons," Wilson said.
Because of the inability to have a long-term budget, the Defense Department is not able to give industry "certainty on the amount" the Pentagon is going to buy, and in turn ramp up production, Wilson told reporters at ASC.
Another shortfall is in the cockpits of the aircraft. The service projects a shortage of about 1,500 pilots and needs stable funding to keep aircraft flying and pilots training. The military cannot compete with the airlines in salaries, but can appeal to the sense of service and the importance of flying for national security.
Currently, the priority for flying hours is in US Central Command and for aircraft forward deployed to the Pacific. Air Force-wide, recovering from this shortfall will take years.
"Not only does readiness go way down, but everybody picks up their phone and calls that recruiter who's been pestering them from American Airlines or Delta," Wilson told reporters.
You can read this story as it appears in the Air, Space & Cyber Conference 2017 Special Edition of Air Force Magazine:
Nonstop Operations
The Air Force has been flying combat operations nonstop for the past 26 years. This has built up a cost to the service's personnel and equipment, and "that demand for airpower is not going to abate any time in the near future," she said.
That constant demand of the unrelenting operations tempo has crowded out money needed for modernization at the same time that the wars have worn out the Air Force's equipment itself. Deferred modernization has created a "bow wave" of looming priorities rising up over the next 10 years. The service is trying to invest in the B-21 bomber, continued production of the F-35, the KC-46A tanker, the next generation T-X trainer, new satellites, the Combat Rescue Helicopter, and the Ground-Based Strategic Deterrent—all at approximately the same time.
While it is a "testament to the quality of their design" that the average Air Force aircraft is 28 years old, Wilson said, potential enemies have been modernizing. New Air Force equipment, purchased efficiently with stable funding, is needed to "increase the lethality of the force that we lead.
The US does not have a "God-given right to victory on the battlefield," Mattis said. Victory needs capability and commitment, along with training and recruiting the right people "if we're going to maintain the ability to fight and win, because we never want to come in second."
Congress has passed 31 continuing resolutions over nine of the past 10 years, so the Air Force has constantly been restricted on starting new programs, hindered in funding innovation, and by extension, forced to allow potential adversaries to chip away at the US military's advantages.
"It means we lose the flexibility to enhance readiness and lethality," Wilson said. "Little by little, over 31 continuing resolutions, our adversaries outpace us."
"Our potential adversaries have not been waiting around," she continued. "They've been studying us. They're innovating and modernizing faster than we are, putting at risk our technological advantage in air and space. Air and space superiority are not America's birthright. We earned it the hard way and we are not going to give it up without a fight."