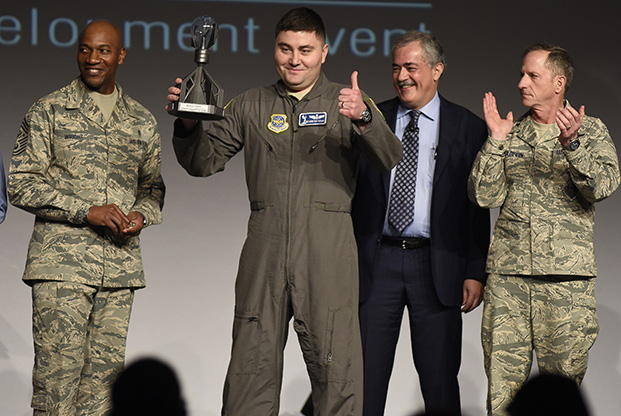 MSgt. Bartek Bachleda holds up the Spark Tank trophy at AFA's Air Warfare Symposium on Feb. 22. He is surrounded by Spark Tank judges. To his right is CMSAF Kaleth Wright, behind Bachleda is Milo Medlin of Alphabet Inc., and at Bachleda's far left is Air Force Chief of Staff Gen. David Goldfein. Staff photo by Mike Tsukamoto
Sgt. Bartek Bachleda, a 22nd Air Refueling Wing aircraft boom instructor from McConnell AFB, Kan., is the Air Force's first-ever Spark Tank winner. Bachleda won the Spark Tank competition cup, USAF's innovation prize, at the Air Force Association's Air Warfare Symposium in Orlando, Fla., in February.
This first iteration of the new Spark Tank effort, to encourage innovation from the ranks, brought six finalists to AFA's symposium before awarding the first Spark Tank cup.
Bachleda presented a proposal to re-engineer the boom operator instructor's position for the entire KC-135 fleet and offer a more stable and ergonomic platform to reduce back and neck injuries, according to an Air Force news release.
"We were and are destroying airmen," he said. "We were getting neck and back injuries, and it's been happening since the 1950s."
_Read this story in our digital issue:
Bachleda's design is intended to dramatically reduce injuries to KC-135 boom operators. The new design adds a new cushion, panel, and chin rest to help with back and neck issues. Bachleda says development included 13 months of work, including contributions from maintenance, air crew, hospital personnel, and others.
A panel of Air Force senior leaders, including Air Force Secretary Heather Wilson, Chief of Staff Gen. David L. Goldfein, and industry partners made the decision on the finalists. After hearing the idea proposed by Bachleda, Wilson gave firm direction to the service's acquisitions team.
"Before we leave tonight, I want you to talk to this guy, figure out his [System Programs Office], and get this to the airmen," she said. Once fielded, Bachleda's design is projected to net the Air Force significant cost savings each year, lowering medical costs associated with current boom operators.
Next, they will work with MD5, the national security technology accelerator, to further develop the prototype and make sure it is designed well for manufacturability and safety.

A KC-135 lands at McConnell AFB, Kan. A KC-135 boom instructor, MSgt. Bartek Bachleda, won the first USAF Spark Tank competition for a proposal to re-egineer the boom operator's position. Bachleda's design could offer a more stable and ergonomic platform to reduce neck and back injuries. Photo: A1C Erin McClellan
Each of the six Spark Tank finalists is to receive various types of support—including financial support—for their efforts.
According to Capt. Joey Arora, community development director for the Air Force's AFWERX innovation hub, Bachleda's winning proposal will receive additional prototyping support for manufacturability.
The other Spark Tank finalists included three other individuals and two teams. They were:
1st Lt. James Eimers, 90th Munitions Squadron, F.E. Warren AFB, Wyo., whose "Brass to Bucks" proposal would use new spent-brass-sorting technology to recycle spent cartridge casings, pumping money back into military accounts;

SrA. Christopher Caruso, 31st Aircraft Maintenance Squadron, Aviano AB, Italy, for a proposed mobile pod test stand;

MSgt. Thomas Crider, 164th Airlift Wing Memphis ANGB, Tenn., for a proposal to use augmented reality in aircraft maintenance, operations, and training;

The team of Col. Tri Trinh, Lt. Col. Mike Fellows, Capt. Liquat Ali, and SMSgt. Timm Huffman of Air Force Reserve Command for an Air Force Connect mobile app; and

The team of John Figgins, Joseph Motowski, Jeffery Hopkins, and Micah Turner from Air Mobility Command, for a graphic display of airfield restrictions and limitations for use on electronic flight bags.

TSgt. Chelsey Thornhill refuels a receiver aircraft in a KC-135. Courtesy photo/USAF

On Eimers' Brass-to-Bucks proposal, Arora said the proposed plan is to purchase an automated sorting machine for Hill Air Force Base in Utah, which accounts for more than 80 percent of spent brass. The team is looking into how the proposal could be implemented across the Defense Department and how that would affect the plan. AFWERX is to coordinate with the team to ensure appropriate policy support for the plan and will invest in a second sorter after successfully recycling a first batch of brass.

Caruso's mobile pod test stand proposal allows maintainers to perform most maintenance on pods while they are on the test stand, instead of needing to mount them on an aircraft, aimed at achieving a substantial time savings. The mobile pod test stand will receive additional prototyping support for manufacturability. Officials will explore its possible use for the F-16, F-15, A-10, and B-1B units.

Crider's augmented-reality proposal team will visit Google to learn from the company's engineers about their progress in augmented reality and virtual reality. The Air Force will fund the next prototype.

The second version of the AFRC team's Air Force Connect mobile app is being developed. There will be an official launch in partnership with CyberWorx, USAF's public-private design center, focused on cyber capability.


Air Force Secretary Heather Wilson tries out augmented reality goggles developed for aircraft maintenance by MSgt. Thomas Crider, a finalist in the Spark Tank competition. Staff photo by Mike Tsukamoto

Meanwhile, on the AMC team's proposal for a graphic display of airfield restrictions and limitations, there will be funding for a joint Air Force-National Geospatial-Intelligence Agency effort to incorporate this capability in the existing NGA tool.

Spark Tank concluded as Wilson and others stressed the importance of innovation, which was, in fact, one of the key aims of the effort. Wilson announced the competition last September during AFA's Air, Space & Cyber Conference, saying airmen would "be able to compete and pitch their ideas to increase the lethality of the force and to reduce the cost of bringing power to the fight."

Bachleda himself pointed to the importance of innovation.

"I didn't come here to win," he said. "I wanted senior leadership to see this problem in front of them and explain to them that we can save the Air Force all this money."

In addition, "it doesn't matter what rank you are, it's innovation," he said. "It's either you got it or don't. If you don't … learn it, and everyone can invent something."

Bachleda's 22nd Air Refueling Wing is part of Air Mobility Command, the only majcom with two finalists among the six selected for presentation at the Orlando conference.

A mobile sensor test pod stand (r) developed by SrA. Christopher Caruso, seen next to a standard test pod stand. Caruso's proposed unit allows maintainers to access panels underneath the sensors without first mounting it on the aircraft. Photo: USAF

AMC commander Gen. Carlton D. Everhart II lauded the role of innovation, calling it "central to our Air Force's ability to apply airpower."

"At a time when we are challenged with resource constraints, with no rest from our adversaries, we need to find more effective ways to continue as the world's most dominant Air Force," he said.

Lauren Knausenberger, director of Spark Tank and director of cyberspace innovation for the Air Force, pointed to the value of the competition.

Spark Tank, she explained in an email, provides "an amazing venue to celebrate our Air Force risk-takers and idea makers, innovation heroes who reject the status quo and develop their own solutions to an increasingly complex set of challenges."

She called the degree of involvement by senior leadership "inspiring" to airmen, while bringing senior leaders' attention to solutions to significant challenges and the obstacles to implementing them.

She said that the airmen among the finalists are able to act as "airman CEOs" to implement proposals, with AFWERX, Airmen Powered by Innovation (a program started by USAF in 2014 aimed at harnessing airmen's creativity), and the greater Air Force community "as their advocates and investors."

"We also hope this will inspire airmen to truly see what can be accomplished and to embolden them to solve problems at the grassroots level," she said. She said with the Feb. 23 announcement of the Squadron Innovation Fund, "we hope to see more localized versions of Spark Tank pop-up as a mechanism to vet projects in a fun way and to elevate some of the best ideas to the competitive arena."

Whether there will be another Spark Tank competition next year is unclear.