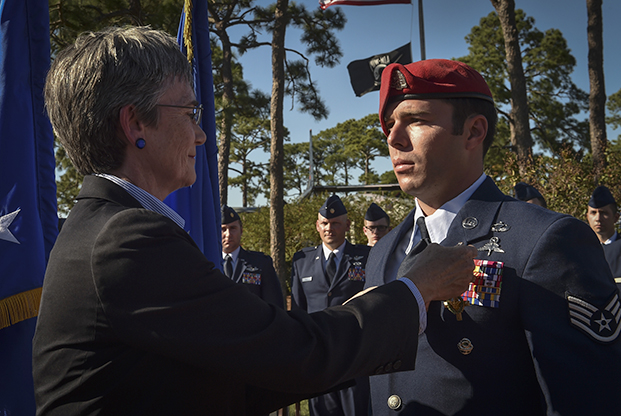 Secretary of the Air Force Heather Wilson pins the Air Force Cross on SSgt. Richard Hunter at Hurlburt Field, Fla., on Oct. 17, 2017.
Photo: SrA. Ryan Conroy
On Nov. 2, 2016, SSgt. Richard Hunter was on the hunt for a senior Taliban leader in northern Kunduz province, Afghanistan. The 55-man special operations team he was part of was tasked with locating a "high-value target," Hunter said, with orders to capture or kill.
What had begun to look like an uneventful mission quickly transformed into a harrowing escape when the team was ambushed by enemy fighters. Over eight hours of intense fighting, Hunter held the enemy at bay with small-arms fire, directed multiple danger-close precision airstrikes, carried wounded comrades to safety, and saved the lives of many members of his team.
That team was made up of a 13-member Army Special Forces detachment and more than 40 Afghan commandos. They were inserted by CH-47 helicopters around 11:00 p.m. local time. The first sign to Hunter that something might be amiss was on approach to their insertion spot, when they noticed their landing fields were flooded in about 12 to 24 inches of water. "They'd either irrigated the fields, or they knew we were coming so they tried to limit where we could land," Hunter said.
Next, the terrain they encountered on the way into the village was "not quite what we thought" it was going to be based on intelligence reports, Hunter said in a conference call with reporters. They encountered a "40- to 60-foot little cliff face," he said, and "we had to s-curve up the thing." After reaching the top, the team trudged through the muck and arrived at the village to undertake what was "a pretty standard mission for our team," Hunter said.
They received a volley of "pretty normal probing fire" upon approach, but they "dispatched that" and moved on.
After searching the entire village, the team had "one last compound" to check before calling it a night. The structure was enclosed behind a large metal gate about 12 feet tall. As the team prepared to "blow it up" and enter the compound, a hand grenade came sailing over the gate. That's when Hunter knew they had found the target.
In no time, Hunter said, the team realized it had walked into an ambush. Fire was pouring on the team from "270 degrees, all around us."
The entire team was "all contained inside one alleyway with only one opening at one end," Maj. Alexander Hill, 4th Special Operations Squadron, told reporters on a conference call. Hill was piloting an AC-130 gunship overhead that night. The well-planned Taliban assault amounted to "a massive ambush where people were firing down on them from two-plus story compounds and buildings as they tried to withdraw down that alleyway," Hill said.
_You can read this story in our print issue:
Hunter was in the middle of it all, returning ground fire on the enemy and directing airstrikes against Taliban positions as he identified them.
"Within the first two minutes of the ambush we had approximately 20 casualties," Hunter told reporters. He positioned himself closest to the enemy in order to better direct danger-close strikes and give his team a chance to make it out alive.
For special operations teams in Afghanistan, "shooting danger-close isn't out of the ordinary," Hill said, describing attacks against targets so close to friendlies that fratricide is a concern. "We train continuously to be able to employ our weapons as close as we ended up having to this night." But the number of strikes and their duration was extraordinary. "Typically … it'll be a few rounds, [and] the target either runs away from the friendlies or we've destroyed the target," Hill said.
But on Nov. 2, beating off the ambush required "107 minutes of danger-close" without interruption.
Hunter agreed. "It's not irregular to have danger-close scenarios, but to have that type of danger-close engagements for that duration, I've never heard of it." The strikes were so close to Hunter, Hill said, that "I'm pretty sure we concussed him a few times."
While directing strikes landing on enemy positions as close as 12 meters away from himself, Hunter led his teammates in dragging wounded comrades down the alleyway to a casualty collection point in another compound. At one point he heard a cry for help and left the safety of the compound again, entering direct enemy machine gun fire to retrieve another wounded team member, and drag him to safety.
Meanwhile, "insurgents just continue to pour on in waves," said Hill. His AC-130 fired for so long that they ran out of point-detonated 105 mm rounds. They had airburst rounds remaining, but those are typically reserved for targets "400-500 meters away from friendlies," Hill said. Nonetheless, they knew they had to use them.
"We pretty much told SSgt. Hunter to put his head down, and we fired one round closer than … anyone's ever fired an airburst round."
And it did the trick, finally quieting down the enemy on the east side of the ground team.
Over the eight-hour assault, Hunter directed AC-130 and AH-64 aircraft in delivering 1,787 munitions. Defense Department officials say his actions saved 57 lives and helped kill 27 enemies.
By 7:45 a.m. the next morning, Hunter and his team were carried out of the village on the same CH-47s they rode in on.
"Integration is key to everything we do," Hunter told reporters. "We train for the chaos scenario all the time," so "when this situation happens, it's no surprise."
What he remembers most from that night is how, even with "so much chaos happening on the ground, … at no point did I ever fear for my life." That's because "overhead we've got this gunship just raining all sorts of hate and taking care of us completely."
On Oct. 17, 2017, Hunter received the Air Force Cross, the highest honor the Air Force awards for valor in combat, during a ceremony at Hurlburt Field, Fla., home base for his 23rd Special Tactics Squadron. Secretary of the Air Force Heather A. Wilson presented the award.
At the same ceremony, Wilson also presented five Distinguished Flying Cross Medals and four Air Medals with Valor to nine other special operations airmen for their actions during the same battle.
Hill received a Distinguished Flying Cross, as did Maj. Aaron Hall, SSgt. Freddie Coffee, SSgt. Cody M. H. Flora, and SrA. Jonathon Russell.
Receiving the Air Medals were: First Lt. Zachary Hanley, SSgt. Alexander Skidgel, SSgt. William Cody, and SrA. Raymond Bourne.
Wilson praised all the honorees for how they "responded with extraordinary courage over and over and over again." She said the actions of Hunter and his teammates that night show that "special operations is the force that we call when we need the absolute best."
At the ceremony, Wilson also honored the memory of two soldiers: Maj. Andrew Byers and Sgt. 1st Class Ryan Gloyer. The two men were assigned to the Army's 10th Special Forces Group (Airborne) at Ft. Carson, Colo., and they were both killed in the firefight.
As to the Air Force Cross, Hunter said he was "humbled to be even considered for this," in large part because "most guys in my career field would have done the same thing."
In many ways, Hill added, "what this points toward is thousands of gunship missions that go on every day and every night around the world and have gone on for decades."
It is clear, however, that this particular mission could have ended much more tragically if not for Hunter, who put his own life at risk under heavy fire in order to save the lives of those serving alongside him.