The movie "The Last Full Measure" documents the long struggle to get A1C William Pitsenbarger recognized with the Medal of Honor for his sacrifices as a pararescueman on the Vietnam battlefield. The process took 34 years. Photo: Courtesy of Roadside Attractions
It took 34 years to get A1C William H. Pitsenbarger's Air Force Cross upgraded to a Medal of Honor—one of only a few ever bestowed upon an enlisted airman. And the struggle to tell that Vietnam War story in a movie took nearly 20 years more.
Now, more than five decades after Pitsenbarger gave his life for the sake of his fellow service members, his story is about to make the big screen.
Writer and director Todd Robinson first learned about the pararescue jumper's (PJ) story while doing research for another movie in 1999. Robinson was visiting Air Force training schools to learn how PJs are made, and he kept hearing one name evoked to express their ethos.
"Nearly every place I went, the young trainees wanted to be sure that I knew the story of William Pitsenbarger," Robinson told Air Force Magazine.
Pitsenbarger was a 21-year-old PJ aboard an Air Force rescue helicopter called in for medical evacuation duty to rescue wounded airmen after an Army unit was ambushed on April 11, 1966, near Xa Cam My. When the helicopter was ready to head home, he volunteered to stay to care for the wounded and dying.
Within 90 minutes, he was dead, but many credited their survival to the man they remember as "Pits."
The story intrigued Robinson, and not just because Pitsenbarger had selflessly put himself into harm's way. He was just as fascinated with the aftermath, when wives of the soldiers who'd fought in that battle learned that Pitsenbarger had earned an Air Force Cross for his heroism, rather than a Medal of Honor. Once their spouses had helped the men reconnect, they "put forth this effort to petition Congress to reconsider it," according to Robinson.
Later, he heard William F. "Frank" Pitsenbarger, the airman's father, speak on his son's legacy at Kirtland AFB, N.M.
"The whole thing gelled for me in that moment, and it made it very personal because I had a little boy, and I suddenly had to consider what it might be like to send a child into harm's way and maybe not get them back, or maybe not get them back whole, and that's when I knew that there was a story to tell," Robinson said.
Convincing others wasn't so easy.
Robinson and Producer Sidney Sherman pitched the film idea to more than 50 production companies. No one bit. "And then, we looked at each other, and I said, 'You know, I still believe in this,'" Robinson said. "I'm just gonna write it."
After finishing the script, the duo gave selling the film a second go, and New Line Cinema won the deal. But not long after, New Line was sold to Warner Bros., and the project was shelved. Robinson and Sherman were again without a backer. Over the course of the next decade, they finally lined up funding and kicked off production in 2017, shooting in the US, Costa Rica, and Thailand. Titled "The Last Full Measure," the movie is now slated for an Oct. 25 release by Lionsgate subsidiary Roadside Attractions.
Pitsenbarger standing next to an HH-43 helicopter in Vietnam. Pits stayed behind to care for the wounded and fight the enemy when his helicopter returned to base. Photo: USAF
A DIFFERENT KIND OF WAR STORY
"The Last Full Measure" is not traditional war-movie fare. The film tells the story through the perspective of a fictional Pentagon official charged with investigating the merits of the case and the veterans who survived the battle in which Pitsenbarger died. It's a story of survival, honor, heroism, acceptance, and the lasting trauma of combat.
While getting financial backers was hard, winning over interested A-list actors was a breeze.
British stage and screen star Jeremy Irvine plays Pitsenbarger; Christopher Plummer and Diane Ladd play his parents, Frank and Alice; Ed Harris, William Hurt, Samuel L. Jackson, and Peter Fonda play some of the veterans struggling with the aftermath of the battle. Sebastian Stan, who plays the Winter Soldier in Marvel's Captain America series, plays the civilian investigator.
Robinson said the Army and Air Force supported the project from start to finish, but the pararescue community was especially helpful.
"I had this great community of people who were tracking the progress of this movie and stuck with us, for lo these 20 years," he said.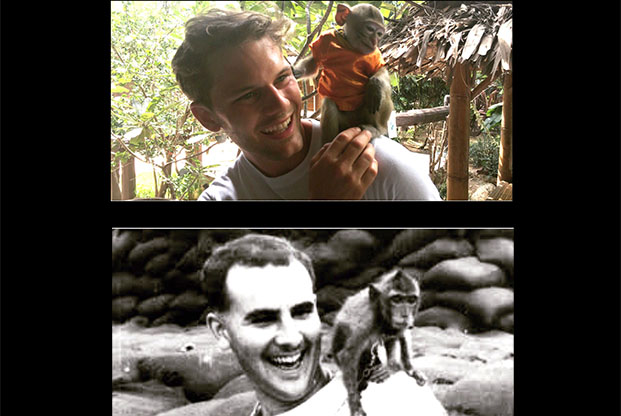 Actor Jeremy Irvine (top) in Thailand while filming "The Last Full Measure," portraying A1C William Pitsenbarger (pictured below) in Vietnam. USAF as well as the pararescue community have supported the making of this film for nearly 20 years. Photos: Courtesy of Roadside Attractions
ATTENTION TO DETAIL
Once the project was a go, the production still had its challenges.
Coordinating conflicting filming schedules for busy actors was one problem; time and funds were another. Capturing a realistic depiction of the Vietnam battlefield took meticulous planning, Sherman told Air Force Magazine via email.
"Getting the battle right was key, and Todd spent thousands of hours talking to veterans of Operation Abilene and military experts in order to carefully plan our shoot," he said. "Every scene was storyboarded down to the smallest detail."
Two of the film's advisers, retired Air Force SMSgt. John Pighini, retired Marine Corps Gunnery Sgt. Quay Terry, and retired Marine Captain Dale Dye ("Saving Private Ryan" and "Band of Brothers"), helped train the actors for their battlefield roles, Sherman said. Co-producer, cast member, and former Marine Travis Aaron Wade provided backup. Pighini went to Thailand with the cast and crew to ensure the PJs were depicted accurately, Sherman noted.
"John is a Vietnam-era, highly decorated PJ … so he knew the lay of that land very well," Robinson said, noting that Pighini paid special attention to the small details that distinguished the members of the US Army's Charlie Company from the Air Force PJs that came to their rescue to ensure Pitsenbarger didn't become "just another military guy in a movie."
Pitsenbarger was only 21 at the time of his death, but Robinson said the historical record was rich. The documentation assembled in support of his MOH upgrade, along with extensive conversations with a former roommate and others, helped Jeremy Irvine embrace the role.
"Whenever you get the opportunity to play a role based on someone's real life—let alone an individual who gave the ultimate sacrifice, like Pits—there is a huge responsibility to do them justice," Irvine told Air Force Magazine.
It wasn't all perfect. "We made some mistakes," Robinson said. He noted the choice to use Huey helos over Pedros due to their scarcity and the cost of getting them to Thailand as the biggest one. "There are some things that aren't quite right. But hopefully, people who would notice them look past them because the movie works."
Editor's Note: This story has been corrected to reflect that, while the heroism displayed by Pitsenbarger in 1966 led to him being among the first enlisted airmen awarded the Medal of Honor when it was bestowed posthumously in 2000, the first enlisted airman to actually receive the medal was Sgt. John L. Levitow. He was recognized in 1970 for heroic action as an A1C in 1969.