USAFE-based F-15Cs rapidly deployed when the call came to strike targets in Syria, and the Eagles worked across domains to make the operation a success. Photo: TSgt. Matthew Plew
The Air Force is looking to blend advanced technology with a new operational construct to provide more options to combatant commanders and speed up the decision-making process. The goal is to ensure the service can take advantage of each of the domains to create a "vicious harmony" and "produce multiple dilemmas for our adversaries," said Air Force Chief of Staff Gen. David L. Goldfein.
Throughout his keynote address at AFA's Air, Space & Cyber Conference in September, Goldfein repeatedly referenced Henry Wadsworth Longfellow's famous poem about Paul Revere's midnight ride to warn colonist of the British plan to seize weapons at Concord in 1775. The redcoats, he noted, "could either march across the land bridge" from Boston to Concord, "or row across the Charles River."
Knowing this, the colonists developed a "crude but effective" command and control architecture, hanging one lantern in the Old North Church tower if the British were advancing by land and "two, if by sea," said Goldfein. But what if the British had been able to split their forces and advance from both land and sea? Goldfein asked. Adapting the poem for modern-day warfare, he spelled out how that might work in the future:
"One if by land, two if by sea, three if by air, four if by space, five if by cyber—more when we converge effects from multiple domains to achieve military objectives," he said. Adding dimensions adds complexities and stretches the enemy thinner with each potential option. "We want our adversaries in the lantern-buying business," he said.
The Air Force has operated in mostly uncontested environments for the past three decades. Now the US is entering a new era of great power competition, the National Defense Strategy argues, requiring a more robust set of capabilities.
In fact, Deputy Defense Secretary Patrick M. Shanahan said at the conference that while the US was fighting insurgents in the Middle East and the Air Force was operating at will overhead, adversaries studied American operations and "built systems and doctrine to thwart" US capabilities.
"The character of war is changing rapidly, dangerously blurring the line between competition and combat," Shanahan said.?"Adversaries increasingly leverage media and hackers instead of fighter jets to achieve their ends."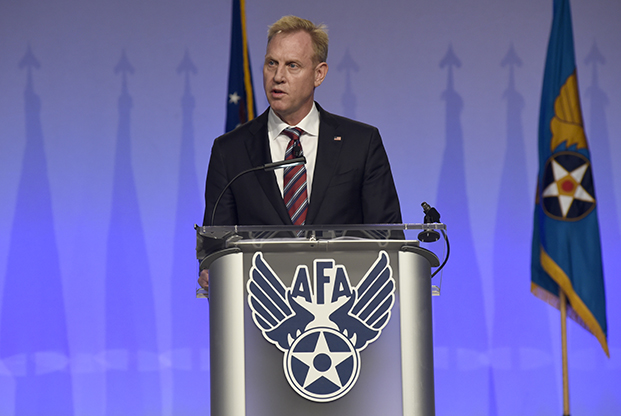 Deputy Defense Secretary Patrick Shanahan said adversaries have studied US capabilities and built systems to thwart them. Photo: Mike Tsukamoto/staff
The USAF has long enjoyed air superiority, but space and cyberspace are more contested domains.
"We're now seeing that we'll have to fight in all three of those domains and converge those capabilities on an adversary in order to win a campaign," said Brig. Gen. B. Chance Saltzman, director of current operations on the Air Staff and the head of Goldfein's multi-domain command and control initiative.
"These have been largely benign campaigns, and as soon as that's not the case we have to do something different to preserve" USAF superiority.
That's what Multi-Domain Command and Control (MDC2) is all about. The Air Force will be called on to project combat power in air, space, and cyber, or a combination of the three, Goldfein said. That could mean sending a single Air Force Reserve WC-130 into the eye of a hurricane or "the rapid buildup of new bases across Eastern Europe to execute expeditionary combat operations to halt enemy activity in support of—and in combination with—our NATO allies."
Most often, he added, it will mean "offering a combination of tailored forces that go forward, with forces that fight from the homeland or provide reachback capabilities that support the fight."

Chief of Staff David Goldfein said the Air Force must project combat power in air, space, and cyber—or a combination of the three. Photo: Mike Tsukamoto/staff
MULTI-DOMAIN IN ACTION
The April attack on chemical weapons facilities in Syria was one of the first opportunities to deploy multi-domain operations since Goldfein tasked Saltzman with studying the concept.
In the early morning hours of April 14 (local time), the United States, United Kingdom, and French forces launched an attack inside Syria, striking Syrian chemical weapons research and storage facilities with 105 varying missiles. It was a response to Syrian leader Bashar Assad's decision to use chemical weapons on his own people.
Just over 24 hours after President Donald J. Trump authorized the strike and forces were notified, F-15Cs assigned to US Air Forces in Europe had deployed to an unnamed staging location in Europe. The Eagles were getting ready to deploy to Morocco for an AFRICON LION exercise, when the majority of the aircraft were redirected to support the Syria operation, they provided defensive and offensive counterair outside of Syrian airspace, supporting other assets in theater, according to a USAF officer who participated in the mission.
"It was a very rapid deployment," he said. "We have a rapid Eagle concept. We trained to that once before. If we get notification to something we can configure our aircraft with live munitions and get out the door quickly." But it didn't hurt that the unit was fixing to deploy anyway—that helped speed up the operation.
One of the challenges, however, was that the AFRICON LION mission was still a go. "There were a few days we had members of the squadron in five different countries," said the officer, whom the Air Force declined to name for operational security reasons. Some members of the squadron went on to Africa, others were at the staging location, some were still at home, and some airmen were operating as liaisons inside the combined air operations center in Germany, he said.
"The stressor part was more starting the airplane without any updated intelligence of what actually happened," said the pilot, who was slotted to "be the end of the coverage." It wasn't until he met up with the first wave of fighters over the Adriatic Sea that he was able to get an updated intelligence report over the radio.
The USAFE-based F-15s and F-16s did not launch strikes, but they did provide airborne surveillance around the Mediterranean Sea. Meanwhile, two USAF B-1B Lancers from the 34th Expeditionary Bomb Squadron at Al Udeid AB, Qatar, escorted by a US Marine Corps E/A-6B Prowler, dropped 19 Joint Air-to-Surface Missiles over Syria, hitting the Barzeh Research and Development Center near Damascus. The US Navy struck with 59 Tomahawk cruise missiles.
F-22 Raptors also "played an integral role" in the strikes, Air Force Central command spokesman Capt. Mark Graff told Air Force Magazine at the time. The fast and stealthy F-22s, he said, were "the only airframe suited to operate inside the Syrian integrated air defense systems, offering an option with which to neutralize threats to our forces and installations in the region and provide protective air support for US, coalition, and partners on the ground in Syria."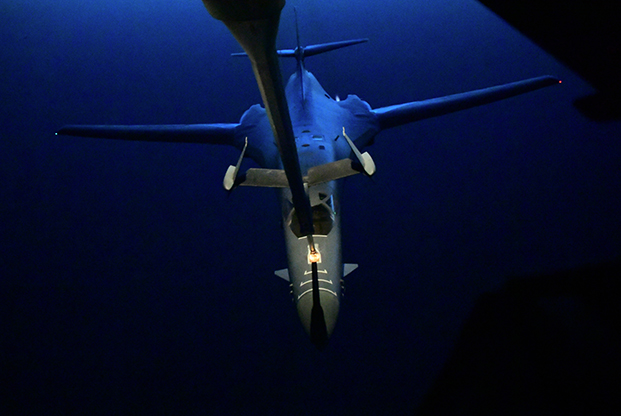 A B-1B Lancer refuels during an attack on Syrian targets in response to Syria's use of chemical weapons. Photo: SSgt. Colton Elliott
The night of the attack, Chairman of the Joint Chiefs Gen. Joseph F. Dunford Jr. had said there was "some initial surface-to-air-missile activity from the Syrian regime," even though the US had "specifically identified these targets to mitigate the risk of Russian forces being involved." The pilots involved still weren't sure what kind of response they would face.
Throughout the course of the mission, the Eagles worked closely with USAF F-16s and other coalition aircraft, providing 12 hours of consistent over watch. The fighters took turns refueling from KC-135s assigned to the 100th Air Refueling Wing from RAF Mildenhall, England, which were in the first wave of aircraft to launch.
Despite weather conditions that were "significantly below minimums" that night, the wing's tankers took off. Visibility was so poor, in fact, they "needed a follow-me truck to find the runway's centerline," said Air Force Secretary Heather Wilson during her keynote address at the conference. But, "If they didn't go, the mission would have to be scrubbed," she added. "They relied on their training [and] confidence in the maintenance and equipment to push the throttles forward."
The risk of conflict with Russia that night was high. Pentagon spokeswoman Dana White said Russian propagandists stepped up activity that night by "2,000 percent" in the wake of the strikes. To mitigate the risk of conflict, the US and its allies deployed assets to several locations to create multiple dilemmas for potential attackers—exactly what the evolving MDC2 strategy calls for.
"I am excited and optimistic about our future," Goldfein said. "I am confident that the American people will hear the alarm as articulated in the National Defense Strategy. That … we will once again choose to defend our great nation, just as we have throughout our history, since that fateful night in 1775."
He paused and added: "They are coming, and we have from this moment forward to get ready. Fight's on."