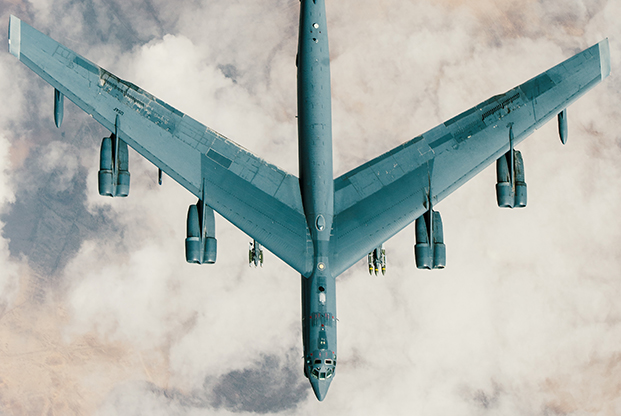 A B-52 during a mission against ISIS in 2017. B-52s set a record of 834 consecutive missions without a maintenance cancellation while flying strikes for CENTCOM. Photo: SrA. Jordan Castelan
The Air Force made the latest rotation in its newest continuous bomber presence—recently sending B-1B Lancers back to the US Central Command area of operations and sending B-52s home after almost two years deployed for the fight against ISIS and the Taliban.
B-52s, deployed to Al Udeid AB, Qatar, since 2016, had been the main bomb trucks for ongoing sorties targeting ISIS in Iraq and Syria and flying over the horizon into Afghanistan as part of the renewed effort there against the Taliban. During their time in the CENTCOM region, B-52s flew more than 1,800 sorties, dropping nearly 12,000 bombs on targets in both theaters, according to CENTCOM.
These B-52s made history in multiple ways. The first deployment of B-52s from the 23rd Bomb Squadron at Minot AFB, N.D., launched 400 consecutive sorties without a maintenance delay, marking the record on the squadron's centennial in June 2017. This beat the previous B-52 record that stood since the legendary Operation Linebacker II in 1972 in Vietnam. Those B-52s deployed from the 69th Bomb Squadron at Barksdale AFB, La., continued this streak, launching a total of 834 consecutive missions without a maintenance cancellation. This number shattered the previous record of 761 missions by B-1s at Al Udeid.
On Nov. 19, 2017, the Barksdale B-52s also became the first BUFFs in Air Force history to employ few bomber's newest weapons capability: the conventional rotary launcher. This upgrade allows the B-52 to carry eight more smart bombs inside its cavernous bomb bay, in addition to weapons carried on the wings.
In February 2018, the bombers took this capability to the Taliban as part of Operation Jagged Knife, a new effort by both US and Afghan forces to target the group's drug and financial infrastructure. A B-52 flew from Al Udeid to Tajikistan—on the Afghan border with China—where the bomber dropped 24 guided munitions on Taliban positions and vehicles stolen from the Afghan army that were being transformed into vehicle-borne improvised explosive devices. This bombing mission set a record for most precision weapons dropped by a B-52 in a single sortie.

A 96th EBS B-52 pilot flies a combat mission supporting Operation Inherent Resolve. The old bombers have flown more than 1,800 sorties in CENTCOM's region. Photo: SrA. Jordan Castelan
These "over the horizon" sorties became increasingly common as the B-52 deployment progressed and ISIS's territory waned in Syria and Iraq. The bombers were an important asset to US forces because they could linger for hours and carry more than 30 bombs to help US and Afghan forces.
"In essence, if we had 30 targets, we could hit 30 targets," Maj. Gen. James Hecker, then the commander of NATO Air Command-Afghanistan and the 9th Air and Space Expeditionary Task Force-Afghanistan, told Air Force Magazine during a 2017 visit to Kabul. "It gives us a fairly large capability."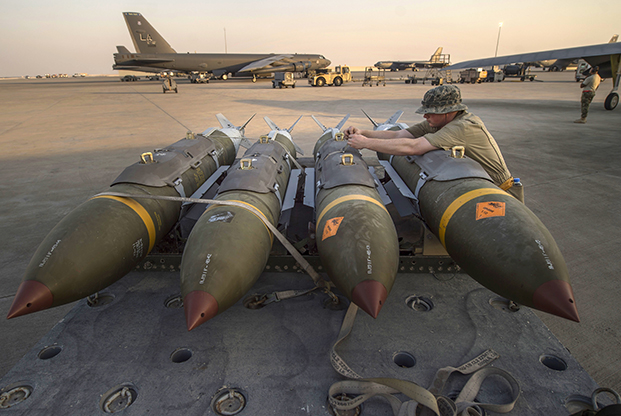 Guided bombs are readied for a B-52 strike. The bomber could linger for hours and carry 30 precision weapons. Photo: Staff Sgt. Trevor McBride
The changeover took place in March 2018, with B-1Bs from Ellsworth AFB, S.D., returning to Qatar and sending B-52s home to Barksdale. The Lancers were originally sent home from CENTCOM in 2016 so they could receive a needed upgrade, called the Integrated Battle Station, which modernized its avionics and data links. Before leaving in 2016, B-1s had been continuously flying in CENTCOM since 2001.
"This B-1 that we're bringing back to the fight is different than any other B-1 that has deployed here before," said Lt. Col. Timothy Griffith, commander of the 34th Expeditionary Bomb Squadron, in a release. "It's the first time this upgraded aircraft is going to be employed in combat and we're honored and humbled to lead the B-1 community back into the AOR."

Maintainers with the 34th Expeditionary Bomb Squadron prepare a B-1B Lancer for a combat operation at Al Udeid AB in May. Photo: 1st Lt. Katie Spencer
The modernized B-1s were immediately put to work and quickly made history themselves. On April 14, a combined US, French, and UK coalition took action in response to a chemical weapons attack by Syrian President Bashar al Assad. US and UK ships and submariners, combined with French aircraft and ships, and UK aircraft targeted chemical weapons production facilities from the Mediterranean Sea. From the south, two B-1Bs from the 24th EBS, escorted by a Marine Corps E/A-6B Prowler and a team of F-22s on standby for force protection, launched 19 Joint Air-to-Surface Standoff Missiles that destroyed the Barzeh Research and Development Center near Damascus. It was the first time JASSMs were used in combat.
On May 1, the US-led coalition and its supported Syrian Democratic Forces announced a new initiative called "Operation Roundup," aimed at getting rid of ISIS's ground presence once and for all in the eastern Euphrates River Valley inside Syria. Coalition air strikes, led by the B-1, immediately increased, with 132 total strikes within 17 days. Bombers targeted ISIS groups, supplies, and buildings in their final strongholds of Abu Kamal and al-Shaddadi.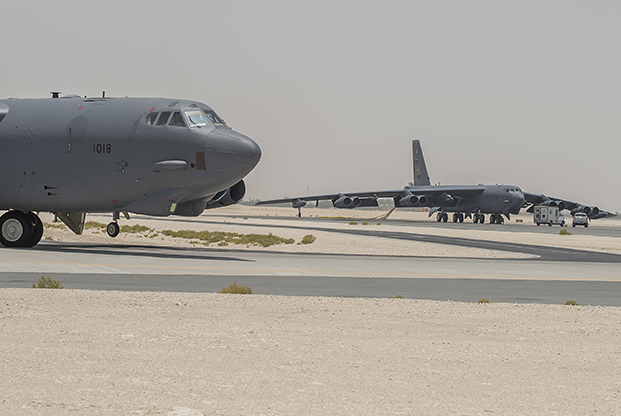 B-52s after a CENTCOM sortie. Photo: Staff Sgt. Trevor McBride
These continued air strikes are "compacting what's left of ISIS in Syria as we deal the final blow," said UK Army Maj. Gen. Felix Gedney, the deputy commander of strategy for Combined Joint Task Force-Operation Inherent Resolve, during a May briefing. "As we have said and proven many, many times over the course of this campaign, the coalition will relentlessly pursue ISIS wherever they are until they're defeated."