An Embraer A-29 Super Tucano releases a laser guided bomb over White Sands Missile Range in New Mexico. Photo: Ethan Wagner/USAF
AFTER FATAL CRASH, USAF ENDS LIGHT-ATTACK EXPERIMENT FLIGHTS
The Air Force in early July announced it will not resume the flying portion of its light-attack experiment, following the June 22 fatal A-29 crash that killed Navy Lt. Christopher Short and injured an airman from Air Force Special Operations Command.
Lt. Gen. Arnold W. Bunch Jr., USAF's top uniformed acquisition officer, said the service had been "very aggressively flying" until operations were paused following the crash. "We flew quite a bit of sorties, so when you combine what we did in the first phase, we have quite a bit of data," he told reporters at the Pentagon.
The service will continue to work with industry, Bunch added, "to complete any remaining test requirements." At the time the Air Force stopped flying, the experiment had completed 90 percent of its scheduled sorties.
As of early July, Bunch said the Air Force was still working to analyze the data it has collected and had not yet decided how it will move forward. If the decision is made to continue, the goal is to issue a request for proposals by December with a down-select anticipated next fiscal year, he added.
"Our No. 1 priority right now is supporting the safety investigation board. After the mishap occurred we analyzed where we were with the flying portions that had occurred, and we decided we had enough data to not go forward and do the flying portion anymore," Bunch said. "If we needed additional data, we could get that through our industry partners. We've done that on other programs."
He declined to say what may have caused the Super Tucano to crash, pending the results of the safety investigation board, or whether the aircraft was considered a total loss, and if so, whether the Air Force or industry would assume that loss.
Air Force spokeswoman Ann Stefanek said SIBs typically take about 30 days and are not releasable. Once the safety investigation board concludes, an aircraft investigation board likely will convene. The AIB findings will be released, but Stefanek said she could not say when that might happen.
"Everybody wants us to go faster, and we would love to go faster. The reality is that buying the aircraft may be the easiest part of the equation," said Bunch. The Air Staff, he added, is still trying to figure out how many pilots and maintainers would be needed for this new mission, how the service can fill those roles, where the aircraft would be based, what the concept of operations would look like, and how to export the chosen aircraft to partner nations. "Right now, we're still progressing down that path. We've not pulled back on the throttle in any shape or form," he added.
The goal of the light-attack experi­ment is to find a more affordable aircraft that can operate in permissible environments, freeing USAF's more advanced fighters to come home and train for higher-end threats.
The service launched the first phase of the experiment at Holloman AFB, N.M., in August 2017, with four participants: the Sierra Nevada/Embraer A-29 Super Tucano, which is already operational in multiple countries, including the Afghan Air Force; Textron AirLand's Scorpion multirole jet, once offered for USAF's T-X trainer program; the AT-802, a militarized crop duster offered by Air Tractor and L-3 Communications; and the Textron Aviation AT-6B, an upgraded version of the T-6 Texan II USAF operates as a primary trainer.
Though initial plans called for a real­life combat demonstration to follow phase one, the service later decided to move ahead with a second phase experiment at Holloman instead. The A-29 and the AT-6B were selected to participate. The second phase kicked off in early May and was expected to last through late July. It is focused primarily on logistics and maintenance requirements, weapons and sensor issues, training, networking, and interoperability with partner forces.
Experimenters were tasked with finding a network that is "100 percent exportable," can be installed on a variety of aircraft, and then flown, said Bunch.
Although USAF has already done "quite a bit of experimentation" on the network, Bunch said the service planned to continue experimentation using what he called "surrogate aircraft," though he said that work will not necessarily take place at Holloman.
When asked why USAF didn't just continue testing the network on the AT-6, he said the "system we're trying to put in place is not just going to be limited to the light-attack aircraft, we're trying to develop a network we can put in other aircraft as well, and we can get the results out of that without necessarily flying the AT-6." He declined to say what aircraft would serve as surrogates, saying only it could be existing USAF assets or industry aircraft.
The Air Force also announced in early July it was "rescheduling" a July 19 distinguished visitors day, to which it had already invited "more than 50" allies and partners to come to Holloman and see what the service had accomplished so far.
Bunch emphasized that the DV day has not been canceled, saying the service is trying to be as transparent as possible with allies and partners as it looks for the "right time and right location" to reschedule the event.
Air Force leaders have said the light-attack experiment was also a test to see if the service can partner with industry to deliver much-needed capability to the warfighter faster and more affordably.
"Our adversaries are modernizing faster than we are, and it's up to the United States Air Force to drive innovation," Air Force Secretary Heather Wilson said in August 2017 during the first phase of the experimentation. "We have to think about things in new ways and identify new capabilities faster than we've done in the past."
Though the fatal A-29 crash was tragic, Bunch said it doesn't necessarily mean the light-attack experiment can't still change the way the Air Force does acquisition.
"Anytime you lose an airman, you have to pause and think a little bit about where we're at," said Bunch. "The loss of Lieutenant Short is a critical setback for America writ large, so that's a big hit for all of us. Having said that, we were trying a different approach, we believe we have collected the data using that approach, and we believe we will use similar approaches in the future."
—AMY MCCULLOUGH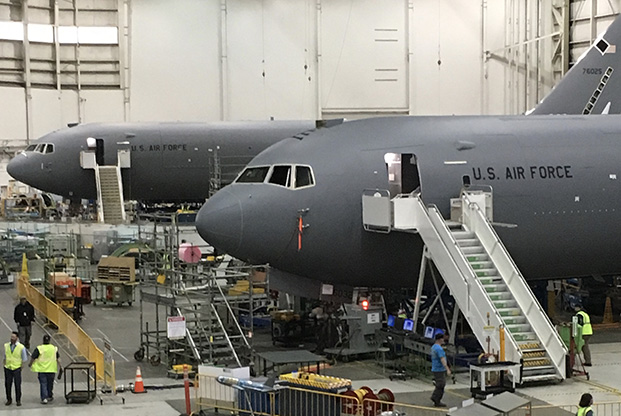 A KC-46 undergoing final assembly in May at Boeing's Everett, Wash., facility. Photo: John Tirpak/staff
USAF'S OLDEST JET, ON THE FRONT LINE IN THE PACIFIC
Andersen AFB, Guam—
Before they can fly the newest air refueling tanker, airmen with the New Hampshire Air National Guard are refueling aircraft throughout the Pacific in the oldest.
The airmen are flying KC-135R, tail number 57-1419, the oldest Stratotanker—and the oldest aircraft—currently in the Air Force's fleet. The Block 40 variant of the refueler still doesn't have modernized avionics like the rest of the fleet, but its mission capable rate is high, which is "pretty impressive," given the operations tempo and environment in Guam, said Lt. Col. Nelson Perron, commander of the 506th Expeditionary Air Refueling Squadron.
"[Guam] is a harsh environment, bringing unique challenges," Perron said.
The aircraft is one of six KC-135s deployed to Andersen. The others include one from the Nebraska Air National Guard, two from the Alabama Air National Guard, one Active Duty aircraft from MacDill AFB, Fla., and one Reserve aircraft from Tinker AFB, Okla.
Guardsmen typically rotate through the base every 60 days and fly regularly, Perron said. The aircraft themselves need down days, which is why 57-1419 was parked in a hangar on a recent afternoon to be thoroughly washed to avoid corrosion. The KC-135s at Andersen need to be washed-down every 30 days, at a minimum.
The six tankers are responsible for supporting the continuous bomber presence at Andersen, regularly topping off thirsty B-52s as they fly both local training missions and longer deterrence flights through the Pacific. They also support "coronet" missions, where they refuel fighter jets that deploy across the Pacific, including F-35s and F-22s that deployed to Kadena AB, Japan. This means flying flights that range up to nine hours long, though that "isn't all that long" for a tanker, Perron said.
Perron himself said he first deployed to Guam in 2005 and has been here six times since. "Now we're flying more missions and more of a variety of missions," he said. The mission is "dynamic," because sometimes tankers surge for large-scale exercises, such as Cope North at Guam, or fly support for high-profile missions, such as the B-52's deterrence flights through the region. Supporting those missions make the airmen "proud, seeing how much people care about this," said SrA Clare Handy, a maintainer with the 506th EARS, who is at Guam on her first deployment.
The New Hampshire Guard will soon retire its KC-135s and move on to KC-46s. It's expected to receive its first Pegasus aircraft beginning next year.
—BRIAN W. EVERSTINE
USAF to Receive First KC-46 in October
The Air Force will accept the first KC-46A tanker ready for operational duty in October, with the balance of the first 18 contractually obligated aircraft to be delivered by April of next year, the service announced in June.
The announcement puts firm dates to a plan that had been in flux, as Boeing missed delivering the first tanker by the original target of last summer.
Recently, the company said it would deliver the first jet by the end of this year, while the Air Force said by its reckoning the milestone wouldn't happen until next spring or summer. In May, the service refused to accept any KC-46 deliveries because of deficiencies in its boom refueling system. The Air Force did not say whether the boom issue has been resolved to its satisfaction.
"While the KC-46A flight test program is nearly complete, significant work remains," Undersecretary of the Air Force Matthew P. Donovan said in a statement. "The Air Force is looking forward to KC-46A first delivery and will continue to work with Boeing on opportunities to expedite the program."Boeing, in its own statement, said the announcement shows the team has made "great progress."
"With first delivery now set, the men and women of the Air Force know when they will start receiving this warfighting capability," the contractor noted. The company asserted it has "the best of Boeing working to ensure the US Air Force gets [its] tankers as quickly as possible."
Boeing Defense President Leanne Caret said recently the KC-46 was the single top priority for the company, after USAF leaders complained Boeing was overly attentive to its commercial aircraft business, at the expense of the tanker.
The KC-46A, which is a derivative of Boeing's 767 freighter, has suffered a number of setbacks since the company prevailed over Airbus in the KC-X competition in 2011. The fixed-price development program for the aircraft has a ceiling price of $4.7 billion, but Boeing has already written down more than $3 billion in cost overruns on the new tanker.
Boeing is to deliver 179 tankers in total to the Air Force by the end of 2028, at an expected rate of about 15 per year. The original estimate of the program's value was $35 billion.
The Air Force also plans a KC-Y tanker program to replace most of the rest of its Eisenhower-era KC-135s and Reagan-era KC-10s. Air Mobility Command has said it may opt for a small, stealthy aircraft to complete its modernization of the tanker fleet, in a program still notionally called KC-Z.
AMC has also said it may forego a KC-Y competition and simply buy the next batch of tankers from Boeing.
—BRIAN W. EVERSTINE AND JOHN A. TIRPAK
SOUTHCOM WANTS TO BE NEW CAPABILITIES TESTBED
Like all combatant commanders, the head of US Southern Command wants more assets in theater, and he's willing to get creative to get them.
"Our bumper sticker is, 'If you have something new to try, try it here,'?" SOUTHCOM boss Adm. Kurt W. Tidd told reporters in June in Washington, D.C. "We've had some good luck in bringing out some developmental programs that perhaps aren't quite ready for deployment to a higher risk theater. We're very interested in those types of things."
Tidd said it's "very much a work in progress," but the command regularly partners with Defense Department labs, which are looking to apply things like artificial intelligence and machine learning in the field. The goal is to take manpower-intensive processes "created to deal with conflicts in other theaters" and find significantly more efficient ways for them to work, and then develop that in a way that enables the US to easily share information with its partners, he said.
"Because that's an interest to other theaters as well, we can be kind of a test platform for breadboard types of capabilities to try some things out on a smaller scale, but still a meaningful mission, and then feed that into development," he said.
When asked if the command was working closely with the Air Force and Army as the services explore ways to improve multi-domain command and control, Tidd said he's asked USAF Chief of Staff Gen. David L. Goldfein and Chief of Staff of the Army Gen. Mark A. Milley what they are looking for, and whether there was anything specific they were ready to "take on the road."
"Honestly, they are still trying to take it from the conceptual to the actual hardware, but those are the kinds of things we'd be very interested in hearing more about," Tidd said.
—AMY MCCULLOUGH
SHOULD CHINA FACE COLD WAR-LIKE TECH RESTRICTIONS
China is the principal bad actor when it comes to both military and industrial espionage, and although there are others, "we have to prioritize" dealing with China because it is such a huge problem, Undersecretary of Defense for Research and Engineering Michael D. Griffin told Congress in June.
At a House Armed Services Committee hearing on military technology transfer, Griffin said the US has been hemorrhaging secrets to China for many years because the US "chose not to" recognize that great power competition didn't end 27 years ago, and China has a state policy to advance its technology through any means necessary.
Kari A. Bingen, deputy undersecretary of defense for intelligence, read out loud a Chinese law compelling Chinese state-run and nonstate-run industry and academic institutions to actively cooperate with Chinese intelligence.
It's now up to the US to decide whether it's going to take Cold War-era measures to rein in China's vast information-collection enterprise, Griffin said. He noted that it would have been unthinkable during the 1980s to have joint ventures with Russia involving sensitive, dual-use technology or to allow thousands of Russians to study at American universities, but the US routinely relies on Chinese electronics used in defense systems and hosts more than 30,000 Chinese seeking technology doctorates from US universities.
Moreover, as China has undercut US prices and invested more heavily in electronics, it has a gained a technology edge in this area. More companies seek to "buy the best" and so resort to Chinese vendors. With those products inevitably come electronic backdoors for spying, Griffin said.
Griffin called China's commercial joint ventures with US companies "predatory" and said he is working to create incentives for industry not to cooperate with China on sensitive technologies where "their objective is to put [American companies] out of business."
China, he said, "is playing the long game."
Most of the problem, Griffin said, is that permission to conduct business with Chinese companies, or allow student visas, or buy Chinese products, or allow Chinese companies to buy US companies or real estate in close proximity to sensitive sites, etc., are decisions "made in isolation" from one other. The US needs to assess the whole of China's campaign and look at such individual initiatives in the broader context. China, he said, is "an adversary … acting in an adversarial manner" and should no longer be viewed merely as a mischievous trading partner.
Bingen said in addition to price, performance, and schedule, US contractors must now be assessed on security as well. Companies need to see that a robust effort to protect their secrets is not an expense but an investment in their own future competitiveness.
Members of the committee asked if the US is taking any offensive action against China—such as deliberately allowing that country to steal false information—to create a deterrent or throw a monkey wrench into its development efforts based on stolen technology. Griffin acknowledged such an effort but would not discuss it in open session.
Griffin and other witnesses were asked several times about the Trans-Pacific Partnership agreement and how it might have had an effect on the Chinese industrial espionage situation, but they all demurred, saying such things were beyond their purview.
Several members complained that while the witnesses touted an "all-of-government" approach to dealing with China, there was no evidence of that in discussions of the TPP. "Whole of government is a phrase thrown around like candy at a parade," Rep. Rick Larsen (D-Wash.) complained to the witnesses. "It's frustrating … you're not living up to it," he said.
Asked why the US seems to have lost its lead in hypersonics, Griffin responded that the US "let it lie for a while" after doing early pioneering work. "That was our choice as a nation," he said, and one that "we are working to correct" with all possible speed. China, meanwhile, took full advantage of US research, combined it with stolen information, and pumped it up with a massive infusion of funds to achieve the lead, Griffin explained. He acknowledged a similar situation with directed energy.
—JOHN A. TIRPAK

Gen. Lawrence Skantz in 1986. Photo: USAF
GEN. LAWRENCE A. SKANTZE, 1928-2018
Gen. Lawrence A. Skantze, who headed the E-3A AWACS development program and oversaw the buildup of Air Force stealth technology, died June 18 at age 89.
Skantze enlisted in the Navy in 1946, serving as a radio operator until his 1948 appointment to the US Naval Academy. Upon graduation, he accepted a commission in the Air Force. He earned his wings in 1953 and flew the B-26 bomber, taking a first assignment in Korea after the end of hostilities there. In 1959 he earned his master's degree in nuclear engineering through the Air Force Institute of Technology, after which he worked on a commission exploring the feasibility of atomic-powered airplanes.
Following Armed Forces Staff College, he was assigned to Air Force Systems Command, where he headed system engineering and advanced planning for the Manned Orbiting Laboratory, USAF's never-launched space station. Later he ran the AGM-69A Short-Range Attack Missile nuclear weapon program.
In June 1973, Skantze took over the E-3A AWACS program, shortly after its first flight. He directed its development through initial operational capability and frequently testified before Congress to explain the politically beleaguered system's military worth. In 1977, he became deputy chief of staff of Systems Command, taking over Aeronautical Systems Division two years later.
In those jobs he oversaw prototype projects for stealth technology. He continued that work in his next post, as deputy chief of staff for research, development, and acquisition. In that job he presided over all USAF technology development and fielding programs, which at that time centered on the Senior Trend program (the F-117), the Advanced Technology Bomber (B-2), introduction of the F-16, and the restart of the B-1 bomber.
Skantze received his fourth star in 1983 and served as USAF Vice Chief of Staff until 1984, when he became head of AFSC, the position he held until his retirement in 1987. On his watch at Systems Command, he supervised the Air Force's share of the 1980s US military reset, which included the buildup of the F-117 fleet to near-wing strength; the redesign and production launch of the B-2; production of the F-15, F-15E, and F-16 fighters; launch of the Advanced Tactical Fighter program, which led to the F-22; and a number of classified space projects.
Skantze was planning to make a flight aboard the Space Shuttle as a mission specialist on a classified mission, but the 1986 Challenger disaster eliminated VIP astronaut flights and the shuttle did not resume missions until after his retirement.
Skantze was a consultant and advocate for aerospace education in his post-Air Force career. He received the Air Force Association's Lifetime Achievement Award in 2010.
—JOHN A. TIRPAK