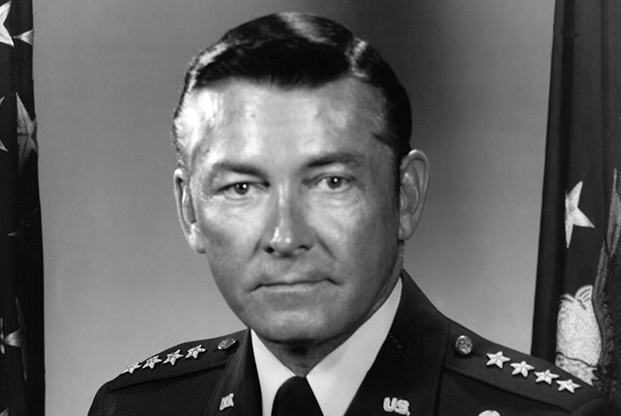 Gen. Wilbur Creech. Photo: USAF
The man whose name graces Creech AFB, Nev., was described upon his death in 2003 as "a leader, visionary, warrior, and mentor."
Gen. W. L. Creech was so described by Gen. John P. Jumper, Air Force Chief of Staff, who flatly declared that Creech "transformed the way the Air Force conducts warfare."
Creech had a glittering career—280 combat missions, 22 decorations for valor, 524 flights in the Thunderbird and Skyblazer demo teams, and twice a wing commander in Cold War Europe.
Yet his greatest triumph was transforming Tactical Air Command from post-Vietnam basket case into the sword of Desert Storm.
Wilbur Lyman Creech—he went by "Bill"—came out of high school in 1944 and enlisted in the US Army. In 1948, he entered the aviation cadet program and received his wings in 1949.
Young Creech flew 103 F-80 combat missions in the Korean War. His second war was in Southeast Asia in the late 1960s; there, he flew 177 F-100 combat missions.
Wherever he went, Creech won plaudits—as flight training commander, aerial demonstration leader, foreign air force adviser, Fighter Weapons School leader, and more.
He was determined. He worked for 16 years toward his college degree, graduating from the University of Maryland in 1960 at age 33.It was his time leading Tactical Air Command—May 1978 through September 1984—that was truly momentous.
In the austere post-Vietnam years, TAC was languishing. Poorly maintained fighters were rated combat-unready. TAC's pilots got few flight hours. The aircraft accident rate was high. Pilots and technicians were leaving the force in huge numbers.
Creech brought a new theory, decentralization, and a new management policy—combining operators, maintainers, and suppliers into squadron-level teams.
The goal: Empower smaller units to make decisions about how to best get the job done.
It worked. By the time Creech left TAC, readiness rates for aircraft were up, and the accident rate was down. TAC pilots were flying sufficient hours.
Retention soared. Creech also lifted TAC by:
Shepherding into the force F-15, F-16, F-15E, and F-117 fighters, as well as the AMRAAM and LANTIRN night-targeting system.
Introducing new tactics, such as defeating air defenses with radar jamming, standoff missiles, and stealth.
Developing new leaders.
Gen. Ronald R. Fogleman, a former CSAF, said, "Creech educated the next two generations of four-stars."
Just before Desert Storm, then-CSAF Gen. Merrill A. McPeak wrote to Creech: "We need to recognize that we are beholden to you, because you really built this magnificent Air Force we have today."
In 2005, the Air Force renamed Indian Springs AF Auxiliary Field, Nev., to honor the late general. Creech Air Force Base is home to the 432nd Wing and 432nd Air Expeditionary Wing, an MQ-9 Reaper outfit. It is the command and control center for UAV missions worldwide.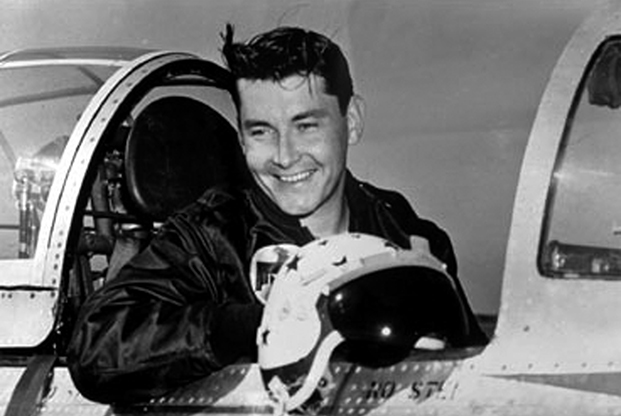 Creech as an early member of the Thunderbirds. Courtesy photo
WILBUR LYMAN CREECH
Born: March 30, 1927, Argyle, Mo.
Died: Aug. 26, 2003, Henderson, Nev.
College: University of Maryland, College Park, Md. (B.S. 1960)
Occupation: US military officer
Service: US Army (1944-47); US Air Force (1947-85)
Era: Postwar
Years of Service: 1944-85
Combat Zones: Korean War, Vietnam War
Final Grade: General
Honors: Distinguished Service Medal (2); Silver Star, Legion of Merit (3); Distinguished Flying Cross (4); Air Medal (15); Air Force Commendation Medal (3); Army Commendation Medal; Presidential Unit Citation; Air Force Outstanding Unit Award (2); American Campaign Medal; World War II Victory Medal; Army of Occupation Medal; National Defense Service Medal (2); Korean Service Medal (10); Armed Forces Expeditionary Medal; Vietnam Service Medal (4); ROK Presidential Unit Citation; United Nations Korea Medal; RVN Campaign Medal; Vietnam Air Service Medal; Grand Cross of Aeronautical Merit (Spain); Korean Order of National Security Merit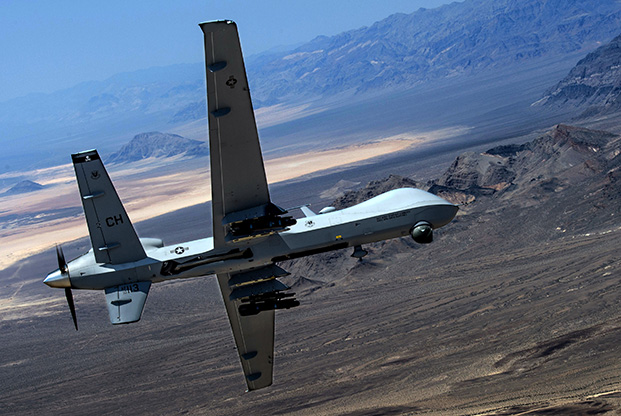 An MQ-9 Reaper over Creech Air Force Base, Nev. Photo: SrA. Cory Payne
CREECH AIR FORCE BASE
State: Nevada
Nearest City: Indian Springs
Area: 3.6 sq mi / 2,300 acres
Status: Open, operational
Opened as Indian Springs Airport: March 1942
Renamed Indian Springs Army Airfield: February 1943
Inactivated: January 1947
Reactivated as Indian Springs AFB: January 1949
Renamed Indian Springs Air Force Auxiliary Field: April 13, 1964
Renamed Creech AFB: June 20, 2005
Current owner: Air Combat Command
Former owners: USAAF Training Command (1942), Air Training Command (1948), Air Research and Development Command (1952), Tactical Air Command (1961), Air Combat Command (1992)