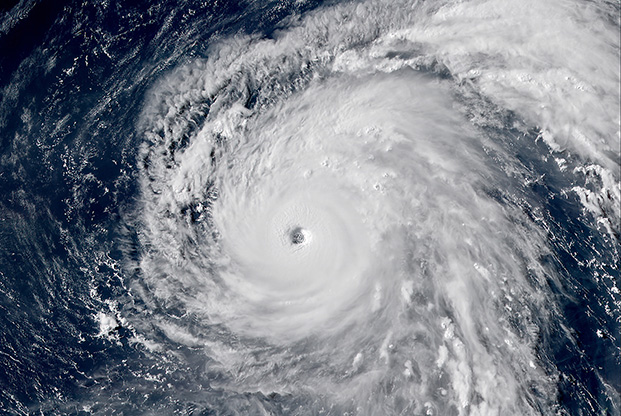 A satellite image shows Typhoon Maria near Japan at its peak intensity. Photo: Japan Meteorological Agency
In Okinawa, the question is not whether a typhoon will hit. It's a question of how big it will be when it makes landfall.
But no matter what the answer to that question is, airmen with the 18th Wing at Kadena AB, Japan, will have done everything possible to prepare.
"The good thing about being at Kadena and being in a tropical environment is we expect typhoons, right? So all of our structures are concrete structures. So they're 100 percent ready for typhoons," said SMSgt. Eric Davis, superintendent of heavy repair for the 18th Civil Engineer Group, a week after the island's first typhoon of the season. "They're made to withstand these types of winds," he said.
Because the buildings are solid concrete, there is "not really a concern with facilities blowing over," and there's far less storm prep required than for brick or wooden structures, Davis explained. Still, that doesn't mean the civil engineers can sit back and relax as a storm churns toward the island.
The Department of Defense has a Tropical Cyclone Conditions of Readiness (or TCCOR, pronounced "tea core") system to keep US service members and their families updated about severe weather; the commander of the 18th Wing makes all decisions regarding TCCOR status for the entire island of Okinawa, using information provided by the Kadena weather flight.
The idea behind the system is to allow for good preparation leading up to a storm and to allow for a quick recovery to full mission capability afterward, 18th Wing Commander Brig. Gen. Case Cunningham said in a written release.Okinawa stays in TCCOR 4 status—which means destructive winds of 50 knots or greater are possible within 72 hours—throughout typhoon season, which runs from June 1 to Nov. 30.
"Seasonally in Okinawa, we stay in TCCOR 4 because we're a little bit further south, we're out here in the Pacific further, we're closer to the action," explained MSgt. Michael Rosales, flight chief with the Kadena weather flight.
The warm water and other favorable conditions during the season mean that a storm in the vicinity of Okinawa could form "at any moment's notice," Rosales added, and they "do take off fast."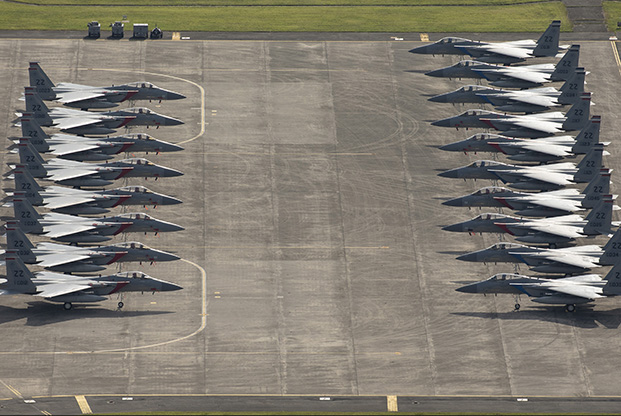 For the first time, all 18 F-15s from Kadena Air Base were evacuated to Yokota Air Base in Japan ahead of a typhoon threat. Photo: Yasuo Osakabe/USAF
Once a storm has developed and is within 300 miles of the island, Rosales said, the weather flight will keep a close eye on it and give the wing commander all the information he needs to determine whether and when to change the TCCOR condition.
In the past year, the Air Force weathermen have made a concerted effort to reach out to Marine Corps and Navy weather professionals on the island and incorporate their information into the forecast as well. This way, the airmen can give the wing commander "one product that is the most accurate, reliable, credible source of information to make a good decision," Rosales said.
"It's not just about what happens here at Kadena," he added. "What we're saying here affects everybody."
The goal is "not to change [the TCCOR condition] unless we do have a storm formed that we're tracking to come close to and/or over the island of Okinawa," Rosales added. "We don't really want to decrease in TCCOR for no reason."
Even before a change in TCCOR condition, the civil engineers start preparations.
An hour after Davis spoke to Air Force Magazine, he attended a meeting about the impact of Super Typhoon Maria, which was not a direct hit but still pounded Okinawa with 160 mph winds and heavy rain in early July.
And as the TCCOR condition goes from 4 to 1—winds of 50 knots sustained or greater anticipated within 12 hours—the civil engineers have a checklist of things to do. One of the first tasks is making sure the sand piles at Kadena are ready so people who live or work on base can fill their sandbags.
They also take down directional signs prior to a big storm, he said.
"So, those big signs that say BX over there, commissary over here, we remove those just to make sure there's not any flight hazard during typhoons," Davis noted.
Civil engineers also move critical vehicles and water buffalos (large-capacity water trailers) inside, so they won't be damaged during the storm. The equipment can then be used for recovery operations, he said.
"We have an A-to-Z checklist for each TCCOR," Davis explained.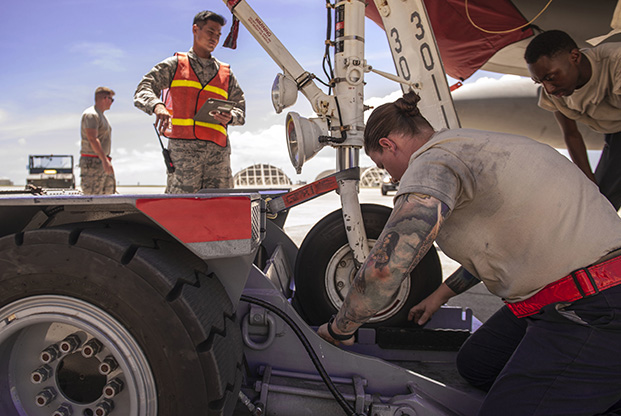 18th AMS maintainers at Kadena AB, Japan, prepare for Typhoon Maria by moving jets and equipment from the flight line. Photo: Naoto Anazawa/USAF
Every building has a facility manager who makes sure everything's sealed up, including computers, so that if there's a leak, there won't be an impact on the network, Davis said. They also sandbag windows and doors to keep rainwater from coming in, and aircraft are moved into hardened hangars.
"Facility managers are kind of extensions of our eyes and ears … [and] also play a huge role in the typhoon readiness process," since the civil engineers can't be in every building all the time, Davis said.
Storms hit Okinawa pretty frequently during the summer, but Lt. Col. Jason Somers, deputy commander of the 18th Operations Group, said Kadena leadership is "rarely surprised by the weather" because of the 24/7 work of the Operational Support Squadron's Weather Flight, which disseminates observations, forecasts, weather watches, and advisories for the airfield and surrounding area.
When a serious storm is coming, aircraft are either hangared for the duration or flown to different locations, Somers said.
"High or excessive wind speeds potentially damage cars, buildings, windows, power lines, and even the most technologically advanced aircraft in the world.
When the aircraft are hangared to avoid storm damage, it is easy to conclude that no flying and therefore no flight training or operational missions are possible," Somers explained.
But for the aircraft that evacuate elsewhere, there can actually be "new opportunities," he said.
"Evacuating aircraft are often available for operational or training missions where, under fair weather conditions, these Kadena aircraft are normally previously tasked and unable to accept the mission," he noted.
When the planes are going to be evacuated, other combatant commands are informed and may request Kadena aircraft to support other missions outside the Pacific region, Somers explained.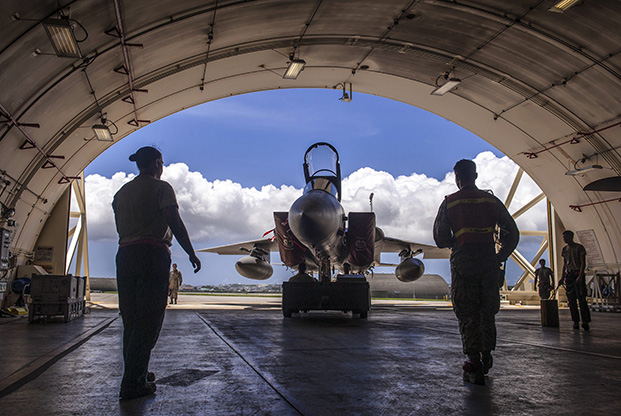 In preparation for Typhoon Maria, an F-15 is towed into a protective shelter to prevent damage. Photo: Naoto Anazawa/USAF
Col. Scott Rowe, commander of the 18th Operations Group, "looks for the silver lining in even the most severe typhoon phenomena," Sommers said.
Members of the ops group look to "utilize every opportunity to improve themselves, their readiness, and their ability to accomplish the mission," Somers said. While typhoons have an impact, they don't exempt the airmen from that challenge, so the Kadena community will attempt to maximize training where they can.
Once the storm is imminent, a team of 30 technicians from the civil engineer group takes their places in their specific shops, connecting with the weather flight through a hotline forum for continuous updates.
After the storm has passed, that "ride out" team is the first to go outside and check the conditions for everyone else.
Even with all the preparations, "there's always going to be some kind of recovery," Davis said.
For example, Typhoon Prapiroon, which was a Category 1 typhoon when it passed by Kadena in early July, was not a very big storm, but it still downed tree branches, clogged the drainage system, and caused a few power outages in the munitions storage area, Davis noted.
Super Typhoon Maria was a bigger threat. The Air Force evacuated 18 F-15 Eagles and eight F-22s from Okinawa to Yokota Air Base on mainland Japan in advance of Maria, which marked the first time all of Kadena's F-15s were moved to Yokota, according to the Air Force.
The storm shifted and weakened before passing Kadena, but the island still felt periods of tropical-storm-force winds and a peak gust of 58 mph, The Weather Channel reported.
Security forces and civil engineers go out as soon as the TCCOR status is changed to 1-R (recovery), so security forces can open the gates, and civil engineers can clear any hazards for mission-critical people to return to base.
Once the wing commander gives the all clear, everything goes back to normal—until the next storm.
Jennifer Hlad, a freelance journalist based in the Pacific region and a former Air Force Magazine senior editor. Her most recent article, "The All-in-One Kill Chain," appeared in the August 2018 issue.