USAF Assistant Secretary for Acquisition, Technology, and Logistics Will Roper (right) preps his team before Air Force Pitch Day in New York City in March. Some 51 firms won contracts totaling $3.5 million at the event. Photo: TSgt. Anthony Nelson Jr.
The military industrial base has been consolidating for decades and represents only part of American industrial might and ingenuity. For the Air Force to remain globally competitive in the future, experts say, it must discover new and better ways to tap the entire US industrial base, rather than just traditional suppliers.
Put another way, the Air Force cannot afford to be dependent on just a few big prime contractors to solve all of its technology and weapons requirements.
"We will not compete and win, not over the long term, if we have one hand [tied] behind our back in terms of who we can partner with," said Will Roper, assistant secretary of the Air Force for acquisition, technology, and logistics.

The Air Force's Kessel Run Project is revolutionizing how USAF engineers use software. Here, Engineering Practice Lead 1st Lt. Justin Hohman (l) and Chief Product Officer Adam Furtado code together, an approach designed to improve contextual understanding across teams and accelerate software development. Photo: J. M. Eddins Jr./USAF
The days when defense requirements were driving technological change, spinning off capability that could be commercialized by others in aviation and space, have given way to a new era. Commercial demand and scale outstrip those of the Pentagon, and clunky acquisition processes can't keep pace with the rapid advancement of commercial software and computing technologies.
That's why the Defense Department created its Defense Innovation Unit and why the Air Force established AFWERX: to create an agile acquisition capability that could operate at the blazing speed of technology, rather than the glacial pace of conventional contracting. Being able to move fast is especially important to get the attention of startup businesses that can't afford to stand by for months, or even years, waiting for a contract to come through.
"If you're a startup and you're 10 to 20 people, you can't wait three months for that contract," Roper said. "You have to be able to move in a week. We really want to be able to move in a day."
Today's tiny tech startup could be a household name 10 or 15 years from now.
"Can we risk the next generation of companies not knowing us, … not knowing the Air Force or your Department of Defense?" Roper asked. "That's a naïve position."
The Air Force's first-ever "Pitch Day," held March 6-7 in New York City, looked to open the door to small businesses, universities, and research centers and prove how easy it can be to work with the Air Force.
The service asked businesses to submit a small pitch deck of five pages or less detailing innovative ideas that could help solve the Air Force's most vexing problems in three areas:
Command, control, communications, intelligence, and networks (C3I&N), such as cyber-resilient aerial networks, agile communications, modeling and simulation of the aerial network, and machine learning in regard to data capture and analytics.
Intelligence, surveillance, and reconnaissance and Special Operations Forces, involving challenges Air Force Special Operations battlefield airmen may face in the field, such as portable water desalination or portable weather sensors.
Digital technology that can help secure cloud operations, trust in open-source software, and automate cyber security processes.
In all, 417 proposals were submitted to the Air Force. Program executive officers in each of the three focus areas got just two weeks to review them and narrow the field to 60 proposals from 59 small businesses, who would get to make their pitch live. The goal: Walk out the same day with a contract.
About half of the companies had never worked with the US government before, said David E. Shahady, program director of the Air Force's Small Business Innovation Research and Small Business Technology Transfer (SBIR/STTR) program.
Source: USAF Small Business Innovation Research
PUT THAT ON VISA
Each of the companies was allowed 15 minutes to make their pitch, which ranged from using artificial intelligence to help analysts pore through data more quickly, to medical devices that could help pararescue jumpers rapidly stabilize patients in the field.
When it was over, the Air Force had awarded 51 Phase 1 SBIR contracts worth $3.5 million, paid for on the spot with the swipe of a government credit card. So intense and unusual was the card's activity, in fact, the credit card was temporarily locked down while the bank investigated potential fraudulent charges.
"We had a US Bank representative here, and I'm really appreciative we did," said Maj. Gen. Cameron G. Holt, deputy assistant secretary for contracting. "We had to shut down US Bank's fraud detection software completely. I don't know why it was bothered by some young lady spending $50,000 a pop in Times Square."
In addition to the $3.5 million spent on Pitch Day, another $5.25 million is already committed for follow-on work. Of the 51 contracts awarded, 16 were related to C3I&N, 19 fell in the ISR/SOF category, and 16 were digital technology awards.
Prior to Pitch Day, the fastest the Air Force had ever paid a contractor was about three months, Roper said. On Pitch Day, however, the average was 15 minutes, and "the fastest we did was three minutes," Roper said.
Or as one startup executive marveled to Col. Dale White, program executive officer for ISR/SOF: It was "quicker to get an Air Force contract than it is to get a beer in New York City."
Fast payment wasn't just a gimmick. Roper saw it as an imperative, and using a credit card—which raised eyebrows in Washington—was the only way to get it done that fast. Speed matters because in the time it can take for a government contract to come through, a small company can literally wither and die.
Take Consul Systems, a small business that earned a contract to better protect "critical device-centric networks in production weapon systems, clinical healthcare, and facility management." Doug Gourlay, the company's chief executive, said as soon as he returned to his hotel room after Pitch Day, he received a call from his banker. "He said, 'Do you need a loan?' I said, 'Well, they actually paid me today.' And, then he said, 'That usually takes at least 120 days. Don't you need a bridge loan?'?" Gourlay said. "This was the fastest government thing I've ever seen."

Danny Nguyen, a sheet metal mechanic at Tinker AFB, Okla., repairs a panel for a KC-135 vertical stabilizer. Photo: Kelly White/USAF
LIFE SUPPORT
Securisyn Medical received funding for its SolidAIRity device—a fully integrated airway stabilization system that can provide much-needed stabilization to ventilated patients. Company co-founder Elyse Blazevich said more than 33,000 people will die in 2019 when a tube that's been inserted into a patient's airway is pulled out prematurely or inadequately.
"In austere conditions of combat casualty care, if you don't have an airway, you don't have a patient," Blazevich said in her pitch.
Special operators who heard the pitch explained the impact such a device could have. In the field, PJs caring for the wounded must monitor intubated patients until the tube is successfully removed. Because the SolidAIRity device is more reliable than a conventional tube, PJs could be freed to attend to other wounded troops instead.
"How do we not already have this capability?" White asked.
In fact, such face-to-face interactions provided critical "learning moments" for Roper, who found that some proposals that initially generated less interest quickly jumped to the top of the list after their presentations.
"We've never had industry in the room for source selection," Roper told participants when it was all over. "We set that precedent today. It was real-time acquisition."
Now Roper wants to push the concept out into the field. "Pitch Days are now available for anyone to run," Roper said. "We're already working with PEOs who are ready to run Pitch Days in their backyards. We want it to be everywhere there is technology, and ideas, and passions. Maybe we will do a big Super Bowl of Pitch Days at some point. I could see that being an opportunity to give companies a big chance."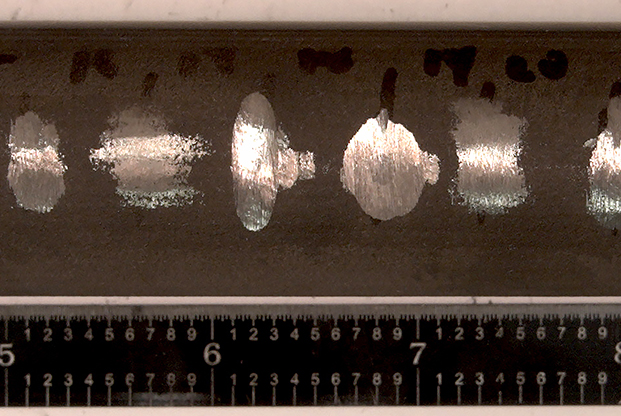 USAF's new Rapid Sustainment Office is exploring new technologies that can cut the costs of maintenance, such as the application of cold spray technology, an additive manufacturing process that enables maintainers to restore metal parts by adding metal back where it has been worn away. Depots at Tinker and Robins AFB, Ga., are already using the process. Photo: John McClure/USAF
THE BIG IDEA PIPELINE
Pitch Day is an example of how the Air Force can get better at tapping the potential of nascent, innovative companies that can inject valuable new ideas into the service's pipeline. The Air Force still needs the big primes to manage its biggest programs, according to Roper, but it also needs access to the engines of innovation outside its traditional supplier base.
Major procurement "competitions are few and far between," he said. "Don't think this is about not needing our traditional companies. We need them, but we can't create a [business] environment that continues to collapse the number of companies that work with us."
Roper said one of the "fundamental flaws" of the current system is that it can take decades to build and field new fighters or bombers, leaving little room for innovation. Once those programs are over, industry often has a difficult time holding on to its experienced personnel. He wants the Air Force to create a "big idea pipeline," through which both defense primes and dual-use commercial companies can flow, ensuring the service never runs out of new ideas.
The existing acquisition system tries to predict the future, then places its bets on one or two big threats and tries to solve those problems. Roper sees that as risky and naïve. Artificial intelligence, quantum computing, or other emerging technologies can mature faster than anticipated and suddenly "blow the lid off of this," he said.
To overcome that tendency, the Air Force must change its mindset and invest in a steady stream of prototypes. Some might make it to the field, while others might not. But by investing in them one after the other, the Air Force can learn from each increment, and the constant flow of work will help grow the industrial base.
"Think back to the original Air Force, back during the Century Series of fighters," Roper said, referring to airplanes beginning with the F-100 and developed in the 1950s and '60s. "Can you imagine how disruptive it would be if we could create a new airplane or a new satellite every three, four, [or even] every two years? I mean, what if modern digital engineering allowed a very heterogeneous fleet to be sustained at roughly the same cost as a homogenous fleet?"
More rapid development would—in theory—lead to more rapid innovation and refinement, just as has been the case with other technologies, from automobiles to smart-phones. "We should really think about our future not as a program but as a pipeline of development with the ability to go into small productions or not," Roper said.
How will the Air Force pay for all these new prototypes? The answer is to cut the cost of sustainment. "There's really only one place," Roper said. Some 70 percent of all life cycle costs are in maintaining and sustaining equipment. Cut that by 10 percent, and you can significantly boost acquisition and development.
The Air Force recently stood up a Rapid Sustainment Office with the goal of pushing new commercial technologies into the depots to save money. If that works, Roper argues, the savings can be rerouted to build new prototypes. For example, the new office has already introduced an additive repair process called cold spray at the Oklahoma City Air Logistics Complex at Tinker AFB, Okla., and at the Warner Robins ALC at Robins AFB, Ga. Cold spray allows maintainers to add metal back to worn metal parts, rather than scrapping them. Roper said the Air Force has already saved millions using this process.
Predictive maintenance is another potential area of savings. By using artificial intelligence to predict when an aircraft part may fail, maintainers can replace parts only when they are truly needed, rather than adhering to a prescribed maintenance schedule that replaces parts whether they're worn out or not. In another innovation, a robotic, laser-based paint-removing system is now saving the Air Force $1 million per plane.
"I see the potential for big savings in sustainment—enough that potentially we can afford that big idea pipeline," Roper said. "If we only solve 5 to 10 percent savings, that's a lot of high-tech prototyping. That's a lot of big ideas coming through the pipeline," Roper said. Adding, "We need light speed in all of our endeavors Air Force. We're off to a great start but … remember that, while we're ready to go fight and win today, we are also competing to fight and win tomorrow."

Devaki Raj, CEO and founder of CrowdAI, makes her pitch to the Air Force for deep learning for satellite video and imagery. Her company was awarded a same-day contract at the March Pitch Day event. Photo: TSgt. Anthony Nelson Jr.
PITCH DAY WINNERS
Of the 59 companies invited to participate in the Air Force's first-ever "Pitch Day" in New York City, 51 walked away with contracts. They are:
COMMAND, CONTROL, COMMUNICATION, INTELLIGENCE, AND NETWORKS
Architecture Technology Corporation
Axellio, Inc
Barrier Group, LLC
Bazze & Co.
BlackLynx
CrowdAI
DUJUD, LLC
EMAG Technologies, Inc.
Geosite, Inc.
GeoSpark Analytics
Gigavation Incorporated
ICR, Inc.
Onclave Networks, Inc.
Pueo Business Solutions, LLC
SecureLogic Corporation
SitScape, Inc.
INTELLIGENCE, SURVEILLANCE, AND RECONNAISSANCE/SPECIAL OPERATIONS FORCES
Bambu Vault, LLC
Battle Sight Technologies
Camgian Microsystems Corporation
Citadel Defense Company
ClimaCell
Combat Power Solutions
Delta Development Team, LLC
Elphel, Inc.
Hadron Industries
Higher Ground
Intellisense Systems, Inc.
Jio, Inc.
nVision Technology, Inc.
Plugnix, LLC
Rapid Imaging Technologies, LLC
Remote Health Solutions, LLC
Securisyn Medical
Slingshot Aerospace, Inc.
Torrey Pines Logic, Inc.
DIGITAL TECHNOLOGY
Architecture Technology Corporation

Arganteal, Corp
ATC-NY, Inc.
Beacon Interactive Systems
Consul Systems
Dark Wolf Solutions, LLC
Emagine IT, Inc.
Fastport, Inc.
FiberQA, LLC
Intentionet, Inc.
Metis Technology Solutions, Inc.
NAVSYS Corporation
Power Fingerprinting, Inc.
Praeses, LLC
Segue Technologies, Inc.
viaForensics, LLC