News from the Daily Report. Get it delivered to your inbox. Staff illustration: Dashton Parham
WHY SYRIA'S CHEMICAL WEAPONS DIDN'T DISPERSE
Russian trolls have been dismissing the effectiveness of the US-Anglo-French strike on Syria's chemical weapons infrastructure since April's 14 attack, saying, in effect, that if a true chemical weapons site had been hit, then any stored weapons at the facility would have been released, injuring or killing civilians in the area. No such release has been detected.US officials have only said that the strike was designed to "mitigate" such a dispersal of toxic gases.
Asked what those "mitigation" efforts may have been, Air Combat Command chief Gen. James M. Holmes, in an interview April 15, declined to comment specifically on the Syria situation, "because I wasn't involved in it."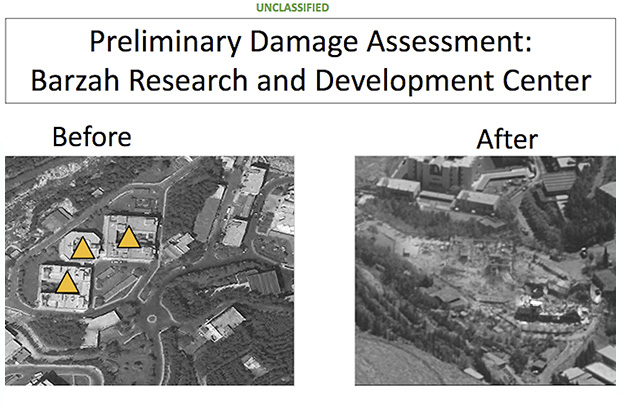 The Pentagon on April 14 showed reporters before and after pictures of the Barzah research and development site, which was struck by a total of 76,000 pounds of explosive in a US-led strike on Syria. Photo: DOD
However, "in generic terms," he said, when attacking a chemical weapons site, the calculus involves "a thorough target study," that models "the wind, the weather, and everything else."
Then, "the weaponeering solution is to choose the right weapon and the right number of weapons, to reduce the risk" of a chemical weapon getting out.
Holmes advised paying close attention to the number of weapons employed against the target. "Numbers matter in terms of reducing the risk of stuff being spread around and how much you … burn up on-site."
The Barzah Research and Development Center was struck by 57 Tomahawk Land-Attack Missiles (TLAMs) and 19 JASSM missiles, each with a warhead of at least 1,000 pounds of explosive, but with considerably more destructive effect, meaning the site was hit by more than 76,000 pounds of explosive.
By contrast, hardened targets struck in the two Iraq wars were typically taken out by two 2,000-pound bombs.
—JOHN A. TIRPAK
_Read this story in our digital issue:
PILOT ERROR BEHIND WEAPONS SCHOOL A-10 CRASH
Two A-10 Warthogs collided during US Air Force Weapons School training last year near Nellis AFB, Nev., because of a pilot's unintentional failure to follow altitude deconfliction guidelines. That, coupled with task oversaturation, a misperception of the changing environment, and environmental factors resulted in minor injuries to the pilots but destroyed two aircraft.
The two pilots, assigned to the 57th Wing at Nellis, were able to eject during the Sept. 6, 2017, crash and only suffered minor injuries. The two Warthogs were destroyed at a total cost of $30.7 million, with environmental cleanup cost of $108,000, according to an April Air Combat Command Accident Investigation Board report.

An illustration from the accident investigation board report shows the two A-10s' positions moments before the collision. USAF illustration
The pilots were flying a close air support training mission at night as part of a Weapons Instructor Course qualification for one of the pilots, with the second flying as the instructor. During the flight, the student pilot climbed above the assigned altitude block during a series of commands. The student pilot did not hear an audible notification that signaled the altitude climb, and therefore did not radio to the instructor to deconflict, according to the investigation.
This caused the student pilot's aircraft to fly into altitude designated for the instructor, who did not have sight of the other A-10. The two aircraft collided, rendering both uncontrollable. The pilots then ejected.
The investigation determined the student pilot unintentionally failed to establish the altitude deconfliction procedure. Additionally, the board president found that the upgrading pilot was handling communications on multiple radios and had many tasks, causing oversaturation. The first pilot had a misperception of the changing environment, though the aircraft's systems for showing the altitude were working. While both pilots were using night vision goggles, their A-10s had external lights off which made it difficult to discern each other's position, the report states.
—BRIAN W. EVERSTINE
USAF CALLS FOR ONE-DAY STAND-DOWN, SAFETY REVIEW FOR FLYING WINGS
The Air Force is directing its flying wings to stand down operations and maintenance for one day in the spring to try to find causes in a string of ongoing mishaps and ways to improve overall safety.
By May 21, all Active Duty wings with flying and maintenance functions must ground operations for one day to hold safety discussions with officers and senior noncommissioned officers to review flying and maintenance safety, the Air Force announced on May 8. Air National Guard and Air Force Reserve units have until June 25 to conduct the stand-down. Those wings that cannot ground their flying operations—for example those deployed in support of ongoing operations—are urged to take as much time as they can to review their safety situations without impacting the mission, Air Force Chief of Safety Maj. Gen. John T. Rauch Jr. said.
"I am directing this operational safety review to allow our commanders to assess and discuss the safety of our operations and to gather feedback from our airmen who are doing the mission every day," USAF Chief of Staff Gen. David Goldfein said in a press release.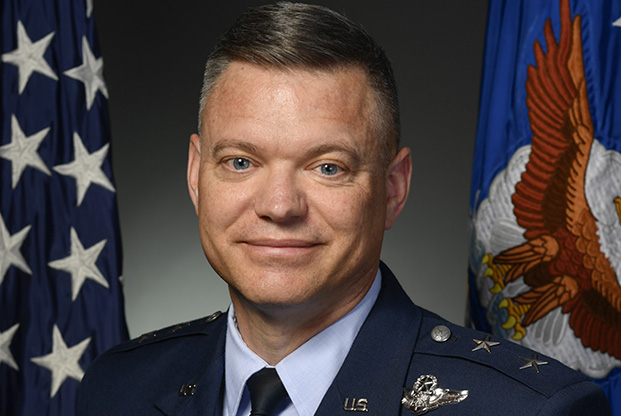 Maj. Gen. John Rauch Jr. has ordered a one-day stand down for all Active Duty flying wings to give airmen a chance to privately and candidly discuss safety concerns. Photo: USAF
The announcement comes as the service has seen an increase in the number of fatal aviation crashes, including the May 2 Puerto Rico Air National Guard WC-130H crash in Savannah, Ga., that killed nine airmen. From Fiscal 2008-2018, the Air Force lost 84 airmen to aviation accidents. Eighteen of those took place in Fiscal 2018 so far. No trend has yet emerged from the cluster of mishaps this year, Rauch said.
While the number of fatalities has risen, the Air Force said the combined manned and unmanned Class A mishap rate has fallen from last year.There is not a formal process for the stand-down and safety review, with wing commanders given discretion on when and how to conduct the discussions. Major commands are working with wings on how to plan the stand-down to lessen the impact on operations and training.
There is also not a plan for a formal report at the end of the review, and since much of the discussion focuses on safety issues, there will not be a formal release of findings, Rauch said. The Air Force wants to give cover for the discussions so airmen can speak more freely without worrying about public release.
The direction is for wings with a flying function to stand down, including remotely piloted aircraft units, though other wings are allowed to participate in their own way. For example, Air Force Space Command reached out and said they want to participate in reviewing their safety protocols in a step to be "proactive," Rauch said.
—BRIAN W. EVERSTINE
IS IT TIME TO GET SERIOUS ABOUT THE E-4 NAOC AND MISSILE DEFENSE IN ALASKA
The Defense Department is going to have to begin looking at modernizing the E-4B National Airborne Operations Center (NAOC), a top Air Force general told a Senate Armed Services subcommittee hearing in April.
The NAOC, a militarized version of the Boeing 747-200, is designed to support the President and top defense officials during a national emergency or in case of destruction of ground command and control centers.
Testifying before the Strategic Forces Subcommittee, Gen. Robin Rand, commander of Air Force Global Strike Command, said while no money is in the Future Years Defense Program yet, "I think we are going to begin some very serious discussions in the next weeks and months to follow" not only on the NAOC but also the group of systems that include the Navy's "Take Charge and Move Out" communications relay and airborne command post aircraft."I will pitch my opinions and ideas to the Chief of Staff of the Air Force and to [US Strategic Command Commander] Gen. [John E.] Hyten, and there's no doubt a need to get very serious about this," he told the panel.
Also during the hearing, Sen. Dan Sullivan (R-Alaska) pushed Rand and other witnesses to speed construction of a new missile defense silo field at Fort Greely in Sullivan's home state, which has been requested by the Trump administration.
Sullivan challenged estimates he'd heard that the completion would take four or five years.
"So, we won World War II in four to five years," he said, adding that he thought that length of time is "unacceptable."
One of the witnesses, Deputy Assistant Defense Secretary for Nuclear and Missile Defense Policy Robert Soofer, started to note that weather is a factor, but Sullivan was not persuaded.
"Well, trust me, we built the Alcan Highway in World War II, which was 1,100 miles, … in eight months, right? We can do this stuff. We can do it. We're American, we can do it. So the weather is not a big deal in Alaska, trust me," he said.
At Sullivan's request, the witnesses all agreed to accelerate the program.
—STEVE HIRSCH