Airmen run a preflight check on an MQ-9 Reaper in Southwest Asia in January. Photo: SSgt. Jeremy L. Mosier
This is the year the Air Force's remotely piloted aircraft community comes of age. New aircraft, new squadrons, a new independent operating base, and greater recognition for pilots and sensor operators are all coming into view at the same time.
For the first time, Air Force RPA pilot crews are nearing 100 percent manning. Operating tempo remains intense, however. Unlike manned aircraft pilots—who may spend years preparing for their first combat flights—RPA crews go almost instantly from training into combat.
Lt. Col. Eric Bissonette, who oversees RPA training as commander of the 558th Flying Training Squadron at JBSA-Randolph, Texas, said one pilot he trained received a "nine-line" request for weapons from a joint terminal attack controller in combat as soon as he sat down in the control station. Less than 10 minutes later, the 23-year-old had fired his first shot.
Similarly, Bissonette described a sensor operator who was tasked with tracking and providing intelligence on the second highest-ranking target in an undisclosed theater—on the operator's first day of duty.
"The responsibility and strategic impact they have is unbelievable," Bissonette said. "The responsibility on them at a very, very young age is unbelievable."
Currently, half of all RPA pilots are lieutenants and half of the sensor operators are junior airmen. Second lieutenants routinely conduct air strikes; first lieutenants are veterans of repeated combat deployments.
"I don't know of any other airframe where you've got second lieutenants routinely conducting air strikes in combat," said Col. Julian Cheater, commander of the 432nd Wing at Creech AFB, Nev.
Within the first two-and-a-half years, pilots become aircraft commanders, and within about four years, some have as many as 4,000 combat hours. All told, the aircrews at Creech recently surpassed 2 million hours, he said.

A 558th Flying Training Squadron student trains on a T-6 simulator while an instructor monitors the instrument computer panel at JBSA-Randolph, Texas. Photo: Joel Martinez/USAF
GETTING WELL
The Air Force is more than two years removed from completing a "get-well" program aimed at bolstering the RPA community. With the older MQ-1 Predators retired, MQ-9 Reapers now make up the full complement of armed RPAs. The 2016 Culture and Process Improvement Program, based on more than 3,300 surveys at 12 bases, provided a flight plan to help RPA crews reach a point of stasis, where the Air Force could finally take one squadron at a time out of combat operations to focus on reset and training.
"I think the earliest opportunity we have is the end of 2019 to make that a reality," Cheater said in a recent interview with Air Force Magazine. "That will improve our readiness rate considerably because I can take [aircrews] out of combat to train, … [and] put [them] up against threats that are more representative of near-peer adversaries."
The Air Force plans to stand up two more RPA squadrons in the near future, and expects units to begin flying combat sorties before they approach full manning. There are 18 Total Force squadrons flying the aircraft.
The RPA training community doubled its pilot output in 2017 and since then has been focused on developing tactics and capabilities to equip RPA pilots with more experience before they go to graduate-level training, Bissonette said.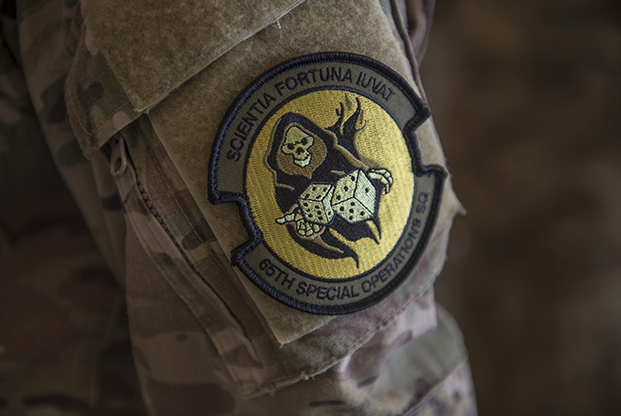 The new 65th Special Operations Squadron patch features the Latin "Scientia Fortuna Iuvat," which means "Fortune Favors the Bold." Photo: A1C Joel Miller
Today, RPA pilots get about two-and-a-half months of qualification training and about a month of fundamentals training. In addition to T-6 flights and academics, the 558th has simulators to give RPA pilots more practice in the basics of flying and the foundational tactics for employing weapons, along with getting used to the onslaught of information they must manage while flying, which includes multiple screens and audio inputs.
In initial training, RPA students deal with challenges in situational awareness and basic airmanship, as they have a limited amount of time actually flying, Bissonette stated during a December conference on military flight training.
Trainers talk regularly to units and change the syllabus bimonthly to address issues as quickly as they arise, according to Bissonette.
Despite the operations tempo, Cheater said the RPA community embraces the challenge of supporting the fight and defending US troops and American interests every day.
Because of the nature of current operations, RPA crews are highly proficient at close air support, reconnaissance, and attacking time-sensitive targets, but less proficient in the skills needed to operate in denied environments.
"If there's a near-peer fight, we will be there," he said. "There's no doubt in my mind. The questions are: Are we going to go Day One? Are we going to go before Day One? Are we going to go Day Three?"
With the increase in operations, the Air Force is standing up more units to fly MQ-9s, locating crews at multiple bases nationwide. Air Combat Command activated the 25th Attack Group at Shaw AFB, S.C., in October 2018, the latest in a series of activations.
"We won't just have RPA operations from Creech Air Force Base," said 1st Lt. Anne, an MQ-9 Reaper pilot at Shaw, in a release announcing the group. (The Air Force does not release the full names of its RPA operators.) "We will have operations on the East Coast at Shaw, as well as at Ellsworth AFB, S.D., and Whiteman AFB, Mo. We are having more units across the country to help us do what we do."

Weapons load crew member Amn. Alissa Bien (far left) operates a jammer while TSgt. Christopher Shamburger and A1C Deion Giron align a munition on an MQ-9 Reaper at Cannon AFB, N.M. Photo: SrA. Luke Kitterman
Air Force Special Operations Command has also increased operating locations. In December, AFSOC stood up the 65th Special Operations Squadron, part of the 1st Special Operations Group at Hurlburt Field, Fla.
Most of AFSOCs other MQ-9 units operate from Cannon AFB, N.M.Creech, meanwhile, is growing. It will change from an auxiliary to Nellis AFB, Nev., to an independent base in 2019, with the 432nd Wing taking over command of the installation, a shift with major implications for the MQ-9 aircrews.
Air Combat Command boss Gen. James M. Holmes, during a January visit to the base, said the change will bring a "more sustainable lifestyle for airmen and their families."
While the infrastructure is expanding, the pilots and sensor operators themselves are still facing hurdles to their progression in training because of the constant need for combat operations. Today, the "vast majority" of upgrade training for RPA crews happens on "combat lines," Cheater said, meaning a crew flying over a combat zone en route to a possible air strike takes the time to fly upgrade training, which usually would happen at home bases over local airspace. If an aircrew is not qualified to conduct an actual air strike, a qualified pilot will take over once weapons must be fired, Cheater said.
Reaper missions can last more than 20 hours, and RPA crews work in three shifts throughout the day to fly, at the most, eight hours. To manage demand, RPA pilots and sensor operators must be qualified in at least two combatant command theaters. Typically, however, they will fly in only one part of the world on any given day, Cheater said.
"You come in today and fly in this part of the world, tomorrow in [another] part of the world," he said. Each has its own rules of engagement and operating instructions, so switching back and forth can be complicated.
"I really want you to specialize," Cheater said. "That's a restriction I place on the squadrons: Be really good at two places."
Despite the pace of operations—or perhaps because of it —Cheater said crews have full license to stop flying if a pilot becomes too tired. The decision is between the squadron and the supported combatant command, leaving the wing command out of the decision process.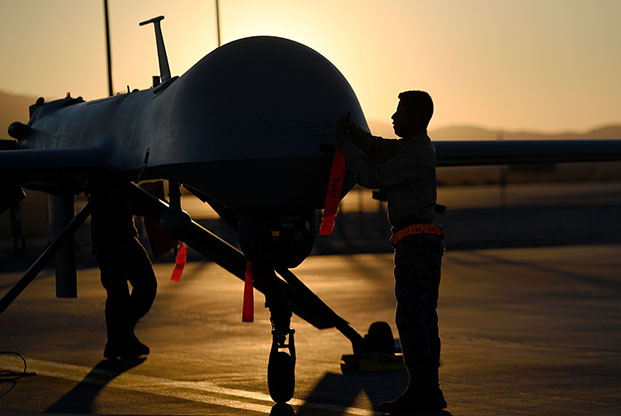 An airman runs a postflight check on an MQ-1 Predator at Creech AFB, Nev. The Predators were retired last year. Photo: SrA. James Thompson
RECOGNITION
More often than not, however, RPA pilots are all in, and the Air Force is looking for ways to better recognize their contribution to the fight. For the first time, the service is considering awarding the Legion of Merit, historically reserved for senior officers and enlisted leaders, to the more junior RPA pilots and sensor operators.
Longer term, Cheater said, the service may consider awarding the revered Distinguished Flying Cross to RPA aircrews. "In the future, it may evolve to that point, but right now we are operating within the regulations available to us," he said.
In 2016, the service created the "R" device for RPA actions. The first awards of this device were presented with Meritorious Service Medals and Air Force Commendation Medals to aircrews last July and served as a "big morale boost" to the community, Cheater said.
RPA group commanders and chiefs formed a "decoration board" where they reviewed extraordinary air strikes, specifically ones with strategic significance and higher degrees of difficulty. A few cases were referred to the Combined Forces Air Component Commander for the possible award of Legions of Merit.
"The ones in my mind that may be worthy [involved] an extremely time-sensitive moving target, where significant friendlies are at risk, or the level of difficulty is extreme," Cheater said.