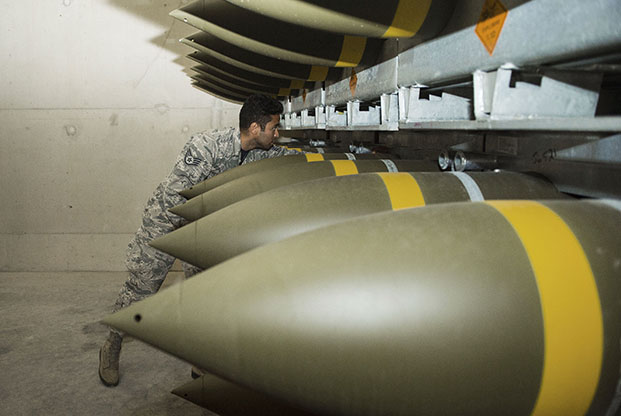 SSgt. Jeric Hernandez inspects a fresh shipment of bombs at Ramstein AB, Germany. For years, allies have counted on drawing from US stocks instead of investing in their own inventory.
Photo: SrA. Joshua Magbanua
The Air Force is making progress filling a four-year-long shortage of precision guided munitions—but will keep struggling with shortages as long as it keeps using them at a furious pace. Prime contractors, meanwhile, are "maxed out" in munitions production, and the Pentagon is working to ensure that the makers of key weapon components don't disappear from the industrial landscape.
"We're very focused on munitions capacity, because we've been dropping a lot of weapons," Air Force acquisition chief Will Roper said in February. The Air Force has dropped "over 70,000 weapons on ISIS, … and we need to be able to buy back many of our weapons at scale."
The limiting factor, he said, is "the capacity to make them."
The key weapons in the fight are the satellite-guided Joint Direct Attack Munition, or JDAM, which comes in variants ranging from 500 pounds up to 2,000 pounds; the AGM-114 Hellfire laser guided missile, which equips Army helicopters as well as Air Force MQ-9 Reaper remotely piloted aircraft; the Small Diameter Bomb, which is a 250-pound satellite-guided munition; and Advanced Precision Kill Weapon System, or APKWS, a seeker head for Hydra rockets carried by helicopters and F-16 fighters. These weapons have been used the most in the war against ISIS since the rules of engagement demand extreme precision: ISIS targets are usually mixed in among civilians, and the coalition has made minimizing civilian deaths a top priority.
Commanders have been loathe to use nonprecision weapons against ISIS because an errant bomb that kills civilians can have instant, strategic implications for international support of the anti-ISIS effort.
A week prior to Roper's remarks, his uniformed deputy, Lt. Gen. Arnold W. Bunch Jr., told an Air Force Association audience on Capitol Hill that, "we have ramped up JDAM production to 45,000 a year, now," describing it as a "Herculean effort" with Boeing, the maker of the weapon.
Moreover, "we are working with the Army to max out the Hellfire production," Bunch noted. The number being purchased "we've ramped up … significantly above what it's ever been." Lockheed Martin makes the Hellfire.
Production of the Small Diameter Bomb I, also made by Boeing, is up to 8,000 a year, "way more than we ever thought we would buy," according to Bunch, and production of APKWS has also "dramatically gone up." The Air Force is "working with the Navy to drive that up and it's higher than it's ever been."
The APKWS is made by BAE Systems.
The Air Force is not the only customer for these weapons. Its 2020 budget request provides a glimpse of the service's share of that production:JDAM. USAF is seeking funds to buy 37,000, up 1,000 units from 2019.
Small Diameter Bomb. 7,078, up 23 percent from 2019.
AGM-114 Hellfire. 3,859, up three percent from 2019.
Small Diameter Bomb II. 430, up 19 percent from 2019.
Four years after then-Chief of Staff Gen. Mark A. Welsh III warned that worldwide munitions reserves were getting dangerously low, concern about shortages remains.
Former Air Force Deputy Undersecretary for International Affairs Heidi H. Grant told reporters in December that at least one ally had admitted that rather than maintain its own stockpile, "it was their strategy to draw … on our stocks" in the event of a conflict. Now the director of the Defense Technology Security Administration, Grant said she advised allies that the Air Force had drawn down its inventories too low to be able to lend munitions in future conflicts, telling them, "you guys need to start putting in your orders."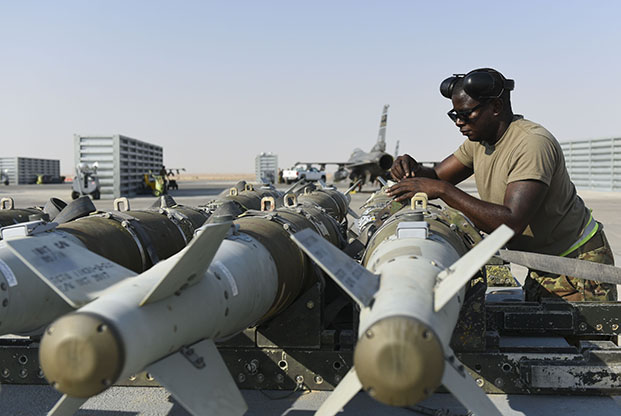 SSgt. Travis Gaskins prepares to load a Joint Direct Attack Munition (JDAM) onto an F-16 at an undisclosed location in Southwest Asia. To meet rising demand, production of the guided GBU-54s has increased to 45,000 per year. Photo: MSgt. Caycee Watson/ANG
The fiscal 2019 budget request set out a plan to rebuild stockpiles across the next five years. An Air Force spokeswoman said the buy rates on "preferred munitions" would continue across the Future Years Defense Program "to replenish combat expenditures and build munitions inventories to meet future strategic needs." Requirements would be revisited "as conditions change," she said, adding that "payback" of ally borrowed munitions is expected by Sept. 30, when the fiscal year ends.
Roper, however, suggested that plan may be in jeopardy.
"Munitions … often become a bill payer in program reviews," he said. Budgeters think "you just buy fewer," Roper explained, and while "that may seem like an easy choice on a tally sheet … if you're an acquisition person, and you take the buy lower, you just lost economy of scale—you just made it harder for your vendor to forecast ahead."
Predictable orders mean contractors can buy materials and plan for labor requirements more economically, holding prices down, while uncertainty forces prices up.
"I wish we would … just stabilize the munitions we buy each year and not make them bill payers," Roper said, "and allow our acquisition professionals to talk with their industry partners about five-year buy[s] of components, five-year build plans, and not get into perturbative schedules."
Echoing the point, Bunch told Air Force Magazine, "I want stability for industry."
He'd also like to see stability for the Air Force. Asked if the munitions deficits could be remedied within five years, Bunch was noncommittal: "The way we're dropping them, I can't give you a number."
Bunch said that the weapons "borrowed" from the US have largely been paid back in-kind, but allies have yet to rebuild stockpiles.
"We're working with them," he said, and urging them— "Don't wait. Buy now."
During the 1980s—the last time the US faced "great power competition"—the Pentagon invested to ensure weapons production could surge in case of a major conflict. For radars, jet engines, and especially munitions, the Pentagon qualified a second production source and held annual competitions between the suppliers. The winning bid earned the lion's share of production, while the loser still got enough orders to keep the line alive.
Might the Air Force return to that approach? "I always like the idea of having competition," Roper said. "We've got some thinking to do on that."
But an industry official said those competitions don't come without cost.
"There's the cost of setting up a second production line, and that's a big investment," he said. "You really have to know you're going to be turning out a lot of whatever it is—bombs, missiles, whatnot—and for a pretty long period of time. … Budgets typically don't allow for that." That extra investment could easily negate potential savings from ongoing competition, he said, suggesting that's "probably one of the reasons" the Air Force now just presses suppliers to add shifts and capacity when it needs more production.
A second complicating factor is intellectual property. "You're taking someone's proprietary product and handing it over to their competitor, with all the drawings and blueprints," he said. "That's not something most companies want to do." Intellectual property is a very sensitive subject, he noted, and "no one wants to fund their archrival's R&D."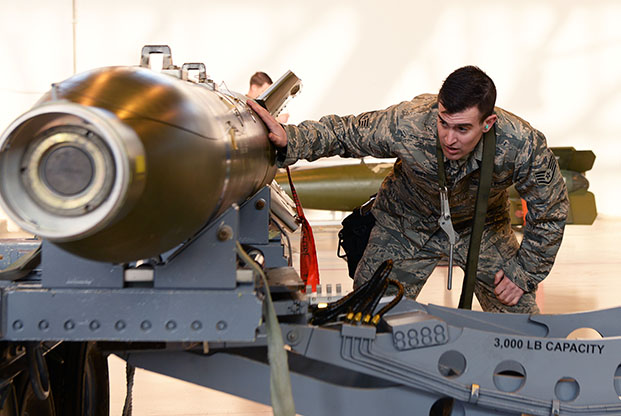 SSgt. Ryan Pritt oversees the lifting of a training GBU-10 bomb at Aviano AB, Italy, in February. Photo: SrA. Kevin Sommer Giron
CRITICAL SUPPLIERS
An October 2018 multi-agency report, "Assessing and Strengthening the Manufacturing and Defense Industrial Base and Supply Chain Resiliency of the United States,"called attention to the peril of relying on single sources of supply for crucial elements of defense systems. Now the Trump administration has moved to directly invest in small companies that make materials essential for bomb construction.
The administration approved up to $250 million to reinforce the defense supply chain—particularly makers of energetic materiels, precursor materiels, and inert materiels used in bomb-making—and companies developing advanced manufacturing techniques for bomb components.
The report called for direct investment in the sub-tiers of the industrial base where the Pentagon is dependent on either a single supplier—or a foreign source—for critical components, suggesting the authority for such expenditures could be justified under provisions of the 1950s-era Defense Production Act.
Other areas where the US is dependent on just a single supplier include small turbine engines, helicopter gearboxes, and solid-fuel rocket motors.